2022 Cayman Islands Classic
Jerome Tang's Championship Experience Set To Elevate K-State
Jerome Tang's Championship Experience Set To Elevate K-State
With a national championship-winning background, Jerome Tang comes to Kansas State poised to build the Wildcats to the top of the Big 12.
Nov 14, 2022
by Kyle Kensing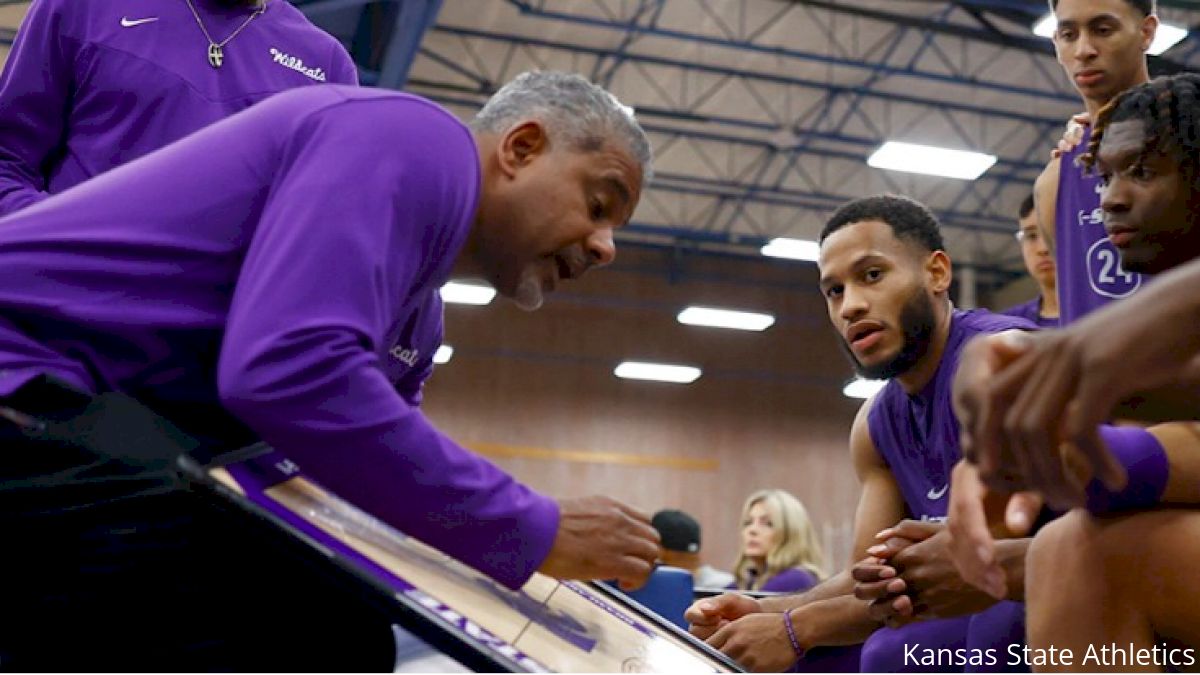 Kansas State basketball reached plenty of milestones on the road to 1,000 all-time wins, but the Wildcats have had the misfortune of repeated landmark achievements overshadowed in their own conference.
When Ernie Barrett became K-State's first-ever All-American in 1951, in-state rival Kansas featured the nation's leading scorer and one of college basketball's first genuine superstars in Clyde Lovette. When Bob Boozer was among the game's elite players, Wilt Chamberlain was completely revolutionizing the sport. In 1988, a Lon Kruger-coached Wildcats team with Mitch Richmond reached the Elite 8 — and that was only the third-best finish among Big 8 teams, with the "Danny and the Miracles" Kansas team beating the Billy Tubbs-led Oklahoma Sooners in a Final Four played in Kansas City.
K-State basketball has routinely been good, but another program in the Big 7, Big 8 or Big 12 has repeatedly been just a
little
bit better.
So, in setting the course for the Wildcats in the immediate future, it makes sense Kansas State brass looked within the conference.
And few have seen more in the Big 12 than Jerome Tang, most notably how to build a program overshadowed by no one.
When Tang came to Baylor in 2003 as part of Scott Drew's staff, the Bears were at the nadir of college basketball. Following the tragic end of Dave Bliss' tenure, BU could only be described as toxic — a far cry from the environment Tang steps into at Kansas State.
Despite the horrific recent history that preceded Drew and Tang at Baylor, and the program's lack of success for much of its existence, the staff transformed BU into a perennial winner. K-State athletics announced the hire of Tang last March, less than a full year after Baylor — arguably the least desirable power-conference position when Tang arrived — won the national championship.
"He's been like a brother to me for the last 19 years. I'm so grateful for the energy and effort he put into helping us build Baylor basketball into what it is today," Drew said in a statement upon Tang's hiring at K-State. "While I'm sad I'll no longer get to coach alongside him, I couldn't be more thrilled for him to have an amazing opportunity to become a head coach in the nation's best basketball conference."
The Big 12 has indeed proven itself to be the best basketball conference in recent years, boasting the last two national champions in the '21 Baylor Bears and last year's Kansas title. Texas Tech came an overtime away from claiming the 2019 crown, and the Red Raiders maintained an elite level under coach Mark Adams, despite losing Chris Beard to Texas.
Oh, and Beard's presence has re-energized the Longhorns enough that they could make a run at the top of the Big 12 before bolting for the SEC.
With the bar in the Big 12 raised from what were already arguably the loftiest historical standards in the sport, Kansas State needed leadership with firsthand experience of succeeding in such a challenging landscape. That's exactly what the Wildcats get from Tang.
One of Baylor's defining traits in its ascension you can expect from the new-look Wildcats is an exciting, uptempo offense. To that end, tipping off the Tang era with 93 points in a rout of UTRGV set a fitting tone.
"We showed what we are capable of doing," said Florida transfer Keyontae Johnson in the season-opening press conference. "We still have a lot more than we could have done but that was just a glimpse of what we could do."
Only the beginning

📄 https://t.co/HFOVCOpidQ#KStateMBB x @Keyontae pic.twitter.com/8CtGNqB2my

— K-State Men's Basketball (@KStateMBB) November 14, 2022
Kansas State will continue to peel back the layer of what it can be in this new era when it plays in one of the nation's premier, early-season tournaments, the Cayman Island Classic. The Wildcats join a field that includes 2022 NCAA Tournament teams Akron and LSU, as well as Rhode Island, Western Kentucky and Nevada teams all capable of breakout 2022-23 seasons.
The transformation of K-State basketball is just getting started, but given Jerome Tang's track record, it's more than fair to expect the Wildcats are never again overshadowed in their own league.