CAA Men's Basketball
CAA Men's Basketball Report | Nov. 14, 2022
CAA Men's Basketball Report | Nov. 14, 2022
Catch up on the CAA Men's Basketball weekly news, notes and awards.
Nov 15, 2022
by FloHoops Staff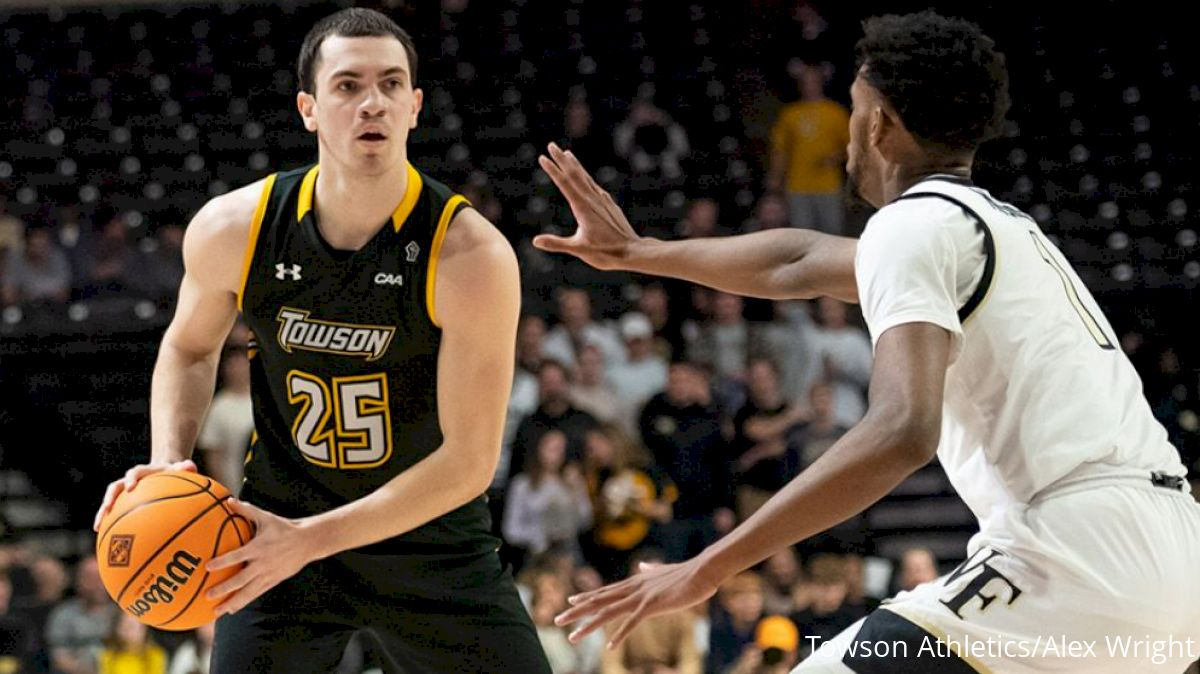 Catch up on the CAA Men's Basketball weekly news, notes and awards.
SCHEDULE AND RESULTS
Friday, Nov. 11
Drexel 71, Old Dominion 59
Hofstra 83, Iona 78
UNCW 104, Allen 55
Stony Brook 86, Miami Hamilton 65
Air Force 75, Delaware 71
ETSU 77, Elon 64
North Carolina 102, Charleston 86
Iowa 112, North Carolina A&T 71
Virginia 89, Monmouth 42
Saturday, Nov. 12
Hampton 89, Regent 60
Providence 89, Northeastern 65
Sunday, Nov. 13
Towson 80, Penn 74
Harvard 92, Elon 77
Virginia Tech 94, William & Mary 77
Iowa State 80, North Carolina A&T 43

Monday, Nov. 14
George Washington at Hofstra (FloHoops), 7 p.m.
Richmond at Charleston (FloHoops), 7 p.m.
Monmouth at Illinois (BTN), 9 p.m.
Tuesday, Nov. 15
Penn at Drexel (FloHoops), 7 p.m.
Stony Brook at Rhode Island (ESPN+), 7 p.m.
UNCW at Oklahoma (ESPN+), 8 p.m.

Wednesday, Nov. 16
William & Mary at American (ESPN+), 7 p.m.
Hampton at East Carolina (ESPN+), 7 p.m.
Harvard at Northeastern (FloHoops), 7 p.m.
Thursday, Nov. 17
Norfolk State at Monmouth (FloHoops), 7 p.m.
Towson at UNCG (ESPN+), 7 p.m.
North Dakota at Elon (FloHoops), 7 p.m.
Stony Brook at Brown (ESPN+), 7 p.m.
Davidson at Charleston (ESPNU), 7 p.m.
Hofstra at San Jose State (TheMW.com), 10 p.m.
WEEKLY AWARDS
PLAYER OF THE WEEK
Nicolas Timberlake, Towson
Graduate Student | Guard | Braintree, Mass. / Kimball Union
Timberlake averaged 19.3 points, 4.3 rebounds, 1.7 assists, 3.0 steals, and 1.3 blocks in a 3-0 week to begin Towson's season. The guard from Massachusetts contributed a pair of 20-point performances with a career-high 27 in a win at UMass and 23 in a victory at Ivy preseason favorite Penn.
ROOKIE OF THE WEEK
Amar'e Marshall
Redshirt Freshman | Guard | Montclair, N.J. / Roselle Catholic
Marshall made a significant impact in his collegiate debut with 15 points in 26 minutes to help Hofstra earn an 83-77 comeback victory at Princeton on Monday. The guard from New Jersey went 6-of-11 from the field and grabbed three rebounds to go along with an assist, block, and steal.
Your first men's #CAAHoops weekly award winners of 2022-23, presented by @PrimisBank!

▪️ Nicolas Timberlake, @Towson_MBB
▪️ Amar'e Marshall, @HofstraMBB

📰 https://t.co/6FuG9iZ5oD pic.twitter.com/n06m50XJos

— CAA Basketball (@CAABasketball) November 14, 2022
2022-2023 CAA MEN'S BASKETBALL WEEKLY AWARD WINNERS
Player of the Week
Nov. 14: Nicolas Timberlake, Towson
Rookie of the Week
Nov. 14: Amar'e Marshall, Hofstra
NEWS AND NOTES
MONDAY MATCHUPS
Two home games against Atlantic 10 opponents and a visit to a top-25 Big Ten school make up Monday's schedule to begin the second week of the year.
Hofstra looks to improve to 3-0 with a game against George Washington and Charleston looks for another quality victory with a visit from Richmond, while Monmouth faces No. 19 Illinois (9 p.m., BTN).
THREE AND GOH
Towson opened the year with wins over UAlbany, UMass, and Penn, making the Tigers one of only seven teams nationally to defeat three Division I opponents in the season's first week. Towson is joined on the list by Mississippi State, Missouri, Quinnipiac, Rutgers, Saint Mary's, and Virginia Tech.
BACK IN THE NEW YORK WIN COLUMN
Hofstra downed Iona Friday night in Hempstead to improve to 2-0 on the year. Tyler Thomas scored 26 points with a go-ahead three-pointer with 35 seconds to go lifting the Pride to victory.
The Pride has a winning record against in-state foes in six of the last eight seasons prior to this year.
POLLING PLACES
CAA teams have seven games scheduled against teams in the preseason AP Top 25 plus five more against teams receiving votes.
The conference will face 16 non-league opponents ranked or receiving votes in the preseason College Insider Mid-Major Top 25, while six CAA teams were recognized: No. 8 Towson, No. 24 Hofstra, and the quartet of Charleston, Delaware, UNCW, and Northeastern receiving votes.
GET LOW
Charleston had a successful National Signing Day, with Pat Kelsey and the Cougars staff inking what one site calculated as the nation's top mid-major recruiting class.
At the time of Charleston's announcement, 247 Sports ranked the group headed to the Lowcountry at No. 40.
LUCKY NUMBER NINE
The No. 9 team in the preseason poll has gone on to earn at least a share of the CAA regular season title in each of the last two seasons, with UNCW earning a co-championship last year and JMU the top spot in 2021.
Stony Brook was picked ninth in the CAA preseason poll in its first year in the league.
IT STARTS WITH DEFENSE
Drexel's Amari Williams looks to follow a recent trend of the previous year's CAA Defensive Player of the Year cutting down nets the following March.
Three times in the last eight seasons, the reigning Defensive Player of the Year has contributed to the title-winning team: Northeastern's Scott Eatherton (2014-15), Northeastern's Shawn Occeus (2018-19), and Hofstra's Desure Buie (2019-20).