2022 Las Vegas Invitational
Indiana Hopes To Use Las Vegas Invitational As Springboard To March
Indiana Hopes To Use Las Vegas Invitational As Springboard To March
Indiana women's hoops looks like it has the pieces to make a deep run in March. The Hoosiers hope to use the Las Vegas Invitational as a springboard.
Nov 17, 2022
by Ron Balaskovitz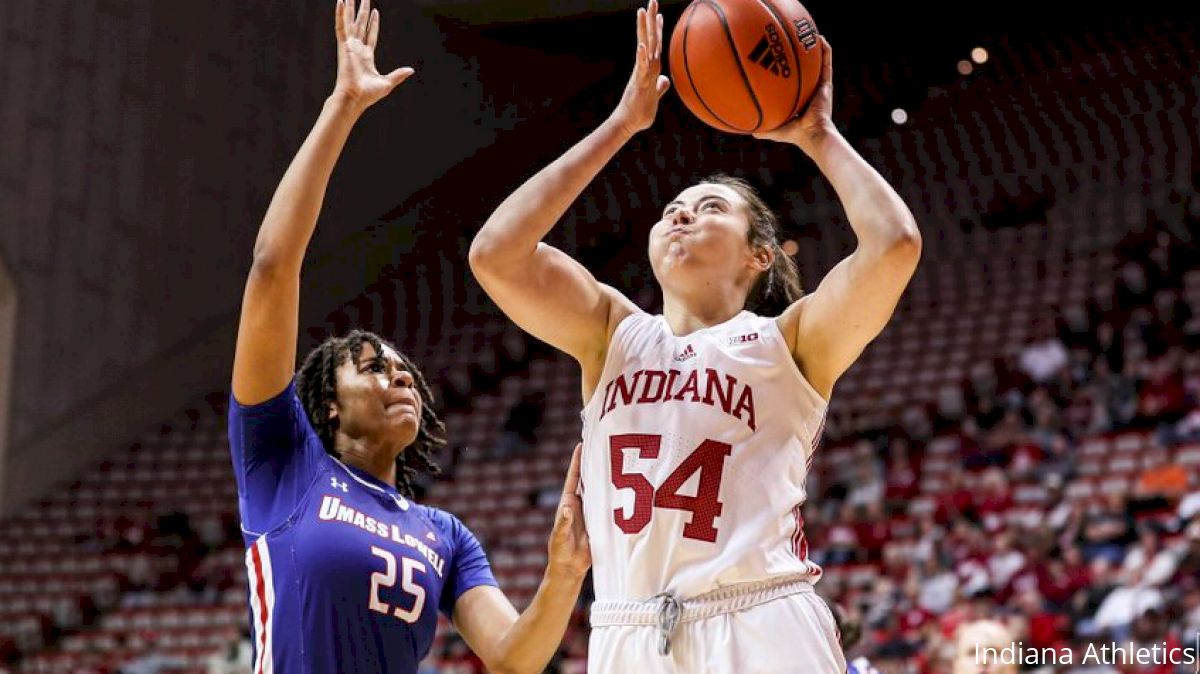 Despite the success the Indiana men's basketball team has had, the school has not exactly been a power in women's basketball.
The Hoosiers saw sporadic bits of success prior to 2014, when the pivotal decision to bring in Teri Moren as head coach turned around the program's fate.
Prior to Moren's arrival, the Hoosiers had exactly one NCAA Tournament win. Since then, she has helped Indiana rattle off seven straight 20-win seasons and back-to-back trips to the Sweet 16, including the school's highest tournament seed last season at No. 3.
This season, with its top two scorers back, as well as a bevy of young talent, Indiana looks like it has the pieces to make another deep run in March, and the Hoosiers hope a strong field at the Las Vegas Invitational can get them battle-tested for later in the season.
The event will take place at The Mirage in Las Vegas on Nov. 25-26. The 10-team field will include Auburn, Indiana, Mercer, Colorado State, St. John's, Memphis, Missouri State, Texas Tech, Middle Tennessee State and Texas-San Antonio.
The Hoosier's big keys are Grace Berger and Mackenzie Holmes, a pair of All-Big Ten picks last season, and the top returning scorers from the 2021-2022 team. They have Indiana undefeated in the early going this year.
Holmes, in particular, has shined in the early part of the season, scoring over 16 points per game, while shooting over 70% from the floor.
That's not a misprint.
In the first three games of the year, Holmes has gone 21-of-29 for 72.4%, even higher than her free-throw percentage of 70%. She's also second on the team in rebounds and second on the team in blocks.
She leads what so far is a deep Indiana team that has five players averaging in double figures, including Berger, at 11 points per game.
Freshman Yarden Garzon also has been impressive in the early going, averaging nine points per game, but it has been senior transfer Sara Scalia, herself an All-Big Ten pick last season at Minnesota, who has helped make the Hoosiers one of the deepest teams in the Big Ten and beyond.
What. A. Debut.

Yarden Garzon hit five three-point-shots & scored 19 total points in her first game as a Hoosier. pic.twitter.com/V4zK8JqQHL

— Indiana Women's Basketball (@IndianaWBB) November 9, 2022
She's averaging nearly three 3-pointers per game on her way to 14 points a night, while chipping in five steals on the young season.
While the offensive depth has been a nice boost to the Hoosiers this season, helping them to a red-hot 86 points per game, it has been the defense that has turned heads. It helped the Hoosiers get national attention earlier this week with a win over a top-10 Tennessee team many think has the pieces to make a Final Four run of its own.
Indiana dominated from the jump in that win, building an 11-point halftime lead and holding Tennessee to just 29 in the opening half.
The key for Indiana, both in the win over the Volunteers and in its other wins this season, has been making life difficult for opposing shooters.
Tennessee failed to hit 40% of its shots as a team, despite hitting over 37% of its 3-pointers. For the season, Indiana opponents are shooting just 34% from the field.
As if getting hands in the faces of shooters at all costs wasn't spurring enough of that dominant defense, their ability to generate extra possessions on defense has been a huge boost in the early going.
Yes, it's just three games, but the Hoosiers are averaging 12 steals per game and have forced opponents into 63 turnovers, giving them a +33 edge in turnovers, or 11 extra possessions per game.
They racked up nine steals against Tennessee in a game that saw them post a +5-turnover margin. Six players are averaging a steal or more per game, so it's not just one player making it happen - the entire Indiana defense has been part of causing havoc for opposing ballhandlers.
.@grace_berger34's steal 🤝 @sara_scalia14's score. #IUWBB pic.twitter.com/cIqdsr7Ddr

— Indiana Women's Basketball (@IndianaWBB) November 15, 2022
During their trip to Las Vegas, the Hoosiers will face a pair of tough teams with eyes on the postseason, including another SEC team in Auburn, which boasts one of the best guards in the country, Aicha Coulibaly, who a season ago burst onto the scene with a breakout sophomore campaign that saw her post over 17 points and seven rebounds per game.
She leads a Tigers team that has topped 90 points once this season.
Indiana also will face an upstart Memphis team that topped .500 last season and has shown the ability to light up the scoreboard this season, averaging 82 points per game in the early going, including 101 in a win over Howard.
It will be a pair of strong tests for a strong Indiana defense, and the type of games a team like Indiana should win, if it has hopes of reaching heights in March the program has never seen.