2022 Women's Baha Mar Hoops Pink Flamingo Championship
Baha Mar Pink Flamingo Championship: Virginia Tech, Utah Roll In Nassau
Baha Mar Pink Flamingo Championship: Virginia Tech, Utah Roll In Nassau
The Baha Mar Pink Flamingo Championship this week showcased some of the very best teams and players in women's college basketball over two days of play.
Nov 24, 2022
by Briar Napier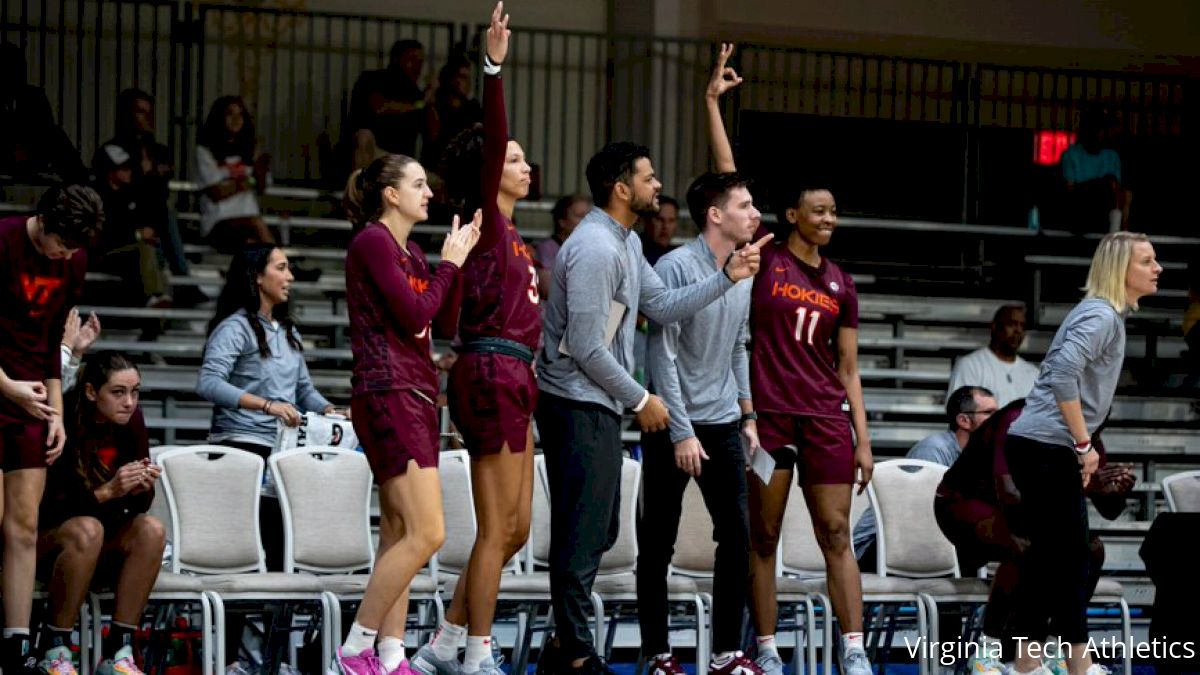 College basketball in the tropics during Thanksgiving week - a tradition unlike any other.
At the Baha Mar Pink Flamingo Championship this week, which showcased some of the very best teams and players in women's college basketball over two days of play, those who checked in to see what the event was all about were treated to stars and shining moments in Nassau, the capital and largest city of The Bahamas.
With the annual meet-up at the Baha Mar Convention Center now done for another year, there was a lot to take away from the eight games that took place. For some teams in the field, there's more good to take away than others.
Here's a recap on all that went down at the Baha Mar Pink Flamingo Championship, with who and what impressed, along with some of the storylines that came out of the two-day event in the Caribbean.
All of the action was broadcast live on FloHoops.
Kitley Dominates To Help Keep Hokies Unbeaten
Still trying to rid itself of the sour taste of a NCAA Tournament upset last season - the Hokies, seeded No. 5, lost to 12th-seeded Florida Gulf Coast in the first round of March Madness a year ago - Virginia Tech entered this season as a team on a revenge tour.
Right now, the team definitely is playing like it has something to prove, and those emotions were evident at the Baha Mar.
Tech stormed out to a 29-8 first-quarter lead and managed to coast the rest of the way in its event-opening win against Kentucky on Monday, then the Hokies stomped on the gas pedal in the second half of a 73-57 win against Missouri to close the show Wednesday.
They are unbeaten on the year at 5-0, passing its first tests of the season against high-major opposition with flying colors.
The No. 11-ranked team in the country, the Hokies are currently holding opponents to just 48.2 points per game on the season, while dominating the glass themselves, having foes limited to just 27.6 rebounds per game on average for a rate that is second in the country (as of Wednesday evening).
Much of that is to do with the play of 6-foot-6 senior center - and reigning Atlantic Coast Conference Player of the Year - Elizabeth Kitley and her double-double average to start the year (19.0 points, 11.0 rebounds per night), but Tech wouldn't have looked so good in the Bahamas had it not been for the strong performances of her supporting cast, too.
Have a day @elizabethkitley 👏👏

✅ got the dub
📈 reached another milestone

Proud of ya 3️⃣3️⃣🫶 pic.twitter.com/kCIq72ygzy

— Virginia Tech Women's Basketball (@HokiesWBB) November 24, 2022
Kitley's 25-point performance against the Wildcats was paired with double-digit scoring from Ashley Owusu, Taylor Soule and Georgia Amoore, while Kayana Traylor added a team-high 18 points off of the bench in the win over the Tigers.
Don't be shocked if the Hokies rise higher than their current ranking - and if they're playing deep into March, too.
Utah Stays Perfect After Back-To-Back Wins
Besides Virginia Tech, the other team in the Baha Mar Pink Flamingo Championship field that kept a perfect record intact was Utah, which also improved to 6-0, thanks in large part to an electric offense that's the second-highest scoring in America at a blistering pace of 95.0 points per game.
Just two years removed from only winning five games, the Utes have looked spectacular this year under coach Lynne Roberts, picking up wins over Alabama and Ole Miss to help boost their resume for what they hope will be the program's first repeat trip to the NCAA Tournament since 2008 and 2009.
Junior forward Alissa Pili, a USC transfer, looks to be rediscovering the form that helped make her a Pac-12 Freshman of the Year with the Trojans during the 2019-2020 season.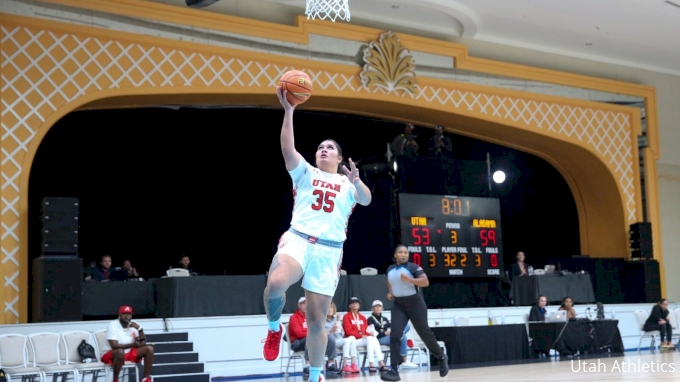 She is pacing Utah with 18.5 points and 4.7 rebounds per game - including a game-high 21 in her team's nail-biting 69-67 win over the Rebels on Wednesday to close out its stint at the Baha Mar.
But it's elite shooting numbers from all across the floor (52.4% from the field, third in the country) making the Utes go, and though Pili's ridiculous current clip of 68.1% from the floor is a major reason behind that, she's merely one of six Utah players making at least half their shots.
Super sophomores Gianna Kneepkens (14.8 points per game, 43.8% from 3-point range) and Jenna Johnson (14.0 points, 7.0 rebounds, 3.5 assists per game) also are doing their parts to ensure that Utah remains a dangerous team to play for the rest of the early-season slate and eventually conference play.
Ole Miss coach returns home to Bahamas
The Baha Mar Pink Flamingo Championship marked a special homecoming for at least one individual in particular.
Ole Miss coach Yolett McPhee-McCuin is a Freeport, Bahamas, native with deep connections building and growing the sport in the islands in multiple ways, with a rich talent pool that includes Indiana Pacers guard Buddy Hield and former WNBA MVP Jonquel Jones.
The first Bahamian woman to sign a Division I National Letter of Intent when she played for Rhode Island in the early 2000s, McPhee-McCuin has served as head coach of the women's national team from since 2013, while simultaneously conducting her collegiate coaching duties in the United States for multiple programs.
.@MarqueshaDavis is dealing ♠️ pic.twitter.com/vO0UuTvhZw

— Ole Miss Women's BB (@OleMissWBB) November 24, 2022
The fifth-year coach of the Rebels broke barriers and made history by jumping on an assistant coach for the Bahamian men's national team during its ongoing FIBA World Cup qualifying campaign.
Returning to the Caribbean for a homecoming with her Ole Miss squad, McPhee-McCuin should be satisfied with how things have gone for the Rebels in the year's first few games.
Ole Miss started its time at the event with a 63-50 win over Dayton on Monday, and though the Rebels weren't quite able to eke out a close win over a talented Utah team, a 5-1 start to the season certainly is nothing to be ashamed about, especially when senior Angel Baker (14.2 points, 2.2 steals per game) is playing like one of the Southeastern Conference's best two-way guards.
Though it perhaps wasn't a perfect return to the Bahamas for McPhee-McCuin - a second win on the trot would've helped it get there - her team got a taste of some elite talent in her homeland and an experience that could help it learn in more ways than one.