2022 Women's Gulf Coast Showcase
Women's Gulf Coast Showcase: Wolverines Win, Keep Unbeaten Start Going
Women's Gulf Coast Showcase: Wolverines Win, Keep Unbeaten Start Going
A look at what went down at the 2022 Women's Gulf Coast Showcase, won by Michigan. The Wolverines defeated Baylor in the championship game Sunday.
Nov 29, 2022
by Briar Napier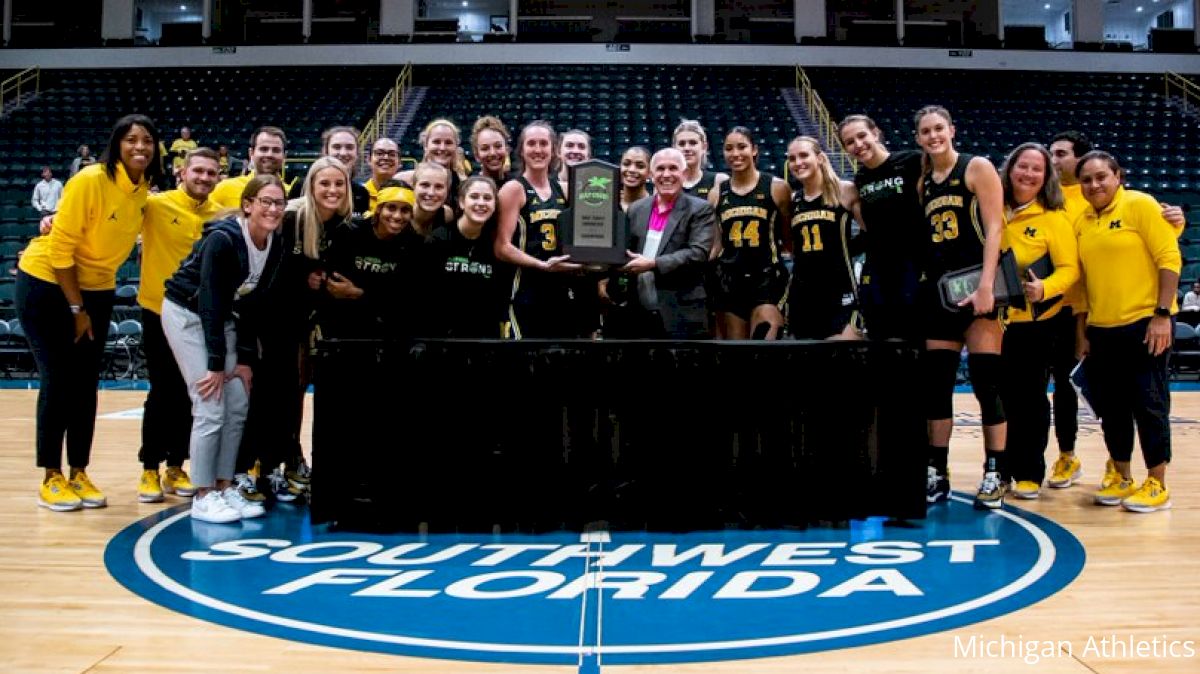 Pressure? What pressure?
It would've been reasonable for the Michigan women's basketball team to feel a little extra weight on its shoulders this season after a program-best 2021-2022 campaign. So far, the Wolverines are passing every test put in front of them with flying colors.
In no setting so far this year did the team prove that to be more true than with three impressive (and consecutive) days at the Women's Gulf Coast Showcase at Hertz Arena in Estero, Florida.
Following a deep NCAA Tournament run a year ago, Michigan proved itself to be a team to be taken seriously again - even with some key departures on the squad - and against a seasoned crop of talented teams full of postseason experience of their own in southwest Florida over the weekend.
Here's a look at what went down over the past three days at the Women's Gulf Coast Showcase, won by Michigan. The Wolverines defeated Baylor in the championship game Sunday.
Michigan Shows Late Grit To Win Title
Michigan's win at the Gulf Coast Showcase didn't come easy. In fact, on back-to-back nights at Hertz Arena, it looked as if the Wolverines were down and out at points.
Thanks to late-game runs and resiliency in consecutive games, Michigan has a new tournament trophy to put in its cabinet. The team also has started 7-0 for the third year in a row.
After comfortably handling Air Force on Friday in a 20-point win, the Wolverines were pushed to the limit in Saturday's semifinal against South Florida, but they kept their cool to eventually win, despite trailing at the end of the third quarter and being down five with under six minutes to play.
Though USF certainly is no slouch of a program, having made back-to-back NCAA Tournaments the past two seasons, Michigan's title-game fightback against a fellow AP Top 25-ranked team in Baylor, looked especially impressive.
Well this was FUN!! Go Blue! #MichiganWay https://t.co/3G3ZCzB0pI

— Coach Batth (@CoachErinBatth) November 28, 2022
Even without impressive Missouri transfer Aijha Blackwell (14.0 points, 6.7 rebounds in three games this year) in the lineup as she nurses a knee injury suffered prior to the Gulf Coast Showcase, the Bears had 22 points from guard Jaden Owens and double-digit scoring numbers from three other players.
Their efforts granted Baylor a two-possession lead with just under five minutes remaining, plus what appeared to be a paved path to a tourney title of its own.
But Michigan finished the game on a tear, scoring 20 points in the final 4:39 - as well as locking in on defense - to blitz past the Bears and capture the 84-75 victory.
Early in the 2022-2023 season, there looks to be no hangover from the Wolverines' history-making campaign a year ago, when they made the Elite Eight for the first time. If Michigan keeps that mojo going into the new year, that's bad news for the rest of its opponents.
Kiser Turning Into Breakout Star
Speaking of that historic run last year from Michigan, much of it was to do with the play of now-Atlanta Dream power forward Naz Hillmon - a former Big Ten Player of the Year, two-time first-team All-American and arguably the greatest player in Wolverines history.
One of the biggest questions coming into the year for Michigan was how it was going to replace such a major piece of its identity for several seasons - especially down low in the post - with Hillmon's departure to the professional game.
With the breakout emergence of Emily Kiser to kick off the Wolverines' current campaign, perhaps those questions have been answered.
Using her additional year of COVID-19 eligibility this season, Kiser's career would've otherwise ended last March with plenty to be proud of (starting all 32 games last season, an All-Big Ten honorable mention nod, etc.), but also an understanding that she clearly was second fiddle in the interior when Hillmon ran the show.

Now, with Hillmon away, Kiser has filled the production gaps left behind with fantastic success.
The MVP of the Gulf Coast Showcase, the 6-foot-3 grad student from Indiana had a defining performance in the title game against Baylor, scoring a career-high 26 points to go with 13 rebounds, as she patrolled the paint with dominance.
It wasn't just a flash in the pan, either.
Kiser entered the year with no 20-point games in her career, whereas through seven games this year, she has five, more than doubling her previous career-best season scoring average with a team-high 20.1 points per game.
Michigan's all-too-familiar unbeaten start to the year is impressive, but without Kiser's breakout performances, it likely wouldn't have been possible in the first place.
Villanova Routs USF To Finish Third
Anytime Villanova and superstar forward Maddy Siegrist step onto the floor, it's must-see streaming or television, even if the Wildcats aren't playing for a first-place piece of silverware.
Case in point - just look back at the way Siegrist sliced and diced through defenses all weekend at the Gulf Coast Showcase, including South Florida's, which wasn't spared, as 'Nova romped to a 72-50 victory to capture third place in The Sunshine State, while Siegrist picked up her 2,000th college point in the process.
After a five-point loss to Baylor on Saturday that added a loss to its 5-0 start to the season and denied it a spot in the Gulf Coast Showcase championship game, Villanova responded by rolling out to a 25-11 start in the first quarter against USF.
They largely coasting from there, holding the Bulls to 19-for-56 shooting (33.9%) from the floor and a 1-for-9 (11.1%) clip from 3-point range for the game.
Back-to-back weeks on the @BIGEASTWBB Honor Roll for Maddy! #GoNova pic.twitter.com/aw0ilVEnOv

— Villanova WBB (@novawbb) November 28, 2022
Siegrist got the milestone point on a third-quarter jumper, joining program legends Shelly Pennefather and Nancy Bernhardt as the only Wildcats to reach 2,000 points in their careers.
Siegrist's ridiculous scoring average of 27.4 points per game - currently the No. 1 nightly average in America - would see her on pace to pass Pennefather, a past Wade Trophy winner, as the program's all-time leading scorer later in the regular season.
Though it's a bit unfair to call Villanova a one-woman show, as players such as sophomore guard Lucy Olsen (who scored in double figures in all three Gulf Coast Showcase games) have carved out solid, reliable complementary roles, there's little reason for the Wildcats to do much else at the moment other than give the keys to the offense to Siegrist and let her take over.