CAA Men's Basketball
CAA Men's Basketball Report | Nov. 28, 2022
CAA Men's Basketball Report | Nov. 28, 2022
Catch up on the CAA Men's Basketball weekly news, notes and awards.
Nov 29, 2022
by FloHoops Staff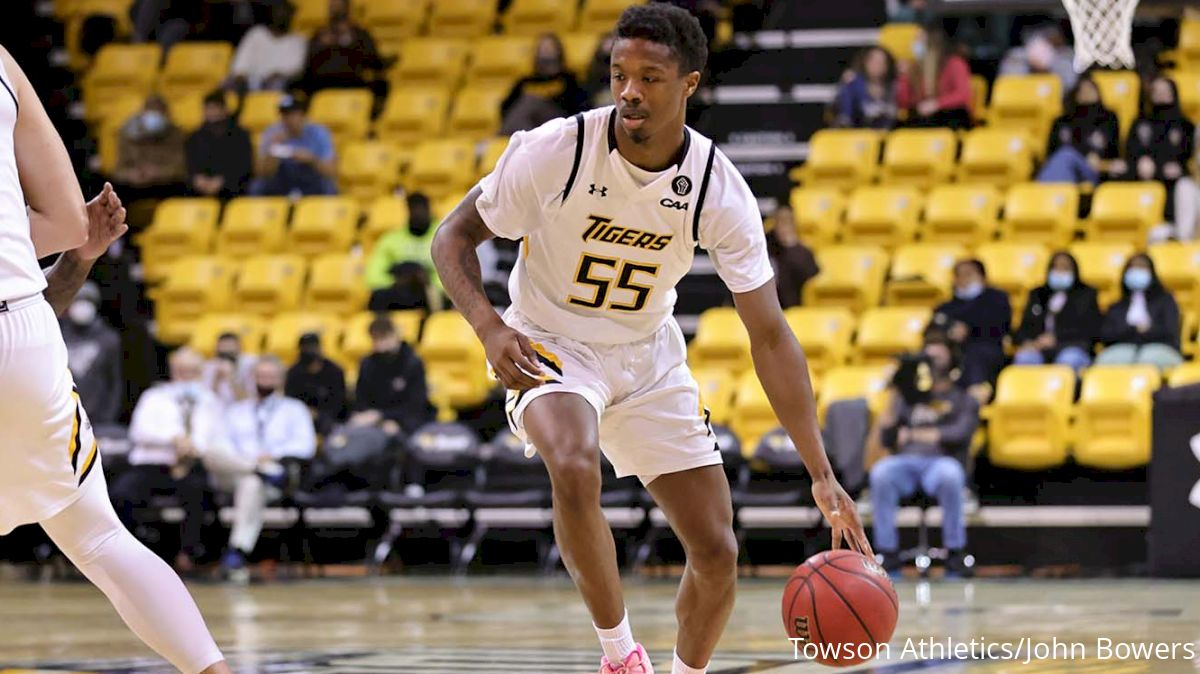 Catch up on the CAA Men's Basketball weekly news, notes and awards.
SCHEDULE AND RESULTS
Friday, Nov. 25
UNCW 68, Missouri State 54
Delaware 72, Colgate 68
Fairfield 74, Towson 69
Middle Tennessee 64, Hofstra 54
Pittsburgh 80, William & Mary 64
Cornell 81, Monmouth 63
Eastern Washington 81, Stony Brook 52
Saturday, Nov. 26
Delaware 78, Hartford 50
Hofstra 65, UNCG 53
Towson 62, South Alabama 60
UNCW 68, Vermont 66
North Carolina A&T 78, Greensboro College 51
Princeton 56, Northeastern 54
Wake Forest 97, Hampton 70
Sunday, Nov. 27
Towson 70, Mercer 60
UNCW 55, North Texas 51
Hofstra 72, Quinnipiac 70
Lehigh 80, Monmouth 76
Temple 73, Drexel 61
Penn 86, Delaware 73
Radford 69, Elon 53
Monday, Nov. 28
No games
Tuesday, Nov. 29
St. Joseph's (L.I.) at Stony Brook (FloHoops), 6:31 p.m.
William & Mary at NC State (ACCNX), 7 p.m.
Old Dominion at Charleston (FloHoops), 7 p.m.
Wednesday, Nov. 30
Hofstra at George Mason (MASN2, ESPN+), 7 p.m.
UNCG at North Carolina A&T (FloHoops), 7 p.m.
Hampton at Georgia (SECN+), 7 p.m.
UNCW at Coastal Carolina (ESPN+), 7 p.m.
Elon at High Point (ESPN+), 7 p.m.
Lafayette at Drexel (FloHoops), 7 p.m.
Monmouth at Rider (ESPN+), 8 p.m.
Thursday, Dec. 1
Cornell at Delaware (FloHoops), 7 p.m.
WEEKLY AWARDS
PLAYER OF THE WEEK
Cam Holden, Towson
Redshirt Senior | Guard | Forsyth, Georgia / Mary Person
Holden led the way in a 3-1 week for Towson with victories over Coppin State, South Alabama and Mercer. He averaged 18.8 points, 7.3 rebounds and 5.5 assists per game.
The guard from Georgia was just shy of a triple-double Saturday, tallying 19 points, nine rebounds, eight assists and four steals. He followed the effort with a 24-point, 10-rebound double-double on Sunday.
Holden is tied for the league lead with two double-doubles on the year and tallied at least 14 points, five rebounds and four assists in all four games on the week for Towson. The Tigers' .875 winning percentage ranks 21st nationally.

ROOKIE OF THE WEEK
Amar'e Marshall, Hofstra
Redshirt Freshman | Guard | Montclair, New Jersey / Roselle Catholic
Marshall is the second player to open his career with three straight CAA Rookie of the Week honors since the award was instituted 20 years ago, joining Charleston's Reyne Smith, who began last season with four straight.
The guard from North Jersey averaged 9.3 points, 4.7 rebounds and 2.3 assists per game with double-digit scoring performances against Middle Tennessee and UNCG.
In Friday's game against the Blue Raiders, he recorded the fifth instance in the last 15 seasons of the same player leading Hofstra in points, rebounds and assists in one game, adding to a list of two performances by Aaron Estrada and one each from Charles Jenkins and Stevie Mejia.
Hofstra went 2-1 in Quebec with wins over UNCG and Quinnipiac.
Men's #CAAHoops Weekly Awards presented by @PrimisBank❗️

▪️ Cam Holden, @Towson_MBB
▪️ Amar'e Marshall, @HofstraMBB

➡️ https://t.co/Sd2gCd63d6 pic.twitter.com/yrH8S70QXe

— CAA Basketball (@CAABasketball) November 28, 2022
2022-23 CAA MEN'S BASKETBALL WEEKLY AWARD WINNERS
Player of the Week
Nov. 14: Nicolas Timberlake, Towson
Nov. 21: Aaron Estrada, Hofstra; Ryan Larson, Charleston
Nov. 28: Cam Holden, Towson
Rookie of the Week
Nov. 14: Amar'e Marshall, Hofstra
Nov. 21: Amar'e Marshall, Hofstra
Nov. 28: Amar'e Marshall, Hofstra
Thank you for the s/o. This group never quits. https://t.co/wo4MzP6v7k

— UNCW Basketball (@uncwmenshoops) November 28, 2022
NEWS AND NOTES
UNCWWWW
UNCW enters the week on a four-game winning streak, with the three most recent victories earning the Seahawks the Baha Mar title.
The Seahawks held Missouri State to 54 points, Vermont to 66 and North Texas to 51 in the Bahamas.
CHARLESTON, CHARLESTON CHAMPS
Charleston's stellar start to the season includes some hardware. The Cougars defeated Virginia Tech to win the Charleston Classic.
The Cougars picked up wins over Davidson, Colorado State, and Virginia Tech in the event.
Charleston is 6-1 to begin the year, including wins over five NCAA Tournament teams and three defending conference champions (ACC, A10, SoCon). The lone setback was at No. 1 North Carolina.
TRIPLE TROUBLE
The trio of Towson, Charleston and Hofstra has climbed to the top of the standings in the season's early going. Towson is 7-1, Charleston is 6-1 and Hofstra is 6-2.
The three teams have combined to defeat three defending conference champions, three preseason favorites and four Atlantic 10 members.
GETTING DEFENSIVE
Three CAA teams are holding their foes under 65 points per game: Drexel (61.6), UNCW (62.8), and Towson (63.1).
The Dragons held UT Arlington to 38 points in a win at the Gulf Coast Showcase - the fewest points a CAA team has allowed to a Division I nonconference opponent since Charleston held East Carolina to 35 in 2016.
POLLING PLACES
Charleston is receiving votes in both national polls this week and slotted as high as No. 18 on one voter's AP Top 25 ballot.
CAA teams have 14 nonconference games against teams ranked or receiving votes in the AP poll, including three against the current top five (No. 1 Houston, No. 3 Virginia, No. 5 Purdue) and five vs. this week's top 10.
Towson is No. 6, Charleston is No. 8 and Hofstra is No. 17 in last week's College Insider Mid-Major Top 25, with the next poll coming Monday night.
CAA teams will play 22 games against non-league foes ranked, or receiving votes, in that poll and have defeated five of those opponents: Kent State, Iona, Chattanooga, Vermont and Missouri State.