2022 Creighton vs Villanova - Women's
BIG EAST Games of the Week: Creighton, Villanova Clash In Early Showdown
BIG EAST Games of the Week: Creighton, Villanova Clash In Early Showdown
Top 25-ranked Creighton and Villanova square off in a marquee matchup to headline the opening weekend of BIG EAST Conference games for 2022-23.
Nov 29, 2022
by Briar Napier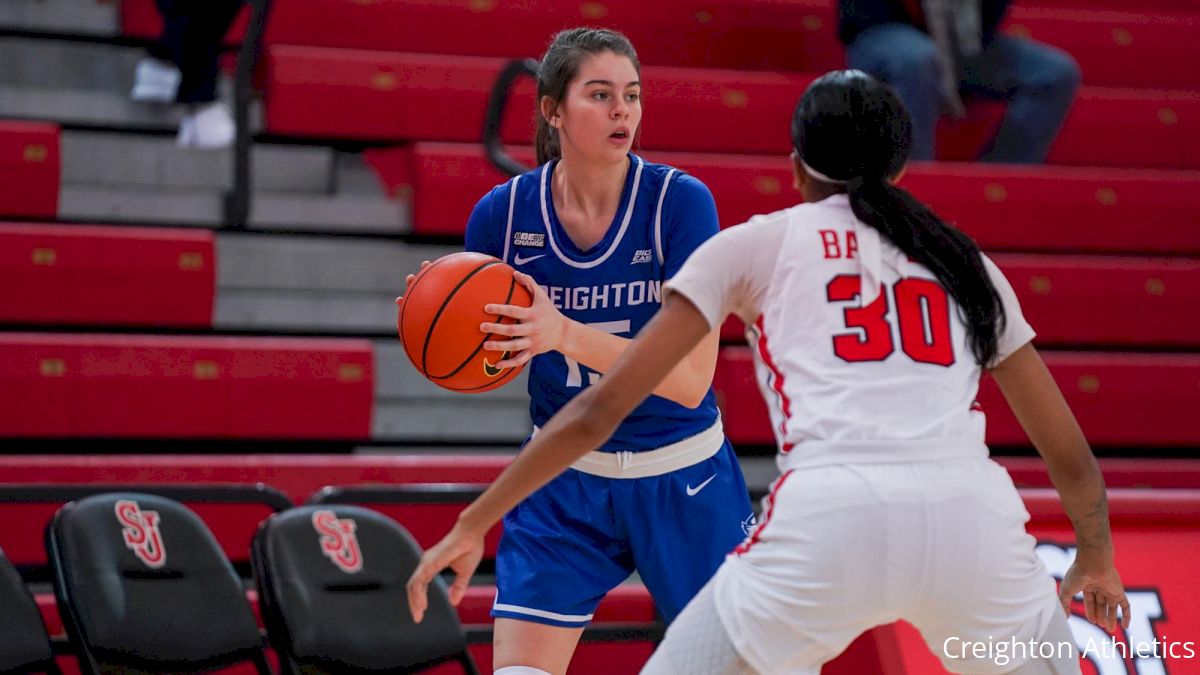 The nonconference warmup games have been played. The weather is growing colder, and the long wait for BIG EAST Conference basketball is over.
The league tips off its conference-wide schedule on Friday (with Creighton-Xavier last Friday being the lone exception preventing it from being a true league-wide tipoff) with plenty of expectations for another wild campaign, featuring several teams coming off of NCAA Tournament appearances from a year ago and others looking to reach March Madness in 2023.
Some have gotten out to better beginnings to the 2022-23 campaign than others, but for those who are still needing a bit of tinkering to figure things out, conference play gives them an opportunity to get the ball rolling and gain some momentum.
But for those who have looked to have figured it out early on, the league slate is merely a chance to keep the good vibes going — and possibly ride them all the way to a historic season in program history.
Here's a look at the BIG EAST women's basketball games to check out this week on FloHoops as another league season gets going in one of the country's best leagues:
NOTE: All tipoff times Eastern.
Creighton vs. Villanova, 7 p.m. Friday
Long expected to be the premier matchup of the opening weekend in BIG EAST conference play, Creighton and Villanova — both ranked in the Associated Press Top 25 at Nos. 13 and 25, respectively — have been set for a collision course and highly-anticipated early-season showdown for quite a while.
And after both programs have surged to strong starts to their seasons, don't expect that to change heading into this week's game between the two that could already have some regular-season title implications.
The Bluejays, who are coming off a historic run to the NCAA Tournament Elite Eight a year ago as a 10th seed, have so far picked up right where they left off from 2021-22, starting 6-0 with coach Jim Flanery's trademark low-turnover, high-efficiency offense.
But one woman who is already a star in women's college basketball is Villanova's Maddy Siegrist, and if you're a longtime BIG EAST women's hoops fan, she needs little introduction.
The Wildcats picked up third place over Thanksgiving week in a tough field at the Women's Gulf Coast Showcase, largely thanks to the performances of the reigning BIG EAST Player of the Year and current national leading scorer (27.4 points per game over seven games) as she's dumped in at least 21 points (including a high of 41 against Temple) in all seven Villanova games this season.
The Bluejays and Wildcats split the season series between the two last year, and with another tight game to be expected in this year's first meeting, expect fireworks on the floor at Finneran Pavilion.
Marquette vs. Seton Hall, 1 p.m. Sunday
At 6-1 overall to begin the year, Marquette hasn't started this strong since the 27-win 2018-19 season when it made the second round of March Madness. That impressive opening stretch resulted in the Golden Eagles earning a spot in the AP Top 25 poll at No. 24 as the one of four ranked BIG EAST representatives.
Making our first AP Poll appearance since 2019, checking in at 2️⃣4️⃣!#MUWBB pic.twitter.com/VbaSlKZP2b

— Marquette WBB (@MarquetteWBB) November 28, 2022
An upset win over then-No. 3 Texas at the Battle 4 Atlantis on Nov. 19 has been the season's highlight thus far, but part of what's making Marquette so competitive early on is that it does a little bit of everything well — and especially defense.
An average of just 54.6 points allowed per game so far this year (even after matchups against the likes of the Longhorns, UCLA and Gonzaga) is very impressive, and coach Megan Duffy looks to have yet another solid team in the works in her fourth season in charge in Milwaukee.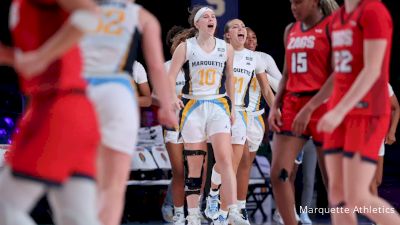 Senior forward Chloe Marotta (13.6 points, 7.9 rebounds per game) is looking to be the breakout post presence the Golden Eagles needed after the graduation of last season's leading scorer in Lauren Van Kluenen, while fourth-year starter Jordan King (12.7 points, 4.1 assists, 2.3 steals per night) has remained one of the BIG EAST's best all-around guards as an anchor of the Marquette backcourt.
Meanwhile at Seton Hall, the program's run to the title game of the WNIT last season has been followed up this year by a bit of a slow start to nonconference play.
The Pirates are 4-3 overall after consecutive losses to Princeton, Columbia and VCU, but The Hall responded well to the latter loss in the opening round of the Paradise Jam in the Virgin Islands to beat Wisconsin and Georgia on consecutive days.
Senior guard Lauren Park-Lane (19.9 points, 5.7 assists per game thus far) is still around to give defenders fits, but watch to see how senior guard (and offseason Penn State transfer) Sha'Lynn Hagans gets involved as the Golden Eagle defense hones in on Park-Lane.
Yes, it's early, but Hagans' bonkers 52.2% clip from 3-point range (on a total of 12-for-23 shooting) commands attention. She cannot be left alone around the perimeter — or teams defending her might get burned.
Creighton vs. St. John's, 2 p.m. Sunday
An impressive start to the year for St. John's has seen the Red Storm surge out to 6-0 for the first time since 2014, picking up two wins at the Las Vegas Invitational on Thanksgiving week.
There's still a while to go before St. John's, picked seventh in the BIG EAST Preseason Coaches' Poll, can be considered league title dark horses. However, a win over the Bluejays would certainly be a step in the right direction.
The Red Storm are a 3-and-D type of team, shooting a solid 36.9% rate from deep across the board to tipoff the season while holding opponents to just a 39.4% effective field goal percentage on the other end of the floor.
And perhaps no player on the St. John's roster has exemplified that philosophy better than redshirt senior guard (and offseason Pitt transfer) Jayla Everett at 14.5 points per game, who shoots an average of 6.3 triples per outing — while making a solid 39.5 percent of them — and tallies 1.5 steals and 1.2 blocks per night to give the Red Storm versatility on both sides of the court.
Her main backcourt mate, Kadaja Bailey (15.2 points, 4.8 rebounds, 2.3 assists per game in 2022-23), has been great to start the season, as well, giving St. John's a fearsome guard combination that can help it win plenty of conference games. But just how many, and against which opponents, exactly?
That'll be one of the defining questions of the Red Storm's early portion of the season, and against a Creighton unit that might actually be the league's best backcourt outside of UConn — featuring the likes of Jensen and juniors Morgan Maly and Molly Morgensen — St. John's will likely learn one way or another Sunday whether it's up to par with the top-tier lineups of the BIG EAST or if some work needs to still be done to get there.