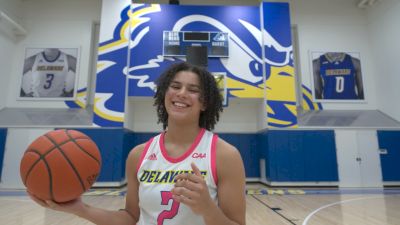 All-Access: Delaware Women's Basketball
Nov 2, 2022
The University of Delaware athletics program is steeped in talent and prides itself on the character of its coaches and players. Much to the delight of the players and university, Coach Sarah Jenkins accepted the position of the women's head basketball coach after CAA Coach of the Year Natasha Adair announced she would be leaving to coach at Arizona State in March 2022.
"I think that true success comes from your ability to build a genuine compassionate relationship with your players"
- Sarah Jenkins, Delaware Women's Head Basketball Coach
Her players Kharis Idom, Tara Cousins, and Jewel Smalls echo her sentiment and are determined to continue the Blue Hens' legacy of forming genuine bonds, building character, winning ball games, and having fun doing it. FloHoops travels to Newark, Delaware to take you behind the scenes with Delaware women's basketball.
---
Producer: Leanza Pieroni
Director of Photography: Chris Walker
Editor: Juliet Jarrett
Production Manager/SUP: Efren Salinas
More 2022 Delaware State vs Hampton - Women's