Texas Tech Star Zach Smith In Better Place With Chris Beard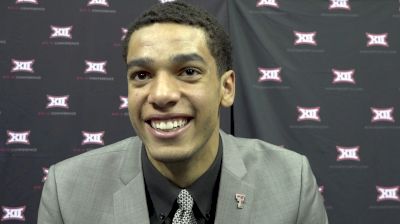 KANSAS CITY, Mo. -- As the team picked to finish in last place in the Big 12 a season ago, saying Texas Tech overachieved would be an understatement. And with an NCAA Tournament berth in the rearview mirror, it is time to usher in a new era.

Chris Beard is now at the helm of the Red Raiders after the reigning Big 12 Coach of the Year, Tubby Smith, went to Memphis. The expectations are not high. After all, Texas Tech is picked to finish seventh in the 10-team league. However, Beard is looking to elevate the program to new heights.

"I don't consider our job a rebuild at all," Beard said at Tuesday's Big 12 Media Day. "I have a lot of respect for Tubby Smith and his staff and the job they did. We inherited a great foundation. In this year's team we have 12 players that are going to be on the active roster. I believe seven of those are returners and five newcomers. The balance of our program, we have eight returners and eight new players. So I think our job is to try to take the program to the next level.

"I think the one group of people that always gets kind of lost in coaching changes is the seniors. A lot of times you'll hear things like the first year doesn't matter or here's a mulligan or wait till you get your guys in. I never believed that. I respectfully disagreed. These players are my players. These players are our players, and we look forward to having a competitive season.

"These seniors, and there are six of them, they're special guys. They're the backbone and foundation of our program. They don't have a second year, this is it. So I take the responsibility to put those guys in a competitive situation early very serious. I appreciate the returning seniors trusting us in their senior season, and I appreciate the new seniors trusting us in their last year of college basketball.

"So we don't look at this as a rebuild. We look at this as an opportunity to be competitive this year, and that's our focus."

It appears things are headed in the right direction. Just listen to forward Zach Smith talk to FloHoops' Brett Regan on where he thinks the program is under Beard.