No. 10 Memphis East Flushes No. 2 Montverde Academy At The Buzzer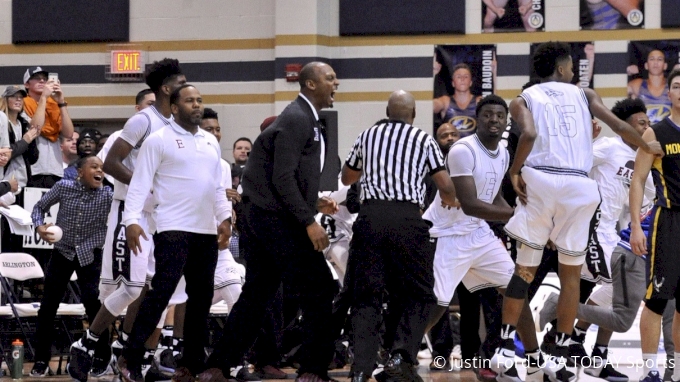 MEMPHIS, TN — Memphis East walked out of the huddle late Saturday night oozing with confidence. Better yet, it was certainty. All that was left was last-second execution and heroics for some needed redemption.

With eight seconds remaining in a tie game, Alex Lomax, the Mustangs' best playmaker, took the inbound pass in the backcourt and began making his move.

The junior took four dribbles, faked going to the corner and put on a vicious spin move before finding himself in perfect position to find cutting big man Chandler Lawson.

Dunk.

Game over.

No. 10 Memphis East (TN) 75, No. 2 Montverde Academy (FL) 73.

What a way to end this stop on the ARS Rescue Rooter National Hoopfest tour. What sweet revenge it was for the Mustangs, who trailed 39-38 at halftime, to take down the undefeated squad it lost to two weeks ago at the Culligan City of Palms Classic.

TJ Moss led five Memphis East players in double figures with 16 points. Lawson had 14 points and seven rebounds. Malcolm Dandridge had 10 points, and Antavion Collum and Radarious Washington added 11 and 10 off the bench, respectively.

Lomax chipped in nine points and six assists.

RJ Barrett had a game-high 32 points for Montverde, while Sean Mobley added 14 and Andrew Nembhard had 13.

The game lived up to its top 10 hype. And when it came down to the wire, Memphis East ran the play it always practices to perfection.