Evan Gilyard Does It All For Undefeated Simeon (IL) At National Hoopfest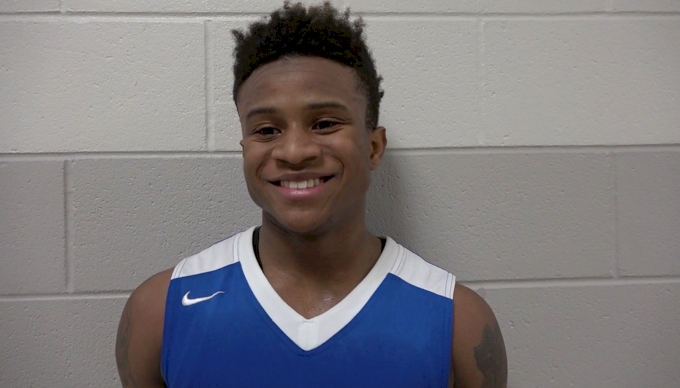 MEMPHIS, TN — Evan Gilyard is a lethal scorer, one of the best in the country. He takes what the defense gives him, and he makes opponents pay no matter what. The Simeon (IL) senior guard just operates at a higher level, and it was shown once again Saturday at the ARS Rescue Rooter National Hoopfest.

Gilyard had another virtuoso performance to keep the No. 12 team in the country undefeated with a comfortable 81-60 win over Memphis Cordova (TN) by posting an event-high 32 points, six rebounds, and three assists. He set the tone on both ends of the floor to win game MVP honors and was undoubtedly one of the great players who shined in the star-studded showcase.


OTHER TOP PERFORMERS:
RJ Barrett (Montverde Academy)
The nation's top sophomore keeps getting better. And that's a scary, scary thing. The 6-foot-5 wing has already displayed a strong scoring arsenal inside the arc this season, but he's now developing that killer instinct to take his game to the next level. He was the only Montverde player in double figures on Friday with 20 points in a 40-point win and followed it up with a lethal 32 points against No. 10 Memphis East. The potential is through the roof for Barrett, and he continues to show up in the biggest moments on the biggest stage.
Nickeil Alexander-Walker (Hamilton Heights Christian)

A lot of the attention and chatter goes to guard Shai Gilgeous-Alexander and understandably so. After all, the Kentucky signee made 30 points look effortless on Friday. However, in watching this particular team, it definitely goes as Alexander-Walker goes. The Virginia Tech-bound guard has a great frame and can shoot lights out, contested or not. He averaged 20 points in two easy games.
Isiah Jasey (Sunrise Christian Academy)
The big man did not win the game MVP. That belonged to teammate Malik Hall, who posted 20 points, but Jasey had a perfect game in the 68-51 win over Houston (TN) -- literally. He went 5 for 5 with 13 points, grabbed 14 rebounds, and dished out two assists. This team has a lot of talented pieces and can be very good when clicking on all cylinders.
Quinton Williams (Southwind)
Perhaps it was just one of those games, but Williams was on fire. Coming off the bench, he dropped 23 points on 9-for-11 shooting, including 5 for 5 from 3-point land, in an easy 76-50 win over Memphis Lausanne. Southwind was supposed to square off against Flo40 guard Collin Sexton and Pebblebrook (GA), but due to weather, there was a change in the schedule and Williams took full advantage of it.
Malcolm Dandridge (Memphis East)

Really, the entire Memphis East team could be put on this list. Not only did it upset No. 2 Montverde Academy in an intense rematch, but the players on this balanced squad understand their roles. None were more vital than Dandridge, though. The sophomore big man as active on the glass and had a couple loud dunks on his way to 10 points. His play was certainly noticeable in the headlining game.