The Road To Nike Nationals: Go Behind The Scenes Of The 2017 Girls EYBL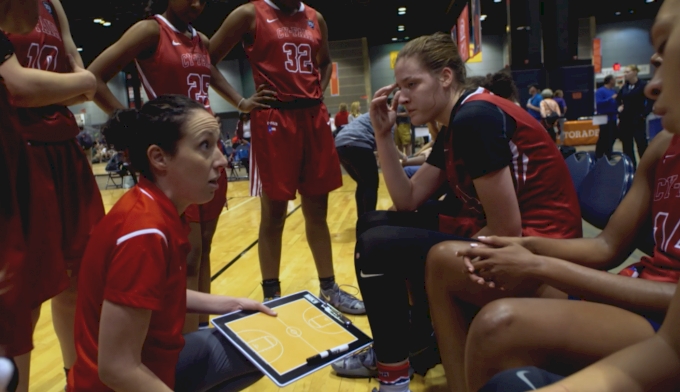 The most significant signs of growth in the women's hoops game now annually rest in the heart of the largest convention center in North America. It's where the competition of the nation's top prep prospects meets the ultimate spotlight in the summertime to further prove there is nothing better than the Nike Girls EYBL.

For the first time ever, Nike Nationals became the main attraction inside Chicago's McCormick Place for one week in July. Whether due to the teams, fans, parents, or even the best college coaches in the country, the tournament was an inescapable magnet and the buzz was incredible.

The event itself was special, but the opportunity and platform the Nike Girls EYBL provided was truly one of a kind and something many of these young ladies will remember forever.


FEATURED PLAYERS & COACHES (In Order Of Appearance):
Katie Hensle -- Cy-Fair Elite (Texas) Head Coach
A former Texas Tech assistant coach and current Austin Westlake (Texas) head coach, Hensle has found great success at the helm of Cy-Fair Elite (Texas), a program full of the nation's top talent each season.
Arieal Scott -- Indy Lady Gym Rats (IN) Guard
One of the best shooters in the country, the 5-foot-9 guard and Duke commit from Urbana (IL) carries a strong basketball IQ and spirit to the game.
Charli Collier -- Cy-Fair Elite (Texas) Forward
Arguably the top prospect in the nation, Collier, a 6-foot-5 UConn commit from Barbers Hill (Texas), is incredibly skilled and currently one of the faces of the entire high school girls game.
Zarielle Green -- DFW Elite (Texas) Guard
Playing for historic Duncanville (Texas) during the prep season, the 6-foot Green has some of the top programs in the country after her because of her versatility.
Dara Mabrey -- Exodus NYC Guard
Looking for a prospect with big-time toughness? Mabrey might not be the biggest girl on the court, but the 5-foot-8 point guard from Manasquan (NJ) will definitely bring it each time she steps on the floor.
Chris Carr -- Kansas State Women's Basketball Assistant Coach
A former six-season NBA veteran with a great basketball mind, Carr has worked his way up the coaching ranks with the Wildcats and was elevated to assistant coach for this season after serving as the program's director of student-athlete development last year.
Jillian Noe -- Nike Basketball
As a strong ambassador to the game, Noe is one of the key players in helping grow the Nike Girls EYBL over the years.


FloHoops' best content, delivered to your inbox!
Don't miss breaking news, feature stories, event updates, and more. Sign up for the FloHoops mailing list today.