Oak Hill's Keyontae Johnson Has An Insane Max Vertical Leap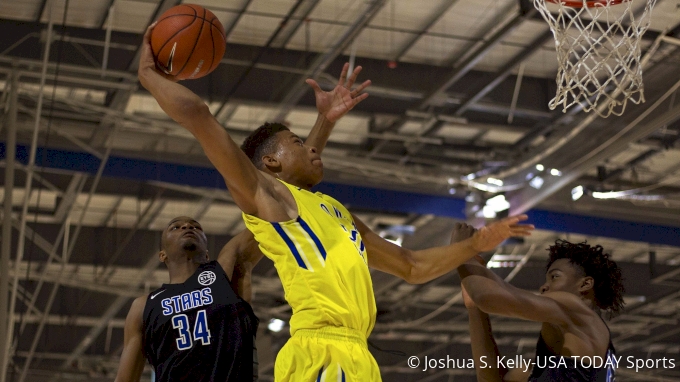 If anyone was near the court Keyontae Johnson was on at Peach Jam this summer, chances are they heard the massive roars from the crowds following one of his dunks. The 6-foot-5 shooting guard was slamming everything in sight and was easily one of the most exciting players to watch.

After averaging 12.9 points and 7.6 rebounds on nearly 70 percent shooting for Boo Williams (VA) at the final Nike EYBL event in July, Johnson showed off his incredible max vertical leap at his new school over the weekend.

Johnson had the highest leap of any Oak Hill Academy (VA) player at an insane 41 inches.


Them #JohnsonBoys in a battle for highest vert in our #NBACombineTesting today. #KeldonJohnson 39.5" @keyontaejohnso1 41" #VABoysCanFly pic.twitter.com/2ZEIYJ0dVf

— Cory Alexander (@CoryAlexanderVA) September 5, 2017
Oak Hill basketball combine testing top max vert @keyontaejohnso1 41" & touched 11'10" on the Vertec @OHACoachSmith @Jumpman23 pic.twitter.com/CXR7RXYucD

— Micah J Kurtz (@KurtzM3) September 5, 2017
To put it into perspective, this is how good that is:
Of the 55 prospects who tested at the 2017 NBA Combine, only three had a higher max vertical leap. Less than 13 percent of players even jumped 40 inches.
Hamidou Diallo (44.5 inches)
Frank Jackson (42 inches)
Devin Robinson (41.5 inches)
Frank Mason III (41 inches)
Donovan Mitchell (40.5 inches)
Rawle Alkins (40.5 inches)
Semi Ojeleye (40.5 inches)
It's remarkable just seven of 55 of the some of the best athletes in the world hit that mark, and the best part is Johnson will be taking flight on FloHoops in at least five events with the Warriors this fall.
FloHoops' best content, delivered to your inbox!
Don't miss breaking news, feature stories, event updates, and more. Sign up for the FloHoops mailing list today.