2023 Charleston vs UNCW - Men's
College Of Charleston Vs. UNCW: 5 Things To Know About CAA Showdown
College Of Charleston Vs. UNCW: 5 Things To Know About CAA Showdown
How to stream College of Charleston basketball vs. UNC Wilmington as the nation's longest winning streaks are on the line in CAA basketball action.
Jan 11, 2023
by FloHoops Staff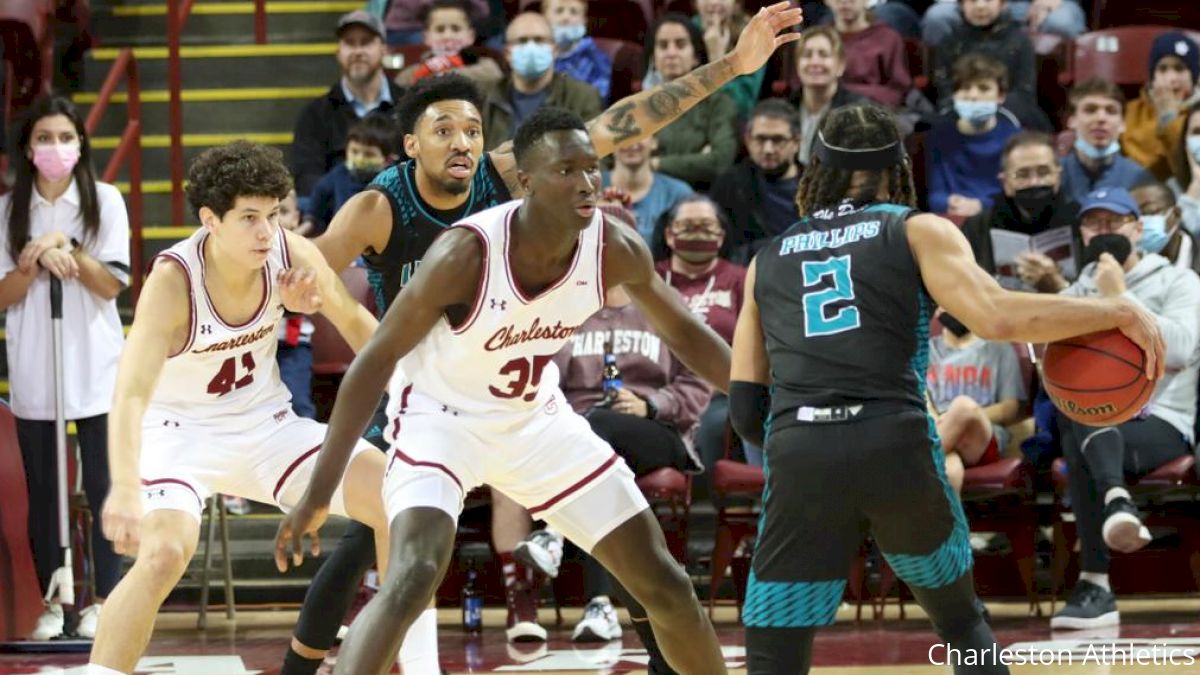 After Wednesday night, only one Colonial Athletic Association men's basketball team will have men's college basketball's longest winning streak.
The No. 22-ranked College of Charleston basketball team (16-1 overall, 4-0 in CAA), winners of 15 straight games, travels to Trask Coliseum to play UNC Wilmington (14-3 overall, 4-0 in CAA), winners of 13 straight games.
The victor will remain undefeated in conference play and be in sole possession of first-place in the league. That team will also gain the upperhand in the race for the conference's No.1 seed at the 2023 Jersey Mike's Sub CAA Men's Basketball Championship tournament from March 3-7 in Washington D.C.
Here's what to know about the early CAA showdown between the Cougars and the Seahawks.
Charleston Is Ranked In The AP Poll For The First Time Since 2002
Before the calendar moved to 2023, the Cougars hadn't been ranked in more than 20 years. On Monday, CofC climbed to No. 22 in the polls, the highest it has been ranked since being No.16 in March of 1999.
The Cougars debuted in the rankings on Jan. 2 at No. 23 and moved up to No. 22 on Monday following wins over North Carolina A&T (92-79) and Delaware (75-64) last week.
UNCW And Charleston Last Lost In November
The longest winning streaks in college basketball aren't found in Durham, N.C., Lexington, Ky. , or Lawrence, Kan.
College of Charleston, off to its best start since 1991, last lost on Nov. 11 when then-No.1 North Carolina beat the Cougars 102-86 in Chapel Hill.
Since that game, the Cougars have defeated mid-major powers Richmond, Davidson and Mid-American Conference preseason favorite Kent State. The Cougars' biggest win came in the ESPN Shriners Children's Charleston Classic on Nov. 20 when they beat Virginia Tech 77-75 in the championship game
UNC Wilmington has been just as impressive.
On Nov. 7, the Seahawks also took a loss to then-No. 1 North Carolina (69-56), then lost to Big 12 power Oklahoma (74-53) and finally to UConn, ranked No. 25 at the time, 86-50.
That was on Nov. 18.
Since then, the Seahawks have impressive wins over Vermont, North Texas, Coastal Carolina and East Carolina during a 13-game win streak.
Which College Basketball Teams Have The Longest Current Win Streaks In 2023?
Here are the five current longest win streaks of the 2022-2023 season:
College of Charleston, 15 games
UNC Wilmington, 13 games
Florida Atlantic, 13 games
UCLA, 11 games
Utah Valley, 10 games
Florida Atlantic also plays on Wednesday, while UCLA's next game is Thursday. The longest winning streak in program history for the Cougars was in the 1996-97 season under coach John Kresse. That College of Charleston team reached the second round of the NCAA Tournament.
UNCW Basketball Coach Takayo Diddle Vs. CoC Coach Pat Kelsey
Pat Kelsey became the coach at College of Charleston in March, 2021, and is in his second season with the Cougars following a successful tenure at Winthrop. Kelsey has a 219-111 all-time coaching record and is 33-16 with the Cougars.
Takayo Siddle became the head coach of the Seahawks in 2020 after serving as an assistant coach for former UNCW coach Kevin Keatts and at North Carolina State. Siddle led the Seahawks to a surprising 27-9 mark with an 18-3 CAA record in his second season in 2021-22 after his team was picked to finish ninth in the preseason poll.
Siddle beat Kelsey's squad three times last season, including once in the conference tournament. The last time Charleston traveled to UNC Wilmington, the Seahawks won 85-79.
Siddle is 34-19 all-time as a coach.
Charleston Vs. UNCW Stats To Know
Charleston leads the CAA in scoring with an average of 80.8 points per game. Meanwhile, UNCW allows the second-fewest points in the league at 62.9.
Charleston is led in scoring by graduate student Dalton Bolon. The 6-foot-4 guard averaged 9 points last season for the Cougars but is averaging 12.9 points this season and has started every game.
UNCW's leading scorer is sophomore Trazaien White at 14 points per game, which is the 10th highest average in the CAA. The 6-foot-6 guard averaged 6.9 points last season when he started 23 games for the Seahawks.
How to watch College of Charleston vs. UNC Wilmington
UNC Wilmington hosts College of Charleston at 7 p.m. ET at Trask Coliseum. The game will stream live at FloHoops.com