2023 Charleston vs Northeastern - Men's
Mid-Major Notebook: LMU Upset Of Gonzaga Could Have March Stakes
Mid-Major Notebook: LMU Upset Of Gonzaga Could Have March Stakes
Loyola Marymount's historic win Jan. 19 at Gonzaga ended a variety of streaks — and could help the Lions end another as they pursue an NCAA Tournament bid.
Jan 21, 2023
by Kyle Kensing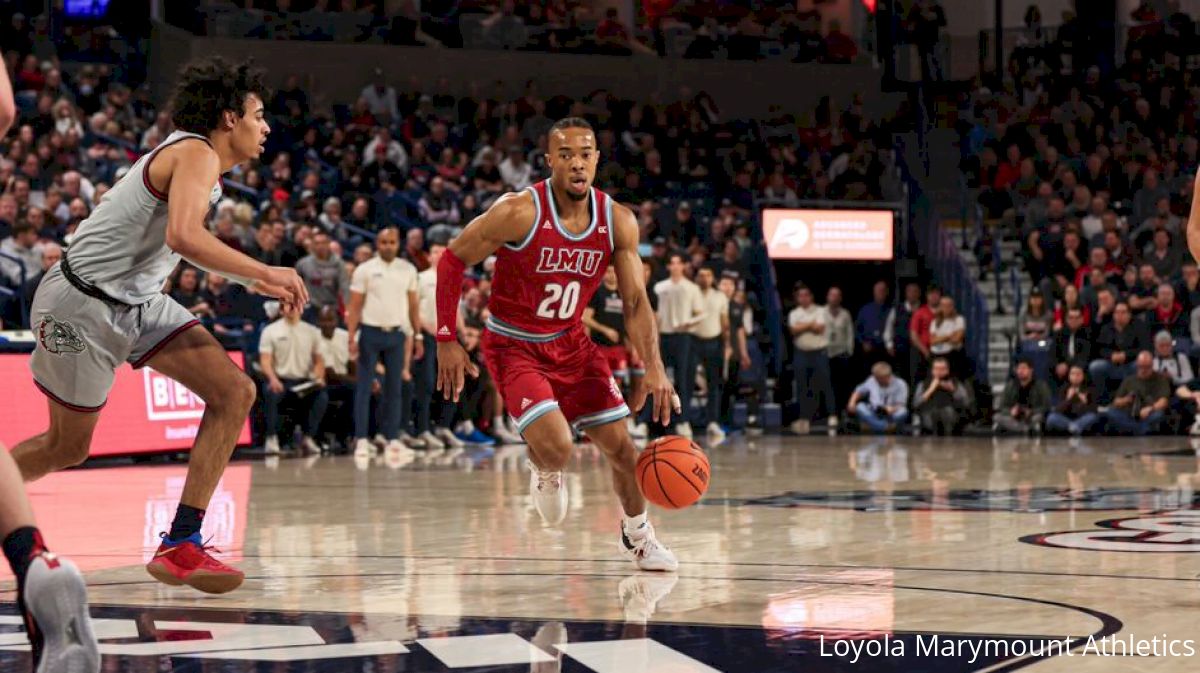 College basketball may have had no bigger upset in the 2022-23 season than Loyola Marymount's 68-67 shocker at Gonzaga on Jan. 19. Given historical context, the Lions' victory just might rank in the pantheon of all-time stunners like Chaminade over Virginia.
LMU went into Spokane having lost 25 straight to the Zags, while Gonzaga had gone more than four full years without a home loss — and none to Loyola Marymount since 1991.
That date, 1991, holds another bit of significance: That year marked the first in another streak for the Lions as the first of 32 consecutive seasons in which LMU failed to qualify for the NCAA Tournament; that's counting 2020, as the West Coast Conference Tournament completed before COVID-19 cancelled March Madness and the 11-21 Lions were certainly not receiving an at-large invitation to the Big Dance.
What's more, the 1991 Loyola Marymount win at Gonzaga came less than a calendar year after one of the most remarkable runs in NCAA Tournament courtesy of this program. Bo Kimble, playing in the memory of teammate Hank Gathers, led the Lions to the Elite Eight.
LMU's incredible 1990 postseason only ended when it ran into a powerhouse UNLV, the last national champion to emerge from what would be considered a "mid-major" conference (the Big West). The '90 Lions also achieved what was arguably the most significant season among members of the present-day WCC since San Francisco's national championships with Bill Russell, and until Gonzaga reached the Elite Eight nine years later to kick off one of college basketball's most unlikely success stories ever.
The program's last NCAA Tournament berth is noteworthy in more immediate context relative to the Gonzaga upset in that Loyola Marymount now inserts itself into early conversations for at-large consideration.
The Lions improved to No. 94 in KenPom.com overall rankings, and with their first Top 10 win since 1961, launched 11 spots in NET rankings to No. 87. Neither is likely to garner serious at-large hope if Selection Sunday was today, but it positions Loyola Marymount nicely in a mid-major conference with more abundant resume-building opportunities than even some of the traditional "power" conferences might offer.
LMU is one of five WCC teams ranked in the NET top 100 along with BYU, Santa Clara, Gonzaga and Saint Mary's. The latter two are No. 11 and No. 7. LMU sees all four in the month of February, with Saint Mary's and Gonzaga both visiting Gersten Pavilion in El Segundo.
On The Mountaintop...Until March?
While the WCC boasts the two best NET rankings of any mid-major conference, regardless of geographic status, the overall strongest league out West may be the MWC. Five Mountain West teams reside in the NET top 34:
No. 19 Boise State
No. 29 San Diego State
No. 31 New Mexico
No. 33 Utah State
No. 34 Nevada
The same five also rank 51st or better in KenPom overall rankings: Boise State at 24; SDSU at 28; Utah State at 44; New Mexico at 46; and Nevada at 51. The Wolf Pack have emerged as the most surprising of the quintet, picked to finish ninth in the MW preseason poll.
Nevada scored impressive preseason wins against KenPom Top 100 competition: Grand Canyon, Sam Houston, and to tip off the Cayman Islands Classic against Tulane. The Pack finished their Cayman Islands Classic appearance with a win over a good Akron team, and their only loss at the tournament was against a currently Top 15-ranked Kansas State team with emerging National Coach of the Year contender Jerome Tang.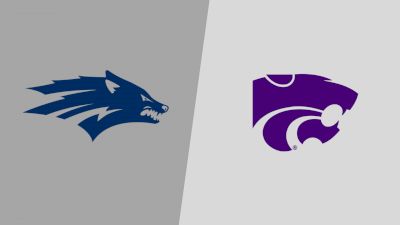 Unlock this video, live events, and more with a subscription!
Get Started
Already a subscriber? Log In
That bodes well for the Mountain West at least matching last season's four teams it sent to the NCAA Tournament, and possibly sending five representatives to match the 2013 campaign.
Sending teams to March Madness has not been an issue for the MW, however: It's keeping them there longer than one game.
Last year's 0-4 showing makes it three straight postseasons in which the conference went without an NCAA Tournament win, and the fifth time in six postseasons (though Fresno State in 2016 and Nevada in 2017 were the league's only representatives in the field). Nevada's Sweet 16 run in 2018 marks the last time a Mountain West team advanced past the 1st Round.
Pinpointing any one variable that needs to change for the MW to improve its postseason prospects isn't necessarily feasible, given each NCAA Tournament matchup has its own conditions that shape it. However, a New Mexico team that plays with one of the nation's fastest tempos may have the firepower to shoot its way into second-weekend contention.
The Lobos boast the conference's two leading scorers in Jamal Mashburn Jr. and Jaelen House at 18.3 and 17.4 points per game. Bonus points for both being the sons of two of a previous generation's most prolific scorers in college hoops, Jamal Mashburn Sr. at Kentucky and Eddie House at Arizona State.
Given UNM's penchant for offense, one can't help but hope for a Big Dance encounter between the Lobos and College of Charleston. It probably wouldn't be as high-scoring at Loyola Marymount and UNLV in 1990, but not for lack of effort on either side.
Just Win, Baby
Speaking of Charleston, the Cougars continue to take Colonial Athletic Association opponents' best shots and answer. Charleston trailed Monmouth at halftime of their Jan. 19 meeting before dominating the second half, 41-24.
The rally extended Charleston's nation-leading winning streak to 19 games. A Jan. 21 trip to Northeastern presents the Cougars with their shot at winning No. 20 straight, with a Jan. 28 showdown against a tough Hofstra team to close out the month.
Two more wins would position Charleston to be playing for a program record-matching 23 consecutive wins when it travels to Drexel and Delaware the first weekend of February.
Meanwhile, college basketball could see concurrent 20-plus winning streaks at the outset of February. Florida Atlantic plays three Conference USA contests to close January, starting Jan. 21 at UTEP then coming home to host MTSU and Western Kentucky. Win the trio, and the Owls fly into February with 20 straight wins.
Regardless what unfolds at either the CAA or C-USA Tournaments, Charleston and FAU are in the enviable position of being able to almost assure themselves NCAA Tournament bids if they continue this winning streaks into February. FAU faces potential landmines with a tough, back-to-back road trip at Charlotte and UAB, while Charleston's recent close calls — an overtime win at Towson on New Year's Eve, escaping Trask Coliseum with a late-game surge, rallying from down at the half to Monmouth — speaks to the target Pat Kelsey's team wears every time out.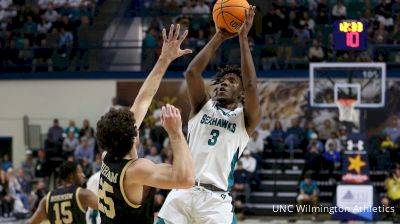 Unlock this video, live events, and more with a subscription!
Get Started
Already a subscriber? Log In
Old Dogs, New Tricks?
Southern Illinois last reached the NCAA Tournament in 2007 at the end of a five-year run that spanned three coaching regimes: Bruce Weber, Matt Painter and Chris Lowery.
Since the '06-'07 campaign, the Salukis finished better than a tie for third just once in the Missouri Valley Conference, concluding the 2017-18 season in a distant second (four games back) to Final Four-bound Loyola.
As the MVC schedule nears the midway point, however, the 2022-23 Salukis are tied atop the league with a head-to-head win over fellow first place Belmont in the only meeting between the teams this season.
Southern Illinois' 15 wins are just one shy of matching the most in a season during coach Bryan Mullins' short tenure in Carbondale. SIU owes its success thus far to streaky, high-volume 3-point shooting and finishing when shooting from the interior, as the Salukis rank in the top six nationally for both 2-point field-goal percentage (58.5, sixth-best overall) and percentage of total field-goal attempts coming from beyond the 3-point line (48.5, fifth-most in the country).
Combined with aggressive defense — Lance Jones is one of the most effective turnover-creators in the game — Southern Illinois just might have the recipe to emerge as top dog in the Valley.