2023 Stony Brook vs Hofstra - Men's
Mid-Major Notebook: Saint Mary's-Gonzaga Headlines Weekend Of Showdowns
Mid-Major Notebook: Saint Mary's-Gonzaga Headlines Weekend Of Showdowns
Nationally ranked Saint Mary's and Gonzaga meet in one of the week's matchups for first place in heated conference-championship races.
Feb 3, 2023
by Kyle Kensing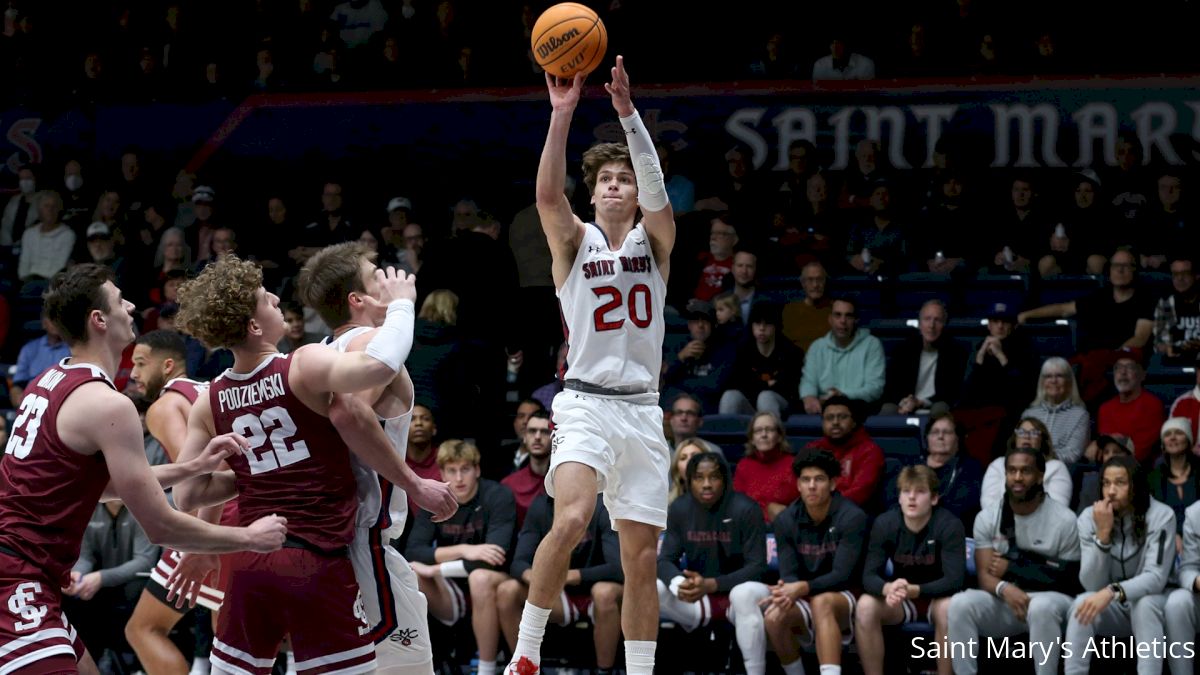 Championship races across a variety of conferences reach a pivotal juncture over the same February weekend, with a Saturday night showdown between West Coast Conference heavyweights Gonzaga and Saint Mary's.
The matchup of perennial NCAA Tournament participants and nationally ranked rivals offers the host Gaels the most unlikely of scenarios: building a two-game lead over the Zags. Gonzaga has won at least a share in each of the past 10 WCC regular seasons, and 21-of-22.
The lone exception in that stretch came in 2011-12, when Saint Mary's claimed its only outright title of coach Randy Bennett's illustrious career.
Saint Mary's coach since 2001, Bennett reached rarefied air with the Gaels' 68-59 win over San Francisco on Thursday. The victory marked his 500th, landing Bennett in company with such coaching luminaries as Nolan Richardson, and the late Pete Carril and Rick Majerus.
A milestone kind of night in Moraga.

Congrats to Randy Bennett on his 5️⃣0️⃣0️⃣th career win as head coach of the Gaels!#GaelsRise | @WCChoops pic.twitter.com/JUUlmeYZXc

— Saint Mary's Hoops (@saintmaryshoops) February 3, 2023
Bennett is one of only 25 to have won 500 at the same program.
"The big win was beating USF, and just get to 9-0 [in WCC play]," Bennett said in his postgame press conference, downplaying the significance of his individual milestone in the context of Saint Mary's championship chase. "It's really hard to think about in any other way than that right now. I think in time, you'll reflect back and the memories you'll have of just the players and coaches, that's why we're sitting here. It's 'cause we've had really good players and really good assistant coaches and great administrators."
The list of great Gaels players in Bennett's tenure is long. From producing NBA stalwarts Patty Mills and Matthew Dellavedova, to March Madness standout Omar Samhan, to WCC Player of the Year Jock Landale, Moraga has hosted plenty of standouts who made their own marks on the program.
For as good as Saint Mary's has consistently been under Bennett, however, the 2022-23 Gaels might be the best bunch yet.
SMC is one of just eight teams in Div. I basketball with 20 wins through games played Feb. 2. The Gaels are ranked No. 18 in the AP Top 25, and are seventh overall in KenPom.com metrics. They have won 11 straight heading into their Saturday showdown with Gonzaga, tied with Colgate for the nation's second-longest streak after Florida Atlantic's 20-game streak was snapped on Thursday.
A mix of dangerous 3-point shooting, with each of Aidan Mahaney, Kyle Bowen and Alex Ducas shooting better than 42 percent from 3-point range, and size with 6-foot-10 rim-protector Mitchell Saxen, gives Saint Mary's balance that's difficult to match.
Beating Gonzaga is never a guarantee — the proof is in the Zags' run of WCC dominance. Likewise, beating Gonzaga to move two games in front doesn't guarantee SMC its first outright championship in more than a decade. The West Coast features six KenPom Top 100 teams, including the Loyola Marymount team that snapped Gonzaga's home-court winning streak and a BYU bunch that Saint Mary's needed a Mahaney jumper just before the buzzer to hold off last week.
AIDAN MAHANEY TURNAROUND WINNER!

Saint Mary's survives! pic.twitter.com/Y9unhHFKxz

— Heat Check CBB (@HeatCheckCBB) January 29, 2023
Still, the always-important Zags' visit to the former McKeon Pavilion takes on added significance this time around.
More First-Place Matchups
Mid-American: Kent State at Akron; Friday Feb. 3 at 9 p.m. ET
At 18-4, Kent State has built a resume worthy of NCAA Tournament at-large consideration if Selection Sunday happened tomorrow. The Golden Flashes have another month to either bolster that portfolio — and a Mid-American regular-season championship would likely be necessary — or fall by the wayside.
They face one of the tougher tasks on the remaining docket to start their February, visiting an Akron team that has won seven in a row.
The Zips — last year's MAC representative in the Big Dance that nearly stunned UCLA in the 1st Round — boast one of the nation's premier combo guards in Xavier Castaneda.
Castaneda is averaging a shade less than 21 points per game while dishing out three assists a contest. He's shooting better than 39 percent from 3-point range to complement his aggressive, attacking style that is producing a top 40 free-throw rate per KenPom.com metrics.
Kent State, meanwhile, has thrived thanks to one of the most tenacious defenses in college basketball. The Golden Flashes force turnovers on nearly a quarter of all opponent possessions — and when they aren't generating takeaways, they're holding teams to just 31.2 percent shooting from beyond the arc and 46.4 percent inside it. Malique Jacobs, one of the best on-ball defenders in the country, could make for an intriguing matchups opposite Castaneda.
Mountain West: Boise State at No. 22 San Diego State; Friday, Feb. 3 at 9 p.m. ET
The volatile Mountain West Conference is a five-team race heading into February. While the gap will be narrow, one of either Boise State or San Diego State can claim sole possession of first place after meeting on Friday night.
The Broncos are winners of three straight since rebounding from a heartbreaking, overtime loss at New Mexico last week — the program's first January loss since 2021. Their streak, coupled with San Diego State's 75-66 loss at surprising Nevada, has the two coming into Montezuma Mesa both 8-2 in the conference.
For the Aztecs, the home date isn't just an opportunity to take over first place: They're looking to snap a three-game losing skid to Boise State dating back to last season and a 53-52 loss in the Mountain West Tournament.
Southland: Texas A&M-Corpus Christi at Southeastern Louisiana; Saturday, Feb. 4 at Noon ET
Southland pace-setter Southeastern Louisiana has won eight of its last nine and averaged 81 points across those nine games. The Lions hold a one game lead over both Northwestern State, which handed SELA its lone blemish amid this current stretch in a 91-81, overtime shootout on Jan. 19; and Texas A&M-Corpus Christi. The Lions seek a season sweep of the Islanders after winning an 85-82 decision on Jan. 12 — also an overtime finish.
After playing somewhat limited minutes for the first half of the season, Nick Caldwell has grown into a difference-maker for SELA. He scored 21 points on 8-of-11 shooting at TAMUCC, one of four games with at least 21 points over the Lions' last seven. He's also been a force on the glass with three straight games grabbing eight rebounds.
Sun Belt: Marshall at Louisiana; Saturday, Feb. 4 at 8 p.m. ET
Louisiana's ongoing winning streak of nine games has it tied atop the Sun Belt with Southern Miss, but looming just a game back is Marshall. Taevion Kinsley drives the Thundering Herd's uptempo style, averaging 21.1 points on an impressive 53.9 percent shooting from the floor, with 5.7 assists per game.
Behind head coach Dan D'Antoni, who alongside his brother Mike transformed the NBA in the 2000s with a quick-strike approach, Marshall plays at one of the fastest paces in college hoops. It's not quite the seven seconds or less branding of the 2000s Phoenix Suns, but the Herd average just 15 seconds per possession.
The Ragin' Cajuns won't shy away from putting up points in their own right, and guard Greg Williams Jr. comes in as one of the hottest players in the game. His 23 points on 7-of-10 shooting Thursday against Texas State marked Williams' fourth consecutive game with at least 21 points.
Fly Like the Eagles
UAB snapping Florida Atlantic's 20-game winning streak on Thursday leaves the Big Sky Conference's Eastern Washington Eagles with the longest run in the nation at 13 games.
EWU last lost in mid-December at Texas Tech, and have since been unbeatable in league play. An 82-63 rout of Sacramento State on Thursday moved the Eagles to 11-0 in the Big Sky with a two-game lead over Montana State — an opponent Eastern Washington beat on the road on New Year's Eve.
EWU owes its success to some of the most effective shot-making in the country. The Eagles knocked down 58 percent of their attempts from inside the 3-point arc, making savvy use of the interior after drawing opponents out with an aggressive long-range strategy. Nearly 44 percent of the Eagles' points come from deep with eight different players making between 12 and 48 3-point attempts on the season.
Steele Venters has been excellent both inside and out, knocking down a team-leading 48 triples while shooting 57.1 percent from 2-point range.
Who's Hotter than Hofstra?
Hofstra may not have the longest winning streak in the nation, but the Pride boast one of the most impressive. Since suffering a 68-47 blowout loss at Towson on Jan. 16, Speedy Claxton's bunch has ripped off five straight and put itself in a spot that may have seemed unlikely a few weeks ago: in control of the Colonial Athletic Association title race.
The Pride extended their win streak to five games by avenging that loss at Towson, rallying in the second half to down the Tigers in a great game on Feb. 2, 76-72. Hofstra's emotional defeat of a tough Towson bunch, which came into The Mack tied with the Pride for second in the CAA, came on the heels of snapping Charleston's 20-game winning streak.
🎥🎥🎥

A virtuoso performance from Aaron Estrada, a HUGE spark off the bench from Bryce Washington, and TONS of other key contributions led us to a 76-72 win over Towson on Thursday!#PrideOfLI pic.twitter.com/8mj0mNZ8k2

— Hofstra Men's Basketball (@HofstraMBB) February 3, 2023
With Charleston losing in the final seconds Thursday at Drexel, Hofstra is now in the driver's seat of the Colonial — and Aaron Estrada looks poised for a second straight CAA Player of the Year nod.
Estrada's 27 points against Towson give him three games of at least 25, a stretch during which one of the game's best mid-range jump-shooters has shown his range with 16 made 3-pointers.
The Pride host local counterpart and CAA newcomer Stony Brook on Feb. 4.