2023 Creighton vs Seton Hall - Women's
BIG EAST Women's Basketball Games Of The Week: Can Siegrist Be Stopped?
BIG EAST Women's Basketball Games Of The Week: Can Siegrist Be Stopped?
With less than three weeks remaining until the end of the BIG EAST women's basketball regular season, the league seems to be in a state of inexactness.
Feb 8, 2023
by Briar Napier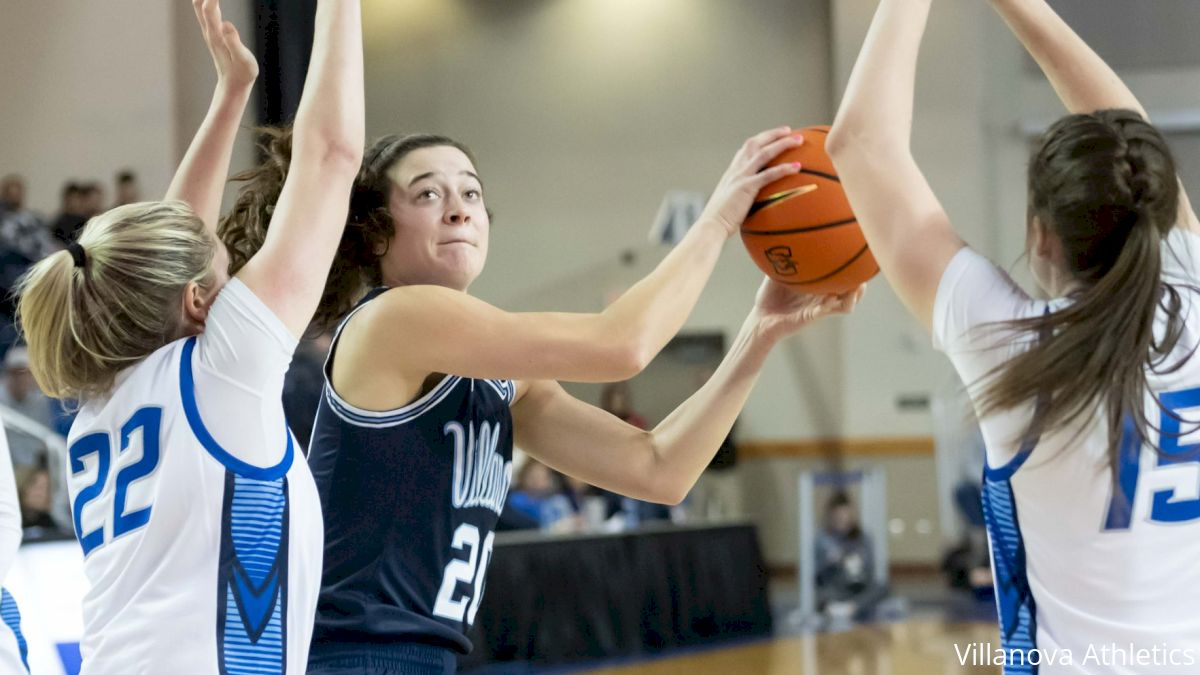 With less than three weeks remaining until the end of the BIG EAST women's basketball regular season, the league seems to be in a state of inexactness.
There's the expected favorite and the white-hot runner-up, both of which look well on their way to sealing tickets to all the postseason mania that is to come next month.
The group of teams behind them, however, aren't as settled and secure, so observers and the powers that be are keeping a watchful eye on all of their moves until the biggest tournament in college basketball is decided.
Translation: If you've been following the BIG EAST women's hoops season to this point, it's definitely not the time to look away. Another critical slate of games this week with plenty of seeding implications will prove that.
Big-time players show up in big-time moments, and the moments are only getting bigger and bigger, as the days of the regular season dwindle.
Here's a look at the BIG EAST women's basketball games to check out this week on FloHoops, which is streaming league games all season.
NOTE: All tipoff times are listed in Eastern Time and are subject to change.
Creighton Vs. Seton Hall
Since a stretch of four defeats in five games, stretching from mid-December to early January, Creighton has started to find a groove.
The Bluejays have won seven of their past eight games and are on a four-game winning roll as of this writing, getting revenge for an early-December loss to St. John's in the process. They took care of the Red Storm in an 81-65 victory Saturday in Omaha – a game in which Creighton shot a wicked 54.2% from 3-point range.
Sealing a top-3 seed at the quickly approaching BIG EAST Tournament should be a reasonable goal for the Bluejays to fly toward, and getting the job done against a Seton Hall team on the road that's played much better as of late would help get Creighton one step closer to sealing one of those top seeds.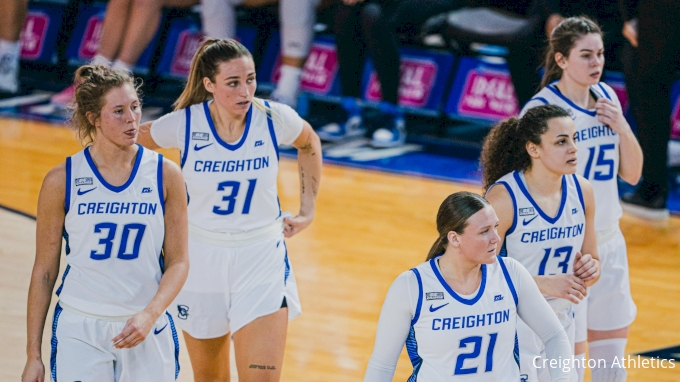 The Pirates have had a bit of a topsy-turvy season – they once won 11-of-12 games, before embarking on a four-game losing streak – but they looked good last week in double-digit wins at St. John's and back in New Jersey against Providence.
A heavy reason for the sudden surge has been because of Seton Hall's two top stars, Lauren Park-Lane and Sidney Cooks playing better than they possibly ever have before the season.
Park-Lane dropped 31 on the Red Storm, which was followed by Cooks' 29-point outburst against the Friars.
Something's got to give when Creighton and Seton Hall clash this week, however, but expect a high-octane pace as two of the top 4 scoring offenses in the BIG EAST.
Also, the Pirates will be attempting to get revenge for the 75-53 beatdown they suffered at the hands of the Bluejays on Jan. 11, when Creighton's Morgan Maly dropped 23 points as one of four players on her team to score in double figures.
Villanova Vs. Georgetown
Villanova has made its living this year on an identity of not losing games it shouldn't, and now it's got the league's second-place team in a golden spot for postseason play.
It's a tendency that's seen the Wildcats reach back-to-back 20-win seasons for the first time since the 2016-2017 and 2017-2018 campaigns and clearly be positioned as the league's "best of the rest" this season, not counting the almighty UConn in the first place.
In fact, 'Nova hasn't lost a BIG EAST game to a team not named UConn since Dec. 2, when the Wildcats fell to Creighton, and when you have a player like reigning BIG EAST Player of the Year Maddy Siegrist playing lights-out pretty much every night – as scoring at least 21 points in every game this year has shown – victories can come a little easier.
.@20sMaddy sat down with @tessa_peloso and reflected on becoming Villanova's All-Time Leading Scorer!

🎥 Full Interview: https://t.co/b1ntXcYuhB pic.twitter.com/ptE85m2Mzm

— Villanova WBB (@novawbb) February 7, 2023
Still, Georgetown is not a team Villanova can take lightly, and for good reasons.
First, the Hoyas went on the road Jan. 4 and gave the Wildcats a bit of a scare in a 71-64 loss, with GU finding itself down just two points at the half, before Villanova eventually managed to swat it away behind a classic Siegrist outburst (29 points, 10 rebounds).
Second, Georgetown quietly has been one of the league's most in-form squads over the past several weeks, winning four of its past six league games, with victories over the likes of DePaul and Seton Hall in that run.
It would be a massive upset with a lot of potential seeding implications for the BIG EAST Tournament, if the Hoyas were to pull off, especially considering that 'Nova has established itself as a road warrior, with a 10-1 record away from home.
But it's not impossible to imagine, especially if Georgetown junior Kelsey Ranson keeps up her red-hot scoring spree, which includes at least 22 points in four of her past five games as of this writing.
DePaul Vs. St. John's, Saturday at 4 p.m.
St. John's went from being one of the final five unbeaten teams in the country to teetering on the NCAA Tournament bubble, so a two-game losing run is not what the Red Storm need right now.
They need wins and convincing ones, too, because as ESPN "bracketologist" Charlie Creme notes in his latest bracket projections released Friday, St. John's is in the "Last Four In" column when it comes to making the March Madness field.
That was before the Red Storm lost to Creighton by 16 points on Saturday, and with St. John's arguably still lacking a signature win to set the Red Storm apart from other programs in similar jams, they don't need to be giving the selection committee any more reasons to doubt it.
Beating an injury-ravaged DePaul this weekend is all about that – leaving no doubt – and showing why the Red Storm belong on the biggest stage in women's college basketball.
St. John's already did the deed once this year, taking down the Blue Demons on Jan. 21 by a score of 81-72, with 24 points from Jayla Everett.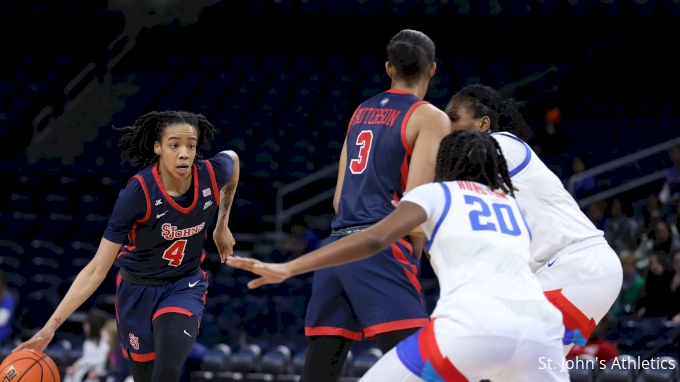 DePaul showed exactly what its lethal offense can do when it's clicking this past weekend, as it pummeled Xavier by 45 points and got a 30-point double-double from superstar sophomore Aneesah Morrow, her 18th time getting a double-double in 23 games this year.
With Morrow winning the BIG EAST Player of the Week honors for her efforts, while teammate Tara Daye (who dished out 7.5 assists per game in a loss to Creighton and the win over Xavier) nabbed the BIG EAST Freshman of the Week award, DePaul, battered and bruised and all, looks to finally get back on the right track, despite only going 3-8 in its past 11 games.
But St. John's, on the flip side, knows the pressure is on the Red Storm to perform, and they must do so against all who remain on the schedule to give themselves the best shot at qualifying for the NCAA Tournament for the first time since 2016.