2023 Charleston vs Elon - Men's
CAA Games Of The Week: CofC, Hofstra Aim To Stay On Top
CAA Games Of The Week: CofC, Hofstra Aim To Stay On Top
Just two weeks of regular-season competition remains as CAA teams jockey for positioning in the 2023 Colonial Championship in Washington, D.C.
Feb 15, 2023
by Kyle Kensing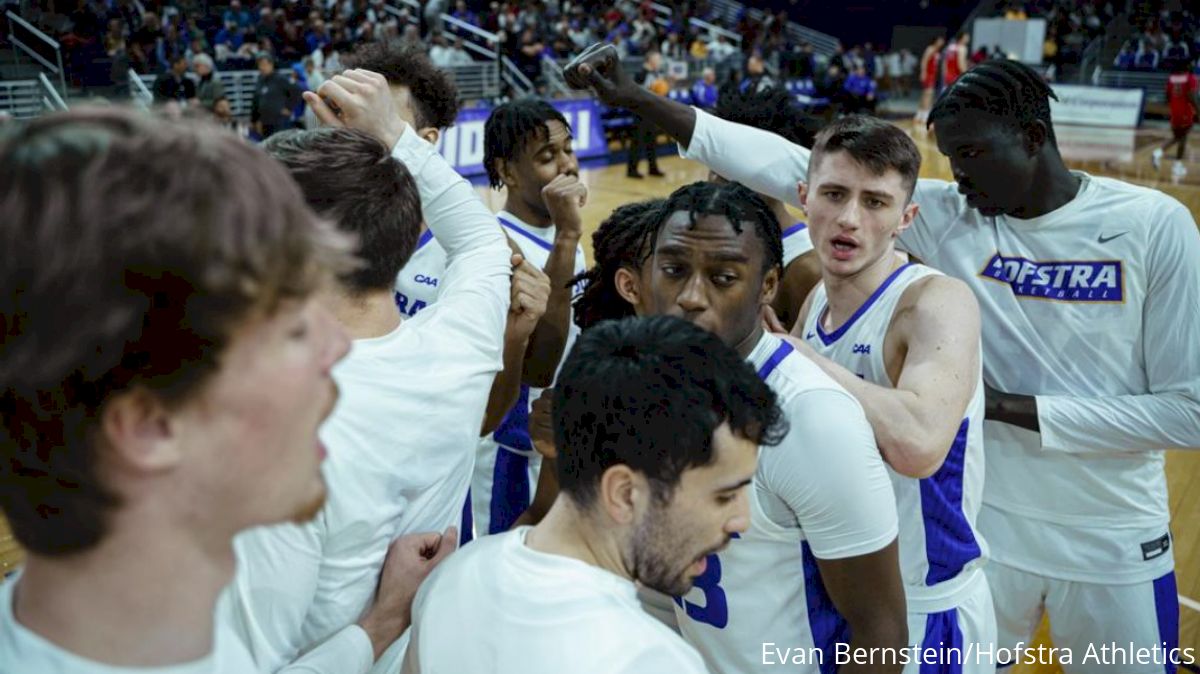 The home stretch of Colonial Athletic Association play is in sight following a busy Monday. Just four days of conference competition remain on the road to Washington D.C. and the CAA Championship, and the forecast for tournament seeding is still very much unclear.
College of Charleston and Hofstra remain atop the league after winning blowouts on Valentine's eve: Charleston against Northeastern, and Hofstra over Drexel. With just one head-to-head matchup between the two this season — Hofstra snapping Charleston's 20-game winning streak on Jan. 28 — the Pride control their pathway to the No. 1 seed in D.C.
But Charleston heads into the final two weeks of the regular season needing only to win out and capitalize on a single Hofstra loss in order to claim an outright CAA title and the top overall seed — and bolster its resume for the NCAA Tournament selection committee.
The Cougars begin the stretch run on Thursday when they visit an Elon team that has caught fire of late, winning 5-of-6 after rallying to beat Hampton in a nail-biter on Monday.
Max Mackinnon's 18 points set the pace for the Phoenix, while Sean Halloran had a big all-around performance of 10 points, seven assists, five rebounds and his first block of the season — and what a block, as it preserved the win.
Mackinnon's clutch 3-point shooting and all-around standout play culminated with the go-ahead bucket against Hampton, furthering his case for CAA Rookie of the Year.
PHOENIX TAKES THE LEAD!! @maxxmackinnon with the big-time triple!#phoenixrising pic.twitter.com/Yp2ieVgBe5

— Elon Men's Basketball (@ElonMBasketball) February 14, 2023
Mackinnon scored a team-high 17 points when Elon last faced Charleston on Jan. 14, a game that the Phoenix led at halftime before a Cougars deluge turned the tide. Charleston's veteran leader Dalton Bolon paced a typically balanced scoring effort with 21 points.
Elon's showing last time against Charleston foreshadowed the considerable strides the team has taken in the past month. Knocking off the CAA's co-leader at the Schar Center would take those improvements to a whole new level.
Thanks to William & Mary's thrilling win Monday over Towson, UNC Wilmington heads into the final stretch alone in third place. The Seahawks have won 6-of-8 and are 2.5 games back of first place with an outside shot at climbing, but face what's proven to be one of the conference's most formidable tasks in visiting Drexel.
The Dragons are undefeated at home in conference play, having knocked off Towson and Charleston their last two times at the Daskalakis Athletic Center. Drexel lost Monday at Hofstra with both Amari Williams and Coletrane Washington playing limited minutes. Expect a big bounce-back for the Dragons upon returning home.
Trazarien White has hit for 21 and 23 points in two of the last three Seahawks contests, while Shykeim Phillips has put up double-figures in 3-of-4. UNCW's defense ranks among the nation's best in generating turnovers, while Drexel — thanks to the rim-protecting presence of Williams — is among the best in opponent 2-point field-goal percentage.
AMARI SWAT!!!#FearTheDragon @SportsCenter #SCTop10 pic.twitter.com/Putb1L9WS8

— Drexel Men's Basketball (@DrexelMBB) February 11, 2023
The combination should make for a defensive slugfest in Philadelphia.
Towson opened the month of February playing Hofstra in a game that, as fate would have it, became for a share of first place. The Tigers lost a second-half lead in the 76-72, and have dropped 3-of-4 for the month after an overtime loss last Saturday at Drexel and 68-66 barnburner Monday at William & Mary.
Towson returns to SECU Arena, and not a moment too soon. The recent slide dropped the Tigers from second-place to fourth in the CAA, and Drexel looms at fifth. The difference between fourth and fifth in the CAA Championship means the difference in playing an additional game and not.
Delaware's struggles of late, dropping 7-of-10, have last season's tournament winner in the logjam that is seventh; five teams are knotted at 5-9 with two weeks to go, and Northeastern is one game back of the cluster. Dropping into 12th place means a game on Friday just to advance to Saturday.
The Blue Hens have struggled on the road at 2-9, their last victory away from Bob Carpenter Center coming Dec. 19 at Rider.
The CAA's new Long Island rivalry moves to Stony Brook after Hofstra won the first edition at the Mack, 79-58. The Homecoming victory is part of the Pride's eight-game winning streak, which began all the way back on Jan. 19 against UNC Wilmington.
Hofstra's playing some of the best and most consistent basketball of any team in the country over the past month, and it's more than just reigning and likely two-time CAA Player of the Year Aaron Estrada doing work. Tyler Thomas' breakout has been critical to igniting Hofstra, his average approaching 16 points per game with his recent tear, and Darlinstone Dubar has been a steady all-around performer.
Darlinstone Dubar is a perfect 6 for 6 from the field with 13 points! @HofstraMBB #CAAHoops on @FloHoops:
📺: https://t.co/wNpIZzBZpS pic.twitter.com/hf3GvPTli4

— CAA Basketball (@CAABasketball) February 14, 2023
Stony Brook, which has lost 4-of-5, gets Hofstra for a homestand that also includes William & Mary visiting Island Federal Arena on Thursday. The Seawolves have yet to score in the 70s in the month of February, making for a difficult dynamic against the offensively proficient Pride.