CAA Men's Basketball
CofC Basketball: Pat Robinson III Is Charleston's Spark Plug
CofC Basketball: Pat Robinson III Is Charleston's Spark Plug
Pat Robinson III has been a vital part to College of Charleston's success in 2022-23, reveling in his role as a spark off the bench.
Feb 20, 2023
by Kyle Kensing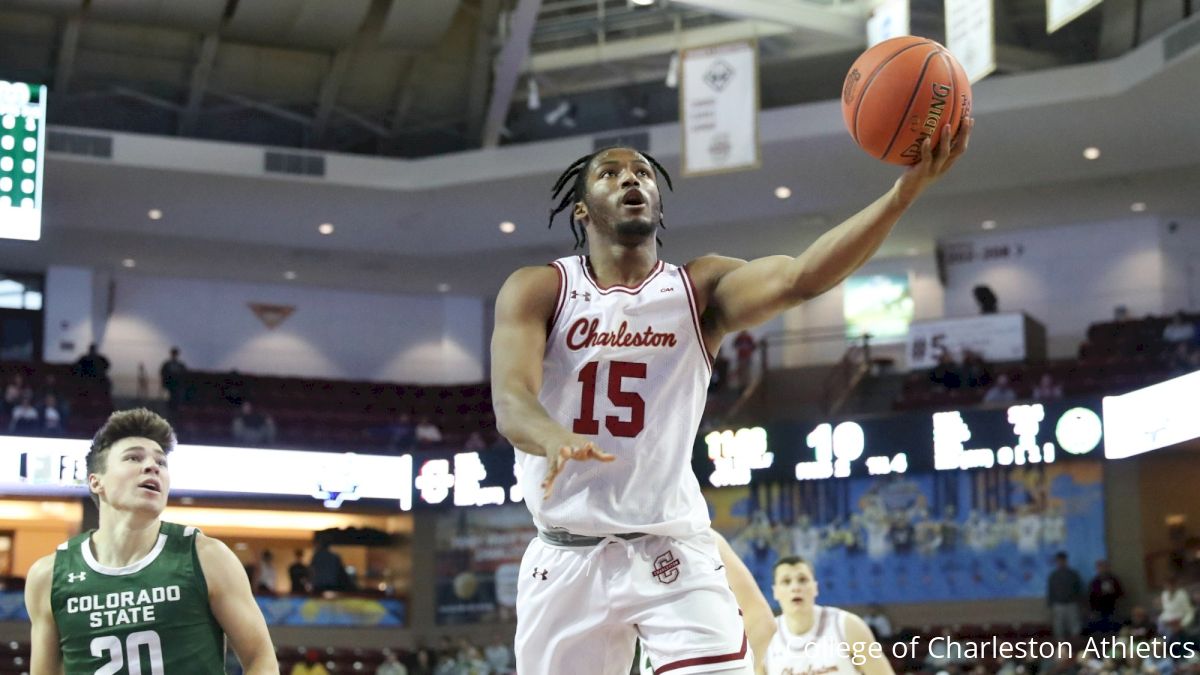 Key to any championship basketball team is all-in effort across the lineup. No one in college hoops embodies that more than College of Charleston guard Pat Robinson III.
Robinson has started just a single game for the Cougars in the 2022-23 season, but the Chesterfield, New Jersey, native proves one doesn't need to begin a contest to impact its end result. The CofC spark plug is averaging 11.2 points per game, an output that gained a boost when he dropped 30 on Hampton earlier this month.
Pat Robinson III.

He has 28 for @CofCBasketball on 9-of-10 shooting.#CAAHoops on @FloHoops:
📺: https://t.co/wNpIZzCxfq pic.twitter.com/St7cNlYUnY

— CAA Basketball (@CAABasketball) February 11, 2023
A collegiate parallel to Indiana Pacers breakout rookie star Bennedict Mathurin, Robinson is relishing his role as CofC basketball's Microwave.
"When I get into the game, I'm extremely excited. I'm ready to go," Robinson told FloHoops, just a few days after he earned Colonial Athletic Association Player of the Week honors. "I'm either trying to build on a lead or create a lead, I'm trying to do everything I can. I can't get wait to get in, and whenever my number's called, I'm ready to pick up whatever the team's lacking."
Igniting the offense has certainly been one phase in which Robinson provides a boost when his time in the rotation comes. In addition to his third-leading scoring average, Robinson's playmaking is evident in his impressive advanced metrics. KenPom.com has him at No. 160 among all Div. I players in offensive rating.
He's shooting better than 57 percent from inside the 3-point arc and around 38 percent from beyond it, and is the country's No. 136-ranked player in drawing fouls. And, of course, the end equation of those statistics show up in points.
His CAA Player of the Week recognition came at the conclusion of a seven-game stretch in which Robinson scored in double-figures every time out.
Fun fact

Pat Robinson III is the third different @cofcbasketball player to earn #CAAHoops Player of the Week honors this season pic.twitter.com/mQerz0GBHZ

— CAA Basketball (@CAABasketball) February 13, 2023
Over that spell, Robinson put together a four-game run averaging 19.3 points per game. Charleston won all four, beginning a new winning streak since dropping back-to-back CAA games after the Cougars' national-best 20-game stretch ended.
Robinson finished with 18 points in the second of those four, a 93-61 blowout of UNC Wilmington on Feb. 8, after which Charleston coach Pat Kelsey said "depth is our identity."
Kelsey noted the impacts of Robinson, Ben Burnham, Raekwon Horton and Babacar Faye — four players with a combined six starts but a total average of 30.8 points per game. Robinson's output is tops among the quartet.
"You know, it's funny: Pat's game is a little unorthodox. His shot's a little unorthodox," Kelsey said. "But he is an absolute producer."
And that production doesn't stop with scoring punch.
"I feel like I've been doing a lot of things to keep me on the floor more. Whenever I'm on the floor, I think I can make a play," Robinson said. "I figure out ways to help my team win, whether it's scoring, defense or rebounding."
Defensively, Robinson has the third-most steals on the CofC roster behind only starters Ryan Larson and Jaylon Scott. Offensively, he's sharing the ball effectively commensurate with his uptick in scoring production, delivering two of his three-highest assist totals coinciding with his Player of the Week-worthy scoring stretch.
"This is the most confident I've been," Robinson. "Coach [Kelsey] really trusts me, my teammates are finding me, and it's clicking right now."
CofC teammates finding Robinson, and vice versa, is something of a theme for his important presence on the Cougars roster.
A scoring machine at the Div. II level, Robinson averaged north of 20 points per game each of the previous two seasons at West Liberty. He took up the mantle as the star when Dalton Bolon transferred, but Robinson wanted to follow a similar path in taking his game to another level.
"Dalton was a big influence for me," Robinson said of Bolon, CofC's leading scorer and veteran captain. "Playing with a teammate as good as him — and I trust his word with a lot of what he says — he said this was going to be an elite program.
"The city's nice, the coaches treat me [well]. I had a great visit, I liked the guys [on the team] during my visit," he added. "But I'm not going to lie: The main factor in me picking a school was Dalton Bolon. The success we had together as teammates, I wanted to try and go national with him and move up a level. As soon as I got that chance, at a great school like Charleston, I couldn't pass it up."
The former WLU teammates have a chance to add their signatures to the illustrious history of CofC basketball together. The Cougars close out the regular season at home against Towson and Stony Brook, and two wins guarantee them no worse than a share of the CAA championship.
From there, it's on to Washington D.C. and the pursuit of the NCAA Tournament. Closing out on a winning streak ensures Charleston the first 30-win season in the program's three decades at the Div. I level.
No matter what's needed for CofC to reach those milestones, be assured Pat Robinson III will be all-in from his role off the bench.