2023 Northeastern vs Hofstra - Men's
No Stretch To Call Hofstra Guard Tyler Thomas Central To Pride's March Push
No Stretch To Call Hofstra Guard Tyler Thomas Central To Pride's March Push
Paired with reigning CAA Player of the Year Aaron Estrada, Tyler Thomas gives Hofstra a backcourt capable of March magic.
Feb 23, 2023
by Kyle Kensing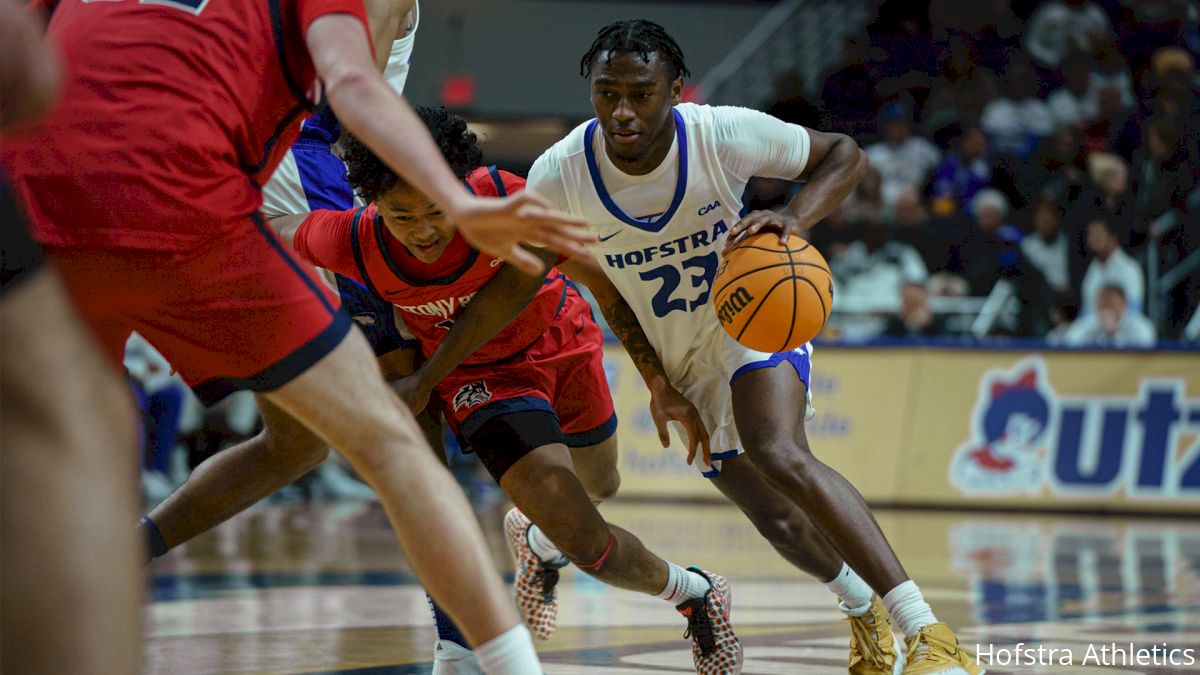 Tyler Thomas made a commitment a year ago that has shaped the Hofstra guard's standout 2022-23 season.
"I was like, 'I can't ever do that again,'" Thomas said of being limited by injury at the end of his second All-Northeast Conference-garnering campaign at Sacred Heart. He averaged 16.4 points, 3.4 rebounds and 2.6 assists per game for the Pioneers, but pledged to be better physically in the next phase of his career.
That next phase brought Thomas to Hofstra, where in 2022-23, he's a vital figure in the Pride's pursuit of both a Colonial Athletic Association regular-season championship and the program's first appearance in the NCAA Tournament since 2001. And in pursuit of fulfilling his personal promise, Thomas took up a regular yoga regimen with an hour-long workout two or three times a week.
"That really helped me keep my body ready," Thomas said. "It helped with injury prevention, but it became much more than that for me."
A Psychology major, Thomas integrated the physical components of yoga with the mental side.
"I was reading articles on sports psychology and being able to put yourself quote-unquote in the zone," Thomas said. "And I think that helps."
The results show up in his averaging 15.9 points per game on an impressive 40.3 percent shooting from 3-point range with 3.8 boards a contest. His success parlaying the principles from the yoga mat onto the hardwood add a chapter to a basketball legacy traced back to one of the game's all-time greats, Kareem Abdul-Jabbar. The Captain remains a standard-bearer for endurance more than 30 years after his retirement.
The 2022-23 Hofstra Pride, with Thomas as one of its leaders, is on the precipice of craving its own legacy, and Thomas is putting in some of the best work of his college career with March approaching. He has scored 20 points or more in 6-of-10 contests from Jan. 19 through Feb. 18 — a stretch during which the Pride have won 10 straight.
Hofstra needs only to win its regular-season finale Feb. 25 vs. Northeastern and advance to the CAA Championship title game to claim the fifth-longest winning streak in program history.
It hasn't just been over the 10-game winning streak that Thomas has shined, however.
"He's been sensational all year," Hofstra coach "Speedy" Claxton said, putting extra emphasis on the latter two words. "He's been our most consistent player, even with [reigning CAA Player of the Year Aaron] Estrada."
Claxton gets to experience a bit of role reversal, having guided Hofstra to its penultimate NCAA Tournament in 2000 as the star of a Jay Wright-coached team. Now in Wright's former position, Claxton oversees a roster capable of crashing the Big Dance thanks to its dynamic guard play.
Tyler feeling it early in this one!#PrideOfLI pic.twitter.com/RnNMbjGuYX

— Hofstra Men's Basketball (@HofstraMBB) February 18, 2023
"This is exactly what we envisioned when we recruited him," Claxton said of Thomas. "He's a really dynamic scorer and we knew that pairing him with Estrada would be a perfect backcourt for us in this league, and be the best backcourt in this conference."
It's difficult to argue with Claxton's assertion. Estrada and Thomas average more than 36 combined points per game, and are the only tandem in the CAA to rank in the top six for scoring individually. The duo, along with wing Darlinstone Dubar, account for three of the CAA's top 10 in effective field-goal percentage per KenPom.com metrics.
Hofstra boasts the top effective field-goal shooting in the conference as a result.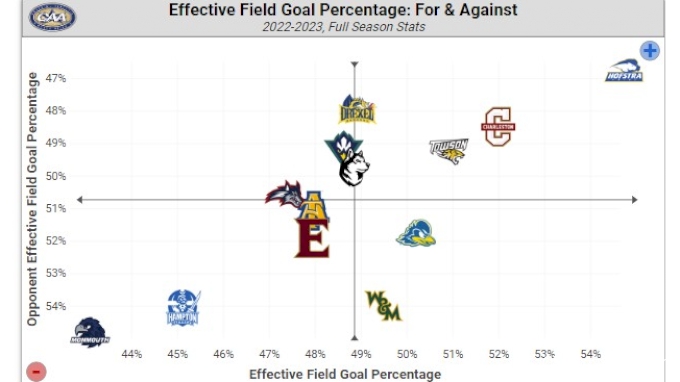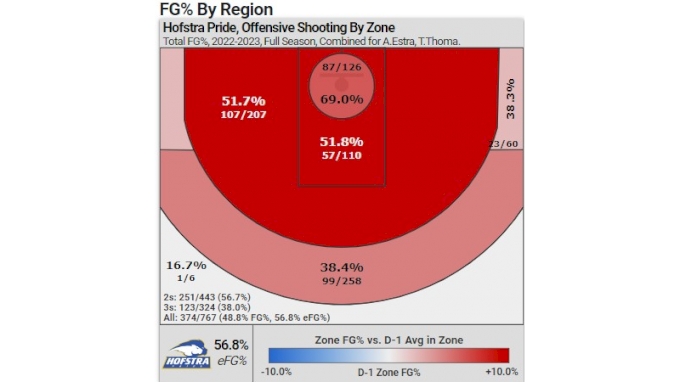 images via CBBAnalytics.com
Estrada and Thomas' work in tandem is fluid in execution and fun to watch from an observer's perspective. Invoking an element of Thomas' off-court routine — the guard is a music lover with eclectic tastes that span from contemporary hip-hop to jazz — the Pride guards perform together like seasoned artists in a jam session.
"I space the court for him, he spaces the court for me," Thomas said of playing with Estrada. "Defense pays a lot of attention to him. I've just got to be able to fill my role, whether that's to catch-and-shoot 3s, be able to attack the [defensive] close-out [off the dribble]."
Indeed, yoga isn't the only medium in which Thomas shows off his flexibility; that offensive approach is effective in stretching the opposing defense, too.
Hofstra cultivating such an identity built around multifaceted and explosive perimeter action fuels its win streak. And, should this team get the NCAA Tournament opportunity the 2020 CAA champions were denied due to COVID-19, could position the Pride as the quintessential Cinderella story.
"When you have good guard play, you give yourself a chance every night," Claxton said. "And we have multiple guards [who] can beat you. Tyler can score 30, Estrada can explode for 30, and then we have other guys that can shoot as well."
"Everybody's up in spirits," is how Thomas summarized the vibe around the Pride. "Guys knew what was expected of them and how to win as a competitive group, together. And that's why the win streak came together: Belief. Belief in winning a championship."
Belief — as well as the commitment Thomas made a year ago.