BIG EAST Women's Basketball
Defining Games Of The BIG EAST's All-Time Leading Scorer, Maddy Siegrist
Defining Games Of The BIG EAST's All-Time Leading Scorer, Maddy Siegrist
For years, the talents of Villanova's Maddy Siegrist have led her to be placed in elite categories among her peers across women's college basketball.
Feb 24, 2023
by Briar Napier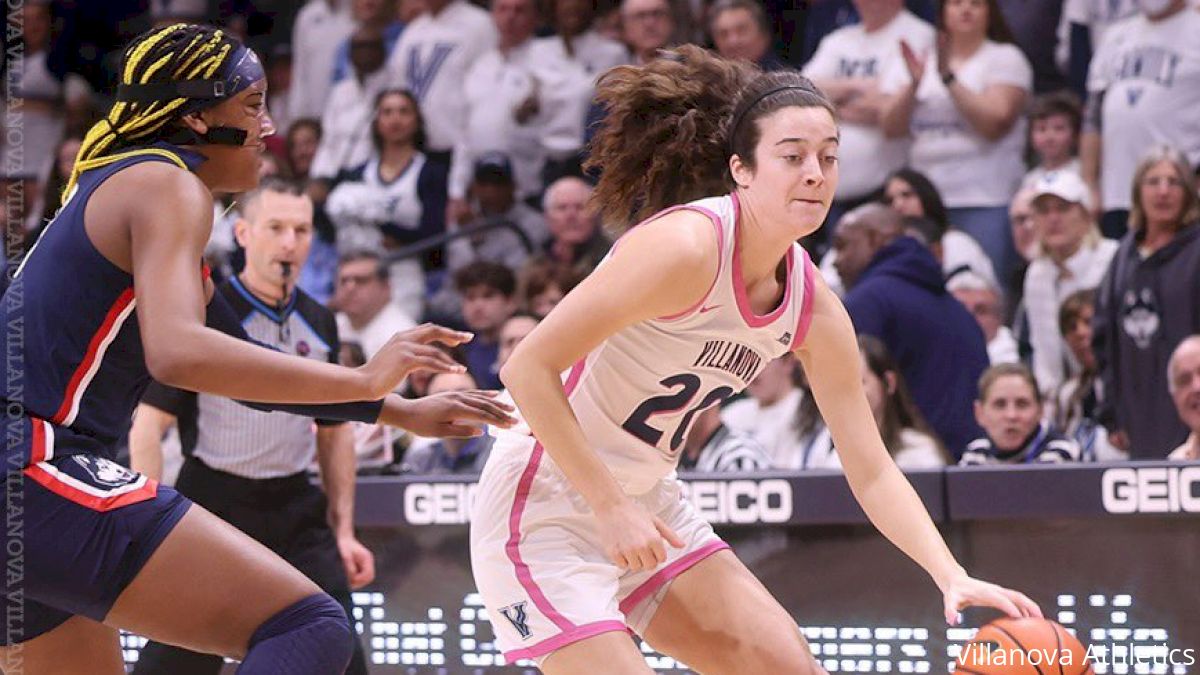 All-American. Player of the Year. Superstar.
For years, the talents of Villanova forward Maddy Siegrist have led her to be rightfully placed in elite categories among her peers across the women's college basketball landscape.
But beyond the many awards and accolades the New York native has achieved throughout her career, there is one, garnered recently, where the redshirt senior will stand alone until further notice.
Being the BIG EAST's all-time leading scorer.
In a conference that has been loaded to the teeth with former legendary figures in the women's hoops game, such as Rebecca Lobo, Maya Moore, Skylar Diggins-Smith and many, many others, no one has gotten more buckets in the conference's long history than Siegrist, who became No. 1 on the league's career scoring chart earlier this month.
Expected to be one of the top picks of the upcoming WNBA Draft, Siegrist's college career is reaching its final weeks, giving her some extra time to build upon her hold on the top spot.
As one of the most remarkable BIG EAST players in recent memory prepares to move on, it's worth taking a look at some of the magical moments she produced for the Wildcats – and keep in mind there could be even more to come as postseason play looms.
Among the many standout games for the reigning BIG EAST Player of the Year across her time at Villanova, here are five performances that pop out as defining moments in Siegrist's decorated career.
Dec. 21, 2019 Vs. La Salle
After being forced to redshirt during what would've been her true freshman season (2018-2019) due to an ankle injury, Siegrist had to wait a little bit longer than usual out of high school in Poughkeepsie, New York, to make her college debut.
When she finally was able to lace up her shoes and get comfortable in the Villanova rotation, however, she made it obviously clear that she was bound to be a future star.
In her 10th collegiate game, in front of a hostile rivalry crowd at fellow Philadelphia Big 5 school La Salle, Siegrist (who later that season won the BIG EAST Freshman of the Year award) dropped a massive double-double (41 points on six 3-pointers, to go with 10 rebounds).
It was one of the finest Big 5 scoring performances by a man or woman, and 'Nova picked up a 77-69 win that night at Tom Gola Arena.
Siegrist's outburst saw her pass Wildcats legend Shelly Pennefather's single-game freshman scoring record that had been standing since February 1984.
It was one of the first times in her career that Siegrist would be compared to the three-time BIG EAST Player of the Year – and certainly not the last.
Feb. 27, 2021 Vs. Seton Hall
It probably didn't come in exactly the way Siegrist and Villanova wanted, but with two free throws in the first minute, en route to 27 points overall in a loss to the Pirates on this day, Siegrist became the fastest player to reach 1,000 points for Villanova (doing so in just 50 games) and just the third player in program history – along with Pennefather and Laura Kurz (2007-2009) – to score that amount across two seasons.
The All-America nomination she garnered following her junior season was yet to come, but Siegrist's sophomore slate was undoubtedly stellar.
Her 22.8 points per game scoring average for the 2020-2021 campaign also marked the first time in her career she averaged more than 20 points per night in a season, a feat she's achieved every year since, with plenty of room to spare.
Villanova's 2020-2021 accomplishments, finishing 17-7 for the year as the season ended in the WNIT quarterfinals, was a bit quiet, compared to what would come in future seasons, but Siegrist's achievements as a second-year star showcased that the next couple of seasons were going to be bright for the Wildcats' program.
Feb. 9, 2022 Vs. UConn
Siegrist only failed to break the 20-point barrier six times during her BIG EAST Player of the Year-winning junior season, including on this night against the Huskies, when she was held to 17 points.
So, why is it being recognized here in this article? It's because this date is of significant importance to Villanova (and, by and large, non-UConn league) fans as the night UConn's historic conference winning streak finally ended.
Prior to the tip, the Huskies had been on a 169-game winning streak against league opponents back to 2013, and they were hosting the Wildcats at home, where Villanova had not beaten coach Geno Auriemma's blue-blood program since January 1993.
Instead of the Huskies rolling to yet another BIG EAST win without much of a challenge, Siegrist and company stormed into the XL Center and led UConn by as much as 19 points, fending off a late fightback, in which the hosts cut the lead to a possession in the final seconds, heavily in thanks to the tireless Siegrist going 40 minutes toe-to-toe with the 11-time national champions and notching a double-double with 12 rebounds.
Since then, UConn has been defeated twice in BIG EAST play (both this season: by Marquette on Feb. 8 and St. John's on Tuesday), perhaps showing the rest of the conference that thanks to 'Nova's magical night in Hartford, the Huskies aren't untouchable.
Jan. 20, 2023 Vs. Creighton
Since the latter's eruption as a consistent scoring machine became clear, Pennefather and Siegrist long have been tied together in Villanova basketball lore, as many of the program records Siegrist has broken over the course of the career originally belonged to Pennefather's, who graduated in 1987 and briefly played professionally in Japan (prior to the WNBA existing), before retiring to live a monastic life and eventually become a nun.
"In the history of Villanova basketball, no one has scored more points than Maddy Siegrist."

Here's the shot that broke the 36-year old record. ⬇️ pic.twitter.com/MrlwQbN3lJ

— Villanova WBB (@novawbb) January 21, 2023
One of the last program records Siegrist hadn't broken yet prior to a Wildcats game against Creighton this past month was the all-time scoring mark, and after a 23-point game in a 73-57 win against the always-dangerous Bluejays, she got it.
She connected on a jumper with 6:32 remaining in the fourth quarter to pass Pennefather's 36-year mark of 2,409 points, solidifying Siegrist as Villanova basketball's greatest scorer ever – male or female.
Known today as Sister Rose Marie of the Queen of Angels, Pennefather, who has limited interaction with others outside of her life with the Poor Clares, has met Siegrist on a few occasions.
Now, years after Pennefather's previous life as a standout hooper ended, there's now a new star that's come in to rewrite the school's record books.
"I'm just so grateful to play at Villanova."@20sMaddy took to the mic after becoming Villanova's all-time leading scorer. pic.twitter.com/y16XN39dFL

— Villanova WBB (@novawbb) January 21, 2023
Feb. 11, 2023 Vs. Seton Hall
It was only right that Siegrist finally became the BIG EAST's all-time scoring leader in conference play by putting on the greatest scoring performance in league history right along with it.
With no games during the 2022-2023 season in which she's scored 21 points or less (both before this game and as of this writing), Siegrist looked well on pace to break the longstanding career scoring record held by Boston College's Sarah Behn, who played for the Eagles from 1989-1993, sometime later in the league slate.
Still, entering a weekend BIG EAST game against Seton Hall, Siegrist sat 47 points shy of breaking the record, meaning that she was more likely to become the all-time leader that next week in a midweek game against Seton Hall, rather than in front of home fans against the Pirates at Finneran Pavilion.
Alas, a legendary player is bound to have a few legendary performances.
After breaking records and scoring 50 points, @20sMaddy joined @stanverrett on @SportsCenter last night! ✌️ pic.twitter.com/InwydfyYpH

— Villanova WBB (@novawbb) February 12, 2023
Siegrist dropped a career-high 50 and became the BIG EAST's scoring queen right there at home, going a mind-boggling 20-for-26 shooting (76.9%) from the field and smashing both program (originally held by Pennefather, who scored 44 in Dec. 1985) and BIG EAST single-game scoring marks, too.
For an offensive juggernaut who now stands alone among the many storied names in BIG EAST women's college basketball history, it was an amazing performance that fit right in with her ever-growing legacy at Villanova.