Atlantic Sun
Mid-Major Notebook: Road To The Final Four Begins Now
Mid-Major Notebook: Road To The Final Four Begins Now
The first of 32 conference tournaments that will shape the March Madness bracket begin this week.
Feb 26, 2023
by Kyle Kensing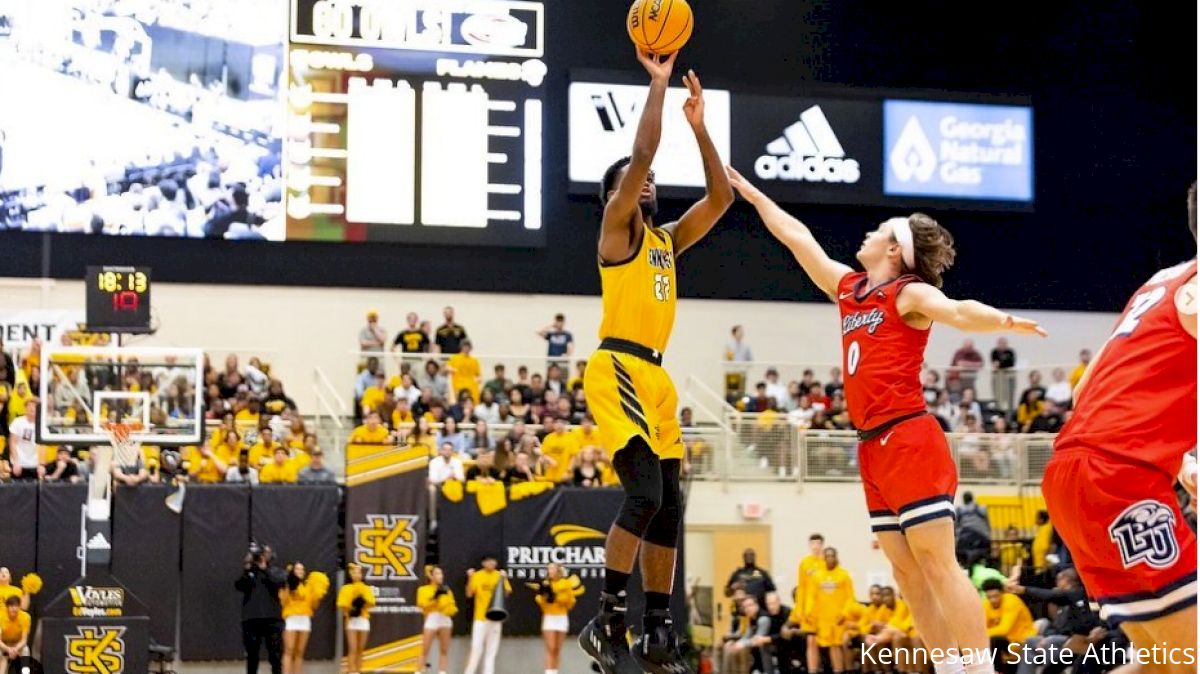 Dreams of finishing the 2022-23 campaign in Houston, site of this year's Men's Final Four, fuel the more-than 300 Div. I programs about to embark on the first steps of the postseason. Through conference tournament season, the hundreds will of course be whittled down to 68.
Translation: Conference tournaments may be even more mad than March Madness itself.
The first of the conference tournaments begin next week, starting Feb. 27 with the ASUN. The Ohio Valley tips off two days later, but as has become tradition will be the first set to crown a champion and automatic NCAA Tournament qualifier when it concludes March 4.
Eight of the 32 total Div. I tournaments begin between Feb. 27 and March 2. The following are the leagues that will lead us into Madness.
ASUN
Feb. 27 and 28, March 2 and 5
Regular Season: 𝐂𝐨𝐦𝐩𝐥𝐞𝐭𝐞𝐝 ✅
Post-Season: 𝙿𝚎𝚗𝚍𝚒𝚗𝚐 ⭕️

The table is set for 𝘔𝘈𝘋𝘕𝘌𝘚𝘚 in the @ASUN_MBB Championship...Are you ready ⁉️#ASUNBuilt | #ASUNMadness | #ASUNMBB pic.twitter.com/QhWWdLgqYV

— #ASUNBuilt (@ASUNSports) February 25, 2023
Kennesaw State and Liberty finished tied atop the ASUN once the league wrapped up its regular-season slate on Feb. 24, with the Owls earning the top seed. That's huge for a program seeking its first-ever NCAA Tournament appearance: The better seeds have home-court advantage throughout the event.
Last year's ASUN Tournament was among the more mad in all of March, with Bellarmine emerging on top. However, because of the NCAA's reclassification rules, the recent Div. II powerhouse was ineligible for the automatic bid. The Knights could again spoil the field; so, too, could a good Queens team in its first year of Div. I competition.
No matter which team comes out of the ASUN the champion, someone will have to figure out how to continue Liberty's Darius McGhee. One of the nation's top scorers, McGhee is posting 22.3 points per game heading into the postseason.
Big South
March 1, 3-5 - Bojangles Coliseum (Charlotte)
In a potential championship game preview, Big South leaders UNC Asheville and Longwood met Saturday in the conference's regular-season finale. The Bulldogs took over in the second half behind their outstanding frontcourt duo of Drew Pember, who scored 19 points; and Nicholas McMullen, who posted a double-double of 10 points and 12 boards. Fletcher Abee's 20 points off the bench set the scoring pace as UNCA solidified its Big South crown.
Your 2022/23 Big South Men's Basketball Regular Season Champions! 🏆 #IWWD #ALLinAVL pic.twitter.com/bvUIN8YuKl

— Asheville Basketball (@UNCAvlMBB) February 19, 2023
The next challenge is navigating through Charlotte.
UNCA draws the winner of High Point and Charleston Southern, the first of two games played March 1. HPU and CSU feature two of the top scorers in the Big South: Jaden House at 17 points per game, and Claudell Harris Jr. at 17.5. Wednesday's other contest pits seventh-seeded Campbell against 10th seed Presbyterian. The winner advances to face reigning Big South Tournament champion and NCAA Tournament participant Longwood.
The conference's other quarterfinals set for Friday, March 3, have No. 3 Radford against No. 6 Winthrop and fourth-seed USC Upstate facing fifth-seed Gardner Webb.
𝐓𝐡𝐞 𝐒𝐭𝐚𝐠𝐞 𝐈𝐬 𝐒𝐞𝐭.

Here's your official 2023 @HerculesTires #BigSouthMBB🏀 Championship bracket!

𝐿𝑒𝓉 𝓉𝒽𝑒 𝑀𝒶𝒹𝓃𝑒𝓈𝓈 𝐵𝑒𝑔𝒾𝓃 🙌#RoadToCLT🏀🏆 pic.twitter.com/eQbtWUc8Gr

— Big South Conference (@BigSouthSports) February 26, 2023
Horizon League
Feb. 28, March 2, 6-7 - Indiana Farmers Coliseum (Indianapolis)
The weeklong Horizon League Tournament culminates in Indianapolis — and who looks like a favorite is anyone's guess.
The Horizon League has been one of the most competitive conferences throughout the season with four teams jockeying for No. 1 right down to the wire. Youngstown State, which has never qualified for the Div. I NCAA Tournament, came out on top as regular-season champion and top seed.
The Penguins begin play March 2 along with regular-season competitors Milwaukee, Cleveland State and Northern Kentucky, the last of which is the only of the top four with its quarterfinal matchup set. The Norse draw fifth-seeded Oakland.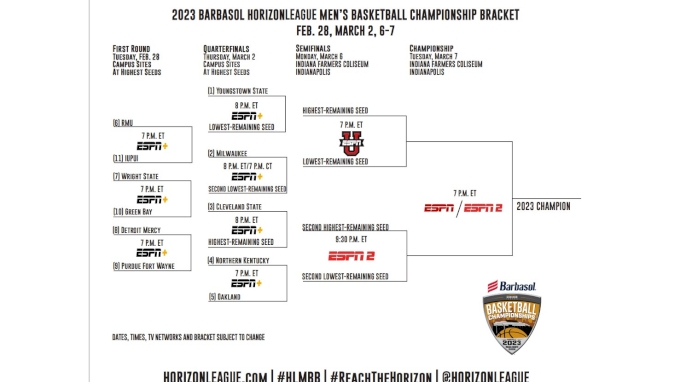 Missouri Valley
March 2-5 - Enterprise Center (St. Louis)
Arch Madness stands out as one of the best conference tournaments in all college basketball, and this year's edition looks like one of the most wide-open in recent memory.
The regular-season championship came down to Sunday, Feb. 26, the Valley's final day of competition. Bradley ran past Drake, 73-61, to seal its first Missouri Valley title in 27 years. The Braves thus take the No. 1 seed into St. Louis beginning on Thursday, March 2.
Bradley is one of five teams with 1st Round byes into the quarterfinals, joining second-seed Drake; Southern Illinois; making its Arch Madness debut, Belmont; and Indiana State. All five close the regular season with 20-plus wins, led by Drake's 24; but Bradley rolls into the tournament a winner of 10 straight en route to 23-8 overall.
Northeast
March 1, 4-7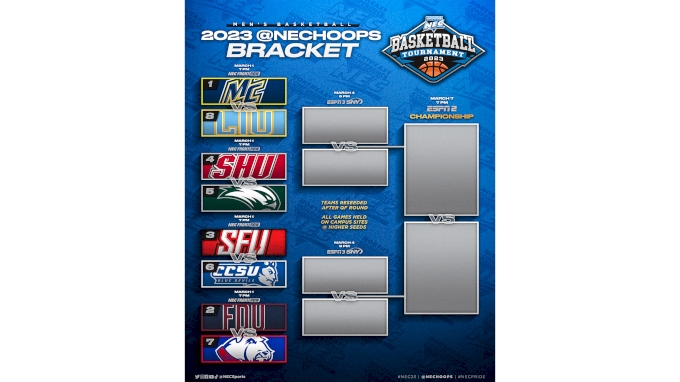 Much like the ASUN Tournament, the NEC could produce some next-level chaos due to the reclassification rule. Still-ineligible Merrimack claimed its second NEC regular-season championship and enters the conference tournament at No. 1, boasting home-court advantage for the duration.
📰 It was a night of 🎉🥳 at Hammel Court as @MC_Athletics wrapped up the #NECMBB regular season 👑 & top seed in #NEC23 with a win over CCSU

1️⃣ 𝐉𝐨𝐫𝐝𝐚𝐧 𝐌𝐢𝐧𝐨𝐫 (19p, 12r) 𝐃𝐮𝐧𝐤𝐚𝐭𝐡𝐨𝐧

2️⃣ Scenes from the postgame cele, including @JoeyGall0's trademark 🪜 dive pic.twitter.com/Mty9lcaTii

— Northeast Conference (@nechoops) February 24, 2023
Coach Joe Gallo's work at Merrimack is nothing short of remarkable, but finishing 2022-23 as a dual-conference champion would put an emphatic exclamation point on his team's efforts.
NEC No. 2 seed Fairleigh Dickinson seeks its third NCAA Tournament appearance in seven years. And, this year marks the 25th anniversary of FDU Hall of Famer Elijah Allen dropping 43 points on UConn in the Big Dance — perhaps streaky Knights scorer Demetre Roberts is poised to replicate Allen's memorable March in 2023?
Ohio Valley
March 1-4 - Ford Center (Evansville, Indiana)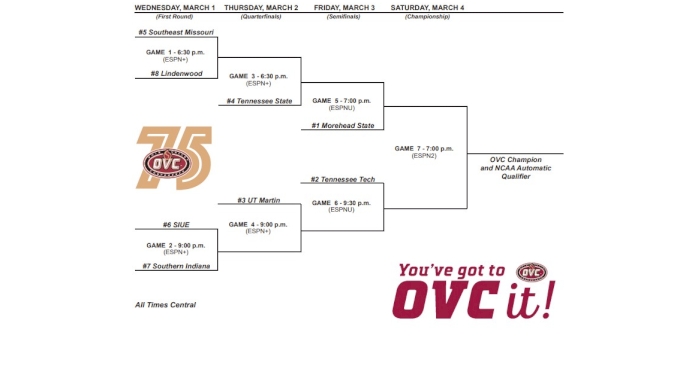 Despite being a largely new-look conference in 2022-23, the Ohio Valley remains in its traditional place as the first league to punch its automatic ticket for the NCAA Tournament.
The OVC Tournament unfolds in Evansville, Indiana, where top seeds Morehead State and Tennessee Tech automatically advance to the March 3 semifinals. Third-and-fourth-seeded Tennessee State and UT-Martin begin play in the quarterfinals on March 2, and the action begins March 1 with No. 5 Southeast Missouri facing Lindenwood and No. 6 SIUE against Southern Indiana.
Because Lindenwood and Southern Indiana are Div. I newcomers, they cannot advance to the Big Dance with an OVC Tournament championship.
Patriot League
Feb. 28, March 2, 5, 8
Colgate came minutes away from bouncing Wisconsin out of the 2022 NCAA Tournament. The Raiders look like prohibitive favorites to get another shot at wearing the glass slipper this March, as they open the 2023 Patriot League Tournament seeded No. 1.
Colgate stormed through the Patriot League in the regular season with a 17-1 record, beating second-place Navy and Lehigh by six games. The Midshipmen earned the Patriot's second seed and are out for their first NCAA Tournament appearance in 25 years.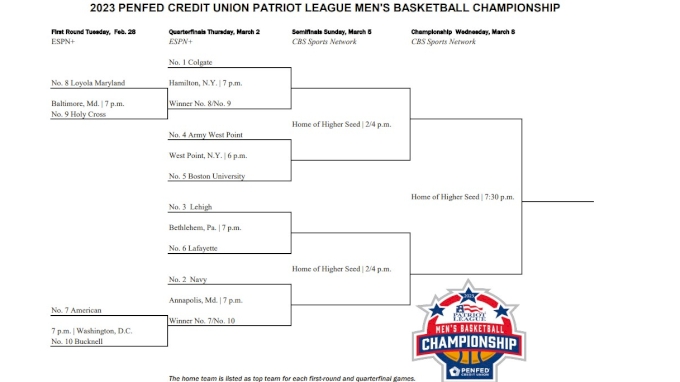 Sun Belt
Feb. 28, March 2, 4-6 - Pensacola Bay Center (Pensacola, Florida)
Featuring four 21-plus-win teams, the Sun Belt Tournament looks like one of the strongest at the top among all the first-week events. At the top of that quartet is Southern Miss, winner of 25 games and the outright SBC regular-season champion.
However, USM begins its path to Pensacola looking up at Sun Belt counterpart Marshall in the metrics. The high-scoring Thundering Herd boast a more favorable NET ranking of 76 to the Golden Eagles' No. 83, and a 79 overall KenPom.com ranking to USM's No. 92.
Each of the Sun Belt's top-four teams — James Madison and Louisiana join USM and Marshall — sport NET and KenPom rankings in the top 100. So, expect the conference tournament winner to land an agreeable seed in the NCAA Tournament.
𝗕𝗥𝗔𝗖𝗞𝗘𝗧 𝗦𝗘𝗧.

The 2023 @HerculesTires #SunBeltMBB Championship Bracket is set. The tournament takes place February 28 through March 6 in Pensacola. ☀️🏀

📰 » https://t.co/micR8vl1cj pic.twitter.com/vZVR0UamCS

— Sun Belt (@SunBelt) February 25, 2023