2023 CAA CHAMPIONSHIP - Men's
2023 Men's CAA Tournament Preview: Hofstra, CofC Look To Avoid Upset Trend
2023 Men's CAA Tournament Preview: Hofstra, CofC Look To Avoid Upset Trend
The 2023 CAA Men's Basketball Championship begins March 3 in Washington D.C., with a spot in the NCAA Tournament on the line.
Feb 28, 2023
by Kyle Kensing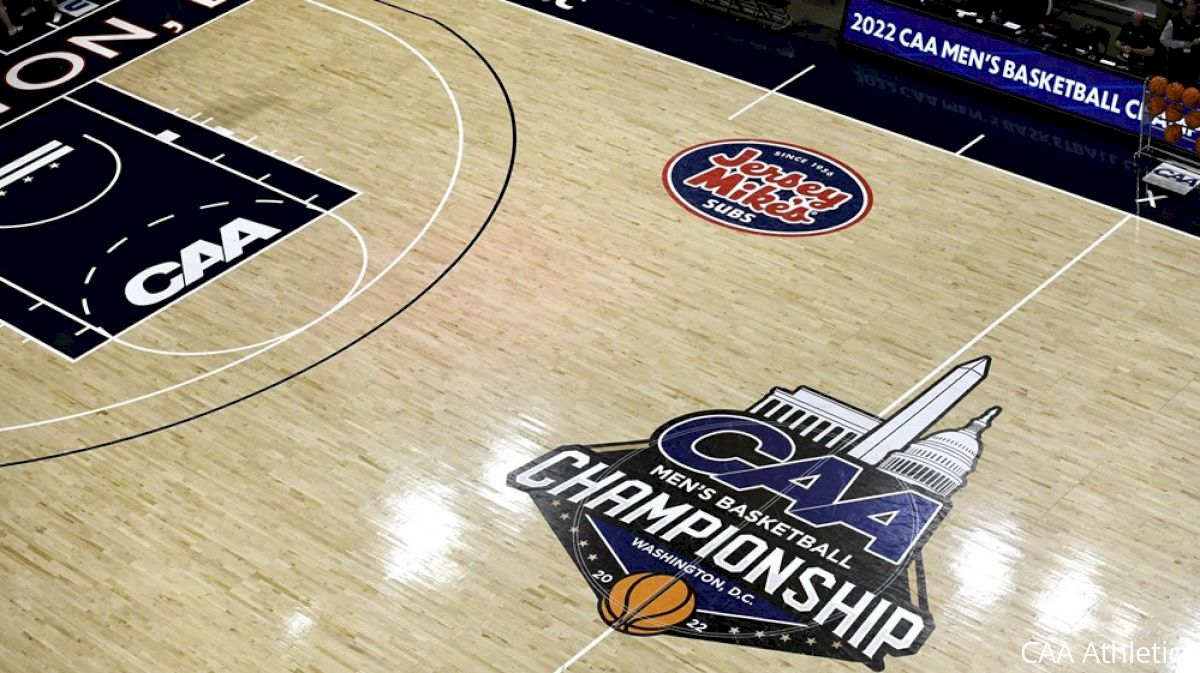 When it comes to recent CAA Championships, heavy lies the head.
Delaware emerged from Washington D.C. and the 2022 Colonial Athletic Association Tournament as champion, recipient of the league's automatic bid to the NCAA Tournament. The Blue Hens did so as the No. 5 seed and at the expense of No. 1 seed Towson and second-seeded UNC Wilmington, co-champions of the CAA in the regular season.
A year prior, Drexel danced into March Madness as the CAA Championship's sixth-seed, knocking off 1-of-2 regular-season champions in James Madison. The other, James Madison, lost in the semifinals to eighth-seeded Elon.
Hofstra was the last regular-season champion to win the conference tournament back in 2020; Charleston, as co-champion, was the last to participate in the NCAA Tournament back in 2018. Their runs to the title book-ended Northeastern upending top-seeded Hofstra in the 2019 CAA title game, making it three straight editions of March Madness in which the Colonial's representative did not claim at least a share of the regular-season crown.
The 2022-23 Hofstra Pride and College of Charleston Cougars head to D.C. hoping to end that streak. The co-champions are seeded 1 and 2, with Hofstra's head-to-head victory earning it the top overall spot. They'll look to buck the recent trend of CAA Madness setting the tone for March Madness upsets.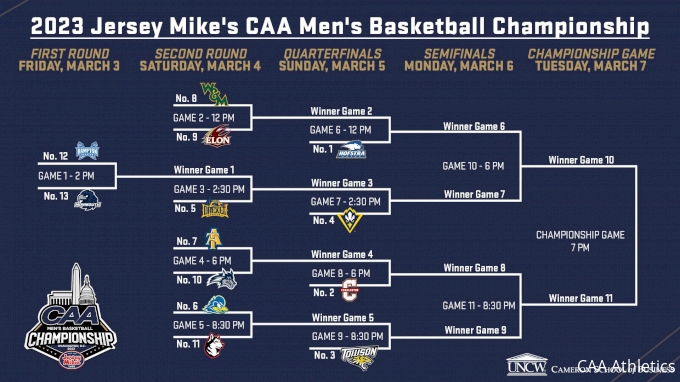 Testing Momentum
The Pride head to the nation's capital rolling, winners of 11 straight after overwhelming Northeastern in the finale, 84-52.
"These guys are actually pulling for each other, want to see each other do well, and they're locked in, and they see the light at the end of the tunnel," Hofstra coach Speedy Claxton said prior to the rout of NU. "They know what's at stake, and they want to win a championship."
Over the last 10 games, Hofstra ranks third in all of college basketball in field-goal percentage, sixth for 2-point shooting at 57.4 percent, and is the country's best offense in assist-to-turnover ratio, total turnovers and percentage of possessions resulting in turnovers, and fast-breaking shooting.
Few teams can come anywhere close to approaching the offensive efficiency buoying Hofstra ahead of its postseason. One among those elite few is CAA counterpart Charleston.
The Cougars concluded the best regular season in program history with one of its best offensive stretches of the campaign, boasting the nation's best offensive rating per CBBAnalytics.com metrics.
🏀📈 Two of the nation's best offenses head to Washington D.C. for @CAABasketball. Not many programs in all of college basketball can match the numbers @HofstraMBB and @CofCBasketball are putting up over the last 10 games (h/t @CBBAnalytics pic.twitter.com/NBtJLQqRc8

— FloHoops (@FloHoops) February 27, 2023
It should come as no surprise that Hofstra and Charleston are also the hottest teams in the Colonial in terms of win-loss in that 10-game stretch. CofC's 7-game streak isn't quite near the 20-gamer the Cougars put together previously this season (and which Hofstra snapped), but it's nevertheless reflective of the team getting hot at the right time.
At least, being hot ahead of conference-tournament season seems like "the right time." The only streak that truly matters is three. Or four. Or five.
That's how many games needed to win the CAA Championship, which Delaware achieved a year ago despite losing its final two regular-season contests to co-champions Towson and UNC Wilmington. Drexel a year prior won its final regular-season contest, but after a lengthy COVID pause and a month straight of .500 ball, the Dragons hardly rode a wave of success into the postseason.
On the flipside, going into the postseason cold isn't some secret formula for success. Charleston's Pat Robinson III said that while a team prefers stumble in the regular season for obvious reasons, there isn't an inherent benefit to a loss before the tournament.
We're Going Streaking
Few things can power a team to March success quite like an individual hot scoring hand. Names gain legendary status at this time of year, from Fennis Dembo to Steph Curry, lighting it up when the stakes are highest.
A few candidates to keep in mind for the CAA Championship:
Maleeck Harden-Hayes, UNC Wilmington
While not UNC Wilmington's primary offensive option, Maleeck Harden-Hayes may be uniquely equipped to break out as the Seahawks' most important offensive weapon in D.C. The transfer wing from North Dakota State is averaging just under 10 points per game, but has games of 22, 25 and 31 points.
What a game for @MaleeckH! Most points scored by a Seahawk since Jordon Tallery's 37-point outburst vs. Hofstra in 2018 #CAA Tournament.#HawkYeah #Rise #UNCW @UNCWilmington pic.twitter.com/vqlTGif7lJ

— UNCW Basketball (@uncwmenshoops) January 21, 2023
His solid 3-point shooting, knocking down almost 38 percent of his 103 attempts, and near-automatic free-throw showing are key pillars to a potential monster postseason.
Max Mackinnon, Elon
The presumptive front-runner for CAA Rookie of the Year, Max Mackinnon's outstanding individual play late in the season helped ignite Elon to a 6-2 stretch. The Phoenix head into the Colonial Tournament having dropped consecutive games, but Mackinnon's proven ability to get hot makes Elon a dangerous matchup.
The Phoenix are slotted in the same 8-9 spot as the 2021 team, which advanced all the way to the title game. If Elon can repeat that bit of recent history, expect Mackinnon's scoring to be at the forefront.
Jameer Nelson Jr., Delaware
No one comes into D.C. on a more remarkable individual run than Jameer Nelson Jr., who dropped a combined 69 points in two of the Blue Hens' final three regular-season contests.
Nelson heads into the postseason posting more than 20 points per game and is biting at the heels of Hofstra's Aaron Estrada for the conference scoring title. The 2022 NCAA Tournament team's veteran leader Nelson scored 21 points the last time he faced the Blue Hens' CAA Championship-opening opponent, Northeastern, part of a stretch since returning from injury on Jan. 19 in which Nelson posted at least 20 points 10 times.
OH MY! Get this man on @SportsCenter! Call @ESPNAssignDesk 🤯🤯🤯 pic.twitter.com/eLMciECK0U

— Delaware Men's Basketball (@DelawareMBB) February 24, 2023
Nicolas Timberlake, Towson
With three 31-plus-point games since the beginning of February and five outings posting at least 26 points, Nicolas Timberlake is lighting it up going into D.C. His career-high 34 points at College of Charleston on Feb. 23 nearly upended the Cougars' conference-title aspirations, while demonstrating that Timberlake has the weapons to lead Towson toe-to-toe with any opponent.
Kam Woods, North Carolina A&T
Kam Woods finished among the best scorers in North Carolina A&T's first CAA season thanks in no small part to his play against some of the conference's standard-bearers. He dropped a season-high 30 points against Charleston and went for 29 points against Towson — two teams A&T would likely see on a dark-horse run to the championship.
Kam Woods @ncatmbb has help make the transition to the @CAABasketball Nice & Smooth... pic.twitter.com/GKpZv5uCEG

— College Insider Inc. (@collegeinsider) February 1, 2023
Woods attacks the rim off the dribble effectively, but with eight games making at least four 3-pointers, his outside offense may prove most pivotal to a surprise A&T march through the field.
Save The Last Dance
Eleven of the CAA's 13 members have reached the NCAA Tournament at least once.
College of Charleston: 2018
Had it not been for a questionable no-call at the end of regulation in its 2018 matchup with Auburn, College of Charleston may have collected its second NCAA Tournament win in program history.
The Cougars took eventual national champion Arizona to the limit in the Round of 32 in 1997, closing what was long the gold-standard in program history. The 2022-23 Cougars could set a new standard.
Delaware: 2022
Delaware's impressive run through the CAA Championship a season ago sent the Blue Hens to their first NCAA Tournament under coach Martin Ingelsby, and just the program's second in the 21st Century. With Jameer Nelson Jr. in the field last year, Delaware represents half of one of the few father-son combinations ever to reach March Madness.
Drexel: 2021
Drexel emerged from the 2021 CAA Tournament as champion despite coming in as a No. 6 seed. The run sent to the Dragons to their first NCAA Tournament since 1996, when program legend Malik Rose powered Drexel to a 1st Round upset of Memphis State.
Elon: Never
Hampton: 2016
The Pirates' first trip to the NCAA Tournament became one of the most memorable in the event's history, with the 2001 Pirates joining the exclusive company of No. 15 seeds to knock off a No. 2 when they beat Iowa State.
However, Ed Joyner's tenure as head coach has been Hampton's most successful in the postseason, with three trips to the Big Dance and another Tournament win, beating Manhattan in the 2015 First Four.
Hofstra: 2001 (qualified for the canceled 2020 Tournament)
COVID-19 denied a deep and talented Hofstra team the opportunity to compete in March Madness, so this year's top-seeded Pride will try to become the program's first squad to play in the Tournament in 22 years.
Monmouth: 2006
Critics of the NCAA Tournament selection committee who charge it neglects worthy teams from non-traditional conferences need only point to King Rice's 2015-16 Monmouth squad for supporting evidence. The snub of a Monmouth team with a resume that included wins over UCLA, USC and Elite Eight-qualifier Notre Dame means the Hawks last made the field in 2006.
North Carolina A&T: 2013
A one-point win over Liberty in the 2013 First Four marked North Carolina A&T's first-ever victory in 10 appearances.
Northeastern: 2019
Northeastern reached its second NCAA Tournament in the record-setting career of head coach Bill Coen in 2019. The man Coen passed to become NU's all-time winningest coach, Jim Calhoun, oversaw teams in the first half of the 1980s that scored landmark Tournament wins over Fresno State, St. Joseph's and LIU.
Stony Brook: 2016
Behind a monster season from Jameel Warney, Stony Brook won a dramatic America East Conference championship in 2016 to reach its first-ever Big Dance. The Seawolves lost to Kentucky in the 1st Round.
Towson: 1991
Terry Truax coached Towson to consecutive NCAA Tournament appearances in 1990 and 1991 — still the only trips to the Big Dance for the Tigers in program history. Pat Skerry's outstanding 2021-22 team came close as regular-season champion and No. 1 seed in last year's CAA Championship.
UNC Wilmington: 2017
Last year marked the 20th anniversary of UNC Wilmington stunning USC in a March Madness classic. This year is 20 years since the Seahawks had reigning national champion Maryland on the ropes in the 2003 NCAA Tournament.
In back-to-back appearances under Kevin Keatts in 2016 and 2017, UNCW led Duke in the second half and took Virginia to the wire.
William & Mary: Never