2023 BIG EAST WBB Tournament First Round
2023 Big EAST Women's Basketball Tournament: How To Watch, Schedule
2023 Big EAST Women's Basketball Tournament: How To Watch, Schedule
Here's how to watch the 2023 BIG EASt Women's Basketball Tournament and stream it on FloSports and FloHoops.
Feb 28, 2023
by Joe Harrington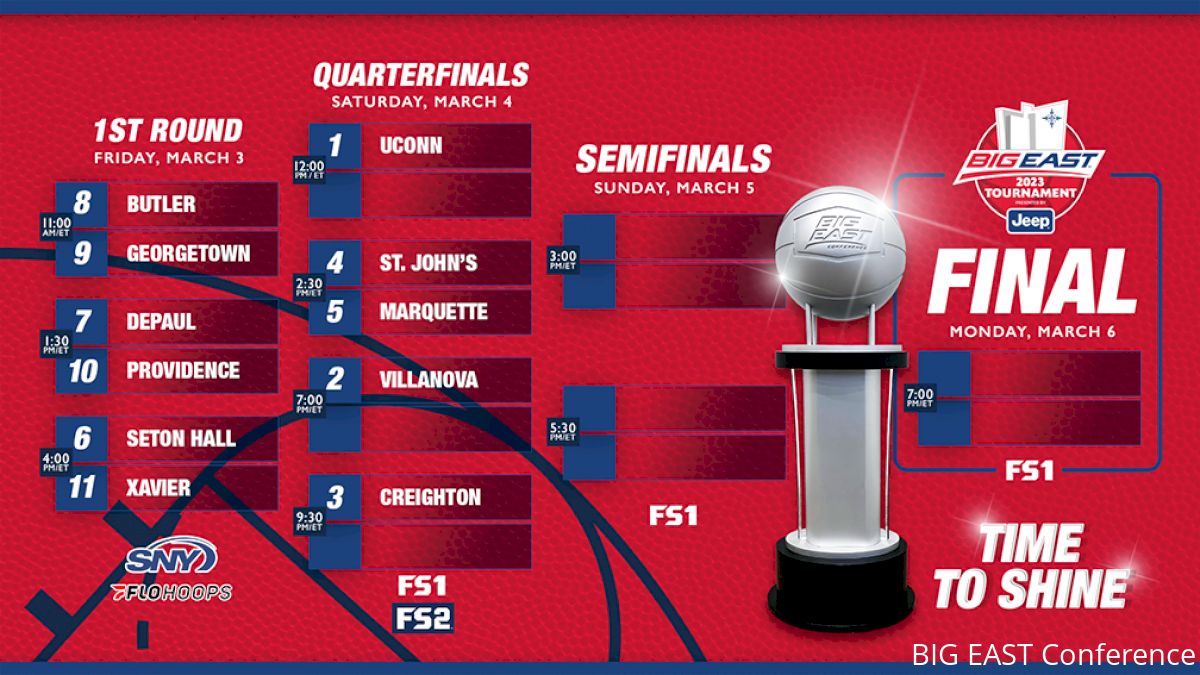 The BIG EAST Women's Basketball Tournament begins Friday March 3 at Mohegan Sun Arena in Uncasville, Connecticut as 11 teams look to win the automatic bid to the 2023 NCAA Women's Basketball Tournament.
The top-seeded and No. 9 ranked UConn Huskies are the favorite to win their third straight BIG EAST Women's Tournament title and their ninth straight conference tournament title overall. The last time the Huskies didn't win a conference title was in 2013, when Notre Dame upset the eventual national champions 61-59 and the BIG EAST Tournament.
Subscribe To FloHoops To Watch The CAA Men's Basketball Tournament

Defining Games Of The BIG EAST's All-Time Leading Scorer, Maddy Siegrist
This year, UConn has not been as dominant as the 2013 team (which went 35-4), but are still considered a national title contender. The Huskies are 26-5 and 18-2 in conference play.
Can any team stop UConn from winning the BIG EAST Tournament again? Here's how to watch to find out.
How To Watch The Big East Women's Basketball Tournament On FloSports
The tournament begins on March 3 with three games all streaming on FloHoops and the FloSports app. Here is Friday's schedule
11 a.m.: No. 8 Butler vs. No. 9 Georgetown
1:30 p.m.: No. 7 DePaul vs. No. 10 Providence
4 p.m. No. 6 Seton Hall vs. No. 11 Xavier
What Channel Is the BIG EAST Women's Basketball Tournament On?
After the first round, Saturday's action moves to FS1 and FS2 and can be streamed on any service that offers those channels.
The semifinals on Sunday and the BIG EAST Women's Championship Game will be on FS1 at 8 p.m. Monday.
BIG EAST Women's Basketball Tournament Bracket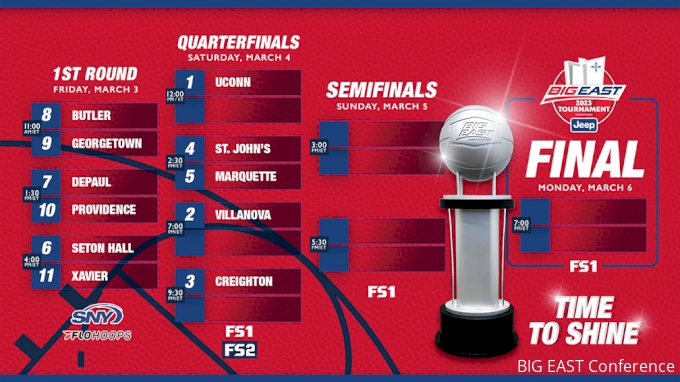 How Many Ranked BIG EAST Women's Teams Are Playing At The Tournament?
The most recent rankings included No. 9 UConn, the highest ranked team, along with No. 11 Villanova (the No. 2 seed at the Tournament). Creighton, the No. 3 seed, received the 26th most most votes in the AP poll to fall just outside the top 25.
Subscribe To FloHoops And FloSports For More Basketball
Click here to subscribe to FloHoops and FloSports.
A subscription unlocks the following:
Live events
Event replays
Original films and shows
Training and technique videos
Event results
Team and athlete rankings
Breaking news
Limited ads on videos
Subscribers can watch up to 12 streams in total on one or many devices connected to the same WiFi. For example, you can have one stream up on your iPhone, one on your Roku, and another on your laptop.