2023 GLIAC Men's Basketball Championship
2023 GLIAC Men's & Women's Tournament Previews
2023 GLIAC Men's & Women's Tournament Previews
Bids to the NCAA Tournament are on the line as the men's and women's GLIAC Tournaments usher in March.
Mar 1, 2023
by Kyle Kensing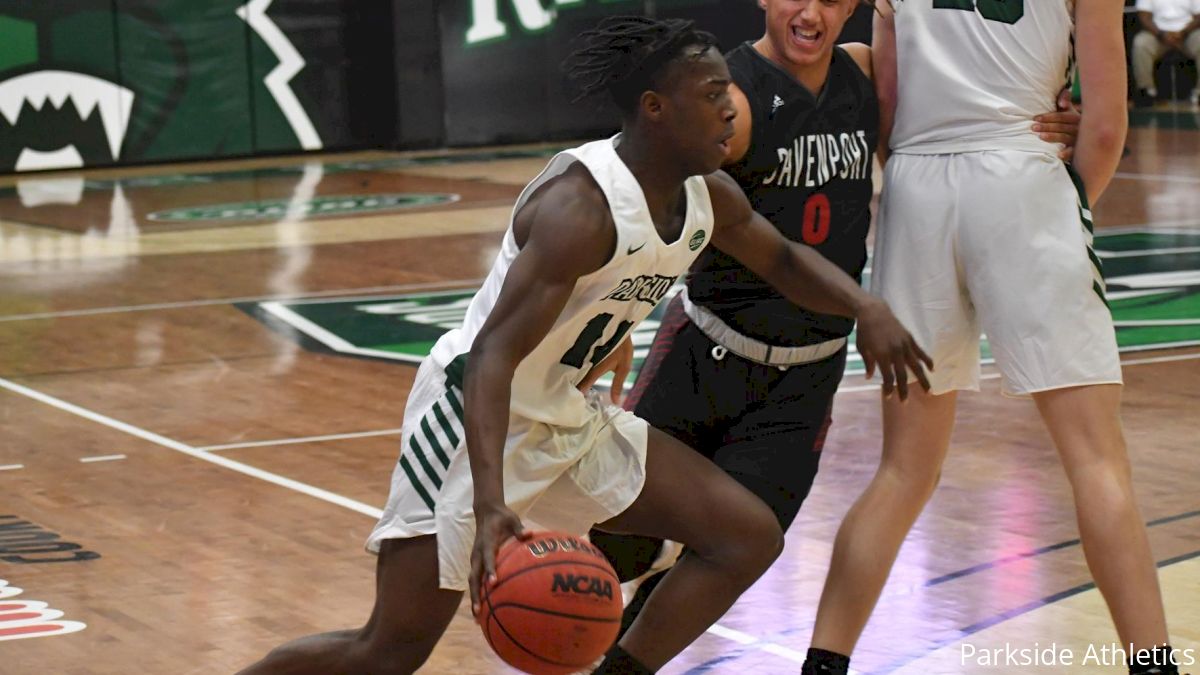 Top seeds Parkside in the men's Tournament and Grand Valley in the women's look to both double up as 2022-23 GLIAC champions, and ensure themselves bids to NCAA Div. II Tournaments later this month.
Parkside earned the regular-season title for the men, going 14-4 in GLIAC play behind the standout play of Rasheed Bello. Bello, an 18.5-point per game scorer, paced force different Rangers averaging in double-figures for the campaign. Jamir Simpson's 14.4 points, Josiah Palmer's 11.5 and Colin O'Rourke's 11.4 combined to make Parkside one of the most prolific offensive teams in the GLIAC.
Women's regular-season champion Grand Valley went 17-1 in league play, 26-2, and ride a nine-game winning streak in the GLIAC Tournament.
Both squads can expect stiff competition for the postseason crown and associated ticket to the NCAA postseason at stake.
GLIAC Men's Championship
No. 6 Saginaw Valley State at No. 3 Northern Michigan
Northern Michigan closed the regular season as one of three GLIAC teams with 21-plus wins, going 21-7 and finishing tied for second in the league at 13-5. The Wildcats looked especially sharp at the conclusion of the regular season, winning 6-of-7 and three straight in-conference — including a 73-47 rout of Parkside on Feb. 16.
Max Bjorklund's 20.2 points per game lead a Northern Michigan squad that puts up 80.8 a contest. Saginaw Valley held the Wildcats to almost 10 points fewer than that average when the teams met Jan. 7, but Northern Michigan pulled out a 71-68 win. The Wildcats doubled up, hitting right at their average in an 81-64 win Feb. 2.
No. 5 Grand Valley at No. 4 Lake Superior State
Lake Superior State overcame some non-conference struggles, during which it finished just 1-7, going 12-6 to finish just two games back of first place in the GLIAC. That's good enough to land a quarterfinal home game against Grand Valley, which went 17-11 overall and just a game back of LSSU in the GLIAC at 11-7.
Lake Superior State swept the regular-season series, albeit with both contest decided by single digits. LSSU escaped a 79-75 overtime meeting on Dec. 3, then scrapped for a 65-57 win in a defensive slugfest last week. Season-long leading scorers Caden Ebeling and Kemon Bassett, LSSU's veteran frontcourt, led the charge in both wins over GVSU.
Grand Valley scored an impressive win to close out its regular season, beating rival Ferris State in a high-scoring 90-84 affair. Perhaps the momentum from denying Ferris State a share of the GLIAC's regular-season crown will buoy the Lakers into the postseason.
No. 7 Purdue Northwest at No. 2 Ferris State
Purdue Northwest pulled out of a late-season skid in its regular-season finale, routing Wayne State last Saturday, 69-48. The blowout victory snapped a six-game losing streak, and accounted for the Lions' sole victory in the month of February.
The calendar's turned to a new month, and Purdue Northwest — behind multi-talented combo guard Mikell Cooper — will look to upset a Ferris State bunch that won the two regular-season meetings by 10 and 20 points.
Ferris State's hopes of a shared GLIAC title were dashed in the last outing before the conference tournament. Surely that adds some motivation for the 22-win Bulldogs, a team that put up a whopping 86.9 points per game through 29 games.
No. 8 Michigan Tech at No. 1 Parkside
Top-seeded Parkside rebounded from a late-season loss at Northern Michigan to win three straight by an average of 16 points per game, including an 18-point defeat of Michigan Tech on Feb. 18.
The regular-season champion Rangers got 20 points from Bello in the win, and 18 points with 11 rebounds from Simpson in the win, Parkside's second over Michigan Tech on the campaign. The Rangers cruised to a 72-49 rout on Dec. 1 when the two met in Kenosha.
GLIAC Women's Championship
No. 7 Wayne State at No. 2 Michigan Tech
An outstanding, 23-5 regular season sets up Michigan Tech nicely for a potential NCAA Tournament push. The Huskies will look to solidify their resume with the GLIAC Tournament, hosting seventh-seeded Wayne State in the quarterfinals.
Michigan Tech won at home over Wayne State on Feb. 2, 80-70, behind 22 points on 9-of-10 shooting from Sara Dax; and 19 points from Isabella Lenz. The inside-outside duo account for half of the Huskies' four scoring leaders, all putting up from 9.3 to Lenz's team-high 14 points per game.
Wayne State scored road wins over Ferris State and Northern Michigan in the final month of the campaign, proving that the Warriors can be a tough out in a 1st Round matchup.
No. 8 Purdue Northwest at No. 1 Grand Valley
Atop the GLIAC and ranked No. 3 in the Midwest Region, Grand Valley begins the GLIAC Championship as the clear team the rest of the field is trying to catch. The Lakers went 17-1 through regular-season league play, their lone conference blemish a one-point loss at Michigan Tech in January.
GVSU has been on fire since thanks to one of the most stifling defenses in college basketball. The Lakers rank second nationally, holding opponents to 50.9 points per contest. In two regular-season wins over Purdue Northwest, Grand Valley allowed 54 and 47 points.
No. 6 Ferris State at No. 3 Parkside
Parkside rebounded from back-to-back losses late in the season with a pair of victories last week, knocking off Wayne State and Saginaw Valley State to secure the GLIAC Tournament's No. 3 seed. Long-range sharp-shooter Alyssa Nelson has scored at a torrid pace this season, averaging 22.3 points per game to lead the Rangers. She's the part of dangerous scorer, particularly given her almost 42 percent 3-point shooting clip, who can carry a team deep into March.
But first, Parkside must hold serve at home against a solid Ferris State team. The Bulldogs were better on the road than home during the regular, finishing 9-5 away from Big Rapids and just 7-6 at Jim Wink Arena.
Ferris State dropped both matchups to Parkside, the most recent a 79-66 decision on Feb. 2, despite Chloe Idoni going off for 28 points and nine rebounds.
No. 5 Saginaw Valley at No. 4 Northern Michigan
Northern Michigan endured a hot-and-cold final month of the regular season, losing 4-of-5 over a stretch from Jan. 28 through Feb. 11, but winning 3-of-4 from Feb. 9 through Feb. 18. The wildcats dropped the regular-season finale on the road against Michigan State.
Amid that stretch dropping 4-of-5, Northern Michigan fell at home to Saginaw Valley State, a measure of revenge for the Cardinals after the Wildcats won on the road on Jan. 7. Both contests were defensive struggles; Northern Michigan won the first, 56-52, while Saginaw Valley claimed the rematch, 46-43.
Expect a similarly defensive-focused rubber match. Northern Michigan comes in holding opponents to fewer than 58 points per game, while SVSU gives up just 61.8 points a contest. Kaitlyn Zarycki of SVSU is one of the nation's best at generating takeaways, collecting 2.5 steals per game to lead the Cardinals.