BIG EAST Women's Basketball
BIG EAST Women's Basketball Tournament: Semifinal Recap
BIG EAST Women's Basketball Tournament: Semifinal Recap
The top two women's teams in BIG EAST play for each of the past two seasons, UConn and Villanova, are set to meet in this year's BIG EAST Tournament final.
Mar 6, 2023
by Briar Napier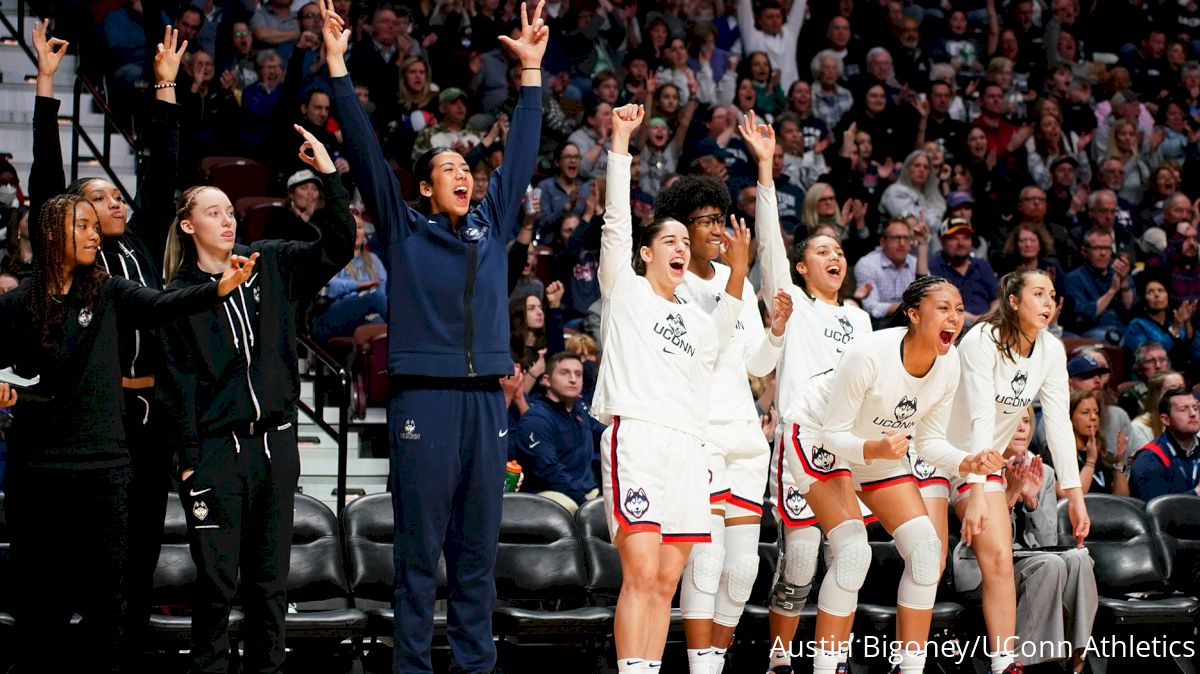 Now, we are down to two.
Nine games transpired over three days this weekend at the BIG EAST Women's Basketball Tournament inside the Mohegan Sun Arena in Uncasville, Connecticut, and after a series of tight-knit contests, and even some last-second tension mixed in, only a pair of programs – UConn and Villanova – remain standing for the championship game, which will be held Monday at 7 p.m. Eastern.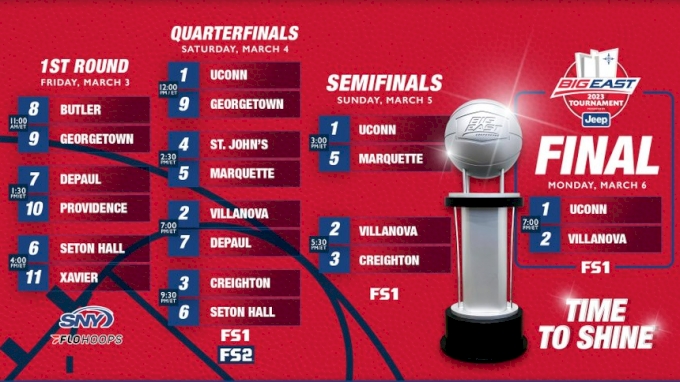 Though an automatic bid to the NCAA Tournament is on the line, both teams are firmly in this year's field and even in the running to be first- and second-round hosts. Monday's meeting is more so about getting even with each other.
The top two teams in BIG EAST play for each of the past two seasons, UConn and Villanova have seen their share of battles and incredible performances from incredible players in recent years.
With their next matchup potentially being the final showdown of several influential players' careers on top of it all, the title-game tension heading into the final has only ramped up even more.
Bring on the madness, as tipoff can't come soon enough.
Here's a recap of all that went down in the BIG EAST Women's Basketball Tournament semifinals to lead the Huskies and Wildcats into familiar territory. They will clash in the final for the second straight season.
UConn Runs Past Marquette To Advance To Title Game
Entering Sunday, No. 1 UConn hadn't lost before the championship game of a conference tournament since 2004, and even though there was a legitimate possibility of it happening this time around due to the fact that Marquette had beaten the Huskies once this season (by a 59-52 margin Feb. 8), the streak continued in dominant fashion.
In its two days of play so far at this year's BIG EAST Tournament, UConn has played some of the best basketball it has all year, steamrolling the fifth-seeded Golden Eagles 81-52 in Sunday's first semifinal.
The Huskies advanced to Championship Monday with a big win over Marquette! pic.twitter.com/vLNKOiNH5c

— UConn Women's Basketball (@UConnWBB) March 6, 2023
In Monday's title game, the Huskies will vie for a 10th straight conference tournament title between their return to the BIG EAST and seven-year stint in the American Athletic Conference.
Five UConn players finished the semifinal with double-digit scoring numbers, with three garnering double-doubles.
Aaliyah Edwards led all scorers with 20 points and 12 rebounds, Dorka Juhasz posted a 14-point, 11-rebound stat line and Nika Muhl got hers by way of an 11-point, 10-assist performance.
UConn outscored Marquette in every quarter and got its game-breaking run in the form of an 18-4 stretch from parts of the second quarter into the third, limiting the Golden Eagles – led by Liza Karlen's 18 points – to just 30.2% shooting, while going 49.3% from the field, including an efficient 59.6% on 2-pointers.
The good news for Marquette, which as it stands likely is on the bubble toward qualifying for the NCAA Tournament field, is that its semifinal loss probably did little to negatively impact its resume for an at-large selection, especially considering that the Golden Eagles had beaten the Huskies once, which is a monumental feat for most BIG EAST teams in itself.
A quarterfinal win against fellow bubble team St. John's on Saturday most likely did the job.
ESPN "bracketologist" Charlie Creme had Marquette in his "Last Four Byes" category in his latest bracket projection Sunday evening.
Maddy Siegrist Produces More Magic, Villanova Beats Creighton
Having captured just about every major honor a BIG EAST women's basketball player can in her career, a conference title (regular season or tournament) has been one of the few accolades to evade Villanova superstar, two-time BIG EAST Player of the Year and All-American scoring dynamo Maddy Siegrist.
But after a vintage scoring clinic – 37 points – for the league's all-time leading scorer in a 63-61 Wildcats win over No. 3 Creighton in the late semifinal Sunday, Siegrist now gets one final shot in her storied career at leading the Wildcats to the top of the BIG EAST.
The nation's leading scorer posted her 14th 30-point game and 17th double-double (also pulling down 11 rebounds) of the season, as the No. 2 Wildcats outlasted the Bluejays in a tight showdown that included 10 lead changes.
She did it all for @novawbb in a #BEtourney Semifinal win and then joined the postgame crew!

Maddy being Maddy comes to Fast Break. pic.twitter.com/cYEjcPAWXW

— BIG EAST WBB (@BIGEASTWBB) March 6, 2023
Villanova fended off a valiant Creighton fightback from being down by eight with under three minutes left to having a chance to win or tie it on its final offensive possession.
After a pulsating buzzer-beating overtime win against Seton Hall in Saturday's quarterfinals, the Bluejays threatened to perform some more late-game heroics and possibly even seal a spot in the BIG EAST Tournament title game with a bucket.
Down two points, Lauren Jensen missed a contested look from close range (a miss Siegrist corralled for a critical defensive board) with four seconds left that would've evened the score at 63.
'Nova ran out the clock from there.
Creighton had fouls to give and couldn't immediately force the Wildcats to the free-throw line, allowing Siegrist and company, who haven't lost to a non-UConn team in two-and-a-half months, a third opportunity in 2022-2023 to directly challenge the Huskies – this time, for conference gold.
UConn Vs. Villanova: The Final Showdown
Ten years ago, also known as the last time UConn didn't win its conference tournament, it took the leadership of one of the best players in BIG EAST history – Notre Dame legend and future WNBA All-Star Skylar Diggins-Smith – for someone to upend the Huskies in postseason conference play.
It took a decade for another player to match Diggins-Smith's accomplishment of back-to-back BIG EAST Player of the Year awards, too – and that player, Maddy Siegrist, gets (what's likely to be) one last chance to do as Diggins-Smith did and take down the mighty Huskies in a conference tournament.

Villanova is 1-5 against UConn since the blue-blood program rejoined the BIG EAST for the 2020-2021 season, earning the honor as the team that snapped the Huskies' incredible then 169-game conference winning streak with a historic victory on Feb. 9, 2022.
It's something two other league teams (St. John's and Marquette during this season) have done since, with 'Nova making the original statement that UConn, at least as of late, won't just be waltzing to BIG EAST hardware like it had for so many years previously.
Still, the Huskies have had the Wildcats' number this year across a pair of matchups, winning at home 63-58 on Jan. 29 and on the road by a 60-51 margin Feb. 18.
Now, they have a top player back in sophomore standout Azzi Fudd (who missed the 14 consecutive games prior to the BIG EAST Tournament with a knee injury), who wasn't around for either of those games, giving UConn another advantage as it attempts three straight over 'Nova and 10 consecutive league tourney titles overall.
Inês Bettencourt ➡️ Azzi Fudd pic.twitter.com/GBylMVmrgt

— UConn Women's Basketball (@UConnWBB) March 5, 2023
But there's a reason no one besides UConn has defeated Villanova since Iowa State did it on Dec. 18, and with Siegrist given another shot at adding to her legacy by taking down the Huskies, it could mean that one of the most defining moments of her career may be on the horizon. Strap in.