CAA Championship: Shykeim Phillips, Jaylon Scott Are Unsung MVPs
CAA Championship: Shykeim Phillips, Jaylon Scott Are Unsung MVPs
CofC's Jaylon Scott and UNCW's Shykeim Phillips may not score big points, but each is invaluable to his team's NCAA Tournament dreams.
Mar 7, 2023
by Kyle Kensing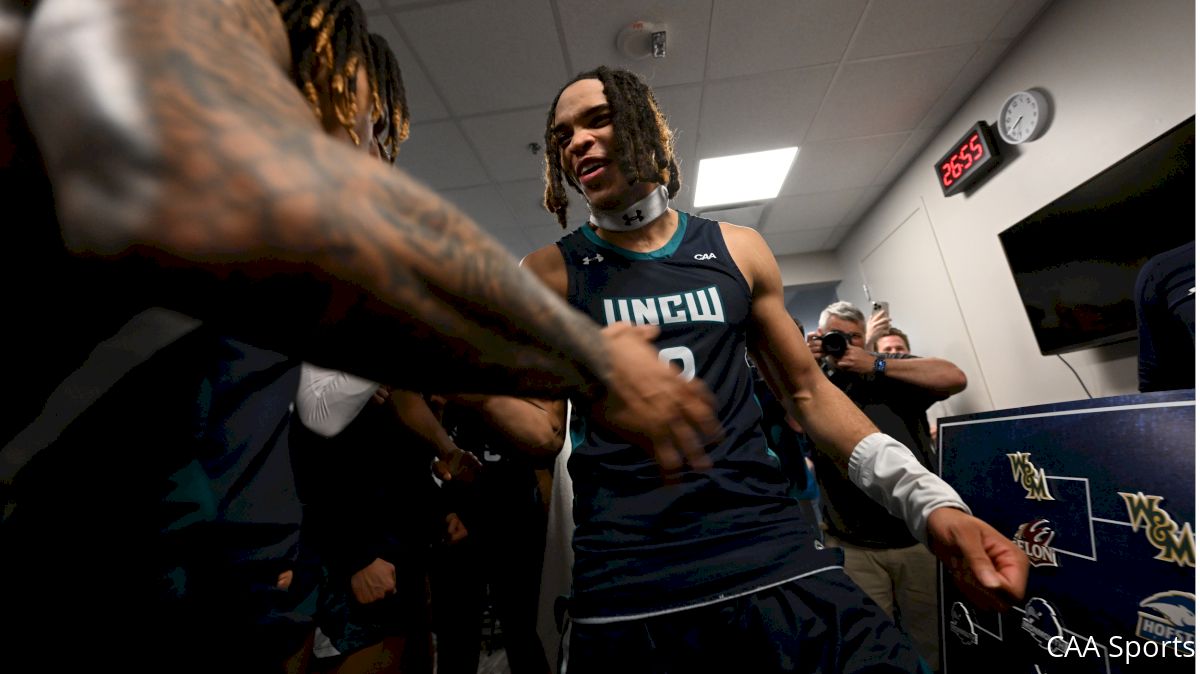 Two players who scored a combined three points in the Colonial Athletic Association Championship semifinals carry the weight of their teams' NCAA Tournament aspirations.
College of Charleston and UNC Wilmington meet for a third time in the 2022-23 season, with the conclusion of the trilogy determining which program advances to March Madness — a perhaps predictable development given the intensity of their early-January encounter.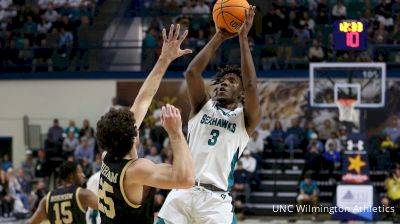 Unlock this video, live events, and more with a subscription!
Get Started
Already a subscriber? Log In
Less predictable is that UNCW's Shykeim Phillips and Charleston's Jaylon Scott — players who rank third and ninth on their respective rosters in points scored — may hold the ticket to the Big Dance.
Phillips is a rare breed who traded in the glamour of being a top scoring option for the grime of becoming a defensive tone-setter.
A fourth-year starter and the veteran point guard of the CAA Championship Game-bound Seahawks, Phillips was coming off averaging a career-best 11.3 points per game. His output was tops among the 2022-23 returners from UNCW's outstanding 2021-22 campaign.
This year, Phillips is averaging 8.6 points per game — the lowest in his four seasons as a Seahawk — but the senior out of Winterville, North Carolina, is having immeasurable impact on UNCW's pursuit of an NCAA Tournament berth.
Seahawks coach Takayo Siddle previously referred to defense as the team's identity. To that end, Phillips stepped up to become the ostensible face of UNCW's brand of basketball.
"Coming back as our returning, leading scorer, having the humility and team-first mentality to come in and say, 'OK, I'll be the defensive stopper, I'll guard their best perimeter player,' he's an unbelievable young man," Siddle said. "He accepted that role, he accepted the challenge."
Phillips' performance in the Seahawks' 79-73 CAA semifinal defeat of top-seeded Hofstra encapsulated his importance to UNCW basketball.
He scored just three points, but grabbed six rebounds — sometimes skying for rebounds over taller opponents, often as UNCW's smallest player on the floor — and tipping away more caroms to prevent Hofstra boards.
Defensively, Phillips came up clutch both late in regulation and in overtime, harassing Hofstra's two-time CAA Player of the Year and scoring machine Aaron Estrada on every possession.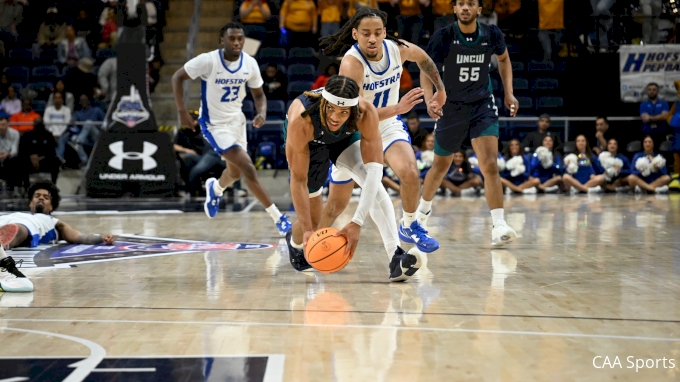 Phillips' pestering defense proved especially critical in the extra frame, as he contested Estrada into two big misses on jump shots; came away with a steal from the CAA Player of the Year; and tracked down a win-sealing rebound after contributing to one of Estrada's missed shot attempts.
Phillips just might have delivered on the biggest two-minute stretch of UNCW's season, all while scoring just one point during the spell.
"You've got to give that kid a lot of credit. He's been through so much this year," Siddle said. "He's been sick. He's been injured. He's missed a lot of games, he hasn't been able to get into a flow, in a rhythm."
But while seeking a rhythm offensively, Phillips more than compensated all year with his defense. Per advanced metrics, he's been one of the best perimeter presences in not just the CAA, but all of college basketball.
Phillips boasts a steal percentage of better than 3.5, good enough to rank in the 95th percentile of Div. I per CBBAnalytics.com; and 82nd-ranked across all players via KenPom.com.
"He's an amazing teammate," said Trazarien White, the All-Colonial wing who emerged as UNCW's primary scoring weapon this season. "He only cares about one goal, and that's winning. He told us ... he's going to do whatever he has to do so that we come out successful. And tonight he played amazing defense."
On the other side of the CAA title tilt, Charleston captured national attention throughout the regular season thanks in large part to its run-and-gun style. The Cougars play with one of the most uptempo paces in the nation, resulting in a top 15-ranked scoring offense that averages north of 81 points per game.
CofC has cultivated its prolific offense on point distribution, with five Cougars averaging in double-figures scoring per contest and six producing more than nine points a night. Charleston's 1,000-plus 3-point attempts account for almost 48 percent of its total shot attempts, the 10th-highest reliance on the long ball in all of college hoops per KenPom.com.
And yet, in Scott — a 4.1-point per game scorer who has shot 27 3-pointers all year and made six — CofC has who Stony Brook coach Geno Ford called the Cougars' MVP.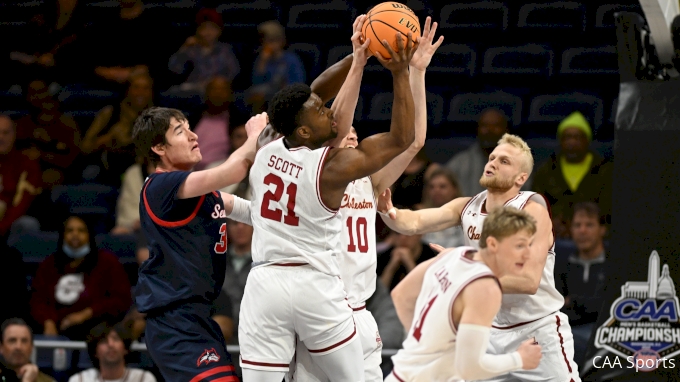 Charleston coach Pat Kelsey endorsed the label.
"I was really glad he said it," Kelsey remarked of Ford's comments following Charleston's quarterfinal rout of Stony Brook. "Because he's exactly right. If you made me say who's our MVP, it's that kid [Scott]. And it doesn't show up on the stat sheet all the time. ... He does so many little things."
Scott's biggest contribution to Charleston's thrilling, 77-72 defeat of Towson in the CAA semifinals did make the stat sheet, however.
Reflective of Kelsey's assertion that Scott "wants to guard the best player," the Cougars defensive dynamo stepped out as Towson's All-CAA wing Nicolas Timberlake squared up for a 3-point attempt.
Charleston held a tenuous, 71-70 lead with 21 seconds remaining in a wild second half when Scott extended his arm on Timberlake's shot, getting the block that effectively sealed CofC's win.
Jaylon Scott blocks the shot!!! @CofCBasketball wow wow wow #CAAChamps on @CBSSportsNet pic.twitter.com/nAwgkVa6Hx

— CAA Basketball (@CAABasketball) March 7, 2023
It was Scott's second blocked shot of the night in a contest during which he also ripped away two steals and grabbed five rebounds.
Scott scored zero points against the Tigers, but the rest of the stat line underscores his value to a team with NCAA Tournament goals beyond just making the field.
Scott's shot-blocking ranks in the 95th percentile nationally per CBBAnalytics.com, and his Hakeem percentage — combined blocks and steals percentages — he's in the 92nd percentile.
More importantly, and indicative of Kelsey's assessment that Scott's biggest contributions don't necessarily show up in statistical measures, Scott is often the catalyst behind critical defensive moments in Charleston's closest games.
In the Cougars' previous matchup with Towson on Feb. 23, for example — another game that came down to the wire — Scott stole the ball from Christian May late in a one-point contest. The takeaway led to a Pat Robinson III bucket in transition, part of a 7-0 run that sewed up the CofC win.
Such plays are the defining moments of championship runs. And they're exactly the kind of plays that put Jaylon Scott and Shykeim Phillips right at the heart of the CAA Championship.