Ryan Larson Brings March Madness Savvy to Charleston Basketball
Ryan Larson Brings March Madness Savvy to Charleston Basketball
Ryan Larson was part of a March Madness Cinderella as a freshman in 2019. As a senior, he's leading NCAA Tournament-bound College of Charleston.
Mar 12, 2023
by Kyle Kensing
If in his gutsy performances for College of Charleston berth it appeared Ryan Larson had been there before, it's because he has.
Larson won Most Outstanding Player of the 2023 Colonial Athletic Association Championship thanks to a heroic effort in the title game. He went for 23 points against a tough UNC Wilmington bunch, swiped four steals, and led the Cougars to an NCAA Tournament berth.
Impressive as Larson's stat line was in the most important game of Charleston's season, however, when he made plays in his MOP performance make it that much more remarkable. Seemingly any time the Cougars needed a big play, No. 11 was stepping up.
When asked how CofC closed the CAA Championship on an 18-5 run, Cougars coach Pat Kelsey quipped, "Ryan Larson helped. Whew."
Likewise, CofC guard Pat Robinson III said: "We have so many guys who can go off any night. Tonight, it was Ryan."
The Charleston roster isn't lacking for talent nor for experience. Kelsey's "great experiment" of assembling a roster a year ago brought an abundance of proven collegiate ability via transfers, like former Div. II scoring machine Dalton Bolon.
It's a lineup of what Kelsey calls "consummate hoop dudes," a quality responsible for Charleston winning a CAA record 31 games. But even for hoop dudes, the first taste of March Madness can be unnerving.
Larson knows that personally.
"My freshman year, when I first got [to the NCAA Tournament] — and I think a lot of people are — but just being a little bit overwhelmed," he said, reminiscing on his experiences having played in the championship tournament previously. "You think of that moment for 18 years growing up, through high school. So when you finally get there, it's a little overwhelming."
Facing those anxieties in the past readied Larson for the present.
He brings the most March Madness experience of any player in the CofC lineup, playing rotational minutes for Wofford in 2019. The Terriers enjoyed a season remarkably similar to that of Charleston this year, riding an exciting offensive style to 30 wins and moving onto the NCAA Tournament with a fearless effort in their conference championship game.
Wofford had to rally from down at halftime of the 2019 SoCon title game against UNC Greensboro, not unlike CofC in its classic against UNC Wilmington.
The win sent the Terriers to the Big Dance, where they scored a 1st Round win over Seton Hall and took Kentucky down to the wire in the Round of 32.
Playing alongside veterans like Fletcher Magee and Nathan Hoover exposed Larson to what it takes to win in March. Now, he's able to impart his experiences on Charleston.
"Being able to let the guys know that [overwhelming] feeling is going to be OK. Being able to be there, calm down and let them know it really is just another game, just kind of a bigger stage. That's the biggest thing I can help them with, at least in this first game."
Having teammates receptive to each other's past experiences doesn't hurt, and that's been a key reason for the Cougars' success.
And to that end, Larson recognized an energy akin to Wofford's Cinderella season upon his arrival at Charleston.
"We had a meeting at [Kelsey]'s house, and just the togetherness we showed on Day 1 — not to compare it to my freshman year at Wofford, but that was one of the most special and connected groups I've ever been a part of," Larson said following the win over UNCW. "[At Charleston] it felt just like that. There's so much that happens on the court throughout a season, but to stick together through six months off the court, if not longer, that's when I knew."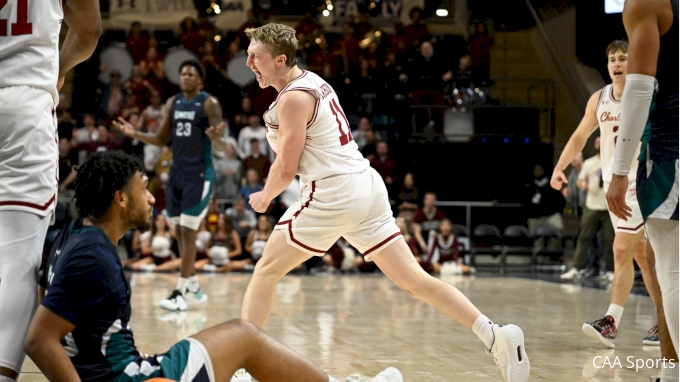 Togetherness has gone into Charleston's March Madness run — togetherness, and toughness.
While the Cougars head to the Big Dance posting almost 81 points per game, their ability to duke it out in a veritable street shaped their conference-tournament run.
No one player exemplified that quality more than Larson.


"He's got so much grit and toughness and tenacity. You'd have to saw his arm off to get him out," Kelsey said. "And then he'd probably still play."
So maybe Larson hasn't experienced all there is to March basketball; he has fortunately not had to prove Kelsey's theory. But otherwise, the Charleston guard knows what it takes to win under the game's brightest spotlight.