NCAA Tournament: How The 3-Pointer Reshaped March Madness
NCAA Tournament: How The 3-Pointer Reshaped March Madness
The introduction of the 3-pointer to college basketball in 1986-87 reshaped the game and remains the great equalizer for Cinderella stories.
Mar 16, 2023
by Kyle Kensing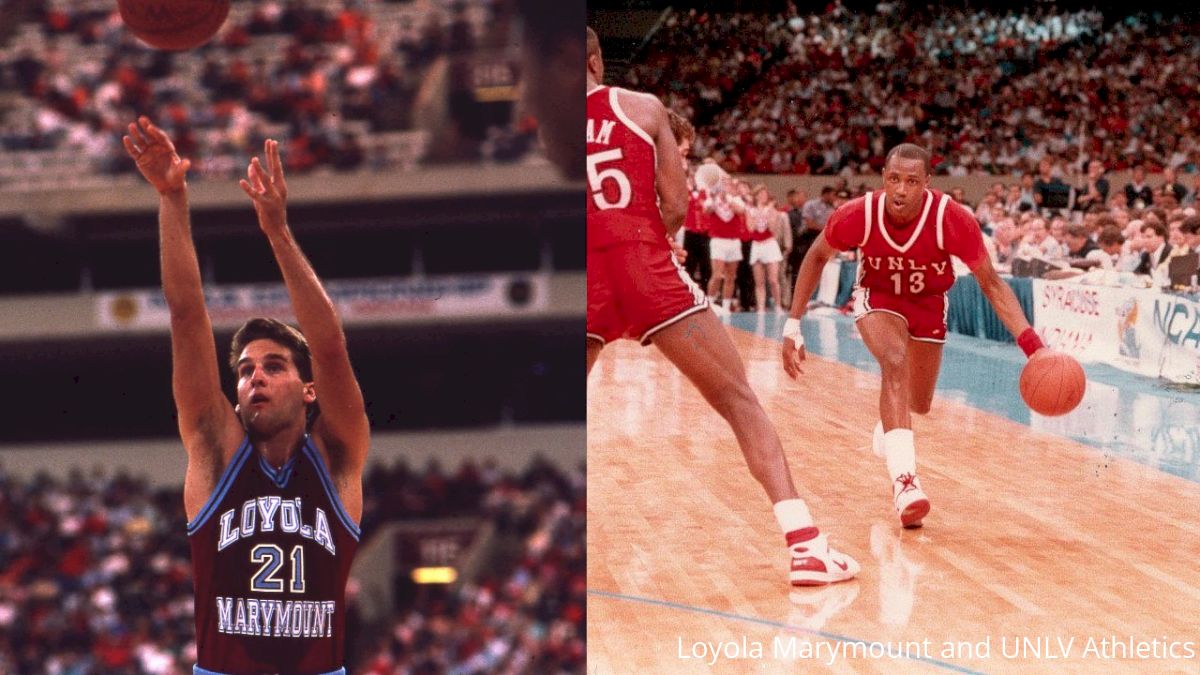 Jeff Fryer could always shoot from long range, even before all levels of basketball adopted the half-circle that distinguishes the value of shot attempts. But as a high-schooler, when the NCAA announced the introduction of a permanent 3-point line beginning in the 1986-87 season, Loyola Marymount coach and basketball visionary Paul Westhead offered Fryer an assessment about his unique shooting skill.
"'Your stock has just gone up,'" Fryer said Westhead told him during the former's high-school recruitment.
Westhead's words proved prophetic, as Fryer's long-range touch became integral to one of the most revolutionary offenses of all-time.
Loyola Marymount advanced to the Elite Eight of the 1990 NCAA Tournament on the strength of the most prolific offense in college basketball history. The Lions averaged a staggering 122.4 points per game with a system Fryer described as possibly appearing to outsider observers as out-of-control.
In reality, the LMU sharpshooter said, every element of Westhead's attack was finely tuned: from Bo Kimble's combination inside-outside game, to the late Hank Gathers' rim-attacking style, to Fryer's keen touch from beyond the then-still new 3-point arc.
"With those guys, we were all competitors and took it seriously," Fryer said. "Once we got on campus that first year, it was a matter of earning respect. We all had to earn it. So that's what we did. And we got along [well] because we each had a different role."
The marksman Fryer's role was utilizing the "green light" Westhead gave him, attempting 11 3-pointers a game. In his most famed performance as a Lion, Fryer shot 16 from outside and hit 11.
The resulting 41-point outburst in a Second Round win over defending champion Michigan in the 1990 Tournament remains the gold standard for 3-point shooting in March Madness today. And Fryer's performance remains an archetype for Cinderella stories scoring memorable wins in the Big Dance.
Runnin' and Gunnin' With the Rebels
Teams collectively throughout basketball place greater emphasis on the 3-pointer in 2023 than ever before. Consider that in 1986-87, the first year of the line at the college level, UNLV shot 781 on the way to the Final Four in coach Jerry Tarkanian's uptempo, free-wheeling style.
In 2022-23, before any NCAA Tournament games are played, College of Charleston tops the field with the most triples attempted at 1,027. Among the 2023 March Madness class, the '87 Runnin' Rebels' 20 3-point attempts per game would rank a modest 37th among the 68 participants.
Notoriously methodical offensive teams like Saint Mary's and San Diego State average more 3-point attempts a contest in 2023 than UNLV did in the first year of the shot. However, the Runnin' Rebels mastered its effectiveness through the silky-smooth touch of Freddie Banks.
Banks said he began working on outside shots long before the introduction of the 3-pointer in the college game — though he didn't take inspiration from the NBA, which integrated the defunct American Basketball Association's experimental rule in 1979-80.
Rather, Banks said he wanted to emulate the role of another star UNLV wing on a Final Four roster, Sam Smith. Smith hit better than 51 percent from the floor, utilizing a deep repertoire of shots. That Tarkanian made outside shooters a central part of the offense long before the arc excited Banks.
"Tark was the greatest guy to play for," said Banks, a star on UNLV's 1987 Final Four team and a coach today in his own right. Banks oversees the Canyon Springs High School team in Las Vegas.
"He liked to run up and down the court, play defense, and shoot the open shot," Banks said of Tarkanian. "He let you just shoot. He said, 'Freddie, I don't care how many you miss. Just keep shooting.' It's very rare you find a coach that makes that kinda statement.
"You know me," Banks added with a laugh. "When a coach tells me that, I'm going to keep shooting."
And shoot Banks did. He attempted more than nine a contest in '86-'87, nearly half of the Runnin' Rebels' attempts. In the 1987 national semifinal matchup with Indiana, Banks bumped that number up to 19 and sank a remarkable 10.
Fryer passed that milestone three years later to set the NCAA Tournament's 3-point record. But 36 years after the '87 season, Banks' 10 made triples remains the most in a Final Four contest.
"There were a lot of records being set that year," Banks said of the 1987 postseason, specifically noting teammate Mark Wade's 18 assists in the Final Four. Wade's 61 total dimes dished out in the 1987 NCAA Tournament remains a record, and plenty of them set up Banks for 3-pointers.
Now, no one would deem the UNLV teams of the Tarkanian era Cinderellas — certainly not in the vein of an 11th-seeded Jesuit university reaching the Elite Eight like Loyola Marymount in 1990.
And, coincidentally, it was a juggernaut UNLV team that ended LMU's Cinderella one game shy of the Final Four that year with a 131-101 win that remains one of the most frenetic contests in Tournament lore. Fryer contributed four of Loyola Marymount's 17 made 3-pointers in that contest.
But as the Tark Dynasty built up basketball in the desert in the late '70s akin to the casinos rising from the sand in the '40s, UNLV emerged as a powerhouse from the Pacific Coast Athletic Association — a decidedly "mid-major" conference before the label existed.
Consider that while a No. 1 seed in the 1987 Tournament, UNLV's was the PCAA's only bid that season. Meanwhile, on the football side of the conference, the Rebels were playing with such as counterparts as historically downtrodden New Mexico State, and a trio of programs that went defunct shortly after '87 in Cal State Fullerton, Long Beach State and Pacific.
What's more, a Cinderella story in the more traditional sense that same 1987 Tournament, Wyoming, danced on thanks to the triple.
Fennis Dembo cemented legendary March Madness status when he shot 7-of-10 from deep in a Wyoming win over blue-blood UCLA.
UNLV became a powerhouse, but did so wearing Cinderella's slipper in a manner comparable to present-day Gonzaga. And speaking of the Zags, their original Elite Eight run in 1999 included wins over Stanford in which they made 11 3-pointers to the Cardinal's five; and 12 triples to Florida's six in the Sweet 16.
Southern Cooking
Gonzaga once occupying the role of underdog feels almost unfathomable in the context of 2023. It's not unlike the contrast between four-time NBA champion and two-time Most Valuable Player Steph Curry juxtaposed with the skinny youngster shooting Cinderella Davidson from a Southern Conference championship to within seconds of a Final Four appearance in 2008.
Curry's been the ultimate game-changer in regard to the embrace of the 3-pointer at the pro level. He has the respect of some of the shot's originators, including his coach, Steve Kerr, who knocked down 114 from deep in Arizona's 1987-88 season.
Freddie Banks also expressed his appreciation for Curry's shot.
"He's an outstanding young man," Banks said of Curry. "The way he's shooting, I love that."
Before becoming the NBA's king of the 3, Curry stormed the national spotlight hitting 23 3-pointers over Davidson's four-game run to the 2008 Elite Eight.
Curry wasn't the last long-range shooter to power a SoCon Cinderella to March Madness greatness, though. More than a decade later, Fletcher Magee went on a 7-of-12 scorcher to lead Wofford not just to a win over Seton Hall in the 1st Round of the 2019 NCAA Tournament, but an 84-68 rout.
The seven 3-pointers Magee knocked down against the Pirates contributed to the 509 he made over his college tenure, the all-time career record — briefly, anyway.
In a sign of just how important the 3-pointer is to today's game, Magee's record was relegated to third-most all-time this season. Detroit Mercy's Antonie Davis and Liberty's Darius McGhee both passed 509 in the 2022-23 campaign.
The 2023 NCAA Tournament field, meanwhile, includes Max Abmas, the scoring machine from Oral Roberts, who at 418 for his career can finish in the top 15 all-time if he makes 10 this postseason.
And beyond the collection of individual bombers firing away from deep, teams' reliance on the shot promises to be a pivotal factor in modern March Madness and the underdogs' quests for upset.
College of Charleston, which comes into the 2023 Tournament leading the field in attempts, took 3-pointers on more than 47 percent of its total field-goal tries. The three accounted for almost 38 percent of the total distribution of the Cougars' points heading into a First Round matchup with San Diego State, per Kenpom.com.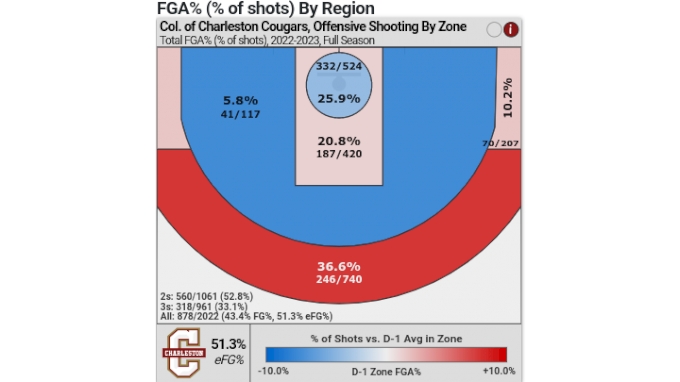 Among the many capable long-range shooters on the Charleston roster is Ryan Larson, a transfer who just happened to be part of Wofford's run in 2019.
Larson embarked on his second NCAA Tournament appearance tied for second-most made 3-pointers on Charleston's roster in the 2022-23 season. Larson's armed with the knowledge of how far the shot can take a double-digit-seeded team.
"Even on [opponent] makes here at Charleston, we're trying to push the pace, push the tempo," Larson said of how the Cougars use fast-break opportunities to create 3-point opportunities. "At Wofford, just two different play styles; we'd usually slow it down and call a play."
CofC coach Pat Kelsey's implementation of 3-point offense is certainly more akin to that of Tarkanian or Westhead, weaving the shot into a fast, aggressive approach.
A key difference, however — and a reflection of how much usage of the shot's changed since the late 1980s — is that Charleston often rolls with five players on the court all equally capable of hitting from behind the line.
Changing The Game
Three-pointers first arrived in college basketball during a generation ruled by big men. Patrick Ewing, Ralph Sampson, David Robinson, Hakeem Olajuwon were some of the standard-bearers of the day, continuing in the tradition established a decade prior with Artis Gilmore, Bob Lanier and Bill Walton.
Big men's dominance of college hoops goes back even further, to Kareem Abdul-Jabbar and Elvin Hayes in the '60s, to Bill Russell and Wilt Chamberlain in the '50s, and even earlier with Bob Kurland, George Mikan and Clyde Lovellette.
It was a style of basketball that Freddie Banks described as "inside-out," meaning everything began in the paint and worked out from there. The 3-pointer worked as an equalizer for perimeter players.
Jeff Fryer discovered its value not from facing '80s collegiate big men like Rony Seikaly or Stacey King, but rather playing pick-up ball with his older brothers.
"I used to play with my older brothers and their friends and they were bigger than me," said Fryer. "I'd take it into the hoop and get crushed. So I learned to shoot outside based on that, shoot over the top."
Many of the premier 3-point shooters today are still guards, whether it's Curry in the NBA or college standouts like Abmas and Charleston's Reyne Smith. However, the shot's value sends even big men outside, transforming the inside-out game as Banks described into one oriented around perimeter play.
Charleston's 6-foot-10 Ante Brzovic is a prime example with 30 made 3-pointers ahead of the Cougars' NCAA Tournament appearance.
"No matter who you're playing, if they've got five guys who can shoot, [the defense] has got to figure something out," said Charleston's Larson.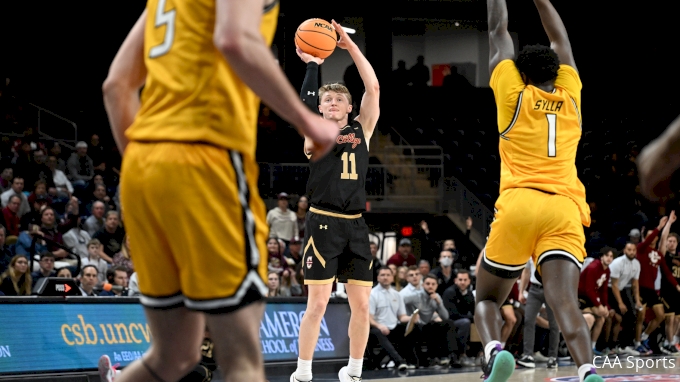 On the flip-side, a perhaps common misconception is that effective offense in the modern game is predicated only on shooting either at the rim or from outside. Both Banks and Fryer coach today, and as two of the greatest 3-pointer shooters to every lace 'em up, both downplay that idea.
"Everybody wants to shoot threes of course, but I do still like the mid-range – especially for younger kids that are in our academy," said Fryer, who runs the Fryer Basketball Academy in Orange County, California.
"I'm always telling my kids in high school, 'If you can't shoot it, don't shoot,'" Banks said. "It's very challenging, because a lot of kids watch the NBA guys shoot it and think like that."
Banks noted it looks easy in the NBA with the top fraction of players in the world, whose sole focus is honing their game. It's less the case for college players who juggle basketball development with academic responsibilities, but still true that shooters in college dedicate more time to the craft than youngsters.
And Banks said it's about much more than simply shooting the ball.
"In order to shoot those threes, it takes a lot of time, a lot of working on different ways to get open," he said.
Coincidentally, in December 1986, Banks sank a 3-point attempt that steeled resolve against the shot for at least one opponent of its implementation. Banks' fifth made triple in a preseason NIT matchup with Western Kentucky powered the Runnin' Rebels past the Hilltoppers, prompting the protests of WKU coach Murray Arnold to reporters afterward.
"It re-emphasizes something I've said all along, even when it has helped a Murray Arnold-coached team to win, I still think it's a very, very bad rule," Arnold said per a UPI report. "If the object of our game has come down to seeing how many people can make them more than 20 feet from the basket, then I feel sorry for the health of our sport."
Hearing the quote for the first time in 2023, Banks agreed.
"It's a pretty good statement," he said. "If there's a 4-point shot or a 5-point play [in the future], they're going to take it because it's there."
Until that day comes — if it ever comes — 3-pointers are the most effective means to score points in a hurry. And they're the life blood of March Madness upsets.