UConn Basketball NCAA Tournament Run Continues Jim Calhoun Legacy
UConn Basketball NCAA Tournament Run Continues Jim Calhoun Legacy
Hall of Fame coach and a legend at both Northeastern and UConn, Jim Calhoun remains a fixture in March Madness even after his retirement from Div. I.
Mar 25, 2023
by Kyle Kensing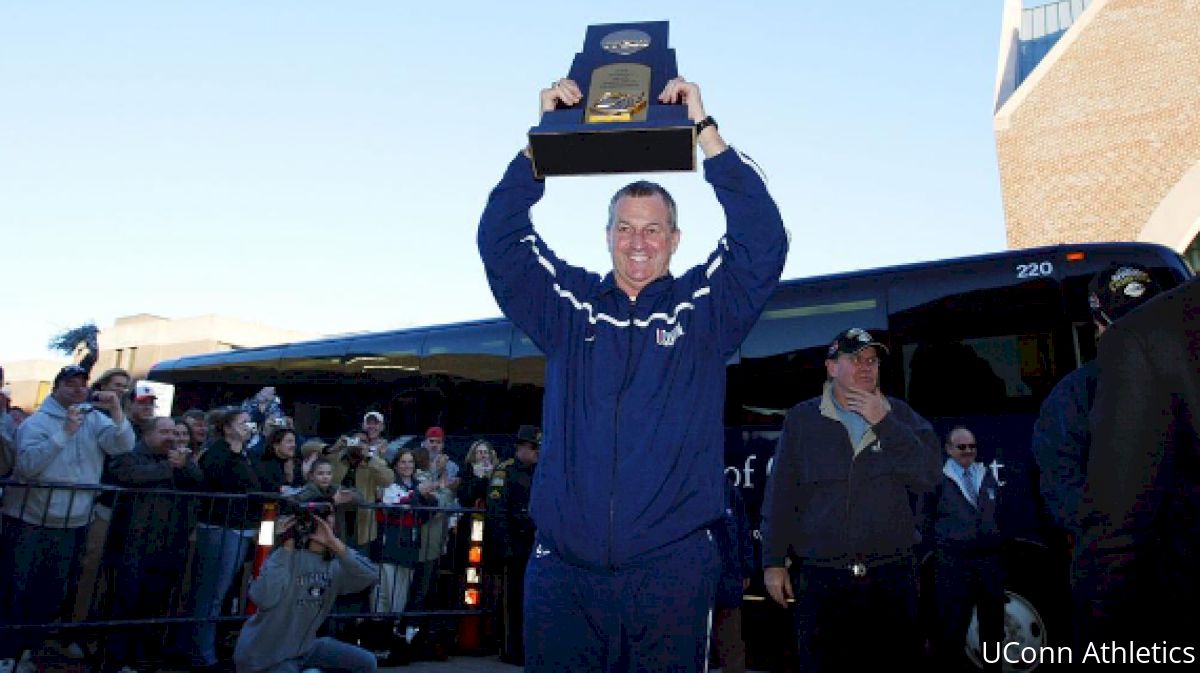 Growing up with a coaching luminary for a father taught UConn head coach Dan Hurley plenty about basketball, including how to absorb lessons from winners who came before him.
"I've always been smart enough to try to get as close to coach [Jim] Calhoun and Geno [Auriemma] as I could possibly get," Hurley said in reference to the former UConn men's and current, longtime UConn women's coaches. "So much for me to learn from both, and I just thought going into the tournament, I know I wanted to be around coach [Calhoun]. Maybe get some of that magic on me a little bit."
Between Auriemma and Calhoun, 14 national basketball championships came to Storrs between 1995 and today. Auriemma's women's program is the preeminent entity of the sport for almost 30 years, and some of his teams quite literally changed the women's game in fundamental ways.
Calhoun, meanwhile, came to UConn in 1986. The Huskies existed as punching bags in a BIG EAST Conference that, in the years prior, produced national champions in consecutive seasons with Georgetown in 1984 and Villanova in 1985, and sent three members to a single Final Four. St. John's joined Villanova and Georgetown in Louisville in 1985.
Meanwhile, the Huskies limped through consecutive 13-15 marks, bookended with 12-16 finishes, from '83 through '86. In the four years preceding Calhoun's arrival, UConn went a combined 19-45 against the mighty BIG EAST.
Calhoun was, at the same time, setting the standard of excellence at Northeastern as its all-time winningest coach and leader of five NCAA Tournament teams in six years.
Northeastern under Calhoun became one of the most prominent programs from a non-power conference during the most formative years of March Madness. It didn't take him long to replicate his success at UConn.
Connecticut won an NIT championship in 1988, Calhoun's second year in Storrs, then made a run to the Elite Eight in 1990 that included an iconic moment of NCAA Tournament history.
UConn made later Elite Eight runs under Calhoun in 1995, with a lineup that featured Ray Allen; and 1998 when Richard Hamilton sank Washington with a buzzer-beating moment that exists in March Madness lore alongside Tate George's jaw-dropping turnaround in '90.
Calhoun knows about winning in March and has for a long time. So, when the Hall of Famer has wisdom to impart, Hurley is more than happy to open the doors.
"80 minutes to Houston"

After sending us off to Albany, we're honored to have the 🐐 back to send us off again!#Made4March pic.twitter.com/XaW9hawbT5

— UConn Men's Basketball (@UConnMBB) March 21, 2023
The climax of Calhoun's March success and his own kind of legendary turnaround — that of UConn from BIG EAST cellar dweller to being one of college basketball's most important programs of the last quarter-century — didn't come until his fourth Elite Eight. And echoes of that contest ring through Las Vegas ahead of the 2022-23 Huskies squaring off with Gonzaga for a trip to the Final Four.
In 1999, Gonzaga became a sensation and set the foundation for its place among basketball elite with an improbable run to the West Regional final. The Bulldogs' Cinderella story only came to an end when they came across a UConn team of destiny.
Gonzaga marked one stepping stone on the Huskies' way to the first of four national championships won in 15 years, three of which came under Calhoun. And the first was the most landmark, coming against a powerhouse Duke team that was so heavily favored, the '99 Huskies still today hold the record for biggest Vegas underdog to win the National Championship Game.
Members of the '23 UConn roster weren't even born yet when Hamilton, Khalid El-Amin and Jake Voskuhl powered the Huskies to the title. However, the legacy of '99 still resonates through the program.
"I watch Khalid El-Amin on YouTube a lot," said UConn guard Andre Jackson Jr. Something of a historian of the game, leaning on his dad's influence to study the past to interpret to the modern style, Jackson touted the '99 Huskies point guard as a primary inspiration.
"Just the way the fastbreak is supposed to be run...seeing the open man, and what they're reading," Jackson said of what he's taken from Calhoun's former floor general El-Amin. "I talk to Khalid; that's my guy."
UConn freshman Alex Karaban referenced a different Huskies championship, and the lone won under a coach other than Calhoun, as his first Final Four-viewing experience. Karaban noted following the exploits of fellow Massachusetts native Shabazz Napier in 2014.
However, Karaban's gained insight on '99 and UConn's development from the man himself, as Calhoun's been a guest of Hurley's throughout the season — including during this March Madness run.
Alex Karaban on Jim Calhoun's lasting impact for @UConnMBB as the Huskies pursue a fifth national championship in 24 years in a rematch of the #EliteEight matchup that led them to their first. pic.twitter.com/zKsPCbJn11

— FloHoops (@FloHoops) March 25, 2023
When Hurley welcomed some of the "magic" Calhoun can provide, as Hurley called it, he meant the kind of encouragement Karaban detailed. And Calhoun's presence holds up a mirror of past UConn greatness to the program today, which is finding its way under Hurley.
The coach isn't having to perform a "Miracle" like his father, Bob Hurley, at New Jersey prep St. Anthony. Nor is the turnaround as drastic as Calhoun engineering a reversal in the late '80s. But Dan Hurley has UConn in its first Elite Eight since the 2014 national championship team.
No doubt the magic and the lessons from his predecessors rubbed off on Hurley.