2023 Discount Tire - College Basketball Invitational
College Basketball Invitational Became A Step Toward Final Four For FAU
College Basketball Invitational Became A Step Toward Final Four For FAU
An opening-round loss in the 2022 College Basketball Invitational set the foundation for Florida Atlantic making a run to its first-ever Final Four.
Mar 31, 2023
by Kyle Kensing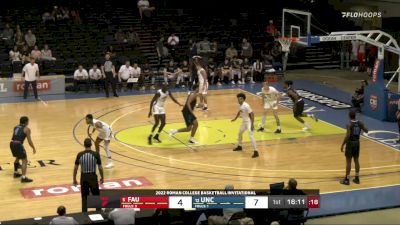 Unlock this video, live events, and more with a subscription!
Get Started
Already a subscriber? Log In
Just the third postseason appearance in Florida Atlantic basketball history — a spot in the 2022 College Basketball Invitational — ended almost as quickly as it began.
But a 1st Round exit from the CBI after losing to Northern Colorado put FAU on a course that sent the Owls to the program's first-ever Final Four.
"After the season ended, we might have had a week off. Right when we were back, we started [building to 2023]," said FAU guard Bryan Greenlee ahead of the Owls' national semifinal matchup with San Diego State.
Bryan Greenlee is in the ZONE @FAUMBB pic.twitter.com/eHio3V9kCJ

— CBS Sports (@CBSSports) March 25, 2023
Greenlee played a key role on the 2021-22 FAU squad, averaging almost 10 points per game and dishing out a team-high 3.4 assists a contest, and the Owls won 19 games — the program's most since 2011.
Greenlee closed the campaign with 11 points on 4-of-6 shooting, distributed four assists and swiped four steals against Northern Colorado, but it wasn't enough in the 74-71, CBI loss.
The outcome stuck with Greenlee, as it did a majority of FAU's key contributors this season.
"Losing in March definitely prepared us to come here and just be grateful for everything," he said. "But more importantly, just the unit that went into that game [vs. UNC] in March last year knew how sour that feeling was."
Ahead of this year's edition of the CBI, A.W. Hamilton — whose Eastern Kentucky team made a run to the CBI Championship Game — mentioned UNC Wilmington's 2022 CBI title as an example of building off the tournament experience. And, indeed, Seahawks coach Takayo Siddle lauded the title as UNCW came just moments away from this year's NCAA Tournament.
Likewise, Indiana State coach Josh Schertz noted that the coaches from two of last season's CBI fields touted the value of the postseason experience. One was FAU's Dusty May, whose team built off of a much different experience at the tournament than that of 2022 champion UNCW.
FAU embarked on the '22-'23 season with a veteran roster. Johnell Davis, Michael Forrest and Vladisov Goldin — all starters on the Owls' Final Four squad — started alongside Greenlee a year ago in the CBI.
Giancarlo Rosado, the fifth FAU starter against Northern Colorado, remains a key figure for the Owls coming off the bench, with Alijah Martin back in the fold. Martin missed the CBI, but he didn't miss the subsequent weeks and months fueling the Owls after their CBI departure.
"I'm the type where, if you're in the gym, I'll be right there," said Martin, adding that's the collective approach these Owls have.
ALIJAH MARTIN RISES UP 😮#MarchMadness @FAUMBB pic.twitter.com/ETFfWCW7dc

— NCAA March Madness (@MarchMadnessMBB) March 25, 2023
And following one another to the gym stoked some competitive fires up and down the lineup.
"The level of intensity in practices and preseason workouts was much harder than we'd had any years before," Greenlee said. "Just the level of focus and determination we had, I feel like, started right after the season ended last year."
The process of the Owls becoming "pitbulls and rottweilers," as Martin dubbed FAU following its Elite Eight win over Kansas State, began there in those offseason workouts immediately after the CBI. And their bite only became even more vicious through the rigors of the season.
FAU navigated its way to a championship, a goal Greenlee said he'd set but that the Owls missed a year prior losing in the CBI, by claiming both the Conference USA regular-season and tournament crowns. C-USA may have been limited to one NCAA Tournament bid, but the league showed its strength throughout the postseason.
North Texas topped UAB in the all-Conference USA NIT final; and Charlotte stood tall at the end of a wildly competitive 2023 CBI.
Unlock this video, live events, and more with a subscription!
Get Started
Already a subscriber? Log In
"Speaking on the Conference USA teams possibly winning all three [postseason tournaments], it just shows how tough Conference USA is," Greenlee said. "Shoutout to everyone in the conference that's prepared us to get to this point and vice versa. If we were playing in a conference that's not too much competition, it wouldn't have given us enough experience to get where we're at."
And it's an experience that launched from FAU's place in the College Basketball Invitational.