South Atlantic Conference Men's Basketball
Lincoln Memorial Standout Chase Rankin Wins With Habits And Patience
Lincoln Memorial Standout Chase Rankin Wins With Habits And Patience
Lincoln Memorial guard Chase Rankin has become a leader for a national championship-aspiring team, but not without years of preparation ahead of his moment.
Sep 29, 2023
by Kyle Kensing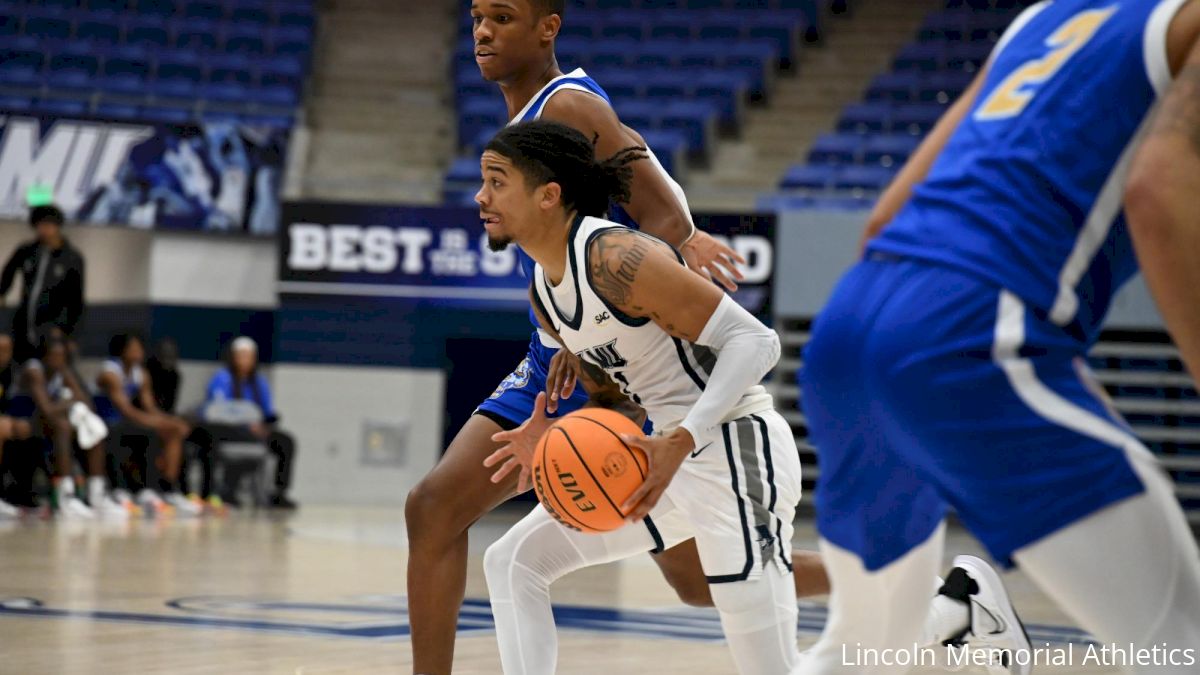 Fouls mounted against the Lincoln Memorial Railsplitters during their 2021 national semifinal matchup with West Texas A&M, prompting then-head coach Josh Schertz to look down his bench.
Chase Rankin, who averaged just five minutes a game that season, got the call to check in.
"I remember being on that floor – that whole season, I wasn't playing at all," Rankin recalls. "I was behind some very good guards who were in front of me at that time. That was my first taste of what it felt like to be on that level, on that stage."
LMU lost an 87-86 classic. Rankin's first exposure to the Elite Eight, the grandest stage for Div. II basketball, saw him log five minutes.
The experience offered Rankin a taste — but a taste wasn't enough for the Columbus, Ohio native.
"I remember thinking, We're going to get back here, and I'm going to have a much more meaningful and impactful role on this team," Rankin said.
It was a lofty goal for a player whose playing time was limited in his first year after redshirting as a transfer. Rankin originally came to LMU in 2019 after spending his freshman at Purdue Northwest, one of only two schools to offer the guard a scholarship coming out of Gahanna Lincoln High School.
Rankin's role as a freshman with the Pride was more significant than when he came into LMU, a program with national championship aspirations and a rotation of standout veterans ahead of Rankin on the depth chart. Coming into the Railsplitters program meant Rankin had to start from the bottom.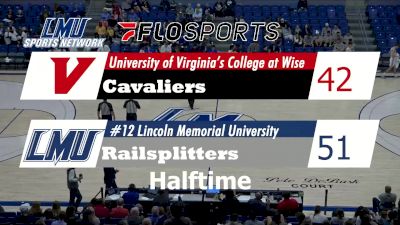 Unlock this video, live events, and more with a subscription!
Get Started
Already a subscriber? Log In
"He was on the scout team, had to play against our starters every day," said LMU coach Jeremiah Samarrippas.
Samarrippas, an assistant when Rankin first joined the program, was promoted to head coach when Schertz accepted the vacancy at Indiana State. His first season at the helm followed the Railsplitters' semifinal loss to West Texas A&M, when Rankin made himself that promise to be more of an impact player.
In that 2021-22 campaign, the redshirt transfer-turned-scout team reserve began making good on his promise. He averaged 13.3 points and 7.2 assists per game and led LMU back to the NCAA Tournament.
In less than a calendar year, Rankin went from scout team to 1st Team All-South Atlantic Conference. He blossomed from back-up to a versatile weapon capable of putting up triple-doubles — a milestone he's reached three teams in the last two seasons.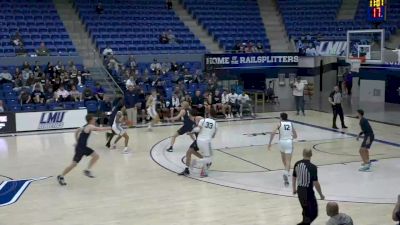 Unlock this video, live events, and more with a subscription!
Get Started
Already a subscriber? Log In
The breakout seasons have represented the dividends paid on investment made when he wasn't in the rotation.
"When nobody's looking, when no one's watching, nobody's recognizing you, that's when you [build the skills] when you are able to showcase and bring to light to your coaches and your team and show what kind of player you are," Rankin said.
In other words, he channeled Suga Free: If you stay ready, you ain't got to get ready.
But Rankin's hard work didn't go unnoticed before his star turn in the 2021-22 campaign. Samarrippas details recognizing Rankin's commitment to improving the Railsplitters, even if it meant doing so in a less glamorous role.
Chase off a feed from Walters!#GoSplitters pic.twitter.com/7vtrFjSBwT

— LMU MBB (@LMUMBB) March 15, 2023
"Seeing how hard he worked on his game, the time he invested into it, his unselfishness," the coach said all stood out about Rankin ahead of the 2021-22 season. "When you're on scout team, it's not always the easiest thing in the world to show up every day and make our starters better. He did that. He understood it wasn't his time yet."
That's just Rankin's nature, though: Seeing the big picture at times when others might not.
Foresight, it's called, and Rankin seems to have as much of it as he does the court vision necessary to feed teammates to the tune of 428 career assists at LMU.
His ability to see long-term extends beyond basketball and into the classroom, where Rankin shines just as much as he does on the hardwood. Along with a repeat 1st Team All-SAC selection in 2022-23, Rankin was named the conference's Scholar-Athlete of the Year after earning a 3.78 GPA in his MBA program.
"My parents and family instilled in me school was very important," Rankin said. "When it's instilled in you when you're little, your habits make you who you are... Knowing without school, none of this basketball stuff would be here."
Rankin said he also knows his time to play is limited, whenever it might end. His diligence in as a Sport Management is further example of Rankin's big-picture thinking. He has designs on getting into broadcasting or working in the front office with an NBA organization, staying close to a game that means so much to him.
But that's not until further down the road, well after Rankin leads LMU in pursuit of a national championship.
Our guys put on a show all year long. Enjoy some highlights from 2023 season! #LMUMBB #KeepTheChip pic.twitter.com/ZL05doopYk

— LMU MBB (@LMUMBB) June 6, 2023
The Railsplitters returned to the Elite Eight in 2023, winning 30 games behind their guard's all-around impressive output of 12.3 points, 7.1 assists — enough to lead the nation — and 5.9 rebounds per game.
An 88-70 loss to Cal State Bernardino, with leading scorer Quay Kennedy sidelined after a torn ACL, "stung all summer," Rankin said.
"We had a pretty great year, but all summer, [the loss] was all I was thinking about," he said. "Every time I was working out, every time I was in the weigh room, every time I was in the gym."
Pursuing the national championship in 2024 isn't a topic Rankin shies away from.
"The goal for most good teams at higher levels it to win it all, man," he said. "And that's our goal. We've been talking about and preaching about it, be two games better than we were last year."
When the 2023-24 season tips off, the Railsplitters' target is clear. Just as clear is that Rankin will set the tone for a deep, talented roster capable of making that push to the national title.
It's a long way from unexpectedly coming off the bench in the Final Four as a scout-teamer. But Rankin is making good on the promise he made himself that day.