FloHoops CAA Weekly Watch Guide: 11/8-11/14
CAA Basketball: NBA Jam, Coastal Athletic Association Style
CAA Basketball: NBA Jam, Coastal Athletic Association Style
Thirty years after its release, NBA Jam remains a signature part of basketball history. Here's a look at the CAA with NBA Jam-inspired two-man roster.
Oct 31, 2023
by Kyle Kensing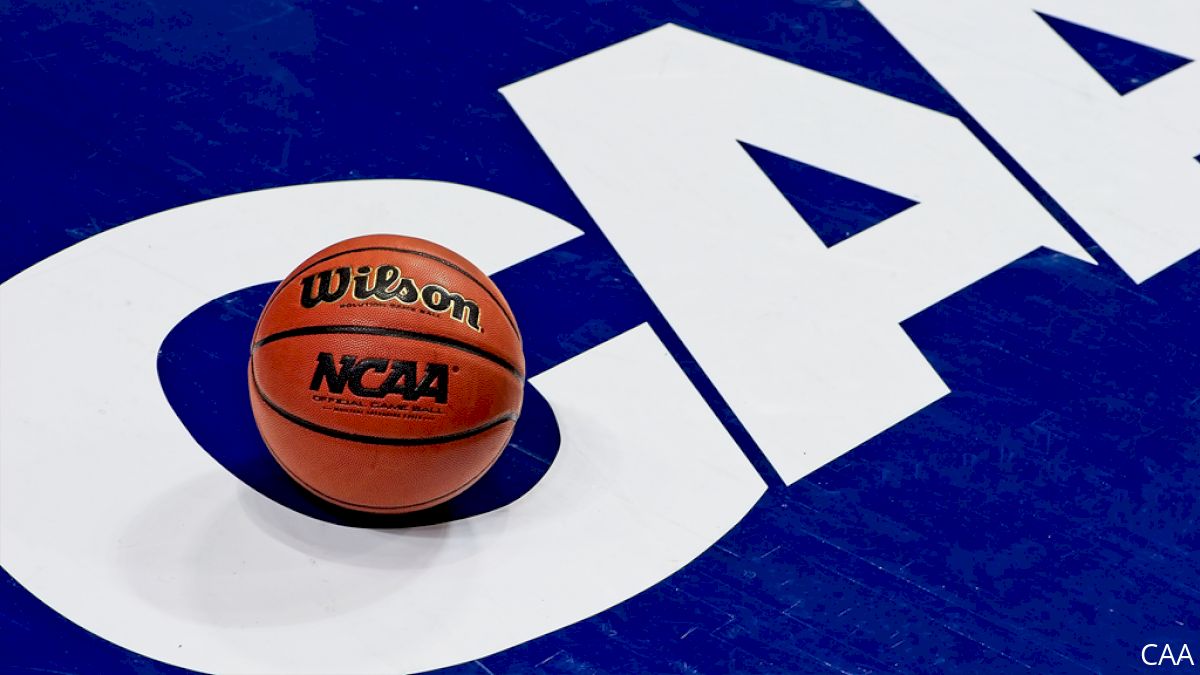 Iconic video-game series NBA Jam debuted 30 years ago and made an immediate impression that endures to this day. Case in point: Coastal Athletic Association program Hofstra announced part of its 2023-24 schedule with an homage to the genre-defining, 2-on-2 classic.
𝙏𝙝𝙖𝙩 𝙣𝙤𝙣-𝙘𝙤𝙣𝙛𝙚𝙧𝙚𝙣𝙘𝙚 𝙨𝙘𝙝𝙚𝙙𝙪𝙡𝙚 𝙞𝙨 𝙡𝙤𝙤𝙠𝙞𝙣𝙜 👌👌👌

South Florida To Visit The Mack On November 30 - https://t.co/XlfjApBd8F#PrideOfLI pic.twitter.com/JchKdxAoHN

— Hofstra Men's Basketball (@HofstraMBB) September 6, 2023
Thanks to a Jaquan Carlos-caliber assist, FloHoops has assembled CAA Jam: a collection of the conference's 2023-24 teams with NBA Jam inspired, two-man lineups.
Original NBA Jam encountered personnel issues: Michael Jordan, Charles Barkley and Shaquille O'Neal were each either omitted or removed due to having their own regrettable individually endorsed video game. CAA Jam faces no such issues.
Welcome to CAA Jam!
Campbell: Anthony Dell'Orso and Nolan Dorsey
CAA newcomer Campbell arrives with Anthony Dell'Orso leading the way. The Australian import Dell'Orso emerged as a dangerous scoring threat over the final month of the 2022-23 season, producing 20-plus points in four games over the final four weeks.
Dell'Orso will team up with newcomer Nolan Dorsey, a transfer from Holy Cross. Dorsey began his career at New Mexico, and through three college campaigns has increased his production every year. He produced three games with multiple made 3-pointers over the final three weeks of the 2022-23 campaign.
Original NBA Jam Comparison: Derek Harper and Mike Iuzzolino
Charleston: Ante Brzovic and Reyne Smith
The reigning CAA champs reload for 2023-24 with a dynamic inside-outside combination that played vital roles to last year's NCAA Tournament run. The international imports Reyne Smith (Australia) and Ante Brzovic (Croatia) averaged 10.8 and 11.6 points per game a season ago, tops among College of Charleston returners.
Brzovic's ability to score on the interior evolved throughout last season. He can create opportunities with his back to the basket or facing up, and showed a developing mid-range touch. As for Smith, with 92 made 3-pointers in 2022-23, except to hear that familiar call of, "He's on fire!" any time the guard is on the floor.
Original NBA Jam Comparison: Hakeem Olajuwon and Kenny Smith, Houston Rockets
Delaware: Jyare Davis and Christian Ray
One of the top returning players to the CAA in 2023-24, Jyare Davis averaged 15.3 points and 5.6 rebounds per game last year with a physical presence much bigger than his 6-foor-7 frame. NBA Jam may have only featured Charles Barkley sparing for contractual reasons, but CAA Jam has its version in Davis.
Paired with Christian Ray, the La Salle transfer who broke out for Delaware over the course of CAA play, and the Blue Hens boast one of the conference's best veterans tandems in 2023-24. Ray scored in double-figure over six of Delaware's final eight games, and averaged around double-figures in rebounds for chunks of the campaigns. His ability to hit the glass from the perimeter makes the Blue Hens much tougher to handle in the paint than their size suggests.
Original NBA Jam Comparison: Charles Barkley and Dan Majerle, Phoenix Suns
Drexel: Justin Moore and Amari Williams
Before contractual issues with the release of Shaq-Fu caused his removal from later releases of the game, Shaquille O'Neal was a force on the Orlando Magic. Preseason CAA Player of the Year Amari Williams brings a similar presence with his tenacious shot-blocking, dominant work on the glass, and powerhouse post game.
The CAA Jam version of Williams is sure to unleash an array of "Boomshakalaka" worthy dunks — and especially so teaming with Justin Moore.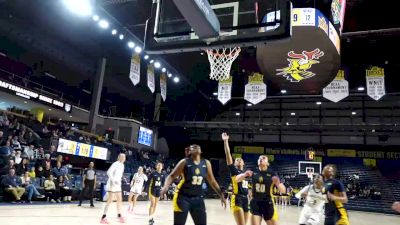 Unlock this video, live events, and more with a subscription!
Get Started
Already a subscriber? Log In
Drexel's primary ball-handler, Moore began settling in nicely during his freshman campaign. He scored in double-figures over seven consecutive games in the latter-half of the season, and closed out his debut year with 16 points against UNC Wilmington in the CAA Championship. Moore also doled out four assists or more four times in Drexel's final eight games.
Original NBA Jam Comparison: Shaquille O'Neal and Scott Skiles, Orlando Magic
Elon: Zac Ervin and Max Mackinnon
While some seasoned NBA Jam veterans prefer guard-forward pairings, a two-guard look can be a dangerous way to push the pace — especially if they don't sacrifice anything on the boards.
The Elon duo of Zac Ervin and Max Mackinnon combines experience in the veteran Ervin with youthful energy from 2022-23 CAA Rookie of the Year Mackinnon. Each is capable of scoring in different ways; Ervin hit a team-leading 61 3-pointers last season, while Mackinnon demonstrated an ability to attack the rim. Mackinnon is also a dangerous defensive presence, having made 34 steals in 31 games, and can hit the glass. His 5.1 rebounds per game are most among Phoenix returners.
Original NBA Jam Comparison: Clyde Drexler and Terry Porter, Portland Trail Blazers
Hampton: Joshua Lusane and Jordan Nesbitt
Versatile Jordan Nesbitt scored a team-high 14.9 points per game for Hampton its first season in the CAA, but that's only the scratching the surface of everything the wing brought to the Pirates. Nesbitt led Hampton in assists, with 105; steals, with 39; and blocks with 23. He's also tops among returning Pirates in rebounding at 6.3 per game and knocked down 44 3-pointers.
Nesbitt is the key returner for a new-look Hampton roster with a group of newcomers including forward Joshua Lusane. The veteran Lusane averaged just shy of nine points per game for Campbell last season and shot almost 50 percent on 2-point field-goal attempts. Lusane is also a tough on-the-ball defender, and steal production goes a long way in creating offensive opportunities both in CAA and in a game of Jam.
Original NBA Jam Comparison: Ron Harper and Danny Manning, Los Angeles Clippers
Hofstra: Darlinstone Dubar and Tyler Thomas
Beware the long ball when facing Hofstra, whether it be Jam or a pivotal conference contest. The Pride's top two returning scorers — Tyler Thomas, who averaged 16.5 points per game in 2022-23, and Darlinstone Dubar at 10.3 points per — each shot better than 40 percent from beyond the arc.
With Thomas also finishing last season ranked No. 67 among all Div. I players in turnover rate, the perimeter-oriented Pride look is sounds with the ball in ways few teams can match. Anything a Hofstra pairing of two guards might lose on the boards is negated when they miss with very little frequency — in addition to their plus-40 percent deep ball, Thomas shot 58.1 percent inside the arc and Dubar hit 56.5.
On fire, indeed.
Original NBA Jam Comparison: Detlef Schrempf and Reggie Miller, Indiana Pacers
Unlock this video, live events, and more with a subscription! Get Started

Already a subscriber? Log In

Monmouth: Jack Collins and Xander Rice
A backcourt duo with seemingly unlimited Turbo, Jack Collins and Xander Rice a bring high-energy for Monmouth.
Collins' career-high 32-point effort in the CAA Championship vs. Hampton marked the fifth double-figure scoring game in the final seven of his freshman campaign. That outing showed the lofty potential Collins has a multi-dimensional scorer, particularly with his 3-point shot, which came on strong at the end of the season. The six he made vs. Hampton marked his third game with at least four made in Hampton's final seven contests.
Dynamic playmaking veteran Xander Rice's game is built for a video-game style. He was an explosive all-around scorer in his three seasons as a starter for Bucknell, shooting north of 42 percent from 3-point range as a sophomore and junior and connecting for 14.1 points per game as a senior. Rice's savvy ball distribution leads to some quick-tempo opportunities.
Original NBA Jam Comparison: Hersey Hawkins and Jeff Hornacek, Philadelphia 76ers
North Carolina A&T: Will Felton and Jeremy Robinson
No CAA team tips off the 2023-24 season as more of an unknown commodity than North Carolina A&T. In coach Monte Ross' first season, the Aggies undergo nearly wholesale change among its contributing roster.
Chief among the A&T returners, Jeremy Robinson, started 13 games and scored 3.9 points per game. At West Los Angeles College, he was an efficient scorer and reliable rebounder, and gets his chance to settle into a similar leading role this season. He'll join another player who spent time out West, big man Will Felton.
At 6-foot-9 and 240 pounds, the Arizona State transfer isn't the kind of player anyone wants to test in the paint — digitally or in person.
Original NBA Jam Comparison: Patrick Ewing and Charles Oakley, New York Knicks
Northeastern: Chris Doherty and Jared Turner
Jam players recall tapping the Turbo button tosses would-be defenders off of a player, and those with a higher Power rating were more effective at it. Chris Doherty's brand of basketball at Northeastern is personified in the Power rating. The do-it-all forward mixes it up on the interior as effectively as any big man, even when the 6-foot-7 veteran gives up size.
Jared Turner provided Northeastern a potential microwave scoring option off the bench in the vein of Vinnie Johnson for the Bad Boy Pistons, including a 47.8 percent output on 90 3-point attempts. Turner's length at 6-foot-8 and shooting touch combine to make him a unique, high-upside player poised for an impressive breakout. He's also an intriguing complement to the rugged Doherty's physicality for a Jam pairing.
Original NBA Jam Comparison: Larry Johnson and Kendall Gill, Charlotte Hornets
Stony Brook: Keenan Fitzmorris and Tyler Stephenson-Moore
Veteran and Stony Brook's top scorer a season ago, Tyler Stephenson-Moore, heads the Seawolves' second year in the CAA. Stephenson-Moore is an outstanding offensive weapon with the ability to score off the dribble and shoot the 3-pointer. He'll also mix it up effectively in the paint and bang for rebounds, which makes for a nice complement to help the big man Keenan Fitzmorris.
The 7-footer Fitzmorris improved as the 2022-23 campaign went along, delivering two of his best performances late in the season against the CAA's champion and runner-up: He finished with 25 points on 9-of-14 shooting against UNC Wilmington, and scored 18 points in the CAA Championship against Charleston.
Original NBA Jam Comparison: Rony Seikaly and Glen Rice, Miami Heat
Towson: Charles Thompson and Marcus Watson
The Towson frontcourt tandem of veteran leader Charles Thompson and Marcus Watson should be a blast to watch. Thompson's hard-nosed presence sets the tone defensively, while the high-flying Watson loaded the highlight reel last season for North Carolina A&T.
Watson's jaw-dropping dunks are the perfect fodder for digitized reimagining, though a 1080-degree dunk in which he touches the ball to the ceiling might only be a slight exaggeration from the real thing Watson's been known to unleash.
🗳️ @ncatmbb's Marcus Watson was voted by the fans as the #CAAHoops Player of the Night!

▪️ 22 points
▪️ 8 rebounds
⬇️ This dunkpic.twitter.com/y9Y9N3NyLn

— CAA Basketball (@CAABasketball) January 27, 2023
Original NBA Jam Comparison: Dominique Wilkins and Stacey Augmon, Atlanta Hawks
UNC Wilmington: Shykeim Phillips and Trazarien White
The key to success in NBA Jam, like in real basketball, has often been the ability to strike balance. UNC Wilmington's success under Takayo Siddle has been a study in balancing duties and everyone on the team flourishing in his role.
Shykeim Phillips has been a standout for the Seahawks as a perimeter defensive stopper and a capable distributor on offense — though Phillips has proven himself to be a more than competent scorer in the past. Phillips' game is a perfect complement and balance to the effective scoring punch of Trazarien White, who averaged a team-best 14.2 points per game in 2022-23.
At the same time, White can dish the rock like a one-guard while getting after rebounds like a power forward.
Original NBA Jam Comparison: Tim Hardaway and Chris Mullin, Golden State Warriors
William & Mary: Caleb and Gabe Dorsey
NBA Jam didn't feature a brother tandem, though both Horace and Harvey Grant appeared in the original edition on different teams. CAA Jam thus introduces a first with the duo of Caleb and Gabe Dorsey.
The William & Mary pair reunite this season after Caleb's transfer from Penn State, and they anticipate their games being a strong complement of each other. Gabe is a smoother-shooting option from beyond the arc, while Caleb thrives making plays attacking the basket off the bounce.
Original NBA Jam Comparison: Scottie Pippen and Horace Grant, Chicago Bulls