2023 Iona vs Charleston - Men's
Mid-Major Preseason Power Ranking: Gonzaga, FAU Have Final Four Credentials
Mid-Major Preseason Power Ranking: Gonzaga, FAU Have Final Four Credentials
The 2023-24 college basketball season arrives with a host of mid-major programs boasting national championship potential.
Nov 3, 2023
by Kyle Kensing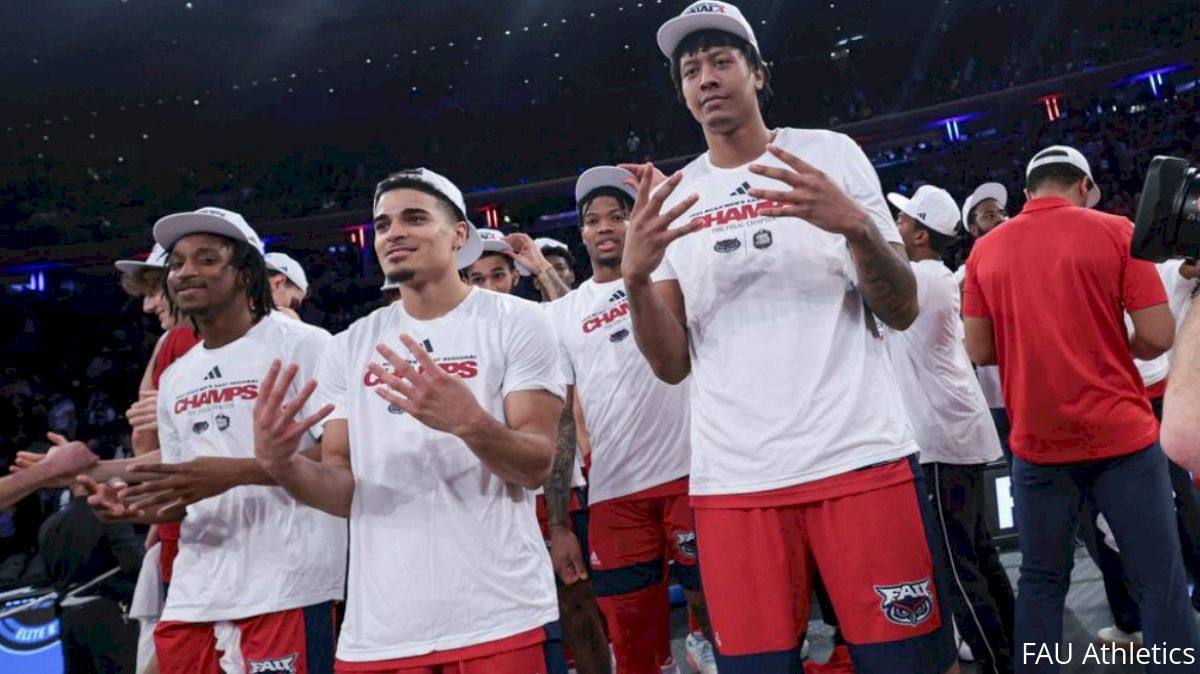 Before diving into the first edition of the 2023-24 FloHoops Mid-Major Top 15, it's necessary to establish the ground rules of what constitutes "mid-major." The label is somewhat nebulous, and often ties into football television contracts.
Football's so-called "Power Five" — set to dissolve into the power four after this season — are all high-majors. However, the BIG EAST Conference, which mostly lacks football-playing members outside of Coastal Athletic Association contender Villanova, Patriot League participant Georgetown, Pioneer League members Butler and Dayton, and FBS independent UConn, is decidedly high-major.
The American Athletic Conference spawned from the demise of BIG EAST football a decade ago and produced a national champion, UConn, in the league's first year. Nevertheless, the American qualifies as mid-major.
Gonzaga enters its 25th year of perennial AP Top 25 status, boasts a history of deep NCAA Tournament runs, has appeared in two Final Fours in the last seven years, produces NBA players routinely and thus, generates some debate as to whether it is still a mid-major program. For the sake of the FloHoops rankings, the Zags are mid-major.
With those points settled, each week's rankings plan to spotlight some of the mid-major games of note to come. Opening week features a bevy of great matchups, including a variety of crossover between teams ranked below.
Mid-Major Games of the Week (Nov. 6-12)
Nov. 6
Iona at Charleston


Bradley at UAB
Akron at South Dakota State
Louisiana Tech at Colorado State
Nov. 7
Drexel at La Salle
Northern Iowa at North Texas
UC Irvine at San Jose State
Nov. 8
Nov. 9
New Mexico at Saint Mary's
Nov. 10
Charleston vs. Duquesne (in Annapolis, Maryland)
Princeton at Hofstra

Yale at Gonzaga
Nov. 11
UNC Wilmington at UNC Asheville
Utah State at Bradley
Nov. 12
San Francisco at Boise State
Yale at Loyola Marymount
Preseason Top 15
1. Gonzaga
Conference: West Coast
2022-23 Record: (Lost NCAA Tournament West Regional Final vs. UConn)
Thanks to Julian Strawther's deep 3-pointer to beat UCLA in last season's Sweet 16, Gonzaga came one game away from its third Final Four since 2017.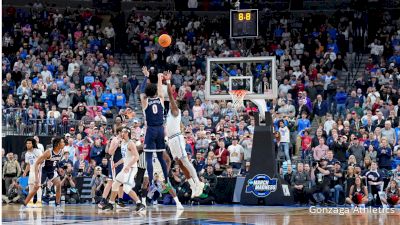 The Bulldogs embark on 2023-24 seeking the one prize that's eluded the program in its quarter-century of excellence, the national championship, and do so having to replace notable names including All-American big man Drew Timme and Sweet 16 hero Strawther.
However, the additions of veteran guards Ryan Nembhard (Creighton) and Steele Venters (Eastern Washington) give the Zags an experienced and talented backcourt. Returning starting forward Anton Watson averaged 11.1 points and 6.2 rebounds per game, and could make a jump to All-America caliber production as the primary interior option.
2. San Diego State
Conference: Mountain West
2022-23 Record: 32-7 (Lost National Championship Game vs. UConn)
For more than decade, San Diego State has been one of the most consistently great mid-major programs. The 2019-20 Aztecs had a Final Four-caliber lineup but was denied the opportunity of chasing a championship due to COVID-19. SDSU made up for the lost postseason in 2022-23, advancing to the National Championship Game with a series of dramatic wins.
Games against Charleston in the 1st Round, Alabama in the Sweet 16, Creighton in the Elite Eight and FAU in the Final Four all went down to the wire. Lamont Butler, who hit the buzzer-beat to sink FAU, returns alongside Darrion Trammell while talented USC transfer Reese Waters should add scoring pop. Another transfer to watch, Jay Pal from Campbell, should fit nicely into Brian Dutcher's defensive-focused style as a shot-blocking presence on the interior.
3. FAU
Conference: American
2022-23 Record: 35-4 (Lost Final Four vs. San Diego State)
The seeds planted with an appearance in the 2022 College Basketball Invitational bloomed into a historic Final Four run for FAU. Now coach Dusty May leads the Owls in a new conference and with a veteran roster poised to contend for another deep March run.
Leaders of last year's 35-win team Johnell Davis, Bryan Greenlee, Alijah Martin and Vladislav Goldin all return to give FAU a formidable and uniquely experienced nucleus.
4. Saint Mary's
Conference: West Coast
2022-23 Record: 27-8 (Lost NCAA Tournament 2nd Round vs. UConn)
Coach Randy Bennett built Saint Mary's in a perennial winner and a worthy foil to Gonzaga's dominance in the WCC. The 2023-24 Gaels could be one of Bennett's best groups yet, welcoming back dynamic point guard Aidan Mahaney. Mahaney may be the most talented floor general SMC has had since Patty Mills.
5. Memphis
Conference: American
2022-23 Record: 26-9 (Lost NCAA 1st Round vs. FAU)
After giving top-ranked Houston a fight in two regular-season contests last season, Memphis broke through with a win over the Cougars in the American Championship Game. The elation was short-lived, though, as the Tigers were the first team to fall in FAU's surprise Final Four run.
Penny Hardaway is working with an almost entirely new-look roster, losing both explosive scorer Kendric Davis and dependable big man DeAndre Williams. Talented Malcolm Dandridge should be poised to break out after missing chunks of last season due to injury, however, and the addition of Alabama transfer Jahvon Quinerly gives the Tigers a dangerous combo guard capable of thriving in Hardaway's system.
6. Charleston
Conference: CAA
2022-23 Record: 31-4 (Lost NCAA Tournament 1st Round vs. San Diego State)
Charleston made history in Pat Kelsey's second year at the helm. The Cougars broke into the Top 25, set a win-streak record and claimed the CAA championship before drawing eventual national runner-up San Diego State in the NCAA Tournament.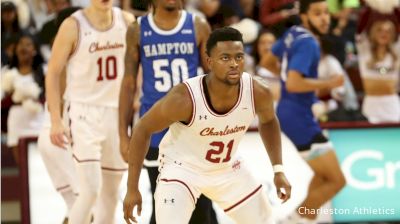 Charleston figures to once again be a potential Top 25 team with Ante Brzovic and Reyne Smith back as leaders after playing key roles in the Cougars' success last year. Charleston also adds a variety of high-potential transfers like Frankie Policelli from Stony Brook and Kobe Rodgers from Div. II national champion Nova Southeastern.
7. New Mexico
Conference: Mountain West
2022-23 Record: 22-12 (Lost NIT 1st Round vs. Utah Valley)
A February swoon sent New Mexico from the Top 25 to the NIT. The growing pains of a season ago should prove to be building blocks for an NCAA Tournament run in 2023-24, however.
The Lobos welcome back Jamal Mashburn Jr. and Jaelen House, who combined for 36 points per game a season ago. The addition of Fresno State transfer Jemarl Baker Jr., a streaky scorer for Arizona in 2020-21, provides New Mexico with additional offensive firepower. UNM faithful are some of the most loyal and loudest in college basketball, and should have plenty of reason to get The Pit rocking this season.
8. Dayton
Conference: West Coast
2022-23 Record: 22-12 (No postseason)
Like San Diego State, Dayton had a Final Four-quality squad when COVID-19 shut down the 2020 NCAA Tournament. The Flyers have not had the opportunity to make right on the missed March, however, missing the postseason in each of the last three years.
That should change in 2023-24 with Dayton building around excellent big man DaRon Holmes II. Holmes averaged 18.4 points and 8.1 rebounds per game with almost two blocked shots per, powering a stingy Flyers defense. If UD can generate more perimeter scoring production to complement Holmes, this will be a dangerous bunch come Tournament time.
9. Boise State
Conference: Mountain West
2022-23 Record: 24-10 (Lost NCAA Tournament 1st Round vs. Northwestern)
Three of Boise State's top four scorers from a team that reached the 2023 NCAA Tournament return to give the Broncos a potentially prolific offensive look in 2023-24. Tyson Degenhart is a potential Mountain West Player of the Year with his combination of inside and outside scoring and savvy court vision.
Perimeter scoring tandem Max Rice and Chibuzo Agbo each averaged in double-figures scoring last season and provided support on the glass. The addition of Kansas transfer Cam Martin, a Div. II All-American at Missouri Southern State limited with a shoulder injury while at KU, is an intriguing subplot to follow as the campaign unfolds.
10. Nevada
Conference: Mountain West
2022-23 Record: 22-11 (Lost NCAA Tournament First Four vs. Arizona State)
An otherwise promising season for what has been one of the more consistent mid-major programs of the 21st Century ended on a sour note. Nevada's blowout loss to Arizona State in the First Four sent the Wolf Pack out on the wrong end of four consecutive decisions.
Nevada has all the pieces to bounce back from late-season disappointment and make a push to return the Sweet 16, however. Steve Alford's corps is experienced and talented, building around last season's leading scorers Kenan Blackshear and Jarod Lucas. Big man K.J. Hymes unites with younger brother Isaac Hymes, a promising freshman who could provide depth.
11. UNC Wilmington
Conference: CAA
2022-23 Record: 24-10 (No postseason)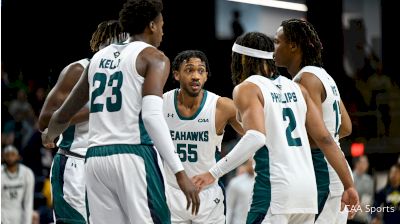 Unlock this video, live events, and more with a subscription!
Get Started
Already a subscriber? Log In
Takayo Siddle's return to UNC Wilmington as head coach, after working as an assistant during the Seahawks' outstanding run in the mid-to-late 2010s, turned the program around in short order. UNCW came within moments of reaching the NCAA Tournament last season at the culmination of a season that included a lenghty winning streak ended only when the Seahawks dropped a classic against Charleston —also amid a winning streak.
UNCW will contend with Charleston for the top of the CAA again this year with a lineup including talented wing Trazarien White, do-everything point guard Shykeim Phillips, and boasting no shortage of potential breakthrough players like Nick Farrar and Maleek Harden-Hayes. The Seahawks also welcome New Mexico transfer KJ Jenkins, a streaky 3-point shooter.
12. St. Bonaventure
Conference: Atlantic 10
2022-23 Record: 14-18 (No postseason)
The first team appearing in the preseason Top 15 that not only failed to win 20-plus games, but finished on the wrong side of .500, 2022-23 was a year to forget for St. Bonaventure. Expect a huge bounce-back for Mark Schmidt's Bonnies in 2023-24 thanks to a combination of returners and some intriguing transfers.
Chief among the newcomers is Mika Adams-Woods, a steady combo-guard in his time at Cincinnati. Adams-Woods can score and distribute the ball with equal effectiveness, and is a solid on-ball defender. St. Bonaventure is primarily in need of more consistent offense, so adding a potential weapon to join Daryl Banks III and Kyrell Luc on the perimeter is a significant upgrade.
13. Liberty
Conference: Conference-USA
2022-23 Record: 27-9 (Lost NIT 2nd Round vs. Wisconsin)
After becoming a yearly power in the ASUN, Liberty moves to a Conference USA that was one of the best leagues in college basketball a year ago. Some of the teams responsible for making 2022-23 such a memorable campaign in what has been a quality basketball conference since its inception are gone, most notably FAU and North Texas. But with Liberty leading a group of strong newcomers, expect C-USA to keep exceeding expectations.
Replacing one of the nation's most prolific scorers, Darius McGhee, leaves Liberty with a considerable question mark. However, Kyle Rode, a 40-percent 3-point shooter, can expect a heavier workload. So, too, will freshman dynamo-turned sophomore leader Colin Porter, a 5-foot-9 spark plug with deadly 3-point range and a knack for finding open scorers.
14. Colorado State
Conference: Mountain West
2022-23 Record: 15-18 (No postseason)
After putting together some strong seasons including a 25-6 NCAA Tournament campaign in 2021-22, Colorado State slid in the top-heavy Mountain West a season ago. Don't expect the Rams to be down long. Coach Niko Medved has a quality roster in 2023-24 that should not just bounce back, but return to contention in the MWC.
Bringing in Nique Clifford from non-conference rival Colorado is a solid addition to pair with returning scoring leader Isaiah Stevens. Jalen Lake is also back as part of the perimeter group, while last year's promising Div. II transfer, Patrick Cartier, mans the interior.
15. Grand Canyon
Conference: WAC
2022-23 Record: 24-12 (Lost NCAA Tournament 1st Round vs. Gonzaga)
Grand Canyon emerged from a logjam atop the Western Athletic Conference a season ago to return to the NCAA Tournament and give Gonzaga a fight before falling, 82-70.
The Antelopes figure to be the team to beat in the WAC this season with the conference's preseason Player of the Year, Ray Harrison, teaming with last year's preseason Player of the Year, Jovan Blacksher Jr. Harrison stepped up with Blacksher limited to 12 games due to injury, scoring 17.8 points per game.
The combination of Harrison and Blacksher make for as potent a backcourt duo as there is in mid-major basketball, and Georgia State transfer Collin Moore promises to be a dangerous third scoring option. Gabe McGlothan is a dependable presence on the inside,