CAA Women's Basketball
5 Things To Know About Towson's Kylie Kornegay-Lucas
5 Things To Know About Towson's Kylie Kornegay-Lucas
The 2023-24 Preseason Coastal Athletic Association Player of the Year Kylie Kornegay-Lucas is a standout on both sides for Towson.
Nov 11, 2023
by Kyle Kensing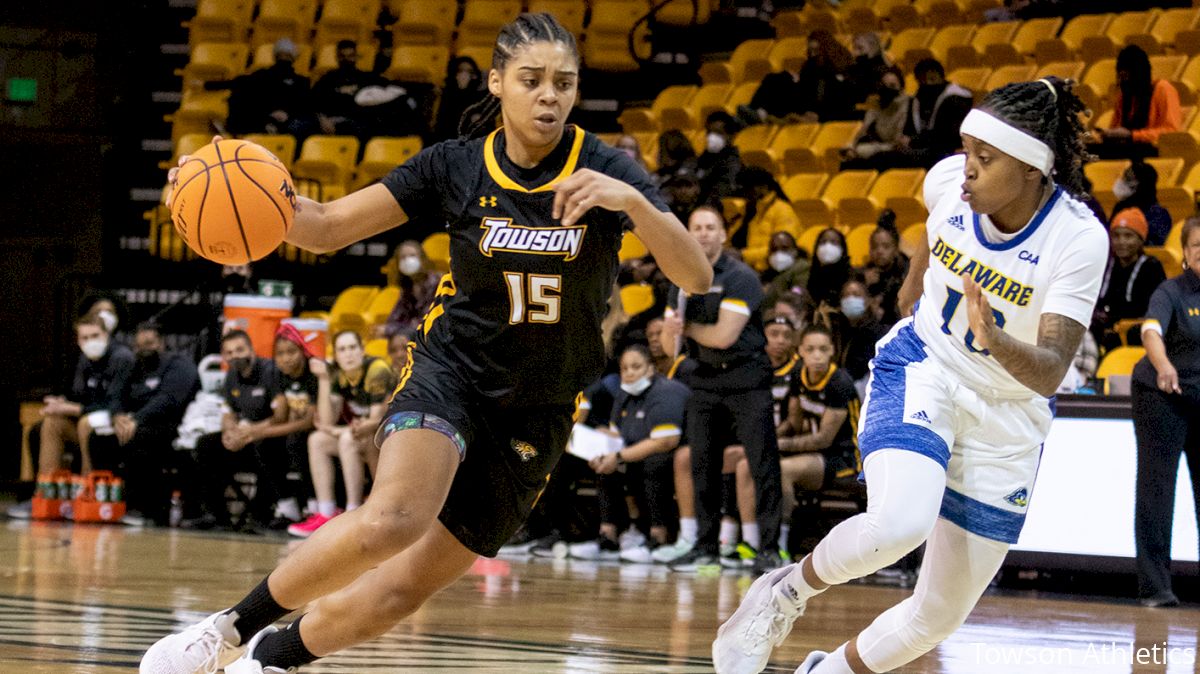 Preseason pick to win the Coastal Athletic Association Towson builds its championship aspirations around the versatile playmaking of veteran wing Kylie Kornegay-Lucas.
The choice as CAA Player of the Year heading into 2023-24 is a dynamic, all-around threat whose career-long strides carry her into a senior season of lofty expectations. Get to know what makes Towson's Kornegay-Lucas such a special talent.
Kylie Kornegay-Lucas is one of college basketball's best defenders
Preceding her selection as the preseason CAA Player of the Year, Kornegay-Lucas earned the conference's 2022-23 distinction as Defensive Player of the Year — and for good reason.
Her 2.4 steals per game a season ago ranked her in the 99th percentile of all Div. I players, per HerHoopStats.com. The site's metrics also ranked her among the nation's most important contributors for defensive win shares at 2.2 — No. 52 among all players.
Kornegay-Lucas elevates her game in March
In two postseasons since transferring to Towson from Virginia, Kornegay-Lucas has earned All-CAA Tournament recognition. Her 2021-22 debut campaign as a Tiger concluded with games of 11 points and five rebounds in a CAA Championship win over Northeastern, and a 15-point, eight-rebound showing against eventual league champion Delaware.
Kornegay-Lucas followed it up last season with a CAA Championship that included a near-triple-double against William & Mary, powering Towson into the title game with 21 points, 15 rebounds and seven rebounds — one day after going for 18, five and four vs. Hampton.
Unlock this video, live events, and more with a subscription!
Get Started
Already a subscriber? Log In
She also played one of her best games at Virginia in March with an 11-point, six-rebounds and three-assist outing down the stretch against NC State, before the COVID-19 pandemic shut down the season.
Count Caitlin Clark among Kylie Kornegay-Lucas' company
Iowa sensation Caitlin Clark is a transcendent talent with few comparisons anywhere in basketball. Kylie Kornegay-Lucas is one player who stacks up to the Hawkeyes superstar.
Shoutout to the three players you would absolutely want on your next group project:

Caitlin Clark, G, Jr., Iowa
Kylie Kornegay-Lucas, G, Jr., Towson
Grace Larkins, G, So., South Dakota

All lead their teams in points, rebounds, assists, steals & blocks #ncaaw #NCAAWBB pic.twitter.com/DwjVAkOJqr

— no its becky (@robocoko) January 30, 2023
Kornegay-Lucas finished the 2022-23 season averaging 14.1 points, 7.3 rebounds, four assists, 2.4 steals and 0.8 blocks per game — all team-highs. With such impressive, across-the-board production, it's no wonder Kornegay-Lucas is tabbed to be the CAA Player of the Year.
Kornegay-Lucas has a rare opportunity to win three regular-season individual awards
Each of the last two regular seasons concluded with Kylie Kornegay-Lucas named winner of one of the CAA's top individual awards: In 2021-22, it was as Sixth Player of the Year. Last year's Defensive Player of the Year recognition added another trophy to her case.
Her selection as the one to watch for CAA Player of the Year would complete a unique trifecta.
🏀 Women's #CAAHoops Preseason Player of the Year@towson_wbb's Kylie Kornegay-Lucas averaged 14.1 ppg, 7.0 rpg, 4.0 apg last season and was the CAA Defensive Player of the Year and a First Team All-CAA selection pic.twitter.com/RE2sY2pZfS

— CAA Basketball (@CAABasketball) October 19, 2023
Kornegay-Lucas is a national championship winner
New Hope Academy emerged as a surprise winner of the GEICO Nationals in 2019, thanks in part to Kylie Kornegay-Lucas. As a high school senior, Kornegay-Lucas capped her All-Tournament selection with 11 points in the title game victory over St. John's.