2023 Temple vs Drexel - Men's
Mid-Major Power Rankings: James Madison Basketball Starts Strong
Mid-Major Power Rankings: James Madison Basketball Starts Strong
Overtime wins over Michigan State and Kent State propel James Madison into the FloHoops Mid-Major Power Rankings.
Nov 13, 2023
by Kyle Kensing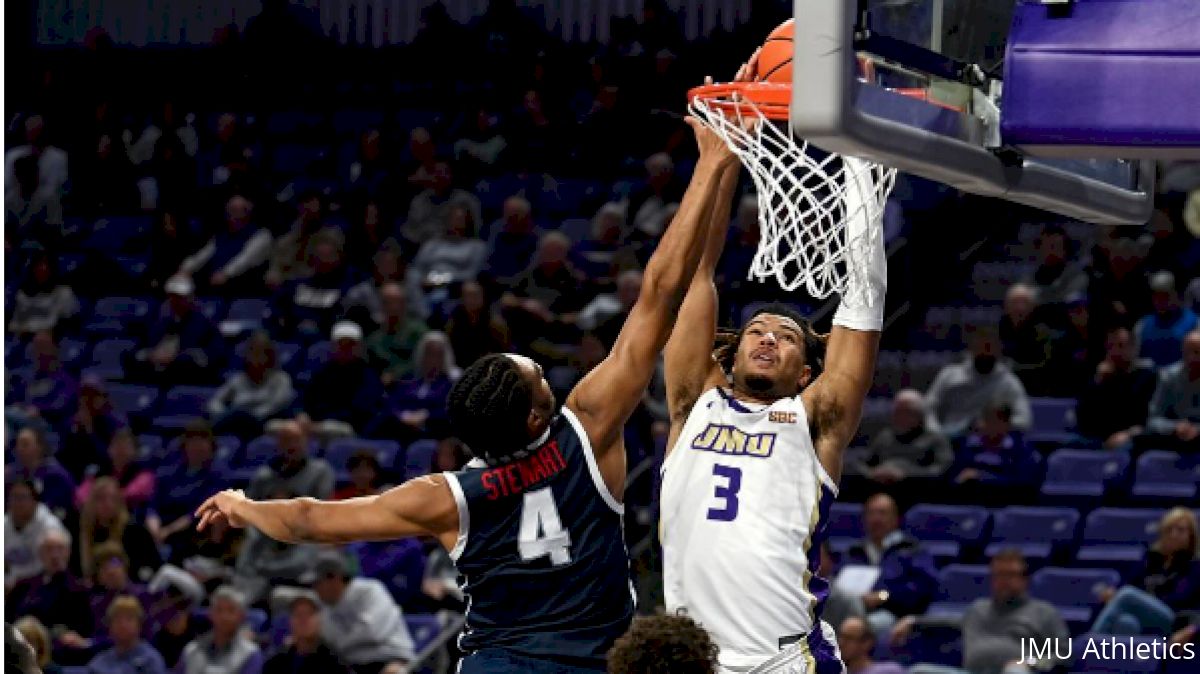 Stealing the spotlight on the first day of the 2023-24 regular season, Sun Belt Conference member James Madison took down a top-five ranked Michigan State team in overtime on the road. And that, coupled with another overtime thriller for the Dukes, catapulted them into the top three of the FloHoops Mid-Major Power Rankings.
JMU's 79-76 win over then-No. 4 Michigan State featured a monster performance from T.J. Bickerstaff, who went for 21 points and 14 rebounds; clutch play off the bench from Michael Green III, who had 13 points and dished a couple of key assists in the extra frame; and Terrence Edwards Jr. scored 24 points to ignite a week in which he garnered recognition as the top performer in all of college basketball.
🏆 Weekly Awards from @TheAndyKatz 👇

Team of the Week: Arizona
Player of the Week: Terrence Edwards Jr. pic.twitter.com/aZCsqRAP7o

— NCAA March Madness (@MarchMadnessMBB) November 13, 2023
Edwards followed up his 24-point, five rebound showing in East Lansing with a 25-point, 10-rebound, six-assist effort over an incredible 45 minutes at Kent State. The 113-108, double-overtime win helped solidify James Madison's place in the Associated Press Top 25.
The Dukes take their No. 24 ranking in the AP poll and No. 3 billing in the Mid-Major Power Ranking into a matchup Friday with 2023 College Basketball Invitational participant Radford. The Highlanders took down Tarleton and San Jose State on the way to the CBI seminfinals in March, and the 2023-24 squad scored an opening-week win over Marshall that could be a harbinger of big things to come in the Big South Conference.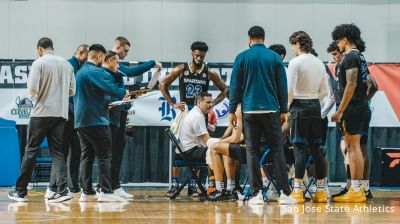 Unlock this video, live events, and more with a subscription!
Get Started
Already a subscriber? Log In
Radford plays in a couple of marquee games this week at VCU and JMU.
Elsewhere around the nation in opening week, the father-son pairing of King Rice and Xander Rice got off to an impressive start at Monmouth. The Hawks scored arguably the second-biggest mid-major victory against one of the football-power conferences in week 1 with a 73-65 defeat of West Virginia.
Can't make up moments like this. pic.twitter.com/FXKP7Un58c

— Monmouth Basketball (@MonmouthBBall) November 11, 2023
The win in Morgantown provides a potential springboard into Monmouth's high-profile, New Jersey showdown with Princeton on Saturday. The Tigers scored their own signature win in the opening week, beating Hofstra.
Mid-Major Games of the Week (Nov. 6-12)
Nov. 14
Temple at Drexel (Big 6 Classic)
Northeastern at Harvard
Hofstra at George Washington
Tarleton at Bradley
Long Beach State at San Diego State
Nov. 15
Princeton at Duquesne
Radford at VCU
Cornell at George Mason
Nov. 16
Charleston vs. Vermont (Myrtle Beach Invitational)
Saint Louis vs. Wyoming (Myrtle Beach Invitational)
Wichita State vs. Coastal Carolina (Myrtle Beach Invitational)
Furman vs. Liberty (Myrtle Beach Invitational)
Nov. 17
Abilene Christian vs. San Jose State (Paradise Jam)
Radford at James Madison (Cancun Challenge - Campus Game)
Austin Peay at UTEP (SoCal Challenge - Campus Game)
Grand Canyon vs. San Francisco (Arizona Tip-Off)
Saint Mary's vs. San Diego State (Continental Tire Main Event)
Portland State vs. Cal Baptist
Nov. 18
Princeton at Monmouth
Yale vs. Weber State (Atlantic Slam)
Portland at Nevada
Nov. 19
Drake vs. Oakland (Cayman Islands Classic)
Loyola Marymount vs. Stephen F. Austin (Cayman Island Classic)
Queens vs. Drexel (Market Street Challenge)
Nov. 13 Top 15
1. Gonzaga
The post-Drew Timme era at Gonzaga opened with another big man, 6-foot-10 redshirt freshman Braden Huff, leading five Zags scorers in double-figures with 19 points. Huff's floor-spacing ability, evident in a 2-of-3 3-point shooting effort to highlight his 7-of-10 performance from the field, set the tone in an 86-71 Gonzaga win over preseason Ivy League favorite Ivy.
The Bulldogs ease into the schedule with Eastern Oregon this week, but business picks up on Nov. 20 when Gonzaga heads to the Maui Invitational. Up first: A matchup with AP No. 1 Purdue and reigning National Player of the Year Zach Edey.
2. FAU
No signs of a Final Four hangover for FAU in its season opener. The Owls got 19 points, 10 rebounds and five blocked shots over just 22 minutes from Vladislav Goldin in a 75-62 defeat of Loyola Chicago.
Home games against Eastern Michigan and Bryant — which announced Monday accepted the resignation of coach Jared Grasso — precede FAU's short trip to the Orlando area for the ESPN Events Invitational.
3. James Madison
James Madison's 3-0 start shook up the college basketball world and produced the first major jump in the Mid-Major Power Rankings. The Dukes did not appear in the preseason top 15 but looked Sweet 16 caliber once the action began.
4. Memphis
Jahvon Quinerly led an impressive second-half rally as Memphis turned a halftime deficit into a going-away, 70-55 win at Missouri. The Alabama transfer's 18 points, eight rebounds, and five assists against a former SEC foe demonstrated why the veteran guard could be an All-American this season.
On the heels of a 94-77 blowout of Jackson State, Memphis is boasting one of the fastest pace-of-play metrics in the nation per KenPom.com metrics; and is top 40 in both block and steal percentage.
5. Nevada
While Nevada's opening week garnered national attention for the presence of bats inside Lawlor Events Center, the Pack's on-court presence deserved its own recognition.
They had to stop the Sac State vs. Nevada game because bats invaded the court pic.twitter.com/hHTVH6i409

— Jomboy Media (@JomboyMedia) November 8, 2023
Nevada followed its perhaps underwhelming win over Sacramento State with an impressive, 83-76 road victory over Washington. The Wolf Pack dominated much of the way against a talented Huskies lineup, and Kenan Blackshear looked like a potential Mountain West Player of the Year with his 31 points, six rebounds, and five assists.
6. Weber State
Power rankings are prone to considerable fluctuation early in a season with small samples. But of the small sample available in this college basketball, Weber State boasts one of the biggest and most impressive data points with its road win over Saint Mary's.
7. Saint Mary's
Despite the setback against Weber State, Saint Mary's remains firmly in the top 10 with the clinic in put on against New Mexico last Thursday. Aidan Mahaney's 25 points showed off more scoring pop from the sensational passing point guard, including a dangerous 3-point touch.
The 72-58 win, which felt more lopsided than its final score, showed off what this Saint Mary's team can be at its best. It will need a similar effort this week in a marquee matchup with a San Diego State team that endured its own stumble in opening week.
8. San Diego State
Coming off its run to the National Championship Game, San Diego State is playing a grueling non-conference schedule to prepare it for another pursuit of the title. The Aztecs face no shortage of potential landmines and came across one on Friday visiting newly minted Big 12 member BYU.
San Diego State's former Western Athletic and Mountain West Conference rivals held the Aztecs to just 5-of-18 shooting from 3-point range, and foul trouble made a murky bench position a game-changing issue.
9. Boise State
The coming weeks will be more indicative of Boise State's outlook for contention this season, but the Broncos started the campaign strong enough with a 63-58 win over a good San Francisco bunch.
Boise State heads to the East Coast for games at Clemson and competition in the ESPN Events Invitational over Thanksgiving week.
10. UNC Wilmington
UNC Wilmington's offense could be one of the nation's most exciting if the opening week is any indication. After putting up 105 points in the season tipoff tune-up against Mount Olive, the Seahawks went for 83 and a 17-point win on the road against the Big South's overwhelming preseason favorite, UNC Asheville.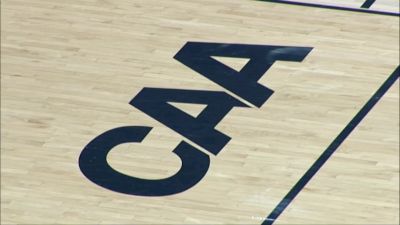 Unlock this video, live events, and more with a subscription!
Get Started
Already a subscriber? Log In
Perhaps most impressive in the win over UNCA is that seven Seahawks scored at least nine points and six registered double-figures. The depth and diversity of UNC Wilmington's offensive options will be a storyline to watch all season.
11. Liberty
The Conference USA favorite Liberty opened the season destroying Mid-Atlantic Christian of the USCAA. The Flames' second contest was a better barometer of this team's potential, as Liberty went on the road for a 71-59 win over 2023 CBI champion Charlotte.
The Myrtle Beach Invitational, which opens on Thursday with Liberty facing 2023 NCAA Tournament Cinderella Furman, promises to be an even greater measuring stick for LU's ceiling.
12. Duquesne
Among the week's most impressive performances came from Duquesne in a 90-72 defeat of Charleston in Annapolis, Maryland. Dae Dae Grant, Karem Rozier, and Jimmy Clark III combined for 60 points, 13 assists, and five steals for the Dukes.
In what was an otherwise lackluster first set of games for the Atlantic 10, Duquesne's showing may have been the best in the league.
13. Colorado State
The Colorado State offense was maybe the nation's best in opening week, with the Rams scoring 81 points against Louisiana Tech; and 105 against Wright State. CSU boasts the country's second-highest assists-to-field goals made percentage per KenPom.com, registering at 82.4 percent.
Isaiah Stevens' playmaking helped the Rams get high-percentage, easy looks at the basket. As a result, Colorado State boasts four players in the top 200 of all Div. I performers in effective field goal percentage.
14. Grand Canyon
Grand Canyon looked absolutely dominant in its first two games, 88-67 and 89-55 blowouts of Southeast Missouri State and Northern Arizona. Ray Harrison, the preseason favorite to win WAC Player of the Year, deferred scoring duties to Tyon Grant-Foster. Grant-Foster put up 41 points in the two games.
How much that's indicative of the Antelope's offensive strategy, and how much is saving the explosive Harrison's scoring pop for deeper into the schedule, is part of what makes Grand Canyon intriguing. This looks like a deep team that can and will play fast.
15t. Drake
Missouri Valley favorite Drake shook off a porous defensive first half in the season opener against Lipscomb to look scary in the second half. Bulldogs playmaker Tucker DeVries has been a standout throughout his career but looks ready to take it to another level with his 36-point, six-assist season-opening effort.
Drake begins the Cayman Islands Classic at the end of this week, which should provide an insightful perspective on this team's all-around potential.
15t. College of Charleston
Reigning Coastal Athletic Association champion College of Charleston is taking on one of the toughest non-conference schedules in college basketball, and the first week demonstrated the benefits and drawbacks of such a slate.
Charleston survived in an outstanding opening-night game against Iona, a battle of two 2023 NCAA Tournament teams that will be in the mix for 2024 bids to the Big Dance.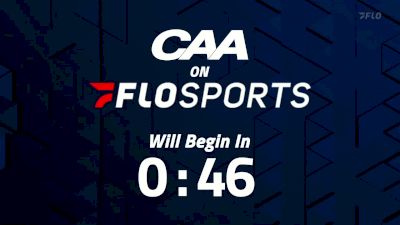 Unlock this video, live events, and more with a subscription!
Get Started
Already a subscriber? Log In
The Cougars then traveled to Maryland for a neutral-court matchup with Duquesne and lost. While the setback vs. the Dukes dropped Charleston out of the Power Rankings Top 10, the Cougars got a fitting preview of the docket still to come. That includes the Field of 68 Tip-Off with matchups against fellow FloHoops Mid-Major ranked teams Liberty and FAU.