2023 Cayman Islands Classic - Women's
Nov. 20 Women's AP Top 25: UCLA-UConn Top 10 Showdown Looms In A Big Week
Nov. 20 Women's AP Top 25: UCLA-UConn Top 10 Showdown Looms In A Big Week
The AP Top 25 Poll ahead of Thanksgiving offers up a tasty menu of matchups for the holiday stretch.
Nov 20, 2023
by Kyle Kensing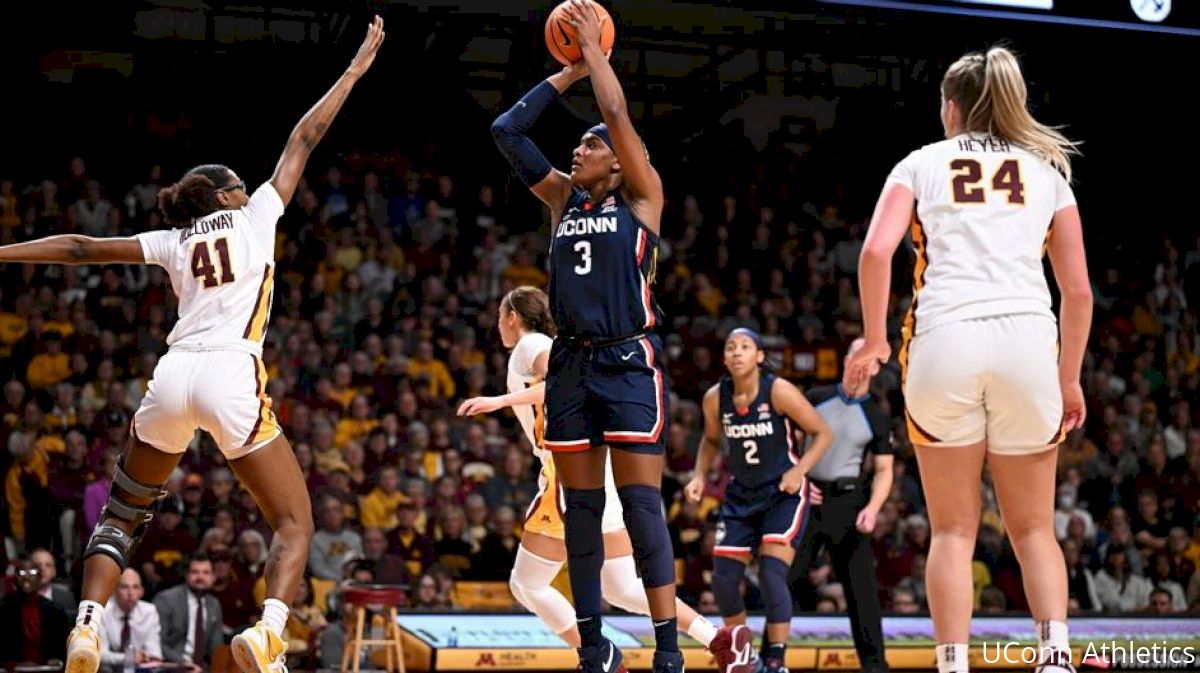 The second week of the 2023-24 basketball season wasn't quite as chaotic as the opening seven days, but consider it a temporary breather before a wild Thanksgiving week.
Plenty of holiday treats are on the menu during the early-season tournament slate, including a Top 10 showdown here on FloHoops that pits No. 2-ranked UCLA against No. 6 UConn in the opening-round of the Cayman Islands Classic.
The Black Friday faceoff marks a major test for a UConn team that rebounded emphatically from its upset loss Nov. 12 to NC State. The Huskies rolled past then-No. 20 Maryland last Thursday, 80-48, then handled Minnesota on the road Sunday, 62-44.
UConn's lockdown defense in the two lopsided wins improved its defensive rating to No. 21 nationally per HerHoopStats.com. Last season, UConn finished 81st in defensive rating.
The Huskies aim to keep it going against a UCLA team ranked No. 4 nationally with an offensive ratings of 129.6. The Bruins are shooting almost 52 percent from the floor and a hair less than 40 percent from 3-point range en route to a 4-0 start.
That production has powered to UCLA to a 4-0 start, including a win over a good Princeton team, and the highest ranking in program history.
Checking in at our highest ranking in 𝙥𝙧𝙤𝙜𝙧𝙖𝙢 𝙝𝙞𝙨𝙩𝙤𝙧𝙮 📈#GoBruins pic.twitter.com/0451uTkvau

— UCLA W. Basketball (@UCLAWBB) November 20, 2023
UCLA heads up a contingent of three Pac-12 Conference teams occupying the top four heading into Thanksgiving.
Coming off its blowout upset of reigning national champion LSU, Colorado dispatched Le Moyne, Oklahoma State and SMU in short order ahead of the Paradise Jam. The finale of the weekend tournament pits CU against NC State, which climbed to No. 10, for another marquee matchup this week.
NCSU shares the No. 10 spot with another Pac-12 team, Utah, which dropped from No. 4 after an 84-77 loss to Baylor. The setback for the Utes translated to continued upward mobility for the Bears. BU opened the season unranked but has quickly ascended to No. 14.
And while Utah dropped out of the fourth spot, the Pac-12 remains in that position with Stanford moving up. The Cardinal held off a feisty Duke team in overtime to remain undefeated going into this weekend's Ball Dawgs Classic.
The MTE in the Las Vegas area pits Stanford against Belmont on Wednesday, with a potential championship pitting the Cardinal against No. 13-ranked Florida State on Friday. The Seminoles must first get past Northwestern, however.
Other potential Top 25 matchups in Thanksgiving week tournaments include the Baha Mar Hoops Pink Flamingo event, which features No. 8 USC and No. 15 Ohio State. The Buckeyes opened their stint at the Baha Mar Hoops Pink Flamingo with a blowout of East Carolina.
While a Thanksgiving Day meeting between Maryland and Washington State to open the Cancun Challenge isn't a Top 25 encounter, the result of the Terrapins falling out of the poll for the first time in 13 years, UM can state its case to get back into the rankings.
Washington State is the last of six Pac-12 teams ranked, checking in at No. 23. The breakout surprise winner of last season's Pac-12 Tournament has built off its NCAA Tournament appearance with a 5-0 start that includes a double-overtime win over perennial March Madness fixture Gonzaga.
The regional rivalry is thus far the highlight of Washington State's schedule. Knocking off Maryland in Mexico would be a significant addition to the Cougars' resume.
Nov. 20 Women's AP Top 25
1. South Carolina
Record: 3-0
Previous: No. 1
2. UCLA
Record: 4-0
Previous: No. 3
3. Colorado
Record: 4-0
Previous: No. 5
4. Stanford
Record: 4-0
Previous: No. 6
5. Iowa
Record: 4-1
Previous: No. 2
6. UConn
Record: 3-1
Previous: No. 8
7. LSU
Record: 4-1
Previous: No. 7
8. USC
Record: 3-0
Previous: No. 10
9. Virginia Tech
Record: 2-1
Previous: No. 9
10t. Utah
Record: 4-1
Previous: No. 4
10t. NC State
Record: 4-0
Previous: No. 14
12. Texas
Record: 4-0
Previous: No. 12
13. Florida State
Record: 4-0
Previous: No. 12
14. Baylor
Record: 3-0
Previous: No. 21
15. Ohio State
Record: 2-1
Previous: 13
16. Kansas State
Record: 4-0
Previous: Not ranked
17. Notre Dame
Record: 3-1
Previous: No. 16
18. North Carolina
Record: 4-0
Previous: No. 17
19. Tennessee
Record: 3-1
Previous: No. 15
20. Louisville
Record: 4-0
Previous: No. 19
21. Indiana
Record: 3-1
Previous: No. 18
22. Oklahoma
Record: 5-0
Previous: No. 25
23. Washington State
Record: 5-0
Previous: 24
24. Ole Miss
Record: 4-1
Previous: No. 23
25. Mississippi State
Record: 5-0
Previous: Not ranked