2017 Nike Boys EYBL 17U Session #3
Starting Five Storylines To Follow At Nike EYBL Session III
Starting Five Storylines To Follow At Nike EYBL Session III
An inside look at the top storylines to follow at Nike EYBL Session III at Lakepoint Sporting Good Community's Champion Center in Cartersville, GA.
May 12, 2017
by Brett Regan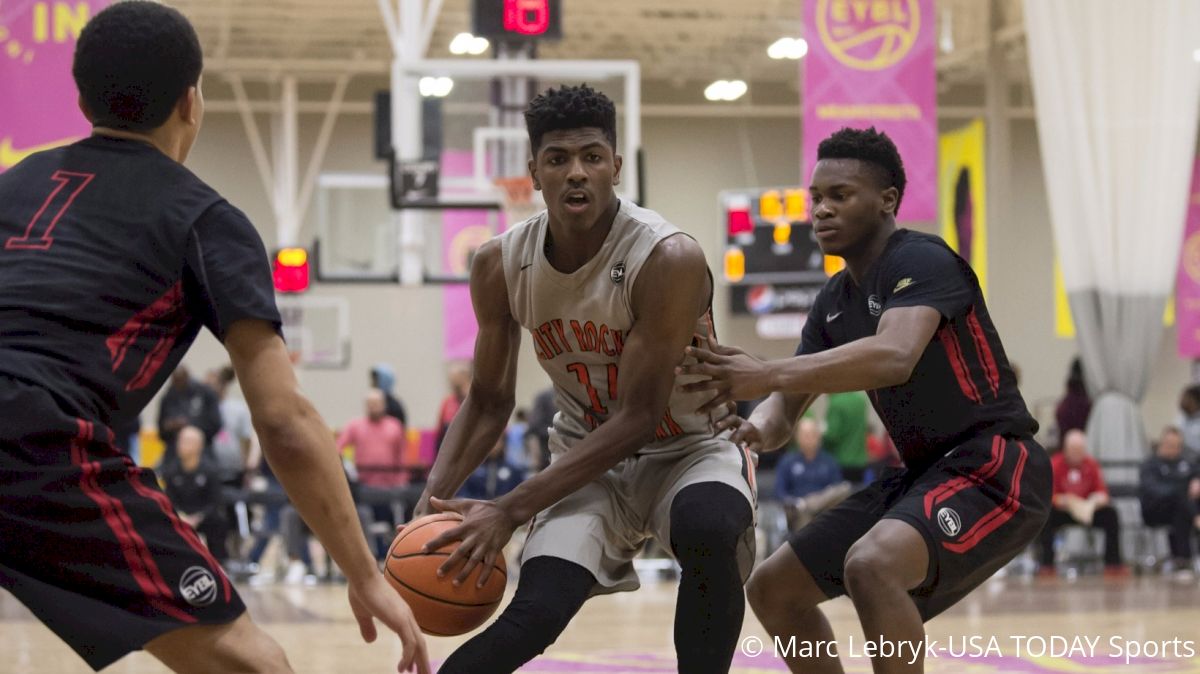 CARTERSVILLE, GA -- Following a week off, the Nike EYBL madness returns to the hardwood for another intense slate of games that will inch the hoops world closer to Peach Jam. What will take place at Lakepoint Sporting Community's Champion Center is unknown, but here are the five storylines to watch heading into Session III on Friday, May 12, to Sunday, May 14.

Will anyone challenge Howard Pulley's Tre Jones as the league's top point guard?

The talent is certainly there -- so is the opportunity. Yet, there really hasn't been any floor general who has come close to matching the level the 2018 Flo40 No. 19 prospect has played at through the first half of the spring. That's not to say the Minnesota native is the only point guard out there balling. Darius Garland (Bradley Beal Elite, 2018 Flo40 No. 9), Javonte Smart (Houston Hoops, 2018 Flo40 No. 12), Ayo Dosunmu (Mac Irvin Fire, 2018 Flo40 No. 29), Cole Anthony (PSA Cardinals, 2019 Flo40 No. 12), and
recent DePaul commit Tyger Campbell
(Spiece Indy Heat, 2019 Flo40 No. 22) are just a handful of Flo40 names who are more than capable of taking over in Session III. It's just going to take a lot to go above what the stat-stuffing Jones has proven so far.
Is Emmitt Williams boosting his stock even more?
From unranked to Flo40 No. 11, Emmitt Williams dunked and rebounded his way to stardom while playing for IMG Academy (FL) this past high school season. Now, the 6-foot-9 power forward for 2018 is doing even bigger things for Each 1 Teach 1 (FL) this spring. Whether it is leading the charge for the highest-scoring squad in the league or posting ridiculous performances such as his 31 points and 20 rebounds against Team Melo (MD) to close Session II, the sky is the limit for this high-motor big man. He wants to be the No. 1 player in the class, and the way he is playing is certainly helping make his case to rise even more in the next rankings.


Will anyone beat MOKAN Elite (KS) this weekend?
A perfect 8-0 start was no fluke. This squad earned the right to be the league's last unbeaten.
Jontay Porter has been the MVP
, and his teammates have embraced their roles to be successful. And if there wasn't a big enough target on MOKAN Elite's back in the last session, it will definitely be massive this weekend. Look at two games Saturday against E1T1 (FL) and Boo Williams (VA) as potential upsets.
What team did the break help the most?
Almost every team has a case here. A break from the travel and high-level games are needed. Yet, there isn't a single team that needed to get out of Session II and regroup more than Albany City Rocks (NY). From 4-0 to 0-4, the intermission could not have come at a better time for this team as it searches for a way to end its spiral.
Can Nike Phamily (AZ) FINALLY get a win?
This will remain a storyline until it happens. A squad featuring the best player in the country isn't typically in this position, but, despite
Marvin Bagley III's scoring and rebounding showcases
, there is not a single win to show here. Nike Phamily has a favorable matchup Friday against Pro Skills (TX), and the victories need to start piling up in a hurry for a team wanting to get into the main show later this summer.
How To Watch
Nike EYBL Session III 17U & 16U (Atlanta, GA)
When
: Friday, May 12 - Sunday, May 14
On TV
: Now Available on Roku & Apple TV 4 via the FloSports App
On Facebook
:
FloHoops Facebook Page
Streaming
: Available only on FloHoops.com for FloPRO Subscribers.
SIGN UP HERE