Zion Williamson Sidelined For Jordan Brand Classic & Nike Hoop Summit
Zion Williamson Sidelined For Jordan Brand Classic & Nike Hoop Summit
Zion Williamson will not play in the Jordan Brand Classic and Nike Hoop Summit due to a thumb injury suffered at McDonald's Games.
Apr 8, 2018
by Adam Zagoria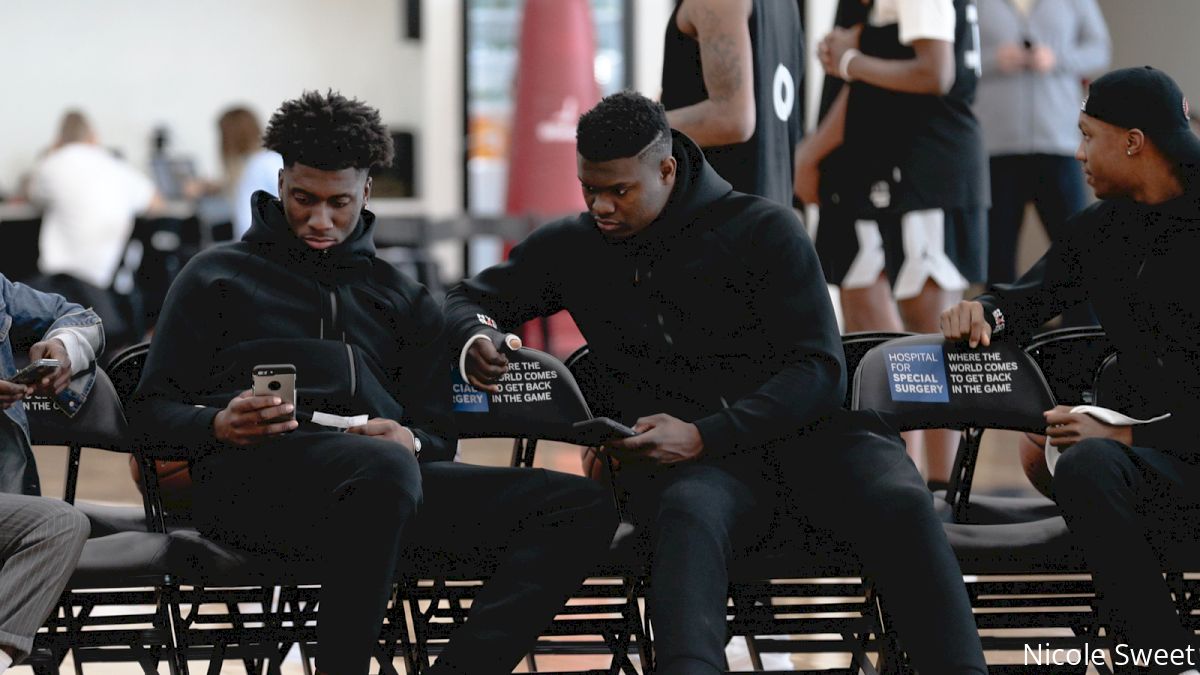 NEW YORK — Fans hoping to see Duke commit Zion Williamson dunk all over opponents in the Jordan Brand Classic and the Nike Hoop Summit are going to be disappointed.
The 6-foot-6 power forward from Spartanburg (SC) Day School is wearing a cast on his right hand and thumb after injuring the thumb during the McDonald's All-American Game on March 28 in Atlanta. Williamson was tripped up by North Carolina signee Nassir Little on a drive to the basket in the fourth quarter and used his right hand to brace his fall, which caused the injury.
Williamson, who won the Dunk Contest at the McDonald's Game, must wear the cast for three weeks and will miss Sunday's Jordan Classic (5 PM ET, ESPN2) and the Hoop Summit April 13 in Portland, OR.
"It's very frustrating but I've just got to enjoy it as much as I can," Williamson said Saturday following Jordan Brand practice in Brooklyn.
Still, he's here taking part in the festivities this week in New York along with fellow Duke commits Cam Reddish and Tre Jones.
R.J. Barrett, the fourth Duke commit chosen to the game and the newly minted Gatorade and Naismith Player of the Year, is not here and is resting instead.
Williamson thanked the Jordan Brand organizers for "allowing me to come out there and just live the experience and just be around it."
The light isn't great in here but @ZionW32 has a cast on his right hand/thumb. pic.twitter.com/N6vfZY39ov

— Adam Zagoria (@AdamZagoria) April 7, 2018
Barrett, Reddish, and Williamson are the top three projected picks in the 2019 NBA Draft, per ESPN.com. Little is the projected No. 4 pick, while uncommitted shooting guard Romeo Langford is projected at No. 5.
Instead of having all four Duke guys in the Jordan Game, now there are just two: Reddish and Jones.
"I mean, they're handling their business, they gotta do what they gotta do," the 6-7 Reddish said of Williamson and Barrett missing the game. "[Williamson] is trying to get healthy. I don't know what R.J.'s doing but they're doing what's best for them. I'm happy for them. They're working, I know that. But me and Tre are going to go out here and rep for Duke."
Looking ahead to next year, Williamson says the incoming Duke stars are "position-less" players who should all complement one another.
"I think that's what makes us special, the fact that we're position-less, which makes it tough to guard us," Williamson said. "R.J.'s probably going to have a point guard/shooting guard guarding him so if his outside game is not working he can probably go mid-post or post up. Cam is 6-8, 6-9, that will help out with me when I'm attacking the basket. I can dish out to him and Tre. And Tre is probably going to be the facilitator for us. Tre is probably the most underrated point guard I've ever seen."
Duke has already been picked as the preseason No. 1 team for 2018-19 in several polls despite the fact that freshmen Marvin Bagley III, Trevon Duval, and Gary Trent Jr. have already declared for the NBA and Wendell Carter Jr. could be next. Grayson Allen is graduating.
"Yeah, it was surprising because we're freshmen and the team that usually wins the national championship is a team full of juniors and seniors who are experienced," Williamson said.
Still, he thinks the Duke frosh can lead the Blue Devils back to another Final Four and potentially another NCAA title.
"With Coach K's guidance and our talent level," he said, "I think we can contend for one."
---
Adam Zagoria is a basketball insider who runs ZAGSBLOG.com and contributes to The New York Times. Follow Adam on Twitter.