2018 Nike EYBL & E16 Boys Finals At Peach Jam
Isaiah Stewart Spills On Recruiting, Sets Peach Jam & Team USA Goals
Isaiah Stewart Spills On Recruiting, Sets Peach Jam & Team USA Goals
Isaiah Stewart is hoping for a busy summer calendar, setting goals for Peach Jam, Team USA, and his recruitment.
Jun 18, 2018
by Adam Zagoria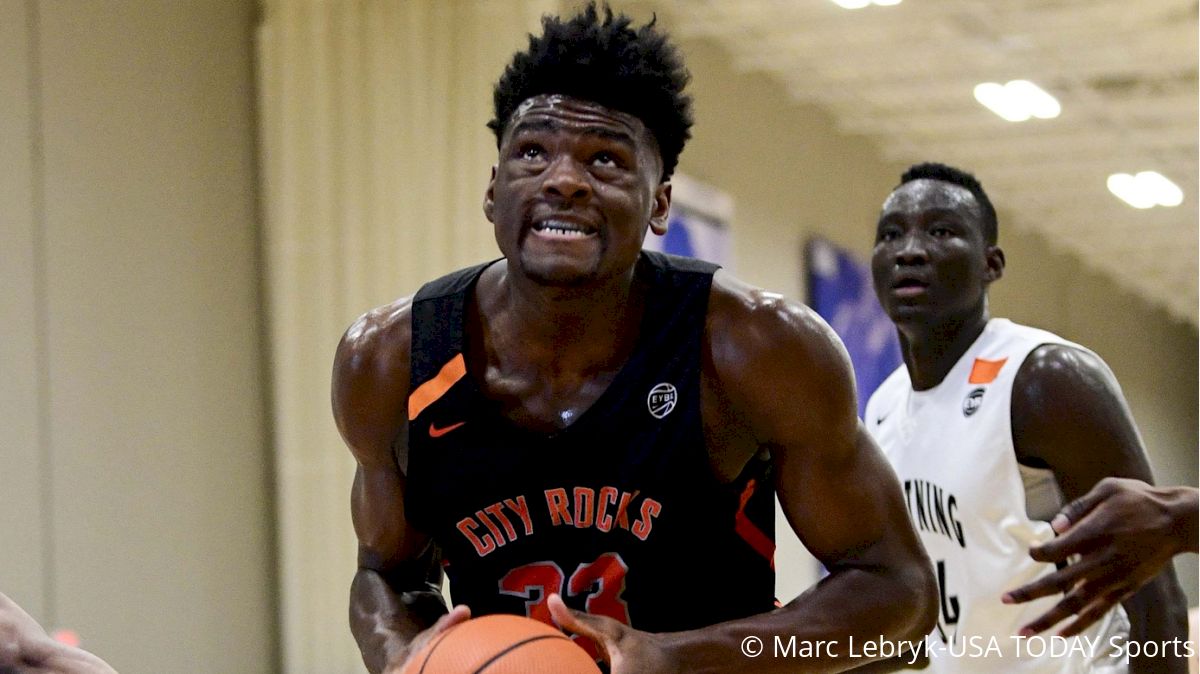 If all goes according to plan, Isaiah Stewart will be a very busy man in the coming weeks.
The 6-foot-9 big man from La Lumiere (IN) and the Albany City Rocks is one of 18 finalists for the 2018 USA Basketball Men's U17 World Cup. If he makes the final cut to 12, Stewart will travel to the 2018 FIBA U17 World Cup set for June 26-July 8 in Rosario and Santa Fe, Argentina.
As soon as that's over, Stewart will have to turn his attention to the Peach Jam — which runs July 11-15 in North Augusta, South Carolina.
"I'm definitely not satisfied," Stewart said Monday by phone from the USA Basketball training facility in Colorado Springs, Colorado. "There's another cut so I'm going to continue to work and I really want to get the gold medal."
Join FloHoops to watch Peach Jam LIVE July 11-15

The Rochester, New York, native has never been out of the U.S. before, and he says it would mean a great deal to him to represent the U.S. on the world stage.
"Oh man, it would mean the world, to be honest," Stewart said. "You're going to a different country to represent your country and you're playing to prove you're best in the world. You're going to get that gold and bring it back here to the United States, proving to everyone that you are the best in the world."
A dozen other Nike EYBL players are among the 18 finalists, including Vernon Carey Jr. and Scottie Barnes of Nike Team Florida.
"Vern, he can shoot it, he can do a little bit of everything," Stewart said. "He's very versatile. He's easy to play with in my eyes, so I feel like if I play with Vern, we both complement each other. We both do different things. It would definitely be great if we both make the team because I feel we both complement each other."
On the recruiting front, Stewart recently trimmed his list to 10 schools: Georgetown, Syracuse, Notre Dame, Villanova, Duke, Michigan State, Indiana, Texas, Louisville, and Washington.
Wasn't Easy Thanking God For Everything...Top 10 ??. @TiptonEdits pic.twitter.com/Be3iHXYaNP

— IsaiahStewart.II (@Dreamville_33) May 31, 2018
He took unofficial visits to three of those schools before the USA Basketball training camp and broke down the three visits.
Notre Dame
"[Their message] was how they develop their bigs. Their game plan what they did with Bonzie Colson is similar to what they'll do with me. They'll let me have shooters around me and let go to work on the inside. And just continue to develop me."
Indiana
"Just me really stretching the floor, being able to shoot put it on the ground. Kind of what Juwan Morgan is doing, and what they want to add to my game and develop in my game."
Michigan State
"Coach [Tom] Izzo, he thinks I'm a Spartan-type of guy. Everything I do on the court is what I value. They want me to come into the program and develop and keep getting better with shooting, better ball IQ. Sort of like a Draymond [Green]. He really thinks I'll be a great leader. He always compares to me Tum Tum [Nairn] and his leadership skills. They really want to develop my game and being able to do everything, and just continue to do what I do on the inside and get better on the outside as well."
Stewart expects many of the coaches recruiting him to be in Argentina, assuming he makes the final cut. He has no other visits planned at the moment.
"I'll probably wait until after Peach Jam," he said.
In the meantime, he could have a crazy few weeks of travel and games ahead.
"Oh yeah, it will be tiring but at the same time, I signed up for this," he said. "I knew what it was going to be like before I even came here. I knew it was going to be hard work in the camps and practices, go over to Argentina, come back [and] you gotta go to Peach Jam and try to win it.
"I know I'm going to bring everything I have to the table each game. And you know Peach Jam always gives everyone a different type of energy so that will be real interesting. I'm looking forward to that, too."
Catch Stewart live on FloHoops in July, and check out our previous feature on Stewart and others in the Nike EYBL circuit banding together to stand against gun violence.
---
Adam Zagoria is a Basketball Insider who runs ZAGSBLOG.com and contributes to The New York Times. Follow Adam on Twitter.