2018-19 EuroLeague & EuroCup Season Calendar
The Euro Step: Williams-Goss Breaks Out, & Other EuroLeague Round 9 Notes
The Euro Step: Williams-Goss Breaks Out, & Other EuroLeague Round 9 Notes
Nigel Williams-Goss exploded onto the scene, Anthony Gill belongs in the NBA, and Jordan Mickey is using his head — no, seriously.
Nov 27, 2018
by Austin Green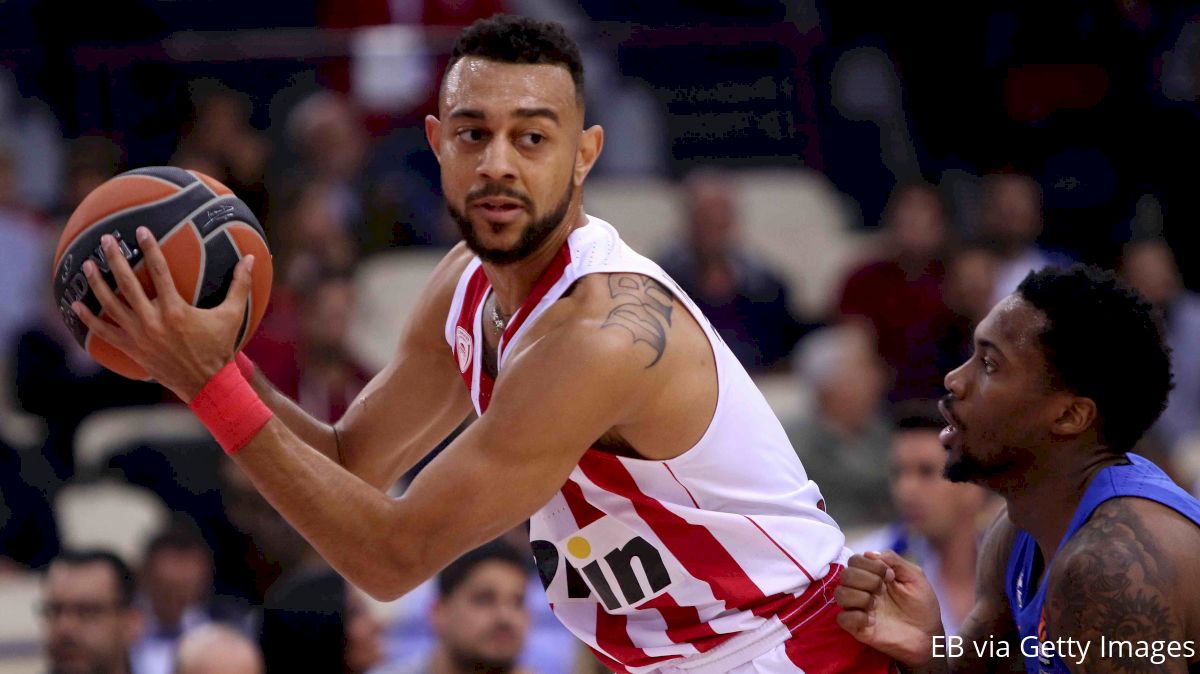 I loved Olympiacos' signing of Nigel Williams-Goss this summer.
The former Gonzaga star was probably the best rookie in Europe last season, averaging 17 points and 6.7 assists in the EuroCup with Partizan Belgrade. He shot 50 percent from three in the competition, and as the kid is still only 24 years old, David Blatt's Olympiacos made a smart move by signing him for multiple seasons.
NWG was solid in his first eight EuroLeague games with Olympiacos, but he hadn't quite popped the way I thought he would.
On Thursday, he exploded.
Williams-Goss had season-highs in points (23) and rebounds (6) as Olympiacos beat defending champions and previously undefeated Real Madrid.
He showed the full arsenal offensively. He posted up smaller players. He attacked the rim and hit floaters. He made a couple catch-and-shoot threes, and he got to the free-throw line, where he made nine of 10 attempts. When the time was right, he made smart passes, finishing with four assists.
A breakout game for @NigelWG5 as he drops 23 points to lead @olympiacosbc to an important win! pic.twitter.com/lXrjMNu9Dp

— EuroLeague (@EuroLeague) November 23, 2018
With the legendary Vassilis Spanoulis now 36 years old, Olympiacos needed another dangerous guard to get back to the Final Four. NWG still has a ways to go, but his performance against Real Madrid has to be encouraging for Olympiacos fans.
Let's take a look at some of the other big storylines from an exciting Round 9.
Alexey Shved: The Basketball Gods Giveth & Taketh Away
Shved can pretty much do whatever he wants.
The Giveth: Alexey Shved was cooking during Thanksgiving week. His appetizer was a 22-7-7 performance in a win over Buducnost on Wednesday. Then for the main course he served up 25 points, 10 assists, and four steals in a one-point road win at Zalgiris. He won MVP for both rounds and Khimki won consecutive games for the first time this season.
The Taketh: Shved fractured his pinky in the Zalgiris game and will miss one month of action.
What this means for Khimki: Shrug?
Like last season, Khimki's offense has been, "Give Alexey the ball and get the hell out of the way." He has the greenest of green lights. He leads EuroLeague by a mile in points per game (25.3) and he's third in assists (7.4), but he's also first in field goal attempts, free throw attempts, and turnovers, and he's second in minutes per game.
It's really hard to predict what the Shvedettes will look like without their frontman hogging the spotlight, but here's a hot take for you: This injury will actually be good for 3-6 Khimki.
I'm a huge fan of Anthony Gill. The former Virginia star is one of the best power forwards in Europe, and I think he should 1) Be in the NBA, and 2) Get a lot more touches in this Khimki offense.
These are NBA-level skills right here.
He's a versatile scorer who can school guys in the paint, beat defenders off the dribble, and hit threes (43.5 percent in two EuroLeague seasons). I want to see what he looks like in more of a featured role. My guess is he'll be really good.
Tony Crocker can also get buckets to help make up for the loss of Shved's perimeter scoring, and Khimki's defense should be better without him.
Their schedule over the next month isn't too bad, either. They host Panathinaikos (5-4) this week, then they're at Bayern Munich (4-5) and CSKA (8-1) before facing the two worst teams in Maccabi and Darussafaka (both 1-8).
I wouldn't be surprised if Khimki go 3-2 without Shved and become a more well-rounded unit ready for a playoff run in the second half of the season.
Jordan Mickey Using His Head
Before we move on from Khimki, we've got to talk about the Bucket of the Year — and not just in EuroLeague, but the entire basketball world.
You know how when a rapper freestyles they say they're going off the top of the dome? Jordan Mickey would be a pretty good battle rapper.
Just like it was drawn up ?@Jmickey_02 puts it in with his HEAD!#7DAYSMagicMoment pic.twitter.com/U3dQJ3LCYm

— EuroLeague (@EuroLeague) November 21, 2018
And while we're talking about heady plays, I've got to mention Thomas Heurtel. The Barcelona point guard is fourth in assists per game this season (5.6) and he drops some of the most beautiful dimes you'll ever see.
But this one, off the large head of Milano center Arturas Gudaitis, is one he wishes he could have back.
My favorite Thomas Heurtel assist this season pic.twitter.com/rSn9alO9z6

— Austin Green (@LosCrossovers) November 26, 2018
The Mighty Have Fallen
Well, that was kind of crazy.
I mentioned that Olympiacos ended Real Madrid's undefeated season, but Los Blancos weren't the only unbeaten team to fall.
In the upset of the season, 2-7 Buducnost beat CSKA Moscow 93-92 on a late putback by Danilo Nikolic. It was pandemonium after the game in Montenegro, as Buducnost, their fans, and head coach Aleksandar "Comic Book Guy" Dzikic celebrated accordingly.
It's going to be a LONG night at @KKBuducnostVOLI! pic.twitter.com/mdjIZsTcNc

— EuroLeague (@EuroLeague) November 23, 2018
With Madrid and CSKA going down, every team now has at least one loss this season.
Top 3 Games Of Round 10
1. Real Madrid (8-1) vs CSKA Moscow (8-1)
Thursday, Nov. 29 (3 PM ET)
Why you should watch: Two powerhouse clubs with the most championships in EuroLeague history face off in a shootout. Both teams will be hungry as they look to avoid back-to-back defeats. Former Real Madrid star and NBA player Sergio Rodriguez returns to Spain as a member of CSKA, and the game will hopefully feature the top two players in our Flo25 rankings (No.1 Sergio Llull vs. No. 2 Nando de Colo). Llull has missed the last few games with a knee injury and his status is uncertain. Even if he doesn't play, this one should be super entertaining.
2. Efes (7-2) vs Baskonia (3-6)
Friday, Nov. 30 (12:30 PM ET)
Why you should watch: Efes' dynamic backcourt of Shane Larkin and Rodrigue Beaubois faces off against their former Baskonia teammates. And for a revenge factor on the opposite side, new Baskonia coach Velimir Perasovic — who was fired last December by Efes — is hoping to lead Baskonia back into the playoff picture. There's also a great matchup at center between Efes' Bryant Dunston and Baskonia's Vincent Poirier.
3. Barcelona (6-3) vs Fenerbahce (8-1)
Friday Nov. 30 (3 PM ET)
Why you should watch: These are two of the hottest teams in EuroLeague, as Barcelona have won six of seven, while Fenerbahce are riding a five-game winning streak. There are great matchups at point guard (Thomas Heurtel and Kevin Pangos vs Kostas Sloukas and Bobby Dixon) and center (Ante Tomic vs Jan Vesely).
---
Austin Green is an international journalist and scout covering EuroLeague and NBA prospects in Europe and Australia. You can follow him on Twitter @LosCrossovers.