2018-19 EuroLeague & EuroCup Season Calendar
Exploring EuroLeague Playoff Possibilities
Exploring EuroLeague Playoff Possibilities
Six teams are fighting for the final three postseason berths in EuroLeague basketball.
Apr 3, 2019
by Kyle Kensing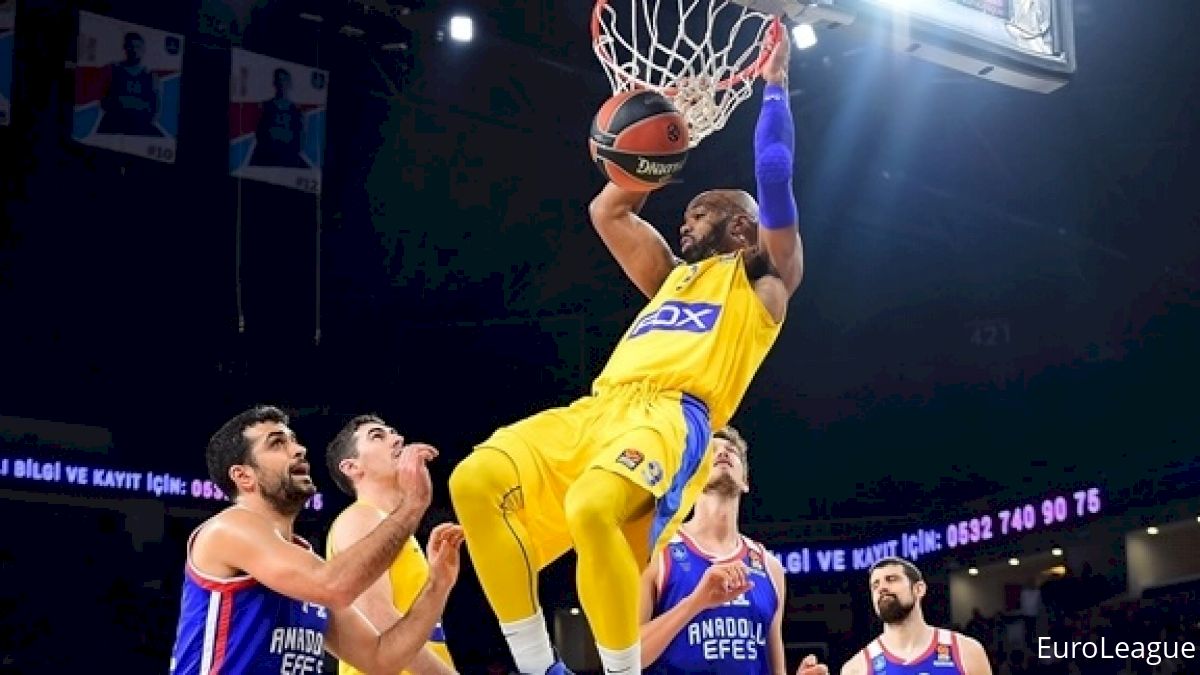 A chaotic EuroLeague playoff picture gained little clarity, if any, in Round 29. That sets up a thrilling regular-season finale in Round 30, with six teams still alive for the final three postseason berths.
Zalgiris slid into the eighth and final spot last week when it won its fifth straight (and six over the last seven), but the club's place in the playoff is far from finalized.
In fact, the official EuroLeague site shows different tiebreaker scenarios that could shape the postseason field. Each of the remaining contenders' Round 30 matchups are detailed, as well as some of the dozens of playoff scenarios. Check out the complete rundown via EuroLeague.net.
KIROLBET BASKONIA VITORIA-GASTEIZ
Record: 15-14
Current Standing: 6th
Next Up: Thursday at No. 2 CSKA Moscow
Saski Baskonia has a simple enough task ahead of it—at least, as simple as it is beating one of EuroLeague's best clubs on the road. Baskonia holds the tiebreaker over Panathinaikos and thus is guaranteed the No. 6 seed with a win at CSKA Moscow.
Baskonia scored the victory in their first meeting back in Round 11, getting big all-around games from Vincent Poirier and Tornike Shengelia. The club's been without Shengelia since Round 16, but he returned to practice from his knee injury this week.
A loss on the road Thursday complicates matters for Baskonia somewhat, though it's in good shape with tiebreakers. It swept the regular-season series with eighth-place Zalgiris and 10th-place Maccabi, but a loss coupled with a Zalgiris loss and Olympiacos and Olimpia Milan both winning eliminates Baskonia.
PANATHINAIKOS OPAP ATHENS
Record: 15-14
Current Standing: 7th
Next Up: Thursday vs. No. 15 Buducnost VOLI Podgorica
Rick Pitino-coached Panathinaikos came to life since the two-time NCAA national champion took the reins in December. The club claimed the Greek Cup in February, amid a six-game winning streak in EuroLeague competition.
The win streak, which included a thrilling, 78-77 defeat of CSKA Moscow to complete the season sweep, catapulted Panathinaikos from also-ran into the thick of the playoff chase. The CSKA result is particularly noteworthy because if standings hold through Round 30, this would be the first-round matchup.
Panathinaikos hasn't seen its Round 30 opponent, Buducnost VOLI Podgorica, since all the way back in Round 5, long before Pitino's arrival. Panathinaikos won on the road, 72-67.
Pitino's club can move into sixth with a win and a Baskonia loss, but must also be cognizant that an upset loss and Zalgiris win would relegate Panathinaikos to eighth place. The club owns a tiebreaker over Olimpia Milan, if it comes to that, but not over Maccabi.
ZALGIRIS KAUNAS
Record: 14-15
Current Standing: 8th
Next Up: Thursday at No. 3 Real Madrid
One of the hottest clubs in EuroLeague surged to its fifth-straight win in Round 29, and jockeyed for an important spot in the playoff race, by beating fellow postseason hopeful Olympiacos Piraeus on the road, 72-68.
Zalgiris hit the skids midway through the season with the since-returned Leo Westermann sidelined, and Derrick Walton Jr. was out for much of the same stretch. With Westermann back in the lineup and chemistry restored, the team is on a roll that brings it into a challenging Round 30.
Zalgiris faces Real Madrid on the round, the first meeting since a 90-79 Real Madrid win on Nov. 2. Rudy Fernandez scored all 15 of his points behind the 3-point line in that contest, and he comes into this matchup showing no signs of cooling his hot shooting hand.
EVERY ANGLE of that crazy @rudy5fernandez shot ?#GameON pic.twitter.com/iI6RD51oEr

— EuroLeague (@EuroLeague) March 29, 2019
A Zalgiris win guarantees it a place in the playoffs, with hope of climbing to No. 7. The club owns tiebreakers against Panathinaikos, as well as over two of the three teams jockeying for that same No. 8 spot it currently occupies, Maccabi and Olympiacos. A Milan loss coupled with a Zalgiris win gets the club into the playoffs; ditto if Panathinaikos loses. A win coupled with victories for Baskonia, Panathinaikos, and Maccabi get Zalgiris in. If Panathinaikos and Milan win, while Baskonia loses, Zalgiris is out.
A loss coupled with a win for any one of Olympiacos, Milan, or Maccabi eliminates Zalgiris.
AX ARMANI EXCHANGE OLIMPIA MILAN
Record: 14-15
Current Standing: 9th
Next Up: Thursday at No. 4 Anadolu Efes Istanbul
A five-game winning streak last month came to an abrupt halt for AX Armani Exchange Olimpia Milan. The club's now outside of the top eight and fighting for its playoff life after dropping three straight to Real Madrid, Panathinaikos, and first-place Fenerbahce Beko Istanbul last week.
The road back to that all-important No. 8 spot gets no easier in Round 30. Olimpia Milan travels to fourth-place Anadolu Efes Istanbul on Thursday. An Olimpia Milan win would close a season sweep, with one of the most exciting finishes to the 2018-19 coming in Olimpia Milan's 81-80 victory the last time around when Mike James buried a 3-pointer in the closing seconds.
A Milan win and Baskonia loss are one of the scenarios that punch Milan's playoff ticket; as is a Maccabi loss. A scenario in which both Milan and Zalgiris win lands Milan in the playoffs with a Panathinaikos loss—or the opposite, with Panathinaikos winning and Zalgiris losing. An Olympiacos win, with Panathinaikos and Zalgiris both losing, rounds out Milan's playoff scenarios.
MACCABI FOX TEL AVIV
Record: 14-15
Current Standing: 10th
Next Up: Friday at No. 1 Fenerbahce Beko Istanbul
Former NCAA Tournament standout Alex Tyus channeled that March energy with a career-high 20 points in Maccabi's Round 29 rout of Gran Canaria. Maccabi remains in the playoff race, but the scenarios that land it in the field are challenging.
Maccabi needs to win on the road against the No. 1 team in EuroLeague, Fenerbahce Beko, which won the first matchup, 74-70. Maccabi then needs Zalgiris, Olympiacos, and Milan to all lose. A Baskonia win and losses for both Zalgiris and Panathinaikos land Maccabi in the field, as does a Baskonia win and losses for Olympiacos, Milan, and Panathinaikos.
OLYMPIACOS PIRAEUS
Record: 14-15
Current Standing: 11th
Next Up: Friday vs. No. 16 Darussafaka Tekfen Istanbul
Olympiacos draws the most favorable Round 30 matchup of any of the six surviving teams jockeying for the last spot. However, last-place Darussafaka should not be taken lightly–FC Bayern Munich experienced that firsthand last week. A 92-87 loss eliminated Bayern Munich from the tight playoff race.
Olympiacos won the first meeting in Round 15, with four players scoring in double-figures. A repeat performance is crucial, but the club faces a demanding road to finish in the top eight. It needs either both Milan and Zalgiris to lose, Baskonia and Zalgiris to lose, or Panathinaikos and Milan to lose.