Devontae Cacok Hits Jackpot In Vegas, Signs With Los Angeles Lakers
Devontae Cacok Hits Jackpot In Vegas, Signs With Los Angeles Lakers
Former UNC Wilmington forward Devontae Cacok has signed with the Los Angeles Lakers after an excellent showing during NBA Summer League.
Jul 11, 2019
by Kyle Kensing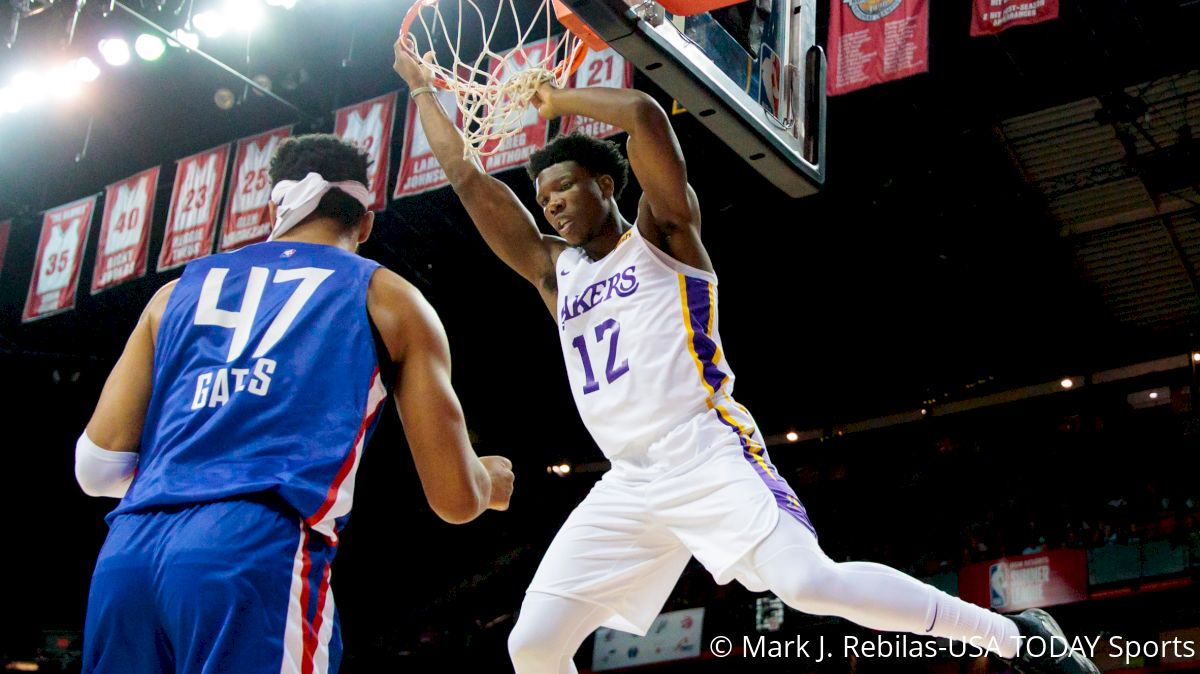 Few leave Las Vegas winners. Former UNC Wilmington forward Devontae Cacok, on the other hand, hit the jackpot.
Cacok's relentless performance as an undrafted free agent pick-up of the Los Angeles Lakers NBA Summer League squad earned him a contract with the franchise.
OFFICIAL: The Lakers have signed Devontae Cacok and Aric Holman. https://t.co/fkaiZEgOzm

— Los Angeles Lakers (@Lakers) July 10, 2019
Specifics of the contract are not yet public. Cacok is in position to join LeBron James, Anthony Davis and the rest of the Lakers in training camp, and possibly the organization's G-League affiliate thereafter.
Through his first three Summer League games, Cacok averaged 13 points on 58 percent shooting with 9.3 rebounds per outing. His tenacious style of play has been reminiscent of another undrafted youngster who caught on with last season's Lakers from the G-League, Jemarrio Jones.
Cacok's Summer League showing is also reminiscent of his UNC Wilmington career, which earned him consecutive All-Colonial Athletic Association selections in 2018 and 2019. Cacok averaged 17.7 points and 13.5 rebounds in 2017-18, and 15.2 points with 12.3 rebounds per game
C.B. McGrath came on as the Seahawks head coach ahead of Cacok's breakout junior campaign.
"In our two years with him, he was always eager to learn and was so coachable," McGrath said in an email.
Lakers Summer League coach Miles Simon has had significantly less time around Cacok, but his brief stint coaching the former Seahawks standout elicits similar praise.
What about Cacok's game impresses Simon specifically?
"How hard he plays, and the physicality he plays with," Simon said, via NBA.com. "[Cacok can be] a Kenneth Faried type, because he flourishes in that role. He rolls to the rim, he runs the floor, he defends at a pretty good level right now, and he's an elite rebounder."
Elite rebounder is no hyperbole. In 2017-18, Cacok's 13.5 boards per game led the nation. He finished second nationally in 2018-19, but was tops in defensive rebounding percentage, per KenPom.com advanced metrics.
In addition to his workmanlike effort, Cacok's been a Summer League gem for his ability to finish at the rim. His array of rim-rattling dunks lend further credence to Simon's comparison to the eight-year NBA veteran Faried.
Your daily Devontae Cacok dunk highlight.#LakeShow (?: ESPNU) pic.twitter.com/6FX9FFPLgj

— Los Angeles Lakers (@Lakers) July 7, 2019
Cacok's outstanding summer continues an impressive hot streak for CAA alumni. His signing with the Lakers comes just a few weeks after the Utah Jazz drafted Hofstra guard and two-time CAA Player of the Year Justin Wright-Foreman, and paired him with Charleston's Jarrell Brantley via trade from the Indiana Pacers.
For Cacok individually, he's accomplished what very few visitors to Las Vegas ever have and made his own luck.
"We're thrilled for Devontae and his family. He has worked so hard for this," said McGrath. "This has been his dream and we're so happy that he has been able to achieve it."