New Zealand at Illawarra | 2018-2019 NBL
EXCLUSIVE: Rod Hampton Discusses RJ vs. LaMelo & More
EXCLUSIVE: Rod Hampton Discusses RJ vs. LaMelo & More
Aaron Torres caught up with Rod Hampton to discuss RJ's matchup with LaMelo Ball and his NBL experience thus far.
Oct 25, 2019
by Aaron Torres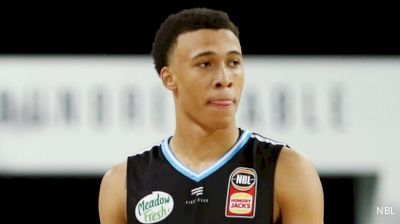 While the Lakers and Clippers tipped off the NBA season with a must-watch game on Tuesday night, two days later and over 6,500 miles away from Staples Center, another highly-anticipated showdown took place in Auckland, New Zealand.
There, LaMelo Ball and the Illawarra Hawks took on RJ Hampton and the New Zealand Breakers in NBL action. The two players who will forever be intertwined as the first American born players to take part in the NBL's "Next Stars" program faced off for the first time as professionals, a likely matchup of two NBA lottery picks, thousands of miles away from home.
The moment was monumental for the NBL as a whole. And that wasn't lost on the 8,338 fans who filled Spark Arena in Auckland, New Zealand for the matchup between the two teenage American stars.
"I played overseas [in Europe] and this felt like an overseas playoff game," said Rod Hampton. "It really did.
Hampton is the father of RJ Hampton, and is a man himself who once played collegiately at SMU before a career that spanned several years across Europe. And following the historic game between his son and LaMelo Ball, the elder Hampton jumped on the phone live from his beach front home in Auckland, to discuss it all in an exclusive interview with FloHoops.
The entire Hampton family has joined RJ in Auckland, and it sounds as though they're all enjoying the experience.
Starting with the game itself however, unfortunately, it didn't live up to the hype which proceeded it.
In what has become an all too familiar story for Illawarra, New Zealand jumped out to an early lead, and the Hawks were never able to get back into it. The Breakers led by 12 after the first quarter and 27 by the end of three quarters, before sealing a 102-73 victory late.
The loss dropped Illawarra to just 1-5 this season. New Zealand is 1-2, a tally that doesn't include two exhibition games they played in the United States against the Memphis Grizzlies and Oklahoma City Thunder.
Beyond the final score though, it was a solid outing for each American star. The two are asked to do completely different things for their teams, but each thrived in their roles.
Put simply, Hampton has more talent around him on the Breakers roster, and because of it, he has been slotted as a true point guard, a facilitator in charge of getting everyone involved. He did exactly that on Thursday night, with eight points, six rebounds and three assists.
Ball has been asked to take on more of a starring role for Illawarra, which is clearly struggling following another loss. He finished with 10 points, seven rebounds and four assists. It was the sixth time in six games this season that he has scored double figures.
Beyond just the stat sheet, each player also submitted highlight worthy plays that got social media buzzing.
Ball had a sweet, put back dunk in the third quarter, which showed off his rapidly improving athleticism.
LAMELO BALL, MY GOODNESS. pic.twitter.com/szQade4Eyt

— Legion Hoops (@LegionHoops) October 24, 2019
Speaking of athleticism, Hampton had a solid block on Ball as he went in for a dunk.
RJ Hampton showed off the bunnies on this block ?? (via @NZBreakers) pic.twitter.com/CzFUhfXYTu

— SLAM (@SLAMonline) October 24, 2019
Yet despite that athleticism, what the elder Hampton has been most happy with, is how his son has continued to improve on all the little things in his game. RJ Hampton was known as a volume scorer in high school, a kid capable of putting up 50 points on any given night back in Little Elm, Texas.
But as mentioned, Hampton has shown an ability to be more of a facilitator in New Zealand. No one doubted his ability to score. But according to Rod Hampton, what has impressed NBA scouts so far, is RJ's ability to run an offense and get others involved.
That was a big reason why the Hampton's came to Australia in the first place.
"I don't want RJ to just be able to do whatever he wants to do," said the elder Hampton. "I want RJ to be able to make reads. I want him to be able to call the plays not only on the offense, but on the defense.
"I want him to be a complete player."
Furthermore, for Hampton it's about using this experience for what it's intended to be: A chance to continue and best prepare for life as a professional basketball player. RJ Hampton referenced not having to "balance books and basketball" when he decided to take this opportunity, pointing out that he can completely focus on hoops during his time in New Zealand.
It's something Rod Hampton says that his son has taken full advantage of.
"It's about knowing how to be a pro on and off the court," he said. "He's got his sleep habits in line, he's eating right."
Of course, there is the off the court stuff too, and it seems like both Ball and Hampton are fulling immersing themselves into the foreign culture overseas. We've written previously about Ball spending time in the community, and it's much the same for the Hampton's as well.
According to Rod Hampton the family has been to a professional rugby match and even had the chance to meet the Prime Minister of New Zealand. They also live just five minutes from the beach, with a view of the Pacific Ocean and a volcano in the distance.
"New Zealand is a great country," said Hampton. "Coming over here really opens your eyes."
Hampton remains grateful for the opportunity that both the NBL and his own son have provided him.
"Credit him for stepping out on faith and doing it," Hampton said. "This was his decision, and his decision alone. We've just come along for the ride."