CAA Men's Basketball
Former William & Mary Stud Nathan Knight Scores 14 For The Atlanta Hawks
Former William & Mary Stud Nathan Knight Scores 14 For The Atlanta Hawks
William & Mary alum Nathan Knight made noise for the Atlanta Hawks and other CAA news from the pros.
Dec 30, 2020
by Kyle Kensing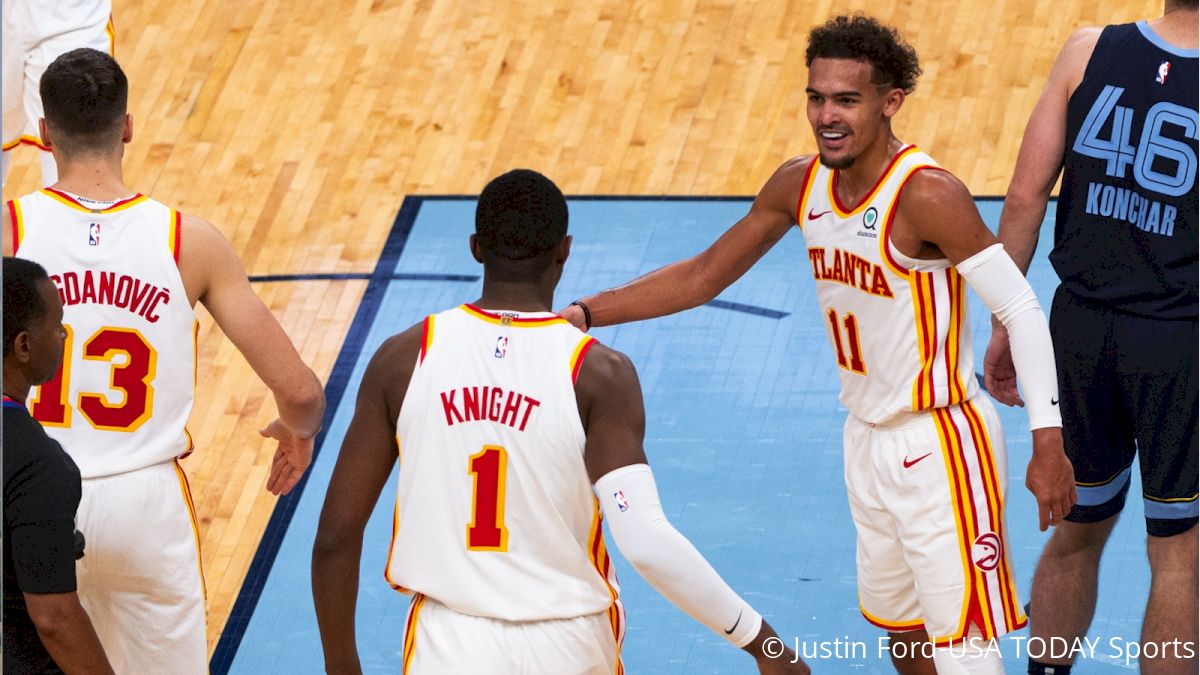 Just one week into the 2020-21 NBA season, the Colonial Athletic Association made an impact in the pros.
William & Mary alum Nathan Knight, following a three-rebound NBA debut against the Chicago Bulls, scored 14 points in just nine minutes to help the Atlanta Hawks to a 122-112 win over the Memphis Grizzlies.
Knight's offensive contributions threw it back to his not-long-ago days with the Tribe. He scored efficiently, going 4-of-5 from the floor; getting to the foul line, where he also shot 4-of-5; and showing off a facet of his game that Knight told FloHoops.com last season was a focus of his pro aspirations with his outside stroke.
He knocked down 2-of-3 attempts from behind the 3-point line.
"If I'm being honest, it still feels a little surreal," Knight told the Atlanta Journal-Constitution. "It's been a lifelong dream of mine to come and play professional basketball in the NBA, and (I'm) immensely grateful to the Atlanta Hawks for giving me the opportunity to come here and earn my stripes as a rookie."
If he can continue to display that same efficient scoring touch that characterized his outstanding William & Mary career, coupled with a developing long-range shot, Knight should more than earn his stripes.
He signed to a two-way deal in November, which under normal circumstances would have seen Knight contribute both the NBA and G League rosters. However, the G League finalized plans to play a truncated season in a Florida-based bubble, similar to the conclusion of last NBA season; the College Park Skyhawks are not among the G League franchises set to participate.
Among the teams that will play in the G League bubble, however: the Greensboro Swarm.
The G League affiliate of the Charlotte Hornets drafted College of Charleston star Grant Riller in November and quickly signed him to a two-way deal.
"I'm super blessed, fortunate enough not only to get picked, but get picked by an organization like this," Riller told Hornets.com on draft night. Riller also shouted out mid-major products and dangerous scorers Steph Curry (Davidson), C.J. McCollum (Lehigh), and Damian Lillard (Weber State) as inspirations.
Riller joins another explosive CAA scoring guard in the Hornets organization, Delaware's Nate Darling. The two 1st Team All-Colonial selections are not the first CAA products on the same NBA roster in recent years.
Charleston's Jarrell Brantely and Hofstra's Justin Wright-Foreman both played for the Utah Jazz's main roster and G League affiliate in 2019-20 and flourished, earning All-G League recognition.
Brantley's back in the Jazz organization. The Salt Lake City Stars are in line for a spot in the G League bubble. Wright-Foreman's two-way deal with Utah was not retained, but the transcendent scorer should get an opportunity in 2021 with the Erie BayHawks of the New Orleans Pelicans organization.
Another CAA alum-turned-All G Leaguer, Devontae Cacok, closed out his rookie season as an NBA champion. Cacok has yet to debut for the Los Angeles Lakers in 2020-21, though his skill set makes him a natural fill-in for marquee offseason acquisition Montrezl Harrell should the situation arise.
---
Kyle Kensing is a freelance sports journalist in southern California. Follow him on Twitter @kensing45.