Men's CAA Basketball
Hofstra Head Coach Speedy Claxton & The Complicated Storybook Tale
Hofstra Head Coach Speedy Claxton & The Complicated Storybook Tale
Speedy Claxton is already a Hofstra legend; now he's the head coach. The former Pride and NBA star hopes to leave a legacy and write a storybook tale.
Apr 19, 2021
by Jerry Beach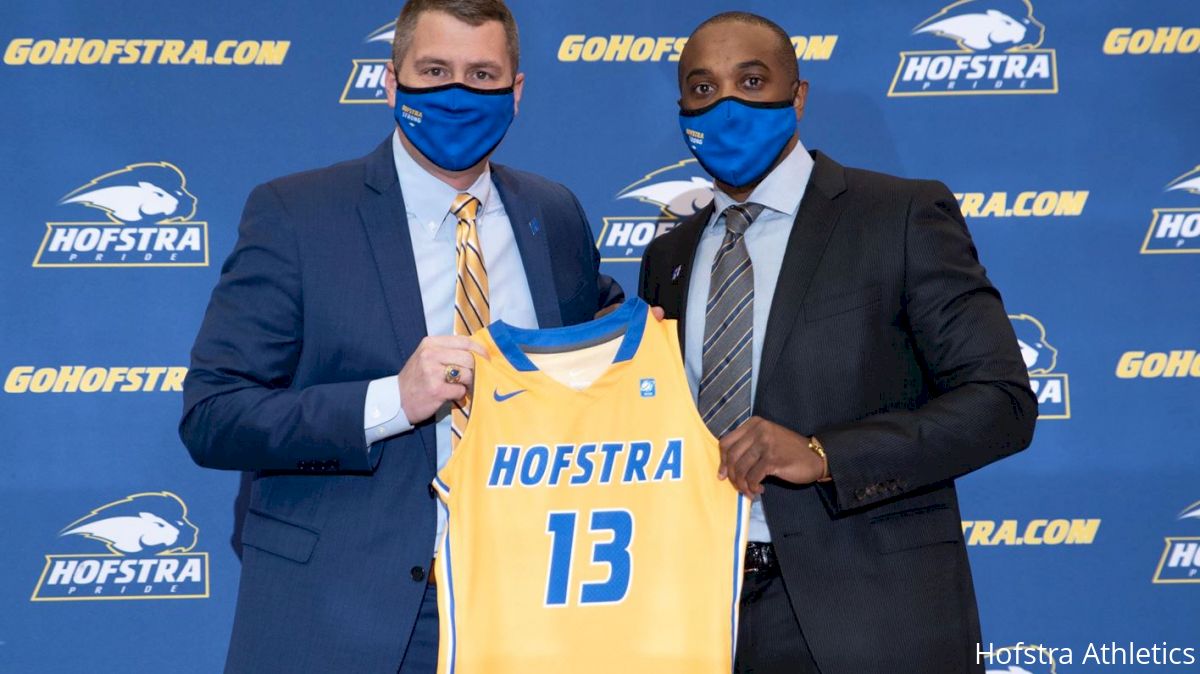 A fanbase spoiled by 15 years of storybook coaching tales began dreaming of another one Jan. 31, 2009, when Speedy Claxton returned to the David S. Mack Sports & Exhibition Complex — dubbed by some as "The House That Speedy Built" when it opened as Hofstra Arena in January 2000— to have his no. 10 retired and raised to the rafters.
At a press conference afterward, the typically quiet and low-key Claxton was reflective and talkative as he contemplated his mortality as a professional athlete — "Ever since my rookie year when I tore my ACL, I never fully recovered all my physical gifts that I had" — and noted winning an NBA title with the San Antonio Spurs in 2003 was nothing compared to leading Hofstra to its first NCAA Tournament in 23 years as a senior in 2000.
"Winning a championship in the NBA was great, fantastic, but I don't think a lot of people realize how special it was to get to the NCAA Tournament from a mid-major," Claxton said. "That was like the ultimate experience. I don't think anything will ever replace that."
With those words, it became easy to envision a scenario in which Claxton someday continued Hofstra's tradition of seamless and cosmically timed peaceful transfers of power.
Butch van Breda Kolff, the winningest coach in program history, exited with an East Coast Conference-championship clinching victory in his final game in March 1994 before being replaced by Jay Wright, the former Villanova and UNLV assistant. With the help of Claxton, Wright gradually built Hofstra into a perennial America East power. Following a second straight NCAA Tournament trip in 2001, Wright left for his dream job at Villanova and Tom Pecora replaced him, as had been the plan for years.
The next baton exchange was nowhere on the horizon — Claxton was just 30 years old and still trying to get back on the court for the Atlanta Hawks while Pecora, 51, was entrenched in his own feel-good tale after turning down overtures from Seton Hall in 2006 to remain at Hofstra because he valued working a few minutes from home, his wife and their three children. But someday Claxton would return to Hofstra as an assistant, learn from one of the best coaches in school history and eventually succeed him.
It took little more than a dozen years, but all the elements for the next feel-good chapter were finally in place on April 8. A teary-eyed Claxton, speaking beneath the reminders of his achievements at the Mack, thanked a 60-something mentor for all the lessons he learned during an apprenticeship that prepared him to become the new head coach and put him in a position where he could envision a decades-long run at the school he's loved for a quarter-century.
"My basketball journey has taken me all over the world and it was always the goal to come back one day to lead this program," Claxton said. "I can tell you this: I wore a lot of names on the front of my jersey. The one that was always near and dear to my heart was Hofstra. Always.
"I won't disappoint you. I promise you that nothing means more to me than this university and our program. I am proud to be your coach."
But Claxton's path to a job that long seemed destined to be his was more complicated than anyone could have imagined.
Claxton wasn't replacing Pecora, who went to nearby Fordham following the 2009-10 season in what he'd later call his "midlife crisis." Pecora was initially replaced by Tim Welsh, who barely lasted a month before resigning after he was arrested for DUI. Welsh's assistant Mo Cassara was fired in March 2013 after going 38-59 in three seasons, the last of which featured a spate of off-court issues.
Claxton, retired due to knee and hamstring woes and serving as a scout for the Golden State Warriors, interviewed for the job, which went to Niagara's Joe Mihalich. But Claxton almost immediately joined his staff and over the next seven seasons ascended to the second assistant's role, putting in the grunt work that ensured he not only wanted the head coaching job but would know what it entailed.
After the Pride fell to UNC Wilmington in overtime of the 2016 CAA title game, Claxton rode home not on the team bus but with one of the grad assistants with whom he shared an office at the end of the hallway at the Mack Sports Complex. He ran the less glamorous parts of practice and the pre-game routine, overseeing stretching exercises and retrieving loose balls for players sticking around for extra shooting and running the layup line before racing into the locker room and getting dressed for the opening tip.
In March 2020, the feel-good template — different than anyone could have imagined in 2009 but no less tinged with an air of destiny — was beginning to take shape. After two title game losses under Mihalich, Hofstra finally broke through and won the CAA to reach the NCAA Tournament for the first time since Wright's final season.
Mihalich was signed for several more seasons, more than enough time for number one assistant Mike Farrelly's work with the Pride to be rewarded with a head coaching job elsewhere — maybe even as soon as April 2020, if Hofstra raised its profile with a win or two in the NCAA Tournament — and for Claxton, whose familiar stoicism disappeared as he embraced players with tears pouring down his cheeks following the championship game win over Northeastern, to move down one seat and become the heir apparent.
Except it was 2020, the year in which all sense of order was shattered. The coronavirus pandemic began shutting the world down 24 hours after Hofstra's title game win and forced the cancellation of the NCAA Tournament fewer than 48 hours later. Another seismic shock shook Hofstra in August, when Mihalich went on medical leave and Farrelly was named the acting head coach.
Farrelly's fondness for Mihalich and Hofstra was apparent throughout the shortened and interrupted season, never more so than following the CAA Tournament semifinal loss to Elon in which Farrelly could barely speak through the tears as he expressed his hope he'd made his mentor proud.
On Mar. 19, less than an hour after the NCAA Tournament began, Hofstra officially announced the news everyone sensed was coming: Mihalich was retiring and Hofstra was conducting a national search for his replacement, though it was clear the choice would come down to the two internal candidates who each had a case as heir apparent.
Both men were qualified for the job and both wanted it. This would not be a feel-good tale in which the runner-up agreed to stay on as an assistant. Someone invested in Hofstra and well-trained to assume a position he'd been working years to earn would exit with bruised feelings.
Farrelly was in the position of Pecora a generation ago — a successful and longtime chief recruiter and the right-hand man to an accomplished head coach — except with a season as the head coach under the most trying circumstances possible.
And Claxton is Speedy Claxton, the player who a generation ago changed the perception and fortunes of the program and the most identifiable athletic alum from a school that's yielded New York Jets legend Wayne Chrebet and several Super Bowl champions.
Within hours of Mihalich's retirement, a source described the job as "95 percent" Claxton's. As alluring as his status is at Hofstra, Claxton's NBA pedigree will get the attention of recruits. And after he resisted the urge to become a transfer portal unto himself before ever stepping on campus — power conference schools tried luring him from his commitment to Hofstra throughout his breakout senior year of high school in 1995-96 — he's uniquely positioned to convince players they need not transfer up in order to maximize their potential.
"I have the blueprint on how to succeed from this program," Claxton said. "All you have to do is follow it."
If it doesn't work out, it won't be for a lack of preparation or a lack of understanding of the inherent risks of an all-time program great becoming its head coach.
"This is everything — the only thing I want to do," Claxton said. "I don't want to be a great player here. I want to be a great coach and ultimately be a great leader of Hofstra University. That's what it's all about. It's about my legacy right now. That's at stake."
Yet Farrelly didn't do anything to warrant not getting the job, nor to deserve the unceremonious and hard-edged departure that came with his runner-up finish. Van Breda Kolff attended Wright's press conference in April 1994 and Cassara's assistants attended Mihalich's press conference 19 years later. Farrelly was not at the Mack on April 8 and soon changed his Twitter handle — dropping the "HU" from @CoachFarrelly — while removing the Hofstra logo and picture of the practice facility from his avatar and banner, respectively.
"It's always difficult and Mike's an exceptional coach — and the other candidates we had are exceptional coaches and exceptional people," Hofstra director of athletics Rick Cole Jr. said. "It's really not necessarily what the others didn't do, to be honest. It's what Speedy does and who he is."
The complicated process of finding Mihalich's replacement is a reminder that good timing is often something that appears in retrospect after the inconveniences of the business fade with time. Van Breda Kolff didn't so much retire as he didn't have his contract renewed by a school trying to avoid falling into Division I purgatory. Wright was about a day away from heading to Rutgers when Villanova and Steve Lappas magically parted ways. And at Georgetown, Patrick Ewing — as defining a figure there as Claxton is at Hofstra — replaced John Thompson III, the son of the legendary head coach who recruited and coached Ewing.
The perception of the timing of Claxton's hiring is still to be written. The awkwardness will be amplified if Hofstra doesn't maintain the success under Claxton it enjoyed under Mihalich and if Farrelly, who was hired as an assistant at Penn State just four days after Claxton's press conference, parlays his experience in the Big Ten to the long-awaited head coaching job.
And if Farrelly becomes a successful head coach while Claxton leads the Pride to multiple NCAA Tournaments and becomes the program's winningest coach before handing the reins to a longtime assistant or fellow star alum? In that case, who will think anything other than how this was all cosmically meant to be?
"It's nothing complicated — every situation's different," Claxton said, referring to program icons becoming head coaches. "Sometimes it's going to work out and sometimes it's not. That's the nature of the business."
Even, and especially, with the most storybook of coaching tales.
---
Jerry Beach has covered Hofstra sports since arriving on campus in the fall of 1993, when Wayne Chrebet was a junior wide receiver wearing No. 3, Butch van Breda Kolff was the men's basketball coach for the East Coast Conference champions and Jay Wright was a little-known yet surely well-dressed UNLV assistant coach. Check out Jerry's book about the 2000 World Series here and follow him on Twitter at @JerryBeach73.