CAA
Elon Phoenix Ready To Take On 2021-22 Season
Elon Phoenix Ready To Take On 2021-22 Season
Getting to the Tournament in 2022, after coming so close at the end of the historic 2021 campaign, won't be easy. Elon coach Mike Schrage knows that.
Aug 26, 2021
by Kyle Kensing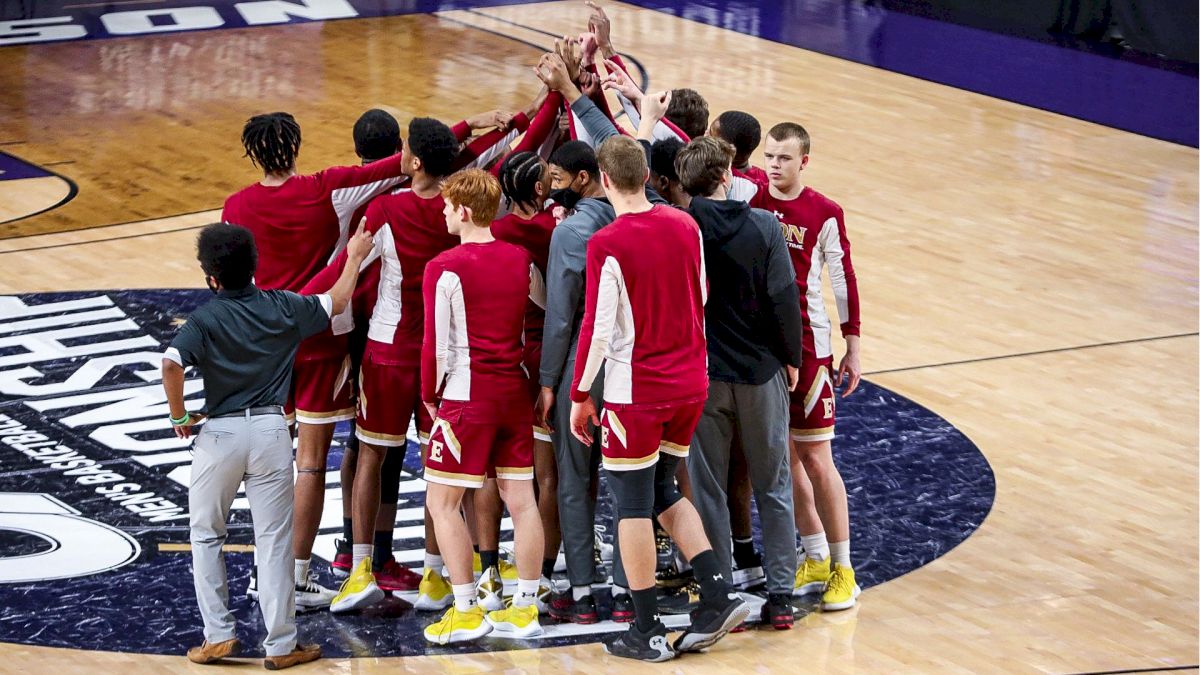 One win last March was all that separated Elon from its first-ever NCAA Tournament appearance. After Team 108 came 40 minutes away from hearing "Elon Phoenix" called on Selection Sunday, the program's 109th-ever squad reloads for another push toward March Madness.
Getting to the Tournament in 2022, after coming so close at the end of the historic 2021 campaign, won't be easy. Elon coach Mike Schrage knows that.
"Our conference [the Colonial Athletic Association] is going to make another big step, be very improved with all the seniors coming back and a lot of productive transfers coming in," Schrage told FloHoops.
Parity and unpredictability defined an unusual 2020-21 season, made turbulent with the challenges brought on by COVID-19.
The league's depth became apparent when James Madison, a last-place finisher the year before, won the regular-season championship; Drexel, which finished sub-.500 in a conference schedule whittled down due to protocols, claimed the automatic bid to the NCAA Tournament; and Elon emerged from the opening round to face Drexel in the CAA Championship.
The 2021-22 season promises more of the same, albeit with improved all-around play. Because of the peculiarities of '20-21, including a drastically abbreviated non-conference slate, CAA teams suffered in national standings.
Tournament representative Drexel finished with the best KenPom.com rating at #158, fifty places below 2020 league champion Hofstra — and that disparity is misleading. Hofstra's #108 final ranking would have undoubtedly improved from playing an NCAA tournament game.
Expect the CAA to see a return to form more reminiscent of 2018-19, when two teams finished within the KenPom Top 100 and three teams were ranked #;123 or better.
But which teams emerge at the top of that mix could be anyone's guess.
"I wouldn't want to predict our conference," Schrage said but added to start with the programs with veteran presences.
A name the coach cited specifically was Delaware. The Fightin' Blue Hens return Kevin Anderson and Ryan Allen, a pair of redshirt seniors in the backcourt, and talented post player and graduate student Dylan Painter.
But while Elon loses a pair of seniors central to last season's late-year charge in Ikenna Ndugba and Simon Wright, the Phoenix "for the first time since [Schrage and his staff arrived since 2019] have a lot of upperclassmen" per the coach.
Seniors Kris Wooten and Chuck Hannah were valuable contributors a season ago, while the junior tandem of Hunter McIntosh and Hunter Woods head into their third season, each as starters.
McIntosh has shouldered a heavy load in his time at Elon, last year leading the Phoenix at 15.7 points per game.
Elon also welcomes back to the lineup wings Zac Ervin, who missed last season due to an ACL injury, and Jerald Gillens-Butler. Gillens-Butler transferred from the Big East's Butler Bulldogs in 2019 and gained eligibility last season but sustained an Achilles' injury after scoring double-figures in his only three appearances.
While underclassmen carried heavy loads in each of Schrage's first two seasons, resulting in early season growing pains but strong showings come February and March, the 2021-22 roster is built to compete from the outset.
And the Phoenix will have some attention-grabbing opportunities in the first two months of the campaign. The full schedule has not yet been released, but Schrage teased an intriguing docket.
"When our non-conference schedule comes out, it's tough [with] the kind of games our guys want to play in," he said. "I always want to put together the kind of schedule that's going to prepare us for conference."
And if Elon can start CAA play as strong as it's finished in the last two seasons, the Phoenix will be in position for their first-ever NCAA Tournament.