Men's CAA Basketball
CAA 2021-22 Preview: Depth Makes For A Wide-Open Season
CAA 2021-22 Preview: Depth Makes For A Wide-Open Season
From returning players to transfers, nearly every CAA team boasts substantial depth, something that could make this season as unpredictable as ever.
Oct 4, 2021
by Kyle Kensing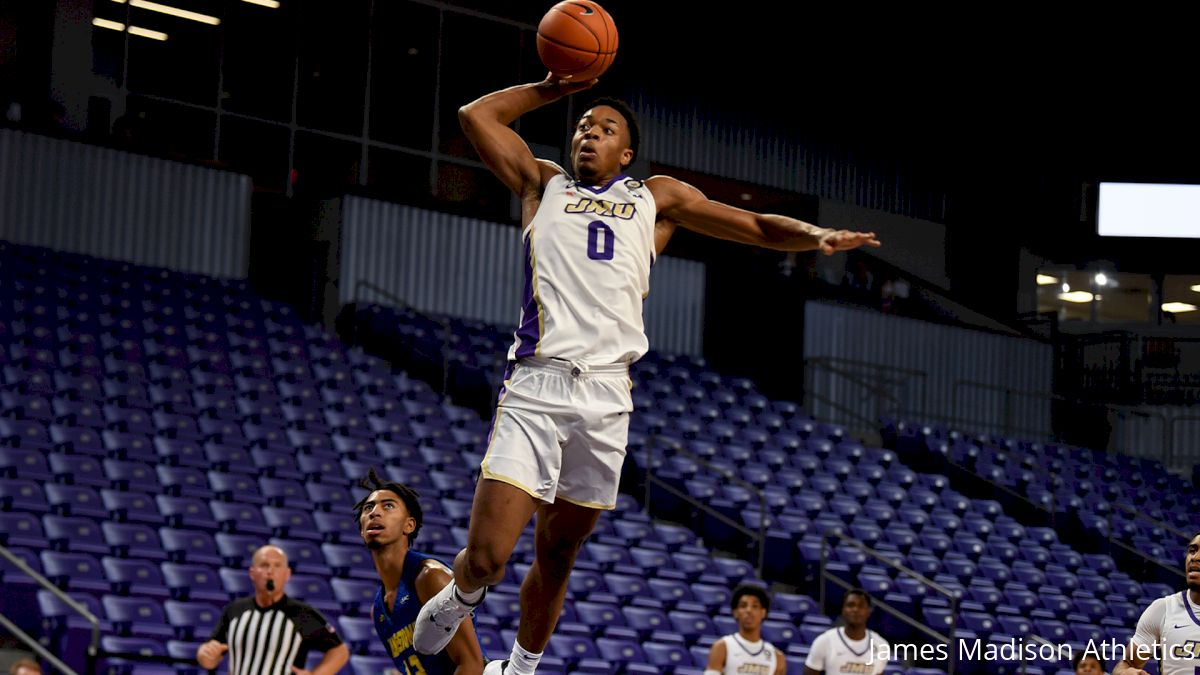 After an unprecedented season, changes and collective depth around the league promises to make the 2021-22 Colonial Athletic Association season one of the most unpredictable ever.
Pauses related to the COVID-19 season, as well as roster turnover due to graduation and the transfer portal in the offseason, will have the Colonial teams reacquainting with one another as league play starts.
Delaware coach Martin Ingelsby analogized looking ahead to facing CAA in 2021-22 to the preparation for a non-conference opponent. James Madison coach Mark Byington—whose Dukes reflected the upward mobility open to CAA teams last season with a worst-to-first turnaround in 2020-21—echoed the sentiment.
"Yeah, I'd agree with that. It's hard to predict who's going to be really good," he said. "Because everybody has reason to be optimistic that their roster is probably better than last year. Everybody [in the CAA] feels that way, I think you're going to have a good year for the league especially."
Back in the lab this week 👀#GoDukes pic.twitter.com/b8l4Q5nGET

— JMU Men's Basketball (@JMUMBasketball) September 26, 2021
James Madison's 180-degree turnaround in Byington's first season as head coach headlined a year marked by parity amid uncertainty. The CAA Tournament Championship Game saw teams that finished the regular season sixth and seventh in the standings, Drexel and Elon, with the Dragons emerging as the Colonial's NCAA Tournament representative.
Drexel's March success could offer a springboard into 2021-22, but Dragons coach Zach Spiker notes the loss of key contributors like Zach Walton and T.J. Bickerstaff, who started all 20 games a season ago.
"The truth is, when you look at the roster and the number, we lost 30 percent of our scoring and 28 percent of our rebounding: almost a third of our scoring and rebounding," he said. "I don't think we have any reason to be comfortable."
Spiker invoked the early days of the cell phone—"there's no rollover minutes"—evaluating how Drexel's run to March Madness shapes preparation for the campaign to come.
The Dragons certainly have building blocks with guard Camren Wynter and forward James Butler returning. At the same time, much of the CAA returns veteran leaders who could be pillars for championship teams.
Back like we never left 😤

📸 21-22 Official Practice No. 1 ✔️#FearTheDragon pic.twitter.com/8d7fptqHAE

— Drexel Men's Basketball (@DrexelMBB) September 28, 2021
Delaware's core of three guards, Ryan Allen and Kevin Anderson, along with double-double-averaging big man Dylan Painter, has the Fighting Blue Hens looking like strong contenders on paper. However, as James Madison's run to the regular-season championship suggests a year ago, projections and production don't always align.
A 2021-22 version of last year's JMU could emerge. One place to look for a potential candidate: UNC Wilmington.
"They're tired of losing," UNC Wilmington coach Takayo Siddle said. "And they're putting the work in to change that."
The Seahawks started strong in Siddle's first season at the helm, going 6-3 in non-conference play. A lengthy layoff due to COVID-19 protocols put a damper on UNC Wilmington's prospects in the Colonial, but the Seahawks head into this new season with plenty of potential.
Siddle and Byington came into the conference under unusual circumstances because of the pandemic, including a severely limited offseason. The 2021 offseason has brought a marked difference.
"It's been great, man," Siddle said. "We've been able to have an offseason, and we started in the spring. I had my four core guys from last year's roster here, and we were able to give them some individual attention."
"By the end of the summer, we had laid a very solid foundation and built some good team chemistry," he added.
Chemistry is an important keyword that will shape the upcoming Colonial season. The NCAA's one-time transfer rule opened up the transfer portal in an unprecedented fashion, creating roster changes all around the country.
Whether losing or adding players, teams head into the campaign tasked with creating that all-important team dynamic.
"Continuity will be tested, and chemistry," Spiker said. "It's something that everyone's going to have to deal with. It's the new normal. It's a fine line between how you want your program to be built and what you want to be about, but you certainly want to put the best product on the floor you can."
Roster changes play a part in creating that dynamic; so does coming back to something closer to normal, at least compared to last season
An example is Towson. The Tigers lose leading scorer Zane Martin, but return a solid group of experienced contributors.
Coach Pat Skerry said of the 2021-22 roster, "We really like our group; I can't say enough about the intent of this group and the type of guys they are."
The challenge for Towson heading into the campaign may be less on forming roster cohesion, and more on reacclimating to a true basketball season. The Tigers played the fewest conference games of any time in the nation last year—"not something [to] be proud of," Skerry noted—and endured three different layoffs that were each three weeks or longer.
Such a start-and-stop schedule isn't conducive to establishing a rhythm or identity, something the Tigers are focused on building in a more traditional year.
"Our focus is how do we get back to creating the type of habits and routine that we normally try to?" Skerry said. "And we've been excited about that."
Won't be long until the 2021-22 season begins.#UnitedWeRoar | #NCAAMBB | @Towson_TSN pic.twitter.com/hBuAvtnUhc

— Towson Men's Basketball (@Towson_MBB) September 30, 2021
From top-to-bottom, you can expect a whole new look to CAA basketball in its emergence from the pandemic-impacted season. Plenty of new faces will emerge as standouts alongside those returning, and new teams will contend for the championship as a result.
One thing should remain the same, however, as Spiker detailed.
"The CAA—the players, schools, and the coaches—is one of the most underrated leagues in the country," he said.
Names To Know
G - Brenden Tucker: Brenden Tucker moved into the Cougars starting lineup in the latter-half of last season and flourished, adding both a scoring punch from the perimeter and aggressive defense.
G - Dalton Bolon: Dalton Bolon was one of the nation's leading scorers at the Div-II level last season, posting almost 22 points per game. He was a three-time All-American at West Liberty.
F - Charles Lampten: A JUCO All-American in 2021, the 6-foot-11 Charles Lampten could be an immediate impact player for the Cougars.
G - Ryan Allen: Poised to surpass 2,000 career points this season, Ryan Allen has already made an indelible impact on Delaware basketball. He will be one of the driving engines in the Blue Hens' push for the NCAA Tournament.

F - Dylan Painter: Dylan Painter earned Team Most Valuable Player honors after registering 13.5 points and 11.5 rebounds per game in 2020-21. The 6-foot-10 Painter is one of the top big men returning to college basketball in 2021-22.
G - Kevin Anderson: Kevin Anderson has averaged in double-figures scoring every year he's been at Delaware. Last year, he posted 12.4 points per game and was a dangerous 3-point shooter at almost 41 percent for the season.
G - Jameer Nelson Jr.: The son of Saint Joseph's and Orlando Magic legend Jameer Nelson, Nelson Jr. debuted with a splash as a freshman at George Washington averaging 10.4 points and 4.4 rebounds per game. He was limited in the 2020-21 season, but swiped 2.6 steals per game in seven appearances last year.
G - Camren Wynter: At 16.2 points and 5.2 assists per game, Camren Wynter led Drexel offensively in 2020-21. It was his best season in what has already been an impressive career with the Dragons, and even more could be on the horizon for him in 2021-22.
"He's gone from a guy who's deferred to others around him, to a guy [who] has embraced wanting the ball in critical moments of the game," Drexel coach Zach Spiker said. "There's still another evolution that he's going to take even this year. If you look at his numbers, he's improved every year."
F - James Butler: Since transferring to Drexel from the Naval Academy, James Butler has been one of the most physically imposing interior players in the CAA. He averaged 12.8 points and shot almost 57 percent from the floor last season while hauling in 9.2 rebounds per game.

G - Xavier Bell: Xavier Bell came on strong in the latter half of Drexel's NCAA Tournament season, scoring in double-figures in four of the Dragons' final six games—including each of the last three straight against Northeastern and Elon in the CAA Tournament, and against Illinois in the Big Dance.
F - Mate Okros: One of the conference's most dangerous returning 3-point shooters, Mate Okros sank at least four triples in four games last season, including the CAA Championship.
G - Hunter McIntosh: Hunter McIntosh has played a central role in Elon's growth over the first two seasons under coach Mike Schrage. McIntosh boasts an impressive collection of honors as a result including 2019-20 CAA Rookie of the Year; and Phoenix Team MVP last season. The combo guard averaged 15.7 points per game in 2020-21.
Practice #1 ✅
Team #109 Officially Loaded
Season #109 in @ElonMBasketball History Officially Here…@ElonPhoenix @elonuniversity https://t.co/ef7y3M5o76

— Mike Schrage (@CoachSchrage) September 30, 2021
G/F - Zac Ervin: After playing a more significant role down the stretch in 2019-20, Zac Ervin sustained a season-ending injury before the 2020-21 campaign. His return adds an important 3-point shooter to the Elon perimeter.
G/F - Hunter Woods: Hunter Woods emerged as a double-figure point-per-game scorer in 2019-20. His scoring production dipped last season, but the versatile Woods has shown the capacity to be a potent weapon in the Phoenix offense.
G - Jalen Ray: An exceptional scorer, Jalen Ray ended 2020-21 on quite the flourish with at least 20 points in five of the Pride's final six games—including two games of 30-plus. He ended the season at 19.3 points per game and could be one of the nation's top scorers in the season to come.
G - Caleb Burgess: Caleb Burgess is an elite ball distributor, coming off a 2020-21 in which he dished out 129 assists and ranked 69th among Div-I players in assist rate, per KenPom.com.
F - Kvonn Cramer: Kvonn Cramer is a picture of reliability for Hofstra, playing a tough, physical style in the paint and around the glass. He gets after it effectively on the boards, last year ranking no. 119 among Div-I players in offensive rebounding percentage, and was ninth in 2-point field-goal percentage at a ridiculous 70.6.
G - Vado Morse: The All-CAA performer averaged 14.4 points per game in his first season with the Dukes. Morse is in position to be a key figure in the Dukes' defense of the CAA championship.
G - Terell Strickland: The son of longtime NBA standout point guard Rod Strickland debuted in impressive fashion last year, snagging 10 steals in his first game. He went on to average 5.4 points, 2.4 assists and 3.4 rebounds per game as a freshman.
Terell Strickland cracked the 📚 with his historic defensive night - his 10 steals were:

✅ a new JMU and @CAABasketball record
✅ tied for 25th-most in a single game in @NCAA DI history
✅ the third-most EVER by a Division I freshman in a single game

THAT's a debut!#GoDukes pic.twitter.com/Z38o0RwsUN

— JMU Men's Basketball (@JMUMBasketball) November 26, 2020
F - Justin Amadi: High-flying Justin Amadi filled highlight reels and gave James Madison an exciting playmaker in the open court a season ago. He shot almost 70 percent from the floor as a freshman, en route to 9.1 pints per game, and snagged five rebounds per game.
F - Alonzo Sule: Texas State transfer Alonzo Sule adds some explosiveness in the post that should complement Amadi nicely.
G - Tyreek Scott-Grayson: UAB transfer Tyreek Scott-Grayson brings a wealth of experience to Northeastern. Scott-Grayson started for most of the last two seasons with the Blazers, and averaged 10 and 9.3 points per game in 2019-20/2020-21.
G - Jahmyl Telfort: If the last game of the season was any indication, expect big things from Jahmyl Telfort. Telfort scored 30 points against Drexel in the CAA Tournament, continuing a trends from the forward where he played some of his best individual games in the Huskies' most prominent spots — including 23 points against league champion James Madison, and 16 points at Syracuse.
G - Shaquille Walters: Shaquille Walters started all 17 games in which he played last season, and was one of three Huskies to average in double-figures scoring at 10.5 points per game. Walter is a phenomenal rebounder who crashes the glass with abandon and a tough, on-the-ball defender.
F - Jason Strong: Jason Strong has a high ceiling coming off his 9.3-point per game 2020-21. Strong's ability to both go the boards and step beyond the arc to shoot 3-pointers gives Bill Coen some options with how to spread the floor in his motion offense.
F - Charles Thompson: Charles Thompson, who averaged 9.1 points and team-highs of 6.4 rebounds and 1.6 blocked shots per game, looks ready to "take another big step," Skerry said.
G - Nicolas Timberlake: One of two Tigers to average in double-figures last year, Nicolas Timberlake posted 12.1 points and knocked down a team-high 31 3-pointers in 2020-21.
G - Jason Gibson: Jason Gibson scored just below double-figures last season at 9.6 points per game, and was tops among Towson returning players in assists.
F - Juwan Gray: Juwan Gray, who transferred into Towson from San Diego where he was a defensive stopper, made what Skerry called "remarkable" recovery from an Achilles' injury that limited him to just five games a season ago.
UNC WILMINGTON
G - Jaylen Sims: Jaylen Sims was limited to 12 games in 2020-21, but made the most of it with a team-best 17.8 points per game. The versatile wing also grabbed 5.3 rebounds, good enough to share second-most on the team with Mike Okauru.
G - Mike Okauru: Time spent in California training with the Nigerian national team could have Mike Okauru poised for a breakout season.
"We're taking him off the ball this year, and I think that will help him out," Siddle said. "The game is slowing down for him. He's making better decisions, and he's communicating more. I think that's the biggest thing we took away from the Nigerian national team."
"From a leadership standpoint, he's given us exactly what we need," Siddle added.
G - Shykeim Phillips: After a breakout freshman campaign, Shykeim Phillips was limited to just the final two games of UNC Wilmington's 2020-21 season. His return adds a dynamic playmaker back into the mix for the Seahawks. He averaged more than nine points and two assists per game his freshman season.
G - Jaylen Fornes: Jaylen Fornes is back at UNC Wilmington as a graduate student, taking advantage of an additional year of eligibility to finish his career where it began. Fornes transferred to Nicholls State in 2019 after three seasons at UNC Wilmington, including a sophomore campaign in which he averaged 11.8 per game. Last season at Nicholls, he averaged better than nine points per game on a team that came one win away from the NCAA Tournament.
G - Yuri Covington: Yuri Covington was one-half of an impressive freshman backcourt duo for William & Mary last season. Covington averaged 9.5 points and 3.5 rebounds per game in his debut season.
G - Connor Kochera: The 2021 CAA Rookie of the Year Connor Kochera had an electric stretch scoring between 20 and 30 points in four-of-five games last January. Kochera posted 13.4 points per game in total, shooting 51 percent from inside the 3-point arc. He was also a solid rebounder at 4.8 per game.
Rolling some highlights from #CAAHoops Rookie of the Year@wmtribembb's Connor Kochera pic.twitter.com/IqTjuLM7jv

— CAA Basketball (@CAABasketball) March 5, 2021
F - Quinn Blair: Quinn Blair was one of William & Mary's most consistent scorers throughout the 2020-21 season, but found a consistent 3-point touch late in the year. He shot 40 percent or better in four of the final five games, and knocked down at least one from distance in each of the last five.