2021 Men's Gulf Coast Showcase
Competitive Gulf Coast Showcase Features March Hopefuls
Competitive Gulf Coast Showcase Features March Hopefuls
This stacked field makes for a fitting return to real, early-season tournament play after the pandemic-impacted 2020-21 slate.
Nov 19, 2021
by Kyle Kensing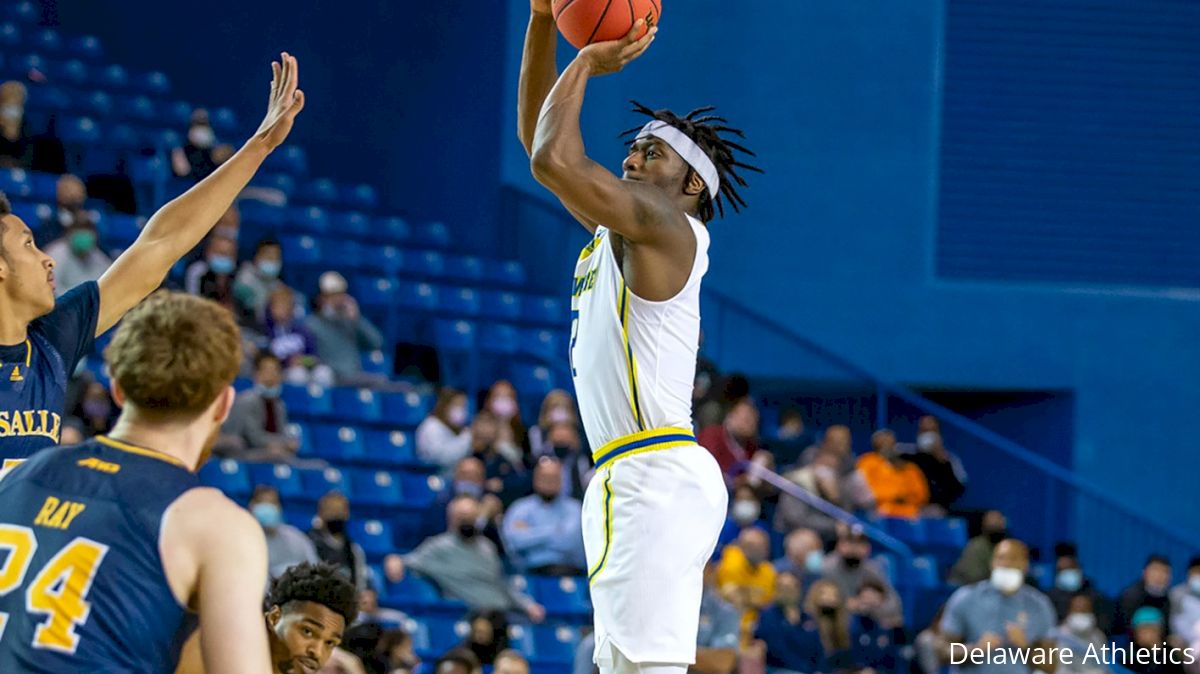 Estero, Florida, welcomes eight teams for the 2021 edition of the Gulf Coast Showcase.
The Thanksgiving week tournament at Hertz Arena features a 2021 March Madness participant, one of the most consistently contending mid-majors in college basketball, and the preseason favorite in the Colonial Athletic Association.
This stacked field makes for a fitting return to real, early-season tournament play after the pandemic-impacted 2020-21 slate. The men's bracket was not staged last season; La Salle won the last edition in 2019.
The Gulf Coast Showcase tips off Nov. 22, and runs through Thanksgiving Eve. *All game tip-off times are Eastern Time.
Rice vs. Evansville
11 a.m. Nov. 22
Opening the campaign with an impressive win over Pepperdine, Rice could be a dangerous team in a top-heavy Conference USA this season. The Owls feature one of the most electric scorers in the Gulf Coast Showcase field, 2021 C-USA Newcomer of the Year Travis Evee.
Evee has connected on at least three 3-pointers in each of Rice's first three contests. He's on an early pace to out-produce his impressive 13.7-point per game average from a season ago.
Max Fiedler is a force on the glass and a complementary interior piece for the Owls offense. The tournament marks a homecoming to the Sunshine State for Rice's 6-foot-11 center, a native of Indialantic, Florida.
Evansville opens the Gulf Coast Showcase, continuing a challenging first few weeks of the 2021-22 season for the Aces. They opened against Cincinnati and drew future Missouri Valley Conference counterpart Belmont, and play one last non-conference tune-up ahead of the Showcase at UCF on Nov. 20.
The Aces are in their second season under coach Todd Lickliter, who's implemented an aggressive defensive style akin to his outstanding Butler teams of the 2000s. Evansville ranks 80th among all Division I teams, through the season's first two weeks, in percentage of defensive possessions resulting in steals.
Shamar Givance and Evan Kuhlman, Evansville's two leading scorers, are also both averaging more than a steal per game.
Evansville's slow-down style of offense and tenacious, on-ball defense will make for an intriguing styles clash against Rice's uptempo and efficient offense.
Vermont Vs. Oakland
1:30 p.m.
A pair of potential NCAA Tournament teams have an early-season opportunity to score resume wins.
Vermont has grown into one of the country's best and most consistent mid-majors of the 21st century, reaching the Big Dance seven times since 2003. The Catamounts have won 11 regular-season conference championships since 2002.
This year's Vermont team is a typical Catamounts bunch that plays disciplined offensive ball, avoiding turnovers and taking quality shots, while swarming on defense to compensate for a lack of size.
Their initial few outings ahead of the Gulf Coast Showcase include putting a scare on Big Ten Conference contender Maryland behind 27 points from Ben Shungu. Shungu and Isaiah Powell are effective long-range shooters who set the tone for Vermont's offense.
Horizon League member Oakland rolls into the Gulf Coast Showcase as part of an absolute gauntlet to open the season.
The Grizzlies faced three Power Five conference programs—Alabama, West Virginia and Oklahoma State—and scored a dramatic win in Big 12 Country.
The 𝙁𝙞𝙣𝙖𝙡 𝘾𝙖𝙡𝙡 in Stillwater. #DefendTheDen pic.twitter.com/hl2QpEqCNz

— Oakland Basketball (@OaklandMBB) November 13, 2021
Greg Kampe's Grizzlies play tough, physical defense that thrives on forcing turnovers. Jamal Cain sets the tone for Oakland both offensively and defensively. He crashes the glass with reckless abandon and is an effective rim-attacking presence with the ball.
Akron Vs. Fordham
5 p.m. Nov. 22
Looking for a potential Cinderella come March? Check out Akron. The Zips had preseason Final Four favorite Ohio State on the ropes to open the season.
Akron features a veteran corps, including three-year Zips starters Ali Ali and Enrique Freeman, and experienced transfers K.J. Walton and Xavier Castaneda.
Expect Akron to make noise in the Mid-American Conference all season—and in the Gulf Coast Showcase.
The Zips open with Atlantic 10 Conference member Fordham, a veteran squad in its own right.
The Rams top three scorers—Darius Quisenberry, Chuba Ohams and Antonio Daye—are all third-or-fourth-year players. The transfer Quisenberry was a two-time All-Horizon League honoree at Youngstown State, and has transitioned smoothly into his new lineup alongside FIU transfer Daye.
The two give Fordham an explosive scoring punch on the perimeter, while Ohams—a terror on the boards averaging 15 rebounds per game so far in 2021-22—mans the middle.
Appalachian State Vs. Delaware
7:30 p.m. Nov. 22
Monday's prime-time main-event features a pair of teams with realistic designs on making the 2022 NCAA Tournament.
Appalachian State earned the privilege of playing in last year's Big Dance on the strength of its Sun Belt Conference Tournament win. The Mountaineers were ahead of schedule in their March run under coach Dustin Kerns.
Kerns previously led Presbyterian to unprecedented success as its head coach, and before that, played an integral part in making Wofford one of the most potent offensive teams and a perennial March Madness contender in the 2010s.
At Appalachian State, he returns a strong corps of players key to last year's success, including the backcourt duo of Justin Forrest and Adrian Delph.
Delaware, the preseason pick to win the CAA in 2022, counters with its own standout, veteran perimeter tandem in Kevin Anderson and Ryan Allen. Allen comes into the Gulf Coast Showcase fresh off a 35-point outpouring in the Blue Hens' overtime win over La Salle.
Put on a show for the fans in their return to the BOB

Ryan Allen career-high 35 points for #BlueHens pic.twitter.com/3jjj1AygB1

— Delaware Men's Basketball (@DelawareMBB) November 18, 2021
Transfer Jameer Nelson Jr. has been an excellent addition to the Delaware backcourt, and big man Dylan Painter has an opportunity to make a considerable impression in the Showcase.