2021 Baha Mar Hoops Nassau Championship
CAA Games Of The Week: Drexel, Delaware Teams To Watch
CAA Games Of The Week: Drexel, Delaware Teams To Watch
James Madison, Drexel, and Delaware all have noteworthy opponents this Thanksgiving week.
Nov 22, 2021
by Kyle Kensing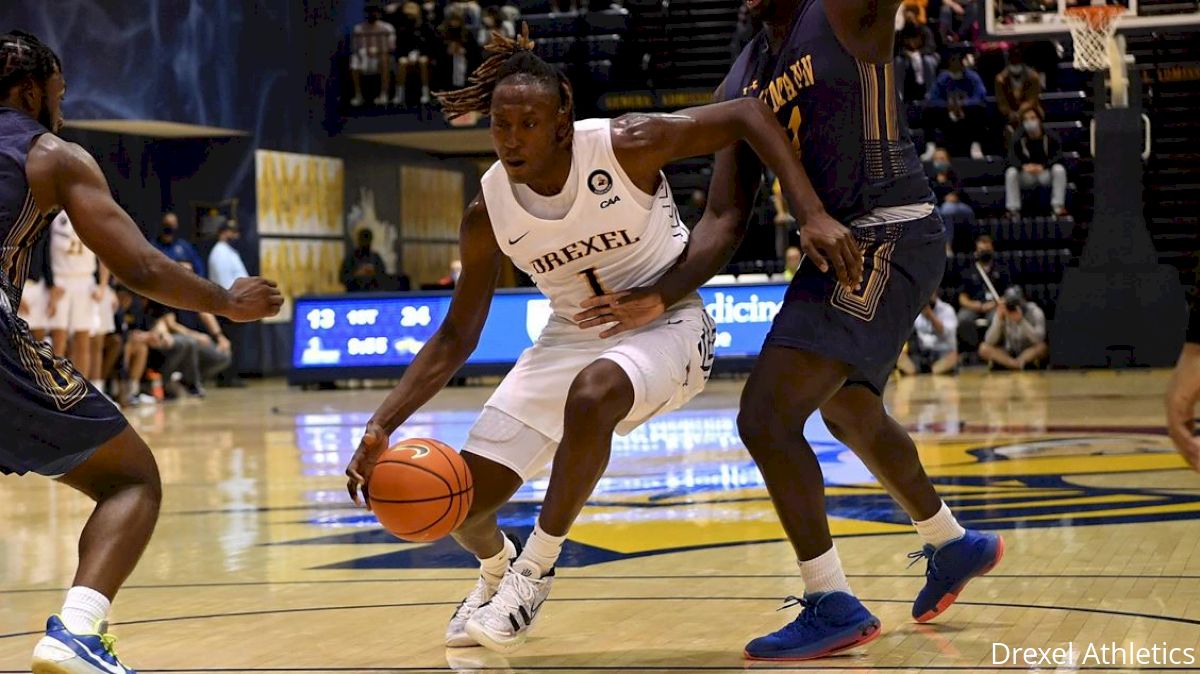 The November tournament season provides a snapshot of the intensity of March. Playing multiple games in consecutive days tests teams' depth and resilience, typically against standout competition.
The return of traditional Thanksgiving week tournaments signals a welcome return to more normalcy in college basketball. It's also an opportunity for teams from the Colonial Athletic Association to test themselves in a format comparable to the postseason.
James Madison vs. Kent State (Naples Invitational), 12 p.m. Nov. 22
The Dukes look to continue their strong start to the season at the Naples Invitational. The field includes Missouri State, a top 75 team per KenPom.com advanced metrics, perennial SoCon contender East Tennessee State, Murray State and the opening-round matchup against a good Kent State bunch.
The Golden Flashes offense centers around Sincere Carry, a preseason First Team All-MAC selection. The Duquesne transfer put up double-figures in each of Kent State's first two outings.
James Madison counters with its own explosive scoring guard, Vado Morse, and the interior tandem of Julien Wooden and Justin Amadi.
The Naples Invitational continues for JMU into Tuesday and Wednesday.
Drexel vs. Tulane (Baha Mar Hoops in Nassau), 2:30 p.m. Nov. 22
Drexel returns to tournament-style play for the first time since the Dragons' remarkable postseason run in 2020-21. The Dragons rebounded from a loss at Syracuse with a defeat of neighbor Saint Joseph's, and now head to the Bahamas with some momentum.
Camren Wynter has been predictably solid to open 2021-22. He dropped 22 points and dished out six assists in the crosstown win. James Butler has also picked up where he left off a season ago.
With its dynamic veterans leading the way, Drexel looks like a team poised to claim its second tournament title of the calendar year. The Dragons open Baha Mar Hoops against Tulane, with explosive scoring wing Jalen Cook, then draw either Charlotte or Toledo on Tuesday.
Baha Mar Hoops also features Jacksonville State, Valparaiso and Coastal Carolina. The tournament runs through Wednesday.
Appalachian State vs. Delaware (Gulf Coast Showcase), 7:30 p.m. Nov. 22
Delaware begins its pursuit of winning a loaded Gulf Coast Showcase on Monday against 2021 NCAA Tournament team Appalachian State.
Check out the Gulf Coast Showcase preview for a rundown. The tournament lasts through Wednesday, and Delaware will draw either Akron or Fordham on Tuesday.
Penn At Towson
Cam Holden, Nicolas Timberlake and Terry Nolan Jr. have powered Towson to some impressive showings early in the season. The new-look Tigers host Penn in a final non-conference contest before heading to the Las Vegas Invitational over Thanksgiving weekend.
"We've always prided ourselves on defense and rebounding," Towson coach Pat Skerry said following his team's win over Hampton. "What I've learned...this team, when the ball moves, can be a really fun team."
Towson's new-found offensive chops could be put to good use against a Penn team that ranks No. 291 in defensive efficiency per KenPom.com.
Jacksonville State At Elon
A tough early-season schedule that included a trip to Florida and matchups with West Virginia and Ole Miss at the Charleston Classic brings Elon back home to close out the holiday week.
The Phoenix host Jacksonville State, one of the best defensive teams in the country through the 2021-22 campaign's initial few weeks. The Gamecocks are holding opponents to just 19.7 percent shooting from beyond the 3-point line, and the nation's 13th-best effective defensive field-goal yield at 37.8 percent.
Elon is ranked in the nation's top 100 for both percentage of offense comprised of 3-point attempts, and field goals set up by assists. That kind of ball movement and floor-stretching promises to test the Jacksonville State defense.
Detroit Mercy At Hofstra
Playing arguably the toughest schedule in the nation through the first two weeks has had Hofstra up against Houston, Maryland and Richmond. The Pride face a winless Detroit Mercy to close out their challenging November for what should be a favorable matchup.
The Titans have struggled mightily on the defensive end, and Hofstra's nearly 55 percent shooting from inside the 3-point arc promises to continue those woes.
Detroit Mercy is the first of three straight home games for Hofstra and five overall on Long Island before the Pride resumes its Power Five gauntlet Dec. 18 at Arkansas.